8 Views
Best Easter Goodies For Your Dog's Basket
We're committed to finding, researching, and recommending the best products. We earn commissions from purchases you make using links in our articles. Learn more here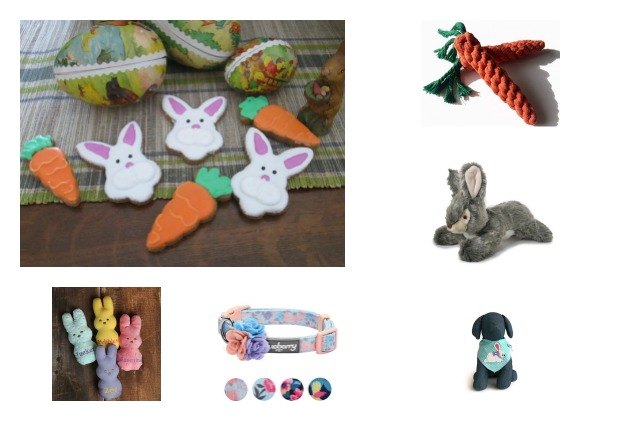 We can't let our furry friends be left out of the egg-citement of Easter so here our are favorite holiday goodies just for your pup!
In our house, when the Easter Bunny visits, he visits us all–dogs included. They have their own Easter baskets and we love to watch them rustle through before the Egg hunt! Here are some of our favorite doggo Easter finds!
1. Reelok Carrot Chew Toy
Carrots aren't just for the Easter Bunny! These non-toxic cotton carrot shaped ropes are great to keep your pup's teeth nice and clean. They'll never know that they're helping build strong teeth; they'll just love how fun they are to chomp!
2. Bonne et Filou Handmade Gourmet Dog Macarons
What is Easter without the treats? While you can't share the toxic chocolate eggs with your dog, why not spoil them with these all-natural handmade gourmet dog macarons? Inspired by the popular French patisseries, they give off a luxury vibe.
The recipe includes 100% human-grade ingredients including oat flour, honey, coconut oil and mint yogurt filling. Not only will they have your dog begging, but the mint yogurt filling will freshen their breath at the same time. If mint isn't your dog's favorite flavor, they also come in a variety of other flavors and pastel colors for Easter including lavender, strawberry, rose and vanilla.
These treats are handmade in the USA in small batches. Free from preservatives, artificial coloring, corn, and wheat, these healthy treats are endorsed by veterinarians for their safety. They are large enough for bigger dogs; however, you can cut them into smaller pieces easily enough if your dog is smaller. They require no refrigeration and have a shelf life of 12+ months.
What says Easter more than the Easter Bunny? This adorable Dog Bunny Costume Set is a perfect opportunity to celebrate the season, snap some adorable photos, and invite the Easter Bunny to your next family get-together. The set includes a bunny ear headband, bowtie collar and a rabbit tail.
The white plush bunny ear headband with pink satin inner ears is fabric coated for your dog's comfort and can be stretched from 4" to 8" wide in diameter, allowing it to fit a wide spectrum of dogs. Tie it securely beneath your dog's chin to keep it in place. The pink plush bowtie collar is elastic, stretching comfortably from 7" to 11". It is a great option for medium to large-sized dogs. The final piece to complete the whole look is a white fluffy 'cotton-tail' with an elastic to hold it in place.
4. Crocheted Bunny Ears. Admit it. You see those adorable bunny ears all over the place and you want them for yourself but you don't have the confidence to pull them off. Luckily for you, your dog is going to look like a boss in these handmade crochet bunny ears. They're made of super soft yarn and we love that this Etsy shop donates 10% of their sales to the ASPCA!
5. Easter Bunny Peeps Toys.

Is it really Easter if there are no marshmallow peeps? No need to really answer that and embarrass yourself, but you can save face with these better-than-marshmallow dog toys that have squeakers. Made with soft fleece and even personalized for your pup to call her own, we won't tell if you order a few for yourself too!
6. Pet Lou Colossal Rabbit
This isn't your typical Easter Bunny. This large (if the word 'colossal' in the name says anything about it) is about 15 inches long so it is a great size for bigger doggies that are celebrating the Easter holiday. It looks like a real rabbit, too, so it will hone in on your dog's natural hunting instincts making playing with this rabbit even more fun.
The Colossal Rabbit by Pet Lou is made with durable material so it's not easy to tear apart. It also has several squeakers and noise-makers that make grunting sounds, which further hones in on your dog's hunting instincts. You can get it in a single pack or a double pack if your furry friend usually rips through their toys quickly. You can even add it to your Amazon Subscribe and Save if you know that this is a gift that you will want to keep on giving to your pup long after Easter ends.
You may have the minimalist dog–wants to be festive but not overstated. Enter these adorable Easter bandanas! They're 100% cotton with handmade felt appliques and they have double stitching edges so they'll last longer. Machine washable too!
Nothing says spring like Easter and these floral dog collars are lightweight and made with polyester webbing for thick-coated breeds. It comes in five styles but we love the removable pink flower so it works for your dog's Easter finest or any other day spring is in the air!
9. Fitwarm 2-Pack Easter T-Shirts
Dress to impress- especially on holidays! This colorful, spring-inspired set of dog shirts will keep your pooch, comfy, cozy, and stylish on Easter, but most importantly, they'll fit right in with the festive mood. The dark blue shirt has a cute print on the back saying "Little Easter Egg Hunter" and the striped pastel colors on the other are all about embracing spring and holiday colors. Made from soft, gentle 100 percent cotton, these cute doggie shirts are not just a fun and stylish addition to your pet's wardrobe but they'll also keep them toasty and cozy.
While the sizes of Fitwarm 2-Pack Easter T-Shirts range from XS to XXL, in reality, these shirts are not designed for medium or large dog breeds, but rather small breed pooches. The differences between the sizes are concerning chest girth primarily so they can fit all small dog breeds from toy Yorkies to English Bulldogs.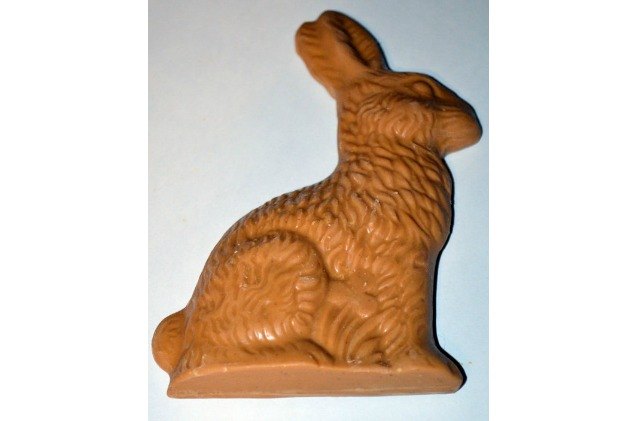 10. Easter Candy. What's an Easter Basket without chocolate bunnies? Of course, we can't give our doggies chocolate, but these yummies made of peanut butter, yogurt, carob or combinations of those will hit the spot for your Easter doggo! Handmade and fresh to order, your dog will ask you to hook you up with these candies for all the holidays!


Published April 8th, 2021 12:00 AM