14 Views
Top 10 Fetching Dog Toys for Holiday Giving
We're committed to finding, researching, and recommending the best products. We earn commissions from purchases you make using links in our articles. Learn more here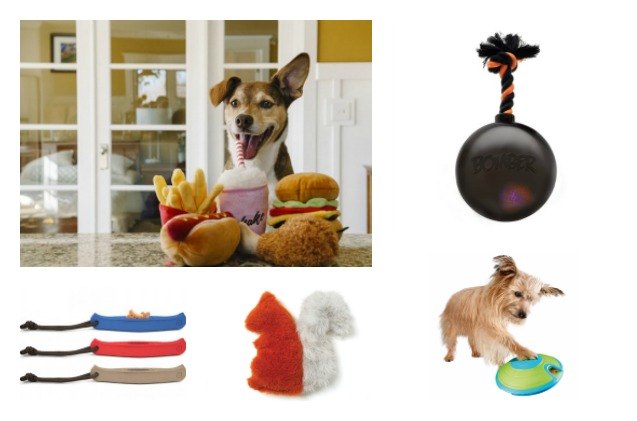 Play time is one of the most important dog tasks of the day… next to sleep time, feeding time, and cuddle time. If you're looking for gifts your pooch will love playing with, here are our picks for fetchingly awesome dog toys.
1. American Classic Collection from P.L.A.Y.
If your Fido is a foodie (of course he is), treat him to the American Classic plush toy collection by P.L.A.Y. He'll love to take a bite out of the juicy burger, drumstick, hot dog, fries, and milkshake. OM NOM NOM!
Ahoy land lubbers! Grab your paddles and hop into an adorable (and durable) Rubber Canoe Toy from Harry Barker. It floats on water, and when it's on land, there's a spot to load up on treats.
3. iFetch Interactive Ball Launcher for Dogs
Is your dog highly energetic and always on the go? If so, you may find yourself struggling to keep up with their never-ending need to play. The iFetch Interactive Ball Launcher is built specifically for busy dogs, allowing them to play fetch to their heart's content all on their own. The large size comes with 3 standard size tennis balls which can easily be loaded into the launcher by dropping them in the large opening on the top. For those with smaller dogs, there is also a smaller version that includes 3 mini-sized tennis balls.
The launcher can be adjusted to launch the tennis balls 10, 25 or 40 feet with a simple button, making it easy to set it up properly for yards and indoor spaces of all sizes. A 'random' distance setting will change it up with each throw to keep your dog guessing and add an additional challenge to their playtime.
If you yearn for yesteryear, then you'll think that Kurgo's classic yard game toys are the bee's knees! Made from chew-friendly, non-toxic material, '50s faves such as the Backyard Birdies, Huck-It Horseshoes, and Target Jacks are making a comeback with retro Rovers.
Just when you thought it was safe to play tug with your dog… it's a Tug Attack! Once your dog sinks his teeth into a Hammerhead Shark Tug Attack from Owiee Toys, he'll never want to let go.
Engaging, rewarding, and fun! The Orbee-Tuff Mazee interactive puzzle toy offers hours of long-lasting, brain-stimulating entertainment for dogs of any size. The translucent and pliable outer shell combined with the harder inner maze revs up your dog's senses – he can hear, see, and smell the treats while he solves the puzzle.
7. Classic Berber Dog Toys
West Paw Design goes au natural with its Classic Berber line of plush dog toys. A few of our favorites include Dam Beaver, Sequoia Squirrel, and Madison Moose – guaranteed to unleash your dog's wild side.
8. Nina Ottoson Dog treat Maze
For flip and nibble fun, the Nina Ottosson Dog Treat Maze will keep your dog guessing for hours. Dogs need to use their paws to get things going – both their brain and their tummy benefit from this interactive toy!
Bomb's away! Just toss Hagen's Zeus Bomber dog toy and watch as it lights up, engaging your dog day or night (perfect for winter's short days and long nights). Your dog will love translucent TPR and impact-activated multi-color flashing LED ball.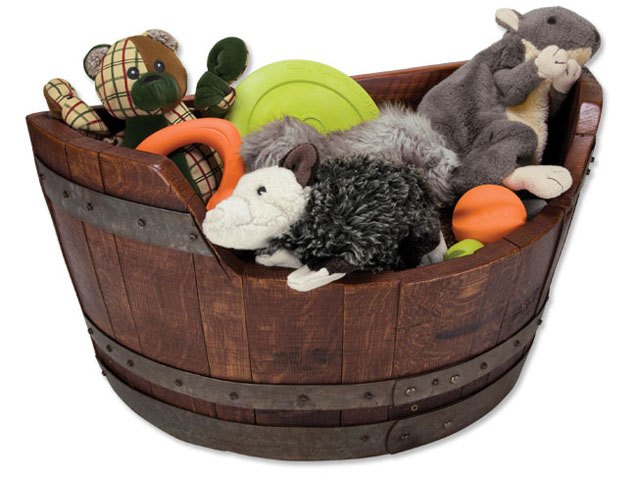 And where is your dog going to keep all of his brand new toys he got from Santa? Why, this vintage-inspired Wine Barrel Dog Toy Chest from Orvis, of course! It's made from retired white oak wine barrels and white pine, with a wide opening that makes it easy for your dog to retrieve toys.

Amy Tokic
Amy Tokic, Editor of PetGuide.com, is a passionate animal lover and proud pet parent of Oscar, a Shih Tzu/Chihuahua cross, and Zed, a Japanese Chin. Her love of animals began in kindergarten, when she brought her stuffed dog Snoopy into class with her every day. Now, she writes about her adventures in pet ownership and tirelessly researches products, news and health related issues she can share with other animal enthusiasts. In her free time, Amy loves perusing used book and record stores, obsessing over the latest pet products available and chasing squirrels with wild abandon (a habit attributed to spending too much time with her pooches).
More by Amy Tokic
Published May 17th, 2021 12:00 AM