24 Views
The Best Gifts For Pet Lovers
January 6th, 2022 12:00 AM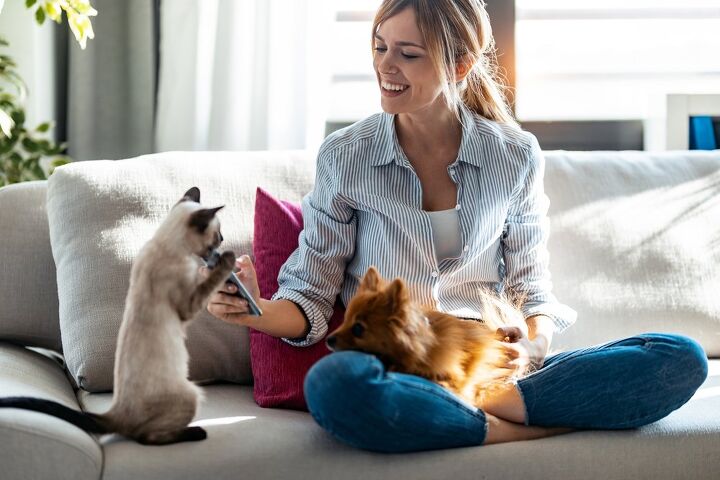 Wrap them up or keep 'em for yourself! Here are some amazing pet-themed gifts that any animal lover will enjoy.
Whether it's a last-minute birthday gift, something to celebrate you and your loved one's anniversary, or simply an "I saw it and thought of you" kinda present, we've picked a handful of animal-themed items that range from games to cookie jars and pyjamas to help you pick out something for the person on your list. And who knows, you might see something you want to spoil yourself with! With that said, let's dive into some of the best gifts for pet lovers.
1. Editor's Choice: Frenchie Animal Ornament
Who doesn't love a Frenchie? Especially one wrapped up in a cute red scarf. If you want to gift a fun, unique and budget-friendly ornament to that special someone in your life, this handpainted stone resin figurine is a great choice. Oh, and did we mention that the scarf is removable?
2. Runner Up: Chala Handbag Everyday Tote
Even if your dog doesn't fit in your bag, you can still carry around a gorgeous tote to show off your love for your four-legged friends. The Chala Handbag Everyday Tote is over-the-top adorable, featuring dual carrying handles, a body made from synthetic leather and a cute bone charm. Not to mention the cute raised paw prints and additional designs covering the exterior. The inside of the bag is you'll find it fully lined with leather as well as a slip pocket or two. It can also be secured shut thanks to its zipper. And if you love this tote, you can buy a matching crossbody bag to complete the set.
3. Best Game: Monopoly Cats Vs. Dogs Board Game
Monopoly is always a fun, argumentative game to play with the family, so why not add in the age-old debate of cats vs dogs? In this classic game, you and up to six other animal lovers choose a side – cats or dogs – and work your way around the board collecting cheeky titles for your pets like "fashionista" or "bright eyes" rather than properties.
4. Best Clothing: FUNZIEZ! Unisex Bulldog Pajamas
From head to toe, you'll be warm and cute when you're wearing the FUNZIEZ! Unisex Bulldog Pajamas. Made from 100 percent polyester, this one-piece sleep suit is adorable and comfy. The friendly face and plush tail complete the look while the front zipper makes it easy for you to slide in and out! I say it's perfect office attire!
5. Best Book: Pride and Predjudice and Kitties
I'm not sure if Jane Austen was a cat person, but she would be after reading this take on her classic! Pride and Prejudice and Kitties is a take on the beloved novel told from a cat's point of view. Be prepared for romance, balls of yarn and a few unexpected hairballs, as Elizabeth Bennet and Mr. Darcy hiss and make up. Curl up on the couch with this amazing read.
6. Best Jewelry: Isabelle Grace Dog Lovers Necklace
The perfect way to show off your love for your pooch! Completely crafted by hand of fine (.999) silver, this charm is accented with a 22kt gold bone and your pup's name, making it a one-of-a-kind piece you can carry with you. This necklace comes with one charm that measures approximately 5/8 inch x 5/8 inch.
7. Best Bedding: Pointehaven Heavy Weight Printed Flannel Sheet Set
Once you've tucked into the Pointehaven Heavy Weight Printed Flannel Sheet Set, you'll want to hibernate for the rest of the winter. Joining you in bed are Retrievers, Terriers, Dachshunds and more of your favorites all adorned in beautiful scarves.
Made from 100 percent cotton flannel, these sheets are perfect for cold nights and brushed on both sides for added softness. It's also available in two other prints if you're not feeling the pups, and can be bought in a variety of sizes ranging from twin to California King.
8. Best Mat: Trans-Ocean Yoga Dogs Door Mat
Nothing says "a chill dog lives here" like a welcome mat adorned with yoga pups. Greet guests with the Trans-Ocean Yoga Dogs Door Mat. This mat instantly brightens up your front door with cute Frenchies practicing their downward dog poses.
9. Best Scarf: Bella Dachshund Doxie Dog Infinity Scarf
Accessorize with wieners! The Bella Dachshund Doxie Dog Infinity Scarf is hand screen-printed with darling dachshunds, decked out on a lightweight cream, black, or grey base with your choice of white, brown or dark grey dogs. Trendy and stylish, this infinity circle loop scarf goes with everything.
10. Best Ceramic Jar: Ebros Ceramic American Gangster Bulldog
People want cookies, too! Store your human treats in the Ebros Ceramic American Gangster Bulldog. This classy-looking bulldog will keep all your goodies safe and measures approximately 8-inches tall and around 6-inches wide.
Made from high-quality ceramic, this jar is hand-painted and polished individually. Don't be scared off by his intimidating appearance, if you get close enough, you'll find his rough exterior is hiding his sweet insides – literally.
We are committed to finding, researching, and recommending the best products. We earn commissions from purchases you make using the retail links in our product reviews. Learn more about how this works.

Amy Tokic
Amy Tokic, Editor of PetGuide.com, is a passionate animal lover and proud pet parent of Oscar, a Shih Tzu/Chihuahua cross, and Zed, a Japanese Chin. Her love of animals began in kindergarten, when she brought her stuffed dog Snoopy into class with her every day. Now, she writes about her adventures in pet ownership and tirelessly researches products, news and health related issues she can share with other animal enthusiasts. In her free time, Amy loves perusing used book and record stores, obsessing over the latest pet products available and chasing squirrels with wild abandon (a habit attributed to spending too much time with her pooches).
More by Amy Tokic
Published January 6th, 2022 12:00 AM