27 Views
Top 10 Howlarious Dog Halloween Costumes
November 29th, 2021 12:00 AM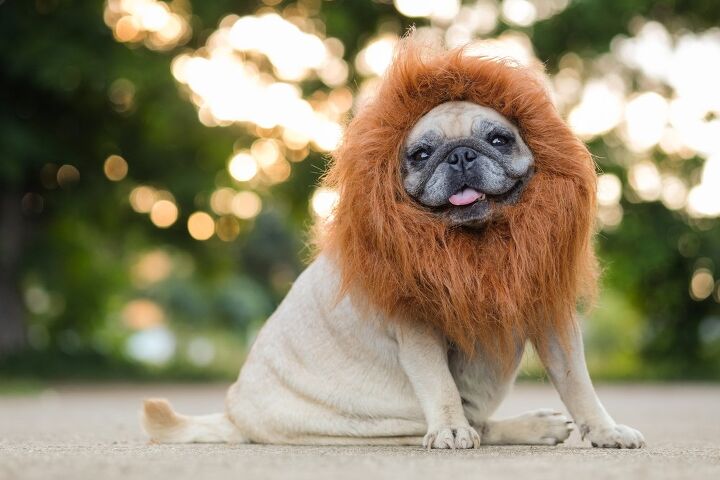 I love looking at all the creative, DIY dog Halloween costumes that people come up with. They are hilarious! But let's be honest with ourselves – sometimes, we just don't have the time, energy or creative juices to make them. However, it doesn't mean our dogs shouldn't get dressed up in a wacky, wet-your-pants funny kind of costume. That's why I went looking for the coolest, rib-tickling dog Halloween costumes you can buy (online to boot!) and have delivered right to your door.
1. Editor's Pick: TOMSENN Dog Lion Mane
Want to give your neighbors a good scare? Throw this luscious mane on your four-legged friend and watch them transform into a scary (but still lovable) lion that roams the streets. Ideal for large to medium sized dog breeds, this lion mane was made from high quality materials and can easily be cleaned.
Whatever you do, don't fall asleep… until you put this Freddy Krueger Dog Costume on your pup. Nightmares have never been this adorable! It comes with the famous red striped sweater, a top hat, and a knife glove (but not with snappy one-liners before
Whatever you do, don't fall asleep… until you put this Freddy Krueger Dog Costume on your pup. Nightmares have never been this adorable! It comes with the famous red striped sweater, a top hat, and a knife glove (but not with snappy one-liners before he disposes of his victims). Your dog can tear it up in one of four sizes: small, medium, large and extra-large.
3. Customer's Choice: Ghostbuster Jumpsuit Pet Costume
Who you going to call? Ghostbusters! Your dog can bust some ghosts – or dog treats – in this iconic '80s movie costume. Complete with a shirt and backpack, your pooch can take on the things that go "Woof" in the night. Let's just hope you don't get slimed by your dog's licker – that's an ectoplasm you don't want all over your face.
4. Best Creative: Bantha Pet Costume
In a galaxy not so far away, there is a costume that's made for the Star Wars pet parents who never outgrew their Skywalker phase. The Bantha Pet Costume includes the body saddle with leg pieces, a headpiece, and a Tusken Raider rider.
5. Best Wig: Beetlejuice Pet Costume
Beetlejuice! Beetlejuice! Beetlejuice! You don't have to say his name three times to transform your dog into Beetlejuice – all you need is this costume. What crazy antics will your dog scare up with this black and white striped jacket with attached dickie and crazy gray wig?
6. Best Pirate: NACOCO Pirates of The Caribbean Dog Costume
Ahoy mateys, if you were waiting for the opportune moment – to dress your pooch in a pirates costume that is – this is it. Choose from one of four sizes and watch as your pup slides on this forelegs suit and cap. Perhaps it's time to search for some treasure… savvy?
7. Best Wizard: Coomour Pet Wizard Dog Costume
Yer' dog's a wizard! Or, they can be with this cute Halloween costume. Choose your House colors and if the collared life is for you – this lightweight costume comes in eight different options and four sizes. Each costume comes with a hooded cape, and if you're up for the challenge, you can even try finishing off the costume with a pair of familiar round glasses. Yep – this dog parent is a bit of a Harry Potter nerd – and proud of it!
8. Best Ewok: Star Wars Ewok Pet Costume
You don't have to travel to the forest moon of Endor to see an Ewok – you just need to dress your dog in the Star Wars Ewok Pet Costume. Your furry buddy was made for this outfit – be prepared for all the OOOOHs and AHHHHHHs that will follow you and your little Wicket as you go door to door. And don't be surprised if all this cuteness gets you more candy!
9. Honorary Mention: California Costumes Pet Ups Pal Dog Costume
It's no secret that we've all been seeing delivery drivers more and more these days, so why not dress your pup up as one of their favorite visitors? With stuffed arms, a printed box and a cute hat to match, this UPS costume will leave you smiling every time your pet rounds the corner in their get-up.
10. Also Consider: Kuoser Dog Tuxedo Dog Suit
Whether you're having a Bond-themed party or simply want your pet to look their best, you can't go wrong with this popular and sleek-looking tuxedo. Whether your pup is more of a simple black or grey and pink kinda pooch, there's a handful of different colored suits and sizes to choose from.
We are committed to finding, researching, and recommending the best products. We earn commissions from purchases you make using the retail links in our product reviews. Learn more about how this works.

Amy Tokic
Amy Tokic, Editor of PetGuide.com, is a passionate animal lover and proud pet parent of Oscar, a Shih Tzu/Chihuahua cross, and Zed, a Japanese Chin. Her love of animals began in kindergarten, when she brought her stuffed dog Snoopy into class with her every day. Now, she writes about her adventures in pet ownership and tirelessly researches products, news and health related issues she can share with other animal enthusiasts. In her free time, Amy loves perusing used book and record stores, obsessing over the latest pet products available and chasing squirrels with wild abandon (a habit attributed to spending too much time with her pooches).
More by Amy Tokic
Published November 29th, 2021 12:00 AM