3 Views
Top 10 Pre-Black Friday Deals for Pet Parents
November 21st, 2018 12:00 AM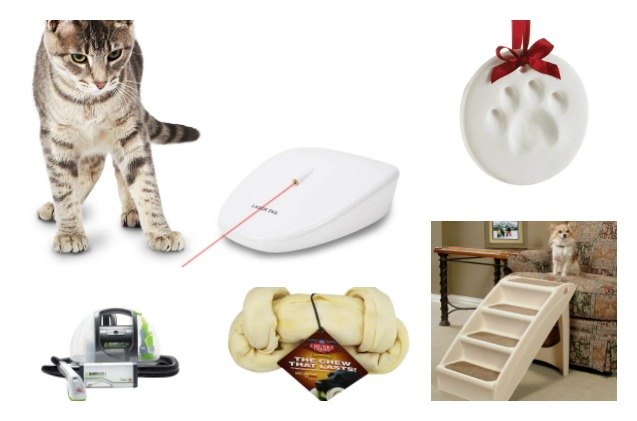 It's that time of year again: time to wait for all of the Black Friday deals that will help you affordably snag the best gifts for everyone on your list, including yourself and your pets. And what better place to shop than Amazon, which is famous for its Black Friday and Cyber Monday savings?
It turns out Amazon has a host of awesome products on sale this year for pet parents, and they're offering these discounts before Black Friday even hits, so you can start shopping now. We've compiled a list of 10 items that we think you and your furry buddies will love. Check them out below and get your shopping done early!
PetSafe Laser Tail Automatic Laser Cat Toy – Save Over 20%
Perfect for cats that love to play with laser toys, this one is hands-free and moves around on the floor all on its own. It'll keep your kitty happily chasing the red dot even while you're busy.
Solvit PupSTEP Plus Pet Stairs – Save 20%
Designed for cats and dogs that have trouble jumping onto the couch or bed, these pet stairs feature siderails for safety, and they fold up for easy storage when not in use.
Pearhead Pet Holiday Keepsake Holiday Pawprint Ornament – Save 20%
Create a customized ornament featuring your pet's adorable paw print. Roll out the clay, press your pet's paw gently into the clay, and then let it dry to harden.
Omega 3 Krill Fish Oil for Dogs – Save 23%
Supplement your dog's diet with these bacon flavored treats, packed with ingredients that help support the health of your pet's skin, coat, hips, joints, heart, brain, and immune system.
Friends Forever Natural Dog Shampoo for Dry Itchy Skin – Save 40%
If your pooch has itchy skin, this shampoo, which contains natural essential oils and extracts, might help relieve dryness, redness, swelling, and irritation.
Petvins Heavy Duty Dog Leash – Save 61%
Make walking your dog more comfortable, and safer, with this reflective nylon training rope with padded handles. The shock absorbing anti-pull bungee reduces strain, and the rubber traffic handle helps you maintain better control over your pet. It even doubles as a vehicle safety buckle.
Bissell BARKBATH QT – QuietTone Portable Dog Bath and Grooming System – Save 33%
With this portable, all-in-one grooming system, you can clean your dog anywhere, without making a mess. It sounds like a vacuum, and the nozzle is designed to get down to the skin, where water and shampoo can provide a deep clean before suction gently pulls the water and dirt away and into a separate tank.
SparkleDog Premium Grain Free Dog Food – Save 40%
Add some variety to your dog's diet with this grain-free and gluten-free food that's made with fresh chicken, vegetables, and fruit. Appropriate for all canine breeds and dogs of all ages, its formulation helps support healthy skin, teeth, and bones.
Andis EasyClip Pro-Animal 7-Piece Detachable Blade Clipper Kit – Save 36%
Grooming your pooch at home is easy and comfortable for you and your pet with this clipper kit. It features a quiet motor, break-resistant housing, and a detachable blade that will work great on dogs with heavy coats.
Chunky Chews® 9″-10″ Glucosamine Natural Rawhide Safety-Knot® Bone for Large Dogs – Save 37%
Treat your big dog to this large rawhide bone, which is perfect for pets that are aggressive chewers. It's made with natural, grass-fed beef hides, and it contains glucosamine. Plus, you won't find any unwanted preservatives, bleaches, or chemicals.
Start Shopping Early to Get the Deals Before They're Gone
Who needs to wait for Black Friday when you can get such a wide variety of high-quality gifts for pets and their parents before the holiday rush? Head over to Amazon today to start filling your cart with goodies.

Lisa Selvaggio
Lisa Selvaggio is a freelance writer and editor, and our resident cats-pert, with certifications in pet nutrition and pet first aid. She enjoys producing content that helps people understand animals better so they can give their pets a safe and happy home.
More by Lisa Selvaggio
Published November 21st, 2018 12:00 AM