14 Views
The Best Aquarium Thermometers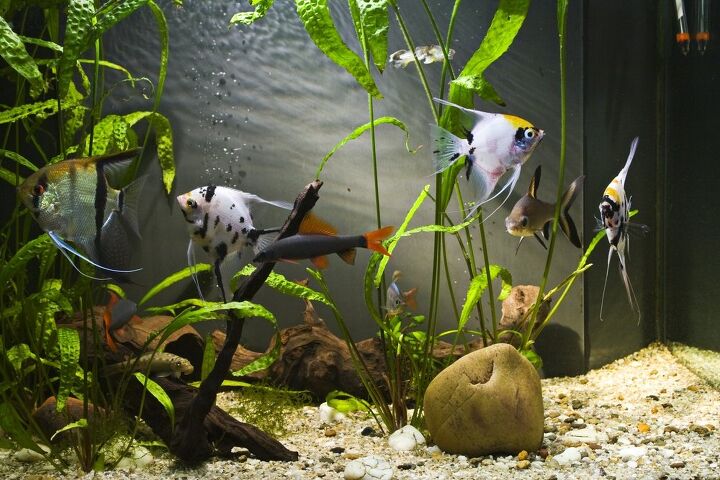 Keeping your tank water at the perfect temperature is extremely important. That's why you need the best aquarium thermometer for your tank.
Most aquarium fish come from tropical environments where the water is warm and the temperature stable. Though ocean temperatures fluctuate to some degree, those changes don't happen quickly, and some species of fish are more sensitive to changes than others. Keeping your fish healthy and happy requires a stable tank environment, including tank temperature.
In this article, we'll talk about why it's so important to keep the temperature steady in your aquarium and how to do it. You'll also see our top picks for the best aquarium thermometers to help you monitor your tank temperature from day to day.
The Best Thermometers for Aquariums
Keeping a thermometer in your aquarium is essential for monitoring your tank temperature. You should be checking your equipment at least once a week to make sure it is working properly but having a tank thermometer enables you to check the tank temperature at a glance.
Here are our top picks for the best aquarium thermometers:
Zacro LCD Digital Thermometer
Suitable for all types of water, this digital aquarium thermometer features an easy-to-read LCD digital display you can set to Celsius or Fahrenheit. Simply submerge the probe in the tank and affix it with the included suction cups.
Marina Floating Thermometer
Keep a constant eye on your tank temperature at a glance with this stick-on floating aquarium thermometer. Not only does it show you the tank temperature in Celsius and Fahrenheit, but it includes a green safety zone indicator to show the ideal range.
Stick-On Digital Aquarium Thermometer
This stick-on aquarium thermometer makes it quick and easy to check your tank temperature without any probes or wires. Simply adhere it to your tank in a convenient location and read the temperature on the screen.
Windbells Aquarium LCD Thermometer
If you're looking for an affordable but reliable aquarium thermometer, this LCD digital thermometer is priced under $10. It features a simple, compact design with an easy-to-read LCD display and precise measurements within 0.1 degrees.
Digital LCD Stick-On Thermometer
With this stick-on aquarium thermometer, you can check your tank temperature without any equipment. Simply adhere the patch to the front of your tank and it will give you a real-time reading of the temperature, no wires or probes needed.
JW Pet StartTemp Thermometer
Available with two unique designs, this aquarium thermometer is quick and easy to read. One model features an innovative magnetic design where you insert the thermometer into the aquarium and affix a magnet on the outside. The other model has a simple plastic stand so you can place it directly in the tank where you like.
LCR Hallcrest Liquid Crystal Aquarium Thermometer
If you want an aquarium thermometer that gives you a quick reading but you're more concerned about keeping your tank within the right range than at a specific temperature, this is a good option. Low-priced and easy to use, this thermometer changes color to indicate your tank temperature.
Traditional Stick-On Aquarium Thermometer
This adhesive aquarium thermometer sticks to the outside of your tank and the color changes to indicate your tank temperature. Green indicates the current temperature with tan above and blue below to indicate the range.
Vivosun LCD Aquarium Thermometer
Another affordable option in digital aquarium thermometers, this LCD tank thermometer comes with a compact digital display and a super-long cable. It also features an adjustable temperature unit and two suction cups so you can install the probe inside the tank for quick and easy readings in the future.
Fluval Edge Digital Aquarium Thermometer
Quick, easy, and affordable, this stick-on aquarium thermometer is also very small, so it won't detract from the look of your tank. Simply adhere it to the outside of your tank and you'll be able to check your tank temperature at a glance.
The Importance of Stable Tank Temperature
When it comes to tropical aquarium fish, the ideal temperature range is generally somewhere between 75°F and 80°F. Certain species may have a preferred range, but most do well at this range. The key to keeping your tank temperature stable is to install an aquarium heater and set it to the proper range. You should also keep in mind factors that might affect your tank temperature such as high-heat lighting, proximity to windows, and changing outdoor temperatures.
Here are some tips for keeping your tank temperature stable:
Consider a submersible aquarium heater rather than a hanging model – install it horizontally inside your tank for even heat distribution.
Place your tank aquarium from air vents and out of direct sunlight – exposure to direct sunlight can cause temperature fluctuations and increase algae growth.
Consider using an aquarium chiller if you use a high-heat lighting system like metal haliden lighting – you may also consider an auxiliary fan.
Choose an aquarium heater that is sized appropriately for your tank – if you have a very large or long tank, you may want to use two heaters and space them evenly.
If you use a sump system in your tank, place the heater in the sump so the heated water is distributed evenly in the tank.
Make sure your tank has plenty of water movement – the higher the temperature, the lower the dissolved oxygen and moving water evaporates faster to help keep the temperature down.
Check your tank temperature regularly and test your heating equipment at least once a week to make sure it is calibrated and working properly.
An aquarium thermometer doesn't have to be anything fancy or expensive, but it's one of the most useful tools you'll have in your aquarium. Shop around or choose one of the options we've recommended above for your own tank at home.

Kate Naito
Kate Naito, CPDT-KA, is a dog trainer at Doggie Academy in Brooklyn, NY, and author of the training book, "BKLN Manners." She draws upon her experience as an educator and dog trainer to apply positive training techniques to a challenging urban environment. Kate is a rescue advocate drawn to special-needs dogs and currently has two Chihuahua mixes, Batman and Beans.
More by Kate Naito
Published June 17th, 2020 12:00 AM