40 Views
Pawsome Gifts to Pamper Pooch Parents
January 31st, 2022 12:00 AM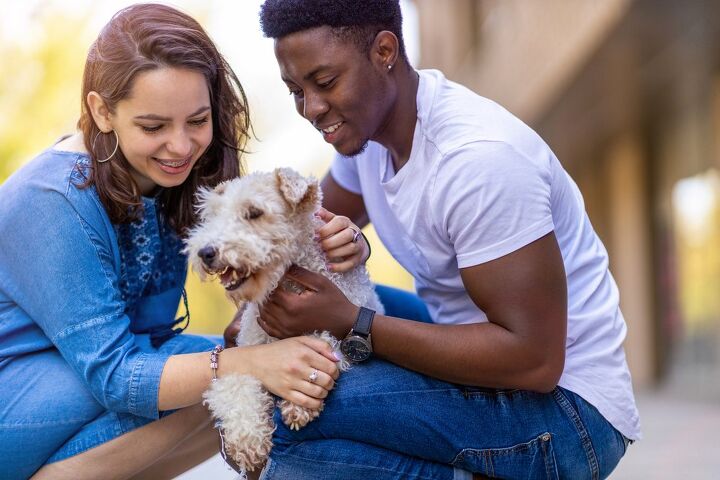 When we fall in love with our dog's unreserved affection and uncanny ability to make us laugh at any moment, we tend to fill our homes with things that remind us of them. Here are some of the fantastic dog-inspired products we found to add more joy into your life.
1. Editor's Choice: Golden Retriever Apron
Your family loves your Golden Retriever and your dog loves food… so buying this apron is only logical! Grill it up with this high-quality cotton apron. Cafe Press has plenty to go around.
2. Runner Up: Skechers BOBS from Women's Plush-Wag Party Flat
What's the one thing a dog parent will always appreciate? Anything dog-themed, including footwear. These adorable flats are ideal for spring and summer: they're comfy, lightweight, breathable, but the best thing of all- they're all about pooches. Skechers BOBS from Women's Plush-Wag Party Flat doesn't only feature a cute print of pooches in all shapes and colors (literally, these are so colorful and fun!) but it also helps dogs in need.
Skechers donates to animal welfare organizations and shelters with each purchase of shoes from their BOBS collection, so not only you'll be wearing some super cute flats but you'll also be helping dogs in need of a home, medical treatments, and rescuing. The upper of these flats is made from textile, the sole is rubber with a memory foam footbed, so comfort is all but guaranteed: especially during those long walks with your pet by your side. There are three options available to choose from depending on your personal preferences- the pooch print comes in a black and white combination, grey shades, or vibrant multi-color print.
3. Best Scarf: Lina & Lily Little Terrier
Never sacrifice your love of pooches for making a fashion statement. Let the world know your undying love for Terriers with this adorable aqua infinity scarf stamped with a Terrier silhouette.
4. Best Calendar: RED EMBER Puppy Love 2022 Hangable Wall Calendar
Dog lovers young and old will get a kick out of this adorable calendar. This 12 by 12-inch calendar (when closed) has plenty of space for you to write your appointments and date nights while also enjoying a variety of fluffy fur balls and floppy ears. Get this for yourself or gift a college with this calendar and rest assured that it will deliver more than a few "awww's".
5. Best Mug: Chihuahua Cappuccino
Forget mugs that just have a flat design on it… this mug takes it one step further by making the mug into the shape of your special pooch. Not to mention they each come with a matching spoon! Each 3D ceramic mug is handpainted by a professional painter – you'll be amazed by the detail. These gorgeous mugs hold heat well and can even be put in the microwave and dishwasher, although handwashing is recommended!
In addition to this mug, you can choose from a handful of other breeds such as a Bearded Collie, Boston Terrier, Cocker Spaniel and more.
6. Best for Baking: Bone Cookie Cutters
Don't forget to use these awesome four-piece bone-shaped cookie cutters for those times when you're making dog-friendly snacks for your hungry best friend.
7. Best Painting: Bulldog Painting
Show your guests how much you love bulldogs by purchasing one (or many) of these awesome bulldog paintings. This particular image is available as acrylic, canvas or metal print as well as a greeting card and throw pillow. Better yet, get one of each – your real Bulldog will be exceptionally pleased with your decor decisions.
Get artsy at Fine Art America.
8. Best Coaster: MINETY Ceramic Coaster with Bracket
Set your glass down on one of these absorbent ceramic stone coasters, each adorned with the cute face of a different dog breed. This set of six coasters also comes with it's own black iron coaster rack to keep them organized and safe.
9. Best Shakers: Doggie Salt and Pepper Shakers
Forgo buying another set of boring old salt and pepper shakers and instead, get this delightful pair of Scottish Terrier shakers!
Spice up your life at Bondy Pet Products.
10. Best Gloves: Dog Gloves
Be constantly reminded of how much your furry child loves chasing after their bone with these handcrafted wool gloves made in Istanbul.
11. Best Tote: Shih Tzu Tote
This bag is totes cute and for $20 bucks, you really can't go wrong buying it! Your Shih Tzu will be proud.
Now you know that six o'clock is also known as weiner time…er, we mean dachshund o'clock. Available with a white or black two-sided leather band, this watch is also water-resistant so you don't have to worry about Fido slobbering all over it.
Get your watchdog at Etsy.
13. Best Pillow: French Bulldog Pillow
Snuggle and snore into this hipster-looking French Bulldog pillow, which will no doubt be the attention-seeking product it is meant to be (even inanimate hipster objects are attention-hungry).
Catch some Z's at Zazzle (I mean, they have 3 z's, I'm sure they can spare one).
We are committed to finding, researching, and recommending the best products. We earn commissions from purchases you make using the retail links in our product reviews. Learn more about how this works.

Published January 31st, 2022 12:00 AM