8 Views
Top 10 Fabulous Pride Essentials For Dogs
April 26th, 2021 12:00 AM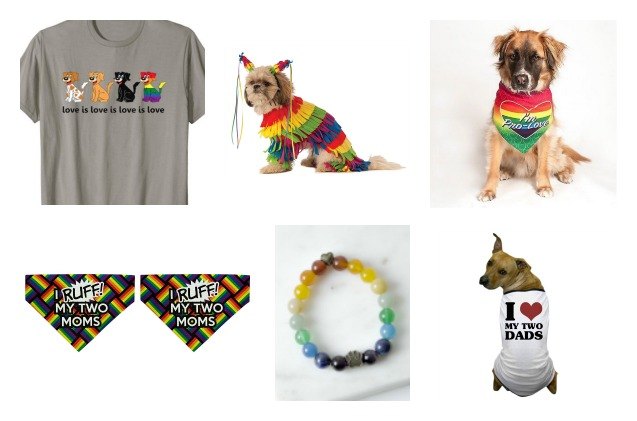 June is PRIDE month, and you and your pup want to be proud and be all-about-it loud. Check out our fabulous top 10 Pride Essentials for dogs and let your pooch's pride shine.
Many countries across the world hold Pride Parades to show support and build awareness for the LGBTQ+ community. Bitches (and Butches and all gender variations) come out loud and proud, and no self-respecting Pride Pups leave the house decked out in their must-haves.
So without further ado, the top Pride Essentials for dogs–don't hit the parades without them!
1. Love is Love is Love Shirt
Look, dogs don't give a damn whether you're a boy or a girl. They're gonna hump you no matter what because love is love is love. Also because that's how they show who the boss is, but that's beside the point. Pooches know love is love, and you wearing this shirt as you're parading with your pups is a great way to bring awareness for all love.
2. Make America Gay Again Bag
When you're out and about, you're gonna want to have a day bag with you to keep all the important stuff. You know, sunglasses, tiara, water bowl, feather boa…So what better bag than this one? Screw Make America Great Again (it's already great, thank you very much!) and instead, gay it up. Start with this bag–10% of the profits go toward The Drumpf Fund, which gives to rescues, the ASPCA and more. So you're making America better AND donating to worthy causes. Who doesn't love double-dipping?
Yeah, yeah, we know…dogs are man's best friend. But get with the times, they luuuuurve their mamas and it doesn't matter if they have one or two. Or more, no judging. The bandana lets the world know that dogs don't care (and really, humans don't either, but a different topic) about who's giving them all the pets (and food) and care (and food) and love (and food) as long as they're getting it. Good life lesson for a lot of us.
4. Casual Canine Puppy Pride Sequin Tee Shirt for Dogs
It's all in the little details: you can be proud and loud even if you're not wearing a flashy outfit (although some pizzazz never hurt anybody, if we're being honest). This black doggy tee might seem plain until you spot the big, rainbow-colored, sequined paw shape on the back of it glittering in the sunlight. Made from durable and comfy polyester, this can easily be your pup's uniform for the next pride parade- or an outfit for a laid-back walk around the park. Talk about versatility! Another fabulous thing about this shirt is not that it's "just" a statement piece and a fashionable outfit, but it is also a great way to protect your pooch from those harmful UV rays: the fabric is treated with UPF 40 for sun protection.
Available in 6 sizes ranging from XX-Small to Large, Casual Canine Puppy Pride Sequin Tee Shirt for Dogs will look fab on any pooch from Chihuahuas to Labrador Retrievers. Thanks to the high-cut, stay-dry style of the shirt, it will match most canine body shapes!
Annnnnd since there's always some debate going on about pro-whatever, why not just take the most easy and obvious stance there is: Pro-Love? This awesome rainbow bandana is perfect for every single day of the year because in the end, it really is all about love. Who could be against that?
6. Eternal Rainbow Bracelet
We love this bracelet. There's a reason it's called The Rainbow Bridge…even our dogs on the other side have pride. While this bracelet can be a memorial, we adore the smooth stones, the classic design and the simple way it loves other pets who need love too–each purchase feeds five shelter dogs. So order a ton and toss them out like beads in the parade.
7. Pinata Pup Rainbow Costume
Okay, okay, we know you'll want to have your dog in this every dog-goned day of the week, and we don't blame you. But truly, there's no better time than Pride month, so let's get it on. Literally. Rubies makes them in small-to-extra-large, and you know you won't be able to keep the smile of your face as your pooch shakes his or her maracas in the name of love and equality. And hey, while you're at it, pick up this snazzy pair of sun-staches. It's like you'll be a lost member of the Village People. Get your YMCA ready!
If there isn't anything fluffy and frilly, is there any Pride at all? Your dogs don't think so, which is why we'll just say it: you're a bad Pride Parent if your pup doesn't have one set or the other. Or both, because really, some days you want to show your tutu and some days you want to show your tatas with Fluffies. You know, as Pride dogs do.
9. Non-Toxic Critter Color
Warren London is known for their innovative and natural dog spa and grooming products, and we love their non-toxic critter color. Just about any color you can imagine and the possibilities for doggy design are endless with the temporary dye. It's non-toxic, temporary, washable (but won't rub off) and easy to change out as your diva desires. Perfect for just the right splash of fabulous!
Get your mind out of the gutter. We're talking about Pride TENNIS balls here. Perfect for your pup to parade around, play with or chew the fuzz off, as is the case with tennis balls in our house. It's a six-pack of rainbow pride colored balls from Zanies and they have some flexibility so little dog jaws can grip the balls better. Because. That's a need.
We are committed to finding, researching, and recommending the best products. We earn commissions from purchases you make using the retail links in our product reviews. Learn more about how this works.

Published April 26th, 2021 12:00 AM