4 Views
Top 10 Grand St. Patrick's Day Gifts For Irish Setters (…Or Any Do
March 18th, 2021 12:00 AM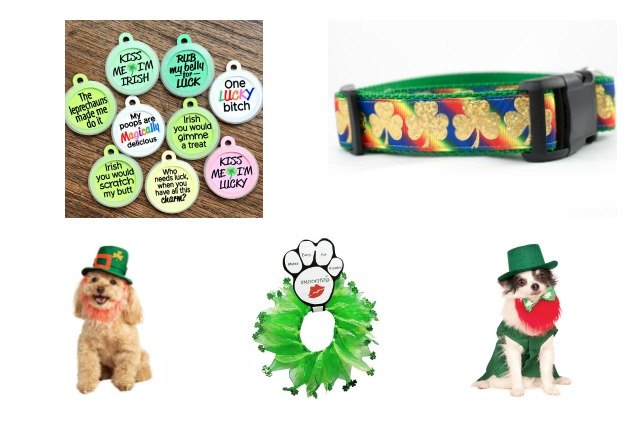 St. Patrick's Day means the wee leprechauns enjoy a bit o' mischief with their furry friends, and you don't want to leave your best pup out of the celebrations, do ya?
For years, I have put a leprechaun hat on my golden retriever for St. Patrick's Day, and for years, she has humored me because she is my sweet girl who knows it's always followed up by a yummy dog treat! A Mullins before I married, and an Ennis after, the green and gold flow freely for St. Patrick's Day in our house, and that goes for our four-legged family members too! Here are some fun gifts for your pup!
1. Irish Knit Dog Sweater.
We're pretty sure your furry lad or lassie will be the best-dressed pup in the parade with this gorgeous green Irish-Knit sweater from Muttropolis! It's hand-knit and 100% washable, so no worries if the St. Patrick's Day celebration gets a bit messy! (We won't tell!)
Look. If you don't think that this costume is the cutest thing ever? I am not sure we can be friends. I mean, seriously, who wants some creepy leprechaun running around when you can instead have your adorable pup taking his place, and looking ever so dapper while doing so? Your dog will beg you to wear this. Okay, maybe not, but…we beg you to take pics and send them to us!
3. St. Patrick's Day Dog Donut Treats
What is St. Patrick's Day if you can't celebrate St. Patrick's Day with some special treats? And since green beer is out of the question for your pooch, these cute donut-shaped St. Patrick Day dog treats are the perfect snack for them to join in on the celebration. Made with delicious dog-approved flavors, these treats by K9 Treats will help you celebrate St. Patrick's Day with an added flair
The two-pack St Patrick's Day Donuts dog treats from K9 Treats offer two colorful and bright donut-shaped cookies. They are dipped in their famous house yogurt sauce and are topped with coconut flakes, seasonal jimmies, and a light gold crystal sprinkle. The festive treats can be delivered right to your door just in time for your St. Patrick's Day celebration. Order them off Amazon today with a few of our other St. Patrick's Day celebration suggestions to make this a wonderful holiday for your Irish Setter (or any pup!).
4. St. Pawtrick's Day Sweatshirt.
Why should your dog get all the dress-up fun? Make a simple, loving St. Patrick's Day statement about how much you love your pup with this PAWfect pup print sweatshirt! Made in the USA and full of green clover luck, you may just end up wearing it a lot more than St. Patrick's Day!
5. Tees & Tails Drinking Buddy with Shamrock St. Patrick's Day Irish Dog Bandana.
OK, so you might not be able to share a pint with your four-legged bestie, but that doesn't mean that they can't be your company when you're getting "merry" for St. Patrick's Day! This cute little bandana is a hassle-free way to include your pooch in the festivities: the celebratory message in the holiday spirit is more than clear and you won't have to dress your pet up in a costume if they don't feel like it. Just put on this shamrock-printed bandana and there'll be no mistaking which holiday your pooch is celebrating!
Made from cotton, this festive bandana is lightweight, pleasant to wear, and breathable to boot. Your pooch won't have a single complaint- you can even choose between 9 different color options and two sizes to make sure that the bandana is a complete fit- size and style-wise. All that remains now is to take out your drinking buddy on a bar sprawl- after all, having a wingman such as your pet is never a bad thing!
6. St. Patrick's Day Hat with Beard.
Last year, I brought a new puppy home from the Global Pet Expo! I was mother of the year, and every time I have a new, adorable costume or decoration for the puppy? My son goes wild–which makes the puppy go wild! I won't lie; I had to add this baby to my Amazon cart and I can not WAIT to see how great she looks in it! I'm sure she will not roll her puppy eyes one bit! (If she does, too bad! It's adorable and she'll rock it!)
7. St. Patrick's Day ID Tags.
These tags crack me up! My seven-year-old son now asks the dogs, "Do you 'rish I would scratch your butt?" when he gives them pets or "Do you 'rish I would give you treats?" as he's about to give them a treat, and we all agree that the "My poops are Magically delicious," is the grossest, funniest thing they had to have! Seriously, hilarious all year long!
8. Green Plaid Flannel PJs.
Who's living the life large? Any pooch in these PJs! I mean, c'mon…they have pockets!! Because seriously, where's a dog gonna put all his St. Patrick's Day coins otherwise? These jammies are 100% cotton and machine washable, and frankly, we'd not be surprised if the leprechauns steal them right off your pup's body, they're so stinking cute!
These yummy, organic St. Patrick's day PUPcakes are made with organic flour, oats, carrots, milk, eggs, molasses and love. No, really, the description says they are made with love, and look at them–of course they are with their adorable little shamrock sprinkles and paper! Your pup will love the healthy and organic treat, and they'll especially love the love inside!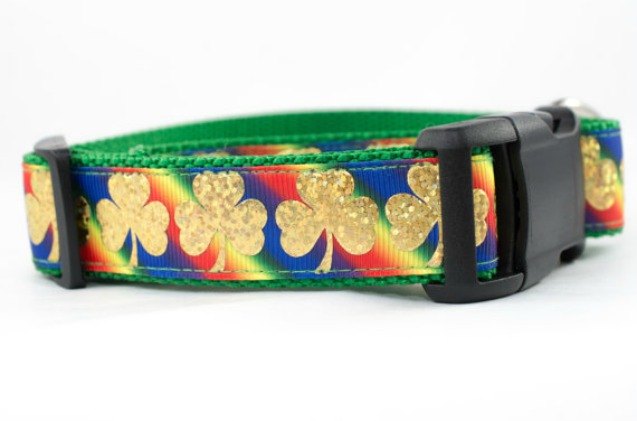 10. Rainbow Shamrock Dog Collar. I think this will pretty much be the color we wear year-round because: rainbow and gold glitter?? Yes, please! Of course, of course, it'll look mighty snazzy for St. Patrick's Day but I showed it to my son and he insisted we had them immediately. You may never want to ask a seven-year-old for fashion advice…except when it comes to the dogs–then they really know their stuff! Go now and order! They're all handmade and you may even get a leash to match!

Published March 18th, 2021 12:00 AM