92 Views
September 22nd, 2021 12:00 AM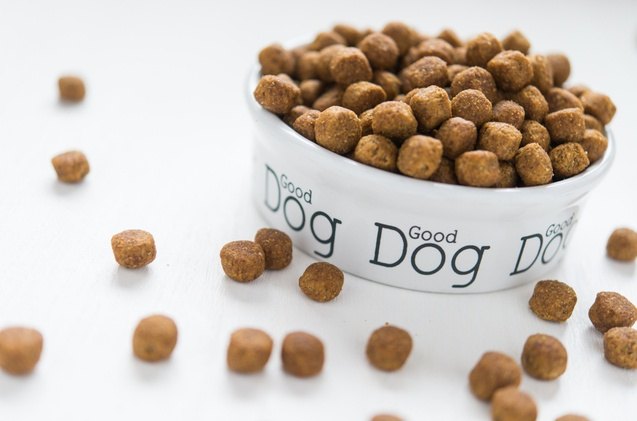 High-quality, well-balanced dry dog food can make sure that your pet gets all the necessary nutrients, vitamins, and energy just from kibble. However, there are many unhealthy kibble formulas out there that can actually deteriorate your dog's health – this is what you need to know about dry dog food before buying.
A healthy diet sets the foundation for your pet's health and overall well-being. Without a nutritionally complete diet, your pooch will be more prone to a range of health issues such as digestive problems or dry skin and dull coat, they'll have less energy, and their immune system will be weaker. Many pet parents turn to dry dog food simply because it's convenient, readily available, and most dogs enjoy eating it- but is it really good for your pet?
The truth is that not all kibble on the market meets the nutritional and quality standards it should to be the sole type of food your pet eats. However, high-quality dry dog food, formulated by experts, with natural and wholesome ingredients, and fortified with vitamins, minerals, or superfoods can provide all nutrients your pet needs in a practical crunchy form- a win-win situation for everyone involved. To help you make the right choice, we've selected the 10 best dry dog food formulas for every pooch out there.
1. Editor's Choice: Purina Beneful Simple Goodness Adult Dry Dog Food
Flavorful, healthy, and nutritious, Purina Beneful Simple Goodness Adult Dry Dog Food doesn't compromise on tastiness to make sure your dog's meals are good for them. The formula includes farm-raised beef or chicken as the first ingredient, and a blend of peas and carrots for fiber and vitamins which your pet needs to thrive. But the secret of this dry dog food isn't (just) its healthy and balanced formula- it's the unique texture. These tender meaty morsels with chunks of real meat and veggies will be more than appetizing to most dogs and can be a great choice for all life stages thanks to their tenderness. Whether your pet is a picky eater, has issues with teeth, or you simply want to make a switch to something new and nutritious this dry and tender dog food is just the thing.
2. Runner Up: Hill's Science Diet Dry Dog Food
The science-led nutrition philosophy at Hill's ensures that their kibble is carefully formulated to meet all the needs of individual dog groups and categories. Hill's Science Diet Dry Dog Food is meant for adult dogs with a healthy lifestyle: it is made with chicken as the first ingredient, contains no chicken by-products, and it's fortified with clinically proven antioxidants to boost your pet's immune system. The high-quality protein source will support lean muscle growth and give your pet energy for daily activities, the balance of Omega 6 and vitamin E promotes healthy skin and a lustrous coat, and the abundance of natural fibers in the formula helps maintain healthy digestion. A good all-around choice for most active, healthy adult dogs!
3. Customer's Choice: Blue Buffalo Wilderness High Protein Natural Adult Dry Dog Food
Grain-free is more and more popular with pet parents and pets alike and there's plenty of good reason for it. Blue Buffalo Wilderness High Protein Natural Adult Dry Dog Food is a tried and tested choice if you are looking for high-protein, grain-free kibble for your dog: instead of relying on wheat and corn as fillers, this formula uses healthy carbohydrates including sweet potatoes and peas, or ancient grains such as oat and barley. There are a few different flavors to choose from- duck, chicken, or salmon as the first ingredient in the formula. This healthy dry dog food contains no chicken (or poultry) by-product meals, corn, wheat, soy, artificial flavors, or preservatives. To boot, it is enriched with antioxidants, vitamins, and minerals carefully selected by holistic veterinarians and animal nutritionists.
4. Best for Picky Eaters: CRAVE Grain Free High Protein Adult Dry Dog Food
Despite popular opinion, not all dogs are greedy eaters. In fact, some will go as far as to turn up their nose at dozens of kibble choices until you finally find a flavor that suits their "refined" palate. Well, even those picky eaters can seem to resist CRAVE Grain Free High Protein Adult Dry Dog Food. Inspired by the diets of their wolf ancestors, this formula cuts out grains from the mix and relies on high-protein content (34%) to deliver all the nutrients straight to your dog's bowl. With real chicken or beef as the first ingredient, this dry dog food also includes healthy carbs such as lentils and peas. Additionally, this formula contains no corn, wheat, soy, artificial flavors, colors, or preservatives- so it's not only tasty to picky eaters but healthy as well.
5. Best for Sensitive Stomachs: Solid Gold Wild Heart Grain-Free Holistic Dry Dog Food
If your dog often suffers from an upset tummy, has issues with bloating, gasses, vomiting, and stool- and all potential underlying medical causes have been eliminated- it's likely their food that's irritating their sensitive stomach. Solid Gold Wild Heart Grain-Free Holistic Dry Dog Food is formulated to be gentle on the digestive system of canines: it is grain-free, gluten-free, and made from wholesome ingredients such as quail, quinoa, and pumpkin. In addition to novel protein and healthy carbs that could soothe your pet's belly, this dry dog food is also fortified with 90 million live probiotics per pound of kibble- to promote optimal digestive health and thriving gut flora.
6. Best for Allergies: Lucy Pet Formulas for Life – Sensitive Stomach & Skin Dry Dog Food
Dogs with food allergies often have digestive issues, itchy and dry skin, as well as a dull-looking coat. Lucy Pet Formulas for Life Sensitive Stomach & Skin Dry Dog Food is engineered to help with these particular issues with its formula that's rich in fatty acids and free of grains. Made with salmon, quinoa, sea kelp, and pumpkin, it provides plenty of fiber for better digestion and packs a lot of protein, antioxidants, and Omega 3s to support your dog's overall immune system and promote shinier fur and healthier skin. In addition, this kibble is fortified with L-carnitine and taurine to support canine cardiac health, which is a great benefit to most pets but especially those that are under stress, such as pets with separation or general anxiety.
7. Best for Weight Loss: Natural Balance Fat Dogs Low Calorie Dry Dog Food
So you have a chunky doggo. They might be endlessly cute with that extra fluff, but obesity is no cute matter- overweight dogs are at a risk for a myriad of health issues and have a lower quality of life. To help you put your pooch on the right track in their weight loss journey, you'll have to combine the right food with plenty of exercise, and Natural Balance Fat Dogs Low Calorie Dry Dog Food is a great choice for weight reduction. This low-calorie dry dog food contains a special fiber and protein blend to help your dog feel fuller for a longer time without racking up the calories. It is also fortified with optimal levels of L-carnitine which helps maintain a healthy weight in the long run.
8. Best for Small Dogs: Instinct Raw Boost Small Breed Dry Dog Food
Petite pooches have different needs than their bigger canine friends- from nutritional to the obvious one, which is the size and the shape of the kibble. Instinct Raw Boost Small Breed Dry Dog Food is tailored to the needs of small dogs not just with their formula, but also because of the fact that individual kibble pieces are tiny and easy to chew. The unique thing about this dry dog food is that it combines grain-free, high-protein kibble with freeze-dried bits of real meat to boost the nutritional value and flavor. Available in chicken, duck, or beef flavor, this dry dog food is made from real meat and whole food ingredients and doesn't contain grains, by-product meal, or artificial ingredients such as colors or preservatives.
9. Best for Seniors: Diamond Naturals Dry Senior Dog Food
When your pet gets to their golden years, you should pay special attention to their diet and modify it to meet their new needs, be it a way to maintain a healthy weight or an additional blend of vitamins they need in their elderly stage of life. Diamond Naturals Dry Senior Dog Food is formulated to maintain ideal body condition for senior dogs- so much so that it even has Glucosamine and Chondroitin added to support their joint health. It is made with cage-free chicken as the first ingredient and includes plenty of other ingredients that are beneficial for seniors, such as superfood and antioxidants, essential fatty acids to bring back shine to their coat, and proprietary probiotics to promote healthy gut and digestion. This formula has no artificial colors, flavors, or preservatives added.
10. Best for Puppies: Open Farm Grain-Free Dry Puppy Food
Start off on the right foot and make sure that your pet's kibble helps them thrive and develop into a healthy adult dog. Open Farm Grain-Free Dry Puppy Food is carefully formulated to meet the needs of puppies and contains everything they need to truly blossom under your care. The first ingredient in the formula is humanely raised chicken and wild-caught salmon, to provide that all-important protein and essential fatty acids. Free of grains, this dry puppy food instead utilizes non-GMO sweet potato, peas, chicory root, and raspberries to provide fiber and essential nutrients to your growing pupper. The best part is that all of the ingredients in this formula are not only natural but also humanely and sustainably sourced, making this kibble a true farm-to-table concept in the canine world.
What to Look For in Dry Dog Food
Choosing which foods to include in your dog's diet can feel overwhelming and challenging- that's because it is. There are so many options on the market, so much contradicting information, and add to that the fact that if your pooch is picky, you'll also have to hope that they won't ignore whichever kibble you end up buying.
To make sure you're getting the right type of food for your pet, you'll have to take into account their personal preferences and needs, such as their age, health status, activity level, and size. While no two dogs are the same when it comes to their lifestyle and medical history, there are some general rules of thumb when buying dog food that most pet parents can rely on. The first is to always read the label! No matter how great it looks on the front of the bag, you have to double-check if the ingredients in the formula back the awesome-sounding marketing.
This means to go for dry dog food that is made from wholesome, healthy ingredients in the right ratio. The first ingredient on the list is the one that makes for the most of the formula and it should always be a specific type of meat- like chicken or beef- and never just mysterious "meat" or a group like "poultry", or even worse, meat meal. Once you figure out that the meat is the main ingredient, you can proceed with the rest- go for grain-free kibble if your pet's health requires it, otherwise go for healthy carbs (such as rice or barley) over cheap fillers such as corn or wheat.
We are committed to finding, researching, and recommending the best products. We earn commissions from purchases you make using the retail links in our product reviews. Learn more about how this works.

Angela Vuckovic
A proud mama to seven dogs and ten cats, Angela spends her days writing for her fellow pet parents and pampering her furballs, all of whom are rescues. When she's not gushing over her adorable cats or playing with her dogs, she can be found curled up with a good fantasy book.
More by Angela Vuckovic
Published September 22nd, 2021 12:00 AM