95 Views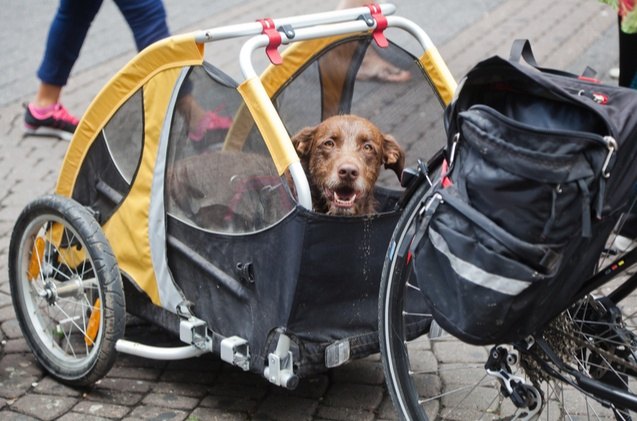 Dog bike trailers make sure your four-legged bestie can hit the road with you–the easy way! Whether it's a long-distance bike tour or your pet simply can't keep up with you when you cycle, dog bike trailers are a perfect solution.
For active and outdoorsy pet owners, the idea of not sharing their adventures with their four-legged companion is not on the table. I mean, how could you enjoy the fresh air and nature without that wagging tail by your side? However, despite your pet's enthusiasm to join you and your desire to bring him with you, it's not always doable. If you like to cycle, you know that having your pet run by your side is impossible if they are small, old, or injured in any way. The effort to keep up could be too much for your dog and make the activity an ordeal in the best case–and dangerous in the worst. Even when you have a large, young, and energetic dog that could follow you on your bicycle, it's only for a few miles at best- so what should you do when you want to tackle a long-distance trip on your bicycle, with your best friend in tow?
Dog bike trailers offer a unique solution for all these different scenarios: whether your pet is unable to follow along because of physical limitations or simply because the route is too long, having a trailer will allow your pet to be by your side. Designed to keep canines of all shapes and sizes safe and comfy on the road, dog bike trailers come in various different designs. From those that double as pet strollers to enclosed dog trailers, there are types of dog bike trailers to suit everyone's needs, whether it's to take an elderly pooch on a ride around the block or go on a road trip adventure with a big canine companion.
Needless to say, though, with so many different dog bike trailers on the market, it can be difficult to decide which one will give you the best bang for your buck–and fit the need of your pet at the same time. To help you find the best gear for your bicycle and ensure your furry companion will enjoy his time on the road with you and be perfectly safe throughout the trip, we've put together this list of the 10 best dog bike trailers. And, if you're unsure which of these best-selling trailers is the one that will match all of your requirements–make sure to check out our guide on what you need to look for in bike trailers for dogs, regardless of your needs.
1. Schwinn Rascal Tow-Behind Bike Pet Trailer
Easy to assemble and store due to its folding design and comfy for pooches to ride in, this dog bike trailer ticks most pet pawrents' boxes. You can keep your pet safely tucked in or unzip the sunroof mesh window if you want them to enjoy the breeze–and in case you want them all enclosed, don't worry, the rear doggy door will give you instant access when needed. The interior of the trailer has a built-in leash for safety and it's lined with non-slip material for a comfortable ride. Schwinn Rascal bike trailer is available in two sizes: smaller that can tow dogs up to 50 pounds and a larger size for dogs that weigh up to 100 pounds.
2. Best Choice Products 2-in-1 Pet Stroller and Trailer
Biking with your pet in tow can be tons of fun, but this activity needs to be done safely and by the book to avoid any potential mishaps. And for that, you will need a reliable and professional dog bike trailer that can endure even the longest bicycle journeys, such as Best Choice Products 2-in-1 Pet Stroller and Trailer. It's versatile, practical, and makes your pet's safety a priority. You can use it as a convenient pet stroller when those long hikes become too tiring for your pooch, or hitch it to your bicycle and go a-riding! As a pet stroller, it is particularly great for senior dogs that simply aren't that nimble but would still like to enjoy the outside world and all it has to offer. Ideal for medium and large size dogs, the trailer features 3 big flaps with mesh windows – it is super easy to get in and out of. In its stroller form, it boasts a three-wheel setup with added safety hand brake system. The trailer also has a complex steel frame, featuring durable wheels and safety brakes and reflectors, all ensuring great durability. White lights at the front and red lights at the back also add to the overall safety, and make night rides all the more enjoyable, and make this dog bike trailer a good choice for every occasion!
3. Solvit HoundAbout II Aluminum Bicycle Trailer
Designed to be as practical for rainy days as it is in sunny weather, this durable and versatile bike trailer is made from 600d polyester with waterproof floorboard and aluminum frame. This makes it both lightweight and extremely tough at the same time! It's equipped with pockets and storage for all your pet's necessities so you can use it to store poop bags, treats, etc while you're riding around with your pet. For safety purposes, this bicycle trailer boasts both a built-in leash and reflectors on the cabin and the wheels. Solvit HoundAbout II Aluminum Bicycle Trailer is available in two sizes; for medium breed dogs and large breed dogs.
4. Burley Design Tail Wagon Bike Trailer
This dog bike trailer features a unique trait: it has a removable floor for easier cleaning. This way, you don't have to worry about the dirt and mud from your pet's paws ruining his new trailer after a few trips! This attention to detail can be noticed in the overall design, with features such as side battens for stability and all-weather cover making cycling with your pet a fuss-free activity. And thanks to its fast-action folding system, this dog trailer is easy to disassemble for more convenient storing when not needed. Burley Design Tail Wagon Bike Trailer has a carrying capacity of up to 75 pounds.
5. Aosom Bike Trailer Cargo Cart for Dogs
Designed to offer maximum protection and adjustability, Aosom Bike Trailer Cargo Cart for Dogs will make biking with your pet all the more enjoyable and safe. The first thing to notice is the durable and reinforced frame. Made from tough steel, the frame is thick and has a unique oval concept that doubles the structural strength. The canopy of the trailer is high-quality as well- made with durable oxford fabric, it provides all the necessary protection from the elements. Two large side mesh windows provide a nice cross breeze, while the large rear and front doors make entering and exiting the trailer as simple as possible. Another great feature is the double-layered protection on the front window. You can leave the front flap completely open, close it with a mesh screen, or add another layer of protection with a clear, see-through PVC screen. That way your doggo can observe the road ahead without being battered by the wind or the rain.
The trailer also features a nifty safety flag for easy distinguishing and also relies on front and back signal lights. Also, Aosom made sure that the tires of this trailer are top-notch: these EVA wheels are durable and suited for all kinds of surfaces – from tarmac to grass! And best of all is the compactness of this trailer – it can be folded with a few quick and easy steps, making for easy storage.
6. DoggyRide Mini Bike Trailer
If you want to share your adventures with your petite pooch, this dog bike trailer is perfect for your needs! Well-made and versatile, it folds for easier storage and can convert to a stroller with an optional stroller kit–you can even use it as a travel crate as the cabin is removable! Talk about great bang for your buck. This trailer is made for dogs weighing 55 pounds or less and with a shoulder height of 15 inches or less.
7. Sepnine 2 in 1 Dog Bike Trailer and Stroller
With textured all-terrain wheels, this trailer is a great choice for people who like being out in nature with their pets. It is suitable for driving on different surfaces and in different weather conditions, as its mesh front screen comes with a waterproof cover. Versatile and practical, this bike trailer and stroller folds down flat for storage–ideal if you are tight on space. Sepnine 2 in 1 trailer is suitable for dogs that weigh up to 66 pounds.
8. Lucky Dog Red Pull-Behind Dog Bicycle Trailer Pet Carrier
No pooch left behind! With a lightweight but reliable pet bike trailer such as this one, you'll never have to leave your pet at home when you go cycling. Lucky Dog Red Pull-Behind Dog Bicycle Trailer Pet Carrier sets up in seconds and has a universal hatch that allows you to attach it to most bicycle frames between 24" and 28". It supports dogs that weigh up to 85 lbs, with sunroof and mesh windows to make sure that the pooch is comfy and dozy during the ride. Another feature that ensures "smooth sailing" is the pneumatic rubber tires suited for most terrains.
Lucky Dog Red Pull-Behind Dog Bicycle Trailer Pet Carrier is made from powder-coated steel tubing with sturdy nylon fabric: both are extremely durable and weather resistant, so you can count on your pet's new trailer to last you for years to come. And when it's time to store away the bicycle gear until next season, all it takes is to use quick release pins on the wheels- and the dog trailer will fold to just 11" in height.
9. Booyah Small Dog Pet Bicycle Trailer
Compact and foldable, this bike trailer is ideal for owners of small breed dogs- that don't have much space for storing their pet's stuff. The 3-layer sunroof lets you choose between fully open for a breeze in your pet's fur, protective mesh window, or fully closed when it's raining outside. The bike trailer is designed to provide maximum safety and comfort on the road with features such as suspension system and reflectors. Booyah Small Dog Pet Bicycle Trailer is suited for dogs that weigh 20 pounds or less.
10. ibiyaya 2-in-1 Pet Stroller and Bike Trailer
Heavy-duty but lightweight, this pet stroller and bike trailer makes sure your pet can ride around comfily whether you're on foot or cycling. Well-made and sturdy, it comes with a rain cover to make sure you can drive your pet around in this trailer in all weather conditions. This trailer and stroller has 3 built-in tethers so you can take more than one pooch as long as they all fit–the maximum weight capacity of the ibiyaya 2-in-1 Pet Stroller and Bike Trailer is 50 pounds.
Biking with your dog: safety precautions and important tips
Before you and your furry pal start riding around, it's important to know some basic safety tips that will make sure that you're both safe out on the road. Cycling with your pet in tow doesn't have to be challenging, but there are certain factors you should consider:
Maneuvering can be harder due to the extra weight
Even when your pooch is not too big, the added weight of the cart and your dog will definitely change the way you maneuver your bicycle. Stopping and turning will need some getting used to at first, as you'll have to slow down and be super careful to ensure that the added weight doesn't cause you to fall over or lose control over the bicycle.
Avoid uneven terrains
Your bicycle might be equipped to handle all kinds of terrains, but generally speaking, dog bike trailers are usually designed to be used on flat surfaces. To make sure that your bike trailer doesn't topple, come unhinged or just give your pooch an unpleasant bumpy ride, stick to cement roads, sidewalks, and bike paths.
Take baby steps
It doesn't matter if you are a cycling pro or if you take out your bicycle once in every blue moon: it will take some time to adjust to the weight and bulk of a dog bike trailer. Before you put your pet in it, take the empty trailer out for a spin, to see how it feels and what adjustments you'll have to make (if any). Then, buckle your pet in for a short ride around the neighborhood- just to test it out, and to see how your dog reacts to the trailer. Only after a few successful tries on short distances should you go on a longer trip–once you're confident enough you can maneuver the bicycle with your pet in tow.
Tips on how to train a dog to ride in a bike trailer
In addition to the safety precautions you should take when driving a bicycle with a dog bike trailer attached, it's important to make sure your pet is trained and accustomed to being towed around in a trailer. Unless your dog is calm and obedient when in the trailer, there's plenty of room for accidents to happen, so it's crucial that you work with them and take baby steps before driving in the trailer becomes a routine. Here are some basic tips on how to train your dog to ride in a bike trailer:
Be patient
The key to every dog training process is having patience. Introduce your dog to the trailer gradually and don't push them if they are timid or vary–it will only be counterproductive. Let your pooch adjust to the trailer at his own pace by starting out small, like letting them sniff out the trailer and tossing in yummies inside to entice them to go in without your help.
Bribe them with treats
Like it is usually the case, positive reinforcement is the way to go. No dog will respond well to yelling, force, or punishment–not to mention that it is cruel to your pet to use these methods. Instead, rely on treats and praise to motivate your pooch to do what you want. The promise of a yummy reward will speed up the adjustment to their new trailer, that's for sure!
Practice and be persistent
The last tip is to repeat and persist–Rome wasn't built in a day so you can't expect your dog to be completely used to driving in a bike trailer after the first try. Some dogs might be more relaxed and quicker to adapt to new things so it won't be an issue for them, but others might require a bit more effort. First, introduce them to the trailer without getting them in, then start with getting them to relax while inside the trailer before progressing to taking them on shorter trips down the street or inside your backyard.
What to look for in dog bike trailers
Even though the design of dog bike trailers is mainly similar at first glance, there are some important things that vary- and which should be considered before you decide on a bike trailer.
Bike compatibility
Needless to say- before you buy a dog trailer for your bike, make sure they're compatible! Most have universal attachments, but it's not always the case so be sure to double-check.
Weight capacity and dimensions
The trailer should be a perfect fit for your pooch–it will ensure both safety and comfort.
Multifunctionality
You might have a senior pet or a dog with mobility issues and need a pet stroller–why not get a dog bike trailer that converts into one? The 2-in-1 dog trailers and strollers can save you a lot of money and space.
Terrain compatibility
Most dog bike trailers are designed to be used on flat surfaces and urban city environments–in case you plan on taking your pooch with you to the great outdoors, go for the models that offer all-terrain tires.
Ease of storage
In case you have limited space in your home or don't plan using the trailer regularly, ease of storage will be one of the more important factors for you. Choose collapsible dog bike trailers that fold for storage–and don't take up much room when not being used.
Safety features
It's important for your dog's new trailer to be completely safe for him to use–that's why you have to make sure it checks all the boxes. In addition to attachments for leash or built-in leash for safe tethering, dog bike trailers should have reflective properties or reflectors, safety flags for improved daily visibility, and parking brakes.
Protection from the elements
Choose a dog trailer that's made from durable, weatherproof materials–and keeps your pet protected from the elements. A canopy will keep those strong UV rays or pesky raindrops away from your pet and the mesh ventilation windows prevent bugs from bothering your pooch while he enjoys the ride.
We are committed to finding, researching, and recommending the best products. We earn commissions from purchases you make using the retail links in our product reviews. Learn more about how this works.

Angela Vuckovic
A proud mama to seven dogs and ten cats, Angela spends her days writing for her fellow pet parents and pampering her furballs, all of whom are rescues. When she's not gushing over her adorable cats or playing with her dogs, she can be found curled up with a good fantasy book.
More by Angela Vuckovic
Published May 10th, 2021 12:00 AM