147 Views
We're committed to finding, researching, and recommending the best products. We earn commissions from purchases you make using links in our articles. Learn more here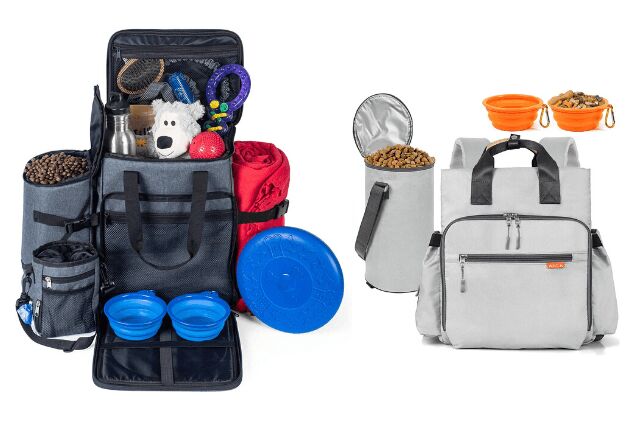 Dog travel bags make pet travel more convenient and practical without compromising on style. Take a look at what dog travel bags offer the best ratio of quality, price, and style and make your pick!
If you travel a lot with your pet in tow, you already know that it takes clever planning and good organization skills- it's not as easy as it may seem at first! That's why most pet parents are always on the lookout for new and smart solutions that make pet travel a breeze because the right type of product can really make your life so much easier. One of these nifty pet travel accessories are dog travel bags. With these fashionable and cleverly designed accessories, you can always make sure your pet's most important items are in one place and on hand. Designed primarily for all small and gentle dog breeds, these travel bags are stylish, efficient, and extra safe. No need to carry around a ton of jumbled items, or to stuff them all in the trunk of your car – simply carry it all neatly and conveniently packed in one of these smart-designed dog travel bags.
Our pets have a lot of items they need to use when they're not at home – toys, accessories, food, and water bowls, and a variety of other things can be required on your trip, depending on how long you're vacationing. Dog travel bags allow you to pack everything you might need, regardless of the trip length. These bags are primarily designed for traveling – both on short and long-distance relations, and can also be an everyday accessory. Designed for owners of puppies and very small dog breeds, they are a fantastic solution if you can't leave your pet unattended and need to take care of everyday needs. Some small pets suffer big separation anxiety, so taking them with you on your work trip, or any journey is a very important thing. So instead of worrying and leaving the food out to get stale and water to get warm, you can carry all these things conveniently with you, and take care of it in due time.
Dog travel bags are also a great solution for when you're going to the vet's office, the store, or any other short distance daily trip. When it can be all conveniently stored in one place (that's also practical and stylish) why not make sure your pet's leash, treats, toys, and other necessities are always on hand? And what's best about dog travel bags is that they don't have to be expensive to meet your needs- in fact, most of them are quite affordable.
To make sure you'll get the best bang for your buck, we've selected the best dog travel bags for different budgets and with different style preferences in mind. Whether you need something sporty, elegant, affordable or you can afford to splurge – we've got you covered.
Top Dog Pet Gear Travel Set
Just as the name suggests, this is a travel set that has everything you might need while journeying with your pet. It is made from durable materials and features a variety of details that can be a true lifesaver on the go. It can be carried in hand or on the shoulder, and it can hold all your bits and bobs, as well as the important stuff. It has a lot of outer compartments, such as a mesh pocket or trinket holder, a bottle pouch, and a magnetic flap. Inside it comes equipped with two collapsible food and water bowls so you can always be ready for food. It also contains two sealed food containers that can hold up to 24 cups of food combined. Great for hikes and long trips, this travel bag can really hold all of the essentials – and more!
Teamoy Double Layer Dog Travel Bag
Teamoy offers a slightly more basic design, but still quite efficient and with an impressive storage capacity. With a lot of outer nifty compartments and plenty of depth, this travel bag can truly hold an immense amount of stuff. It features a durable double layer design and also comes in two sizes and four different colors. It comes equipped with an easy to clean placemat, 2 collapsible food bowls, and two silicone layered food containers – so you can be ready on the go. It also features unique compartments that utilize the storage space to the fullest. Well worth the investment!
Overland Dog Gear Backpack
If backpacks are more to your taste than standard bags, this Overland weekend backpack is an ideal choice. Not your everyday backpack, this pet-friendly luggage is, in fact, a careful combination of a travel backpack and classic backpack elements. It can still hold a lot of accessories and has all the side pockets you might ever need. It comes with 2 silicone-lined food containers, 2 collapsible bowls, and a cool little placemat. And the best thing is – it is extra easy to carry on your back. This is the perfect choice for weekend hikes, for camping trips, or day travels- it all depends on your preferences.
Kong is a well-known brand for all things dog-related and their travel bag is as impressive as all of their other products. Featuring plenty of storage space, this travel bag offers the best of both worlds. Outside it features a few prominent pockets, while on the inside there are two large compartments for all your stuff. It too comes with 2 food grade bowls and 2 food grade containers for all the meals on the go. High-quality zippers keep everything sealed tight when you are traveling – no need to worry about luggage mishaps.
Wahl is the leader of all grooming related products, and this time they went one step ahead and delivered a travel bag that is designed to carry all your important things, including the grooming tools. Noticeably different than other designs on the market, this bag has more of a "duffel" shape and a lot of smaller compartments and nooks for all your grooming equipment. You will be able to stuff all your important items in here – without a doubt. If grooming is important for you, and lugging all that equipment is a challenge – this is your solution! Needless to say, this is a fave for pet owners that travel often to dog shows and groom their own pets.
Mobile Dog Gear Week Away Tote Pet Travel Bag
The "Week Away" travel bag is without a doubt one of the highest quality entries on our list. Made from durable nylon fabric with high-quality zippers, the bag is truly able to survive rough handling and will make sure you get your money's worth out of it. Several outer pockets and a large, deep inner compartment will hold ample supplies for most trips. Just like most other travel bags, it too comes with 2 food bowls and 2 food containers, a placemat, but an ID tag as well. All the carrying straps are fully adjustable and strengthened. A worthwhile investment.
This Kopeks bag is one of the more basic models on the market, but still features all the popular design elements that make it a more than acceptable choice. Made from durable and quality nylon fabric, it is quite tough and can handle wear and tear. The depth of the bag ensures that it can really contain a lot of goodies, and the added pairs of food bowls and containers will allow you to take care of all those munchies on the road without having to lug around your pet's dishware.
No one said you can't travel in style with dog travel bags. Arca Pet brand proves this with its stylish and highly fashionable travel bag, which is as efficient as it is pretty. Its water-resistant outer material is highly durable, and beautifully white as well. The bag itself has a lot of depth and great capacity, and combined backpack features for easy carrying on your back. It has 2 collapsible food bowls, but only one extra-long food container – more than enough. It also has a large water-resistant outer pouch for carrying wet towels and the like. A fantastic choice that allows you to have all you need right there on your back!
This Cleo Co. bag is a proper ultimate travel bag – with all these compartments and storage spaces, you are bound to fit everything you want. This deep bag features a unique removable divider that allows you to reorganize the compartments inside to your own liking. Great for travels and camping trips, it carries everything you want and then some. Added are 2 food and water bowls, and food containers too. A great choice for all conditions- and not to mention, incredibly stylish!
Tidify travel bag is well-made, cleverly designed, and budget-friendly: everything you'd want from a dog travel bag. Its most defining feature is the fact it has plenty of storage space and evenly spaced out and divided compartments. The designers did a great job to utilize every single ounce of space for storage – everywhere you look there are pockets and flaps. They also added a unique feature of two quick-release clasps that allow you to strap in a placemat, a blanket, jacket, or anything of the sort.
Features to consider in dog travel bags
When you travel with your pet, there are a lot of things to consider (and often bring along). No matter how you transport and travel with your pet – whether in a travel crate, a carry bag, in a booster seat or on a leash – it is no secret that you won't be able to efficiently carry all your pet's accessories to boot. Food bowls, water bowls, blankets, swimming vests, jackets, or toys: the list can turn out to be quite long and troublesome to pack. A dog travel bag solves all these problems with its pet-oriented ingenious design that anticipates your packing needs and allows you to conveniently store all of your pet's stuff. With dog travel bags, you'll have all you need at the tips of your fingers. Whenever you need anything it will be right beside you, and no matter how full the bag is, it will be easier to carry. Travel bags are compact and lightweight and can be carried on any trip – whether by plane, bus, car, or train.
But before you make your purchase, there are some crucial aspects to consider, and all that depends on what you need and want. So here are some important features that you should consider when buying a dog travel bag.
Size
Size is certainly the defining feature of dog travel bags. Depending on your needs, you really need to make a smart purchase and consider the overall size. Too large and you won't really be able to carry it everywhere and easily, and too small and you won't fit all the things you need. Careful consideration is needed for a perfect match: large bags are designed for long-distance traveling where you really need to carry all you might need from hygiene products to toys and spare leashes. The small ones are great for everyday use and just the basic necessities you might need on your daily short trips. Think in advance and make the purchase that best suits your needs.
Compartments
An abundance of compartments is one of the most important parts of a travel bag. Different designs will have different numbers of compartments, but one thing is certain – the more the better. You want to be able to store most of your dog-related accessories and to keep them separate and neatly organized at the same time. Dividers keep things easy to reach and return back to their place, minimizing the hassle and mess that comes with travel. While often designed with particular pet accessories in mind, compartments in dog travel bags are still versatile enough that you won't be limited in your packing choices.
Cleaning
When you are transporting food and water bowls, dirty dog toys, or used blankets, you can't avoid mucking up your travel bag. And this is all normal when it comes to any type of pet products, as our pooches are not the tidiest creatures on the planet. But that also means that you will have to find a travel bag that can be cleaned easily and often and be able to endure the wear and tear. Machine washable bags are the best solution here, and those materials that are sturdy and durable, and won't get ruined after the first wash.
Features & perks

Almost all dog travel bags come with a variety of convenient features that vary from brand to brand. The different design solutions are meant to help make traveling with a dog a breeze, so take care to choose those that work the best for you. Some bags come with added food and water bowls that are compact and stored neatly. Others have attached dog toys, or food carriers that will keep your kibble and treats dry and fresh during travel. Many brands opted for adding fluffy blankets as well, both for comfort and emergencies. Either way, you have many options and you can adapt according to those items you lack or need the most.

Durability

As it is the case with everything, durability is the key with items such as these. Opting for cheap solutions will result in short term use before you need to get a replacement. And with important accessories such as this one, you really don't want to risk it and ruin your trip because of luggage malfunction. Choose durable and high-quality items, and look for features that signal sturdiness, such as reinforced stitching or heavy-duty fabric choices. A good travel bag needs to be reinforced on crucial connections, to be adjustable and durable, and to have thick and padded walls. All these add to the longevity of the product, and will also survive all trips and journey well. On plane or bus trips, your travel bag might be tossed in the baggage compartments, and you want to rest assured that in such cases your bag and all the items inside it will remain unscathed. And if you opt for a high-quality travel bag – this will always be the case.

Benefits of dog travel bags
There are some clear benefits to owning a nifty dog travel bag. One of these is its space saving benefit, as well as ease of carrying. No need for complicated and inadequate packing solutions – you can gather all your dog-related items and pack them neat and separate. Avoid plastic bags, backpacks, filled car trunks, and smashed food bowls. A travel bag makes it all compact and easy to reach at all times.
In short, dog travel bags are a great accessory to own if you often travel with your pet. They save you a lot of effort when packing and organize all your dog items for quick use. Re-invent your traveling with a dog – with the help of a travel bag, it will be made so much easier and truly stress-free.
We are committed to finding, researching, and recommending the best products. We earn commissions from purchases you make using the retail links in our product reviews. Learn more about how this works.

Angela Vuckovic
A proud mama to seven dogs and ten cats, Angela spends her days writing for her fellow pet parents and pampering her furballs, all of whom are rescues. When she's not gushing over her adorable cats or playing with her dogs, she can be found curled up with a good fantasy book.
More by Angela Vuckovic
Published May 5th, 2020 12:00 AM