67 Views
February 6th, 2022 12:00 AM
We're committed to finding, researching, and recommending the best products. We earn commissions from purchases you make using links in our articles. Learn more here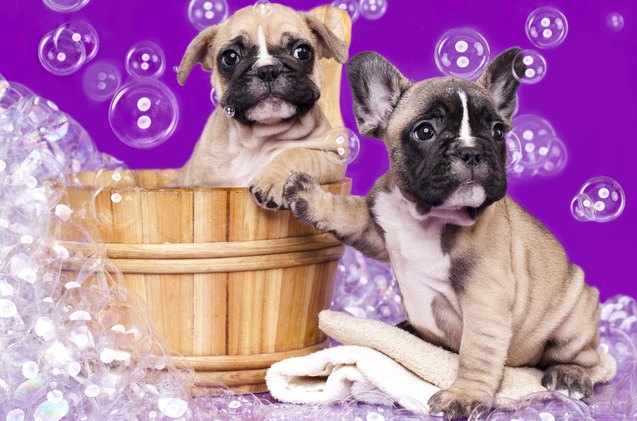 A puppy shampoo will keep your pooch fresh-smelling, their coat soft, and their sensitive skin healthy. Read on to learn which puppy shampoo is the best choice for your pet!
Puppies are a true joy in every dog owner's life. And while they can be a real handful and rowdy, puppies are also quite sensitive and fragile. It takes a lot of dedication and care to bring up a healthy, happy puppy to adulthood. One of the foremost aspects of this care is proper hygiene. Regular baths are a must! Now, it is well known that puppies aren't the biggest fans of bath time. But they are still very important. And to have a stress-free bath, you need a great and reliable puppy shampoo that won't irritate their sensitive skin.
A puppy shampoo will help soothe irritated skin, repair damaged coats, nourish the skin, and keep everything clean, shiny, soft, and smelling great! And best of all, they can also help keep fleas and ticks at bay. While it might seem straightforward, choosing a good puppy shampoo is quite the task! There are a lot of ingredients and features that you need to take into account. This list of the 10 best puppy shampoos on the market will help make that choice easier.
1. Editor's Choice: WAHL Gentle Puppy Shampoo
Time for that very first bath? Then you should make it truly royal and enjoyable. Wahl's super gentle shampoo is a result of a special formula, and it ensures that your puppy gets the very best treatment. This unique formula has a great pH balance and is completely free from parabens and alcohol. This ensures that your puppy won't have any irritation on sensitive skin, and will have no tears during the bath. What is more, the shampoo is based on a cornflower and aloe mix and will protect your pet's coat while keeping it shiny, clean, and scented. Wahl also helps you save some money thanks to 70% more content for the same price. That means more baths and more foamy enjoyment for your little puppy!
Pros
Gentle on puppies
Free from parabens and alcohol
Lovely scent
Cons
The lather could be better
2. Runner Up: Burt's Bees Natural Buttermilk Tearless Shampoo
It's always best to rely on a natural solution for all your puppy's needs. Burt's Bees offers a great and healthy solution that is 99.7% natural! This gentle puppy shampoo has ingredients based on buttermilk powder, honey, and beeswax. As such, it perfectly moisturizes the skin, soothes sensitive areas, and leaves your pet's fur soft and smelling wonderful. This formula is free from artificial fragrances, colorants, sulfates, and any harsh chemicals. It is also pH balanced, ensuring no irritation for puppies in their sensitive age. As it is 100% safe, this shampoo is often recommended by leading vets as a reliable natural solution. It's a great and healthy shortcut to spotless puppy hygiene!
Pros
Natural ingredients
Soft fragrance
Soothes the skin
3. Customer's Choice: BioSilk Therapy for Dogs
The puppies that can benefit most from a great shampoo are those with a fluffy or long coat. Make sure that it stays shiny, soft, and healthy with this BioSilk Therapy shampoo. This special formula boasts a floral-inspired Jasmine scent that is bound to make the whole house smell like blossoms! This puppy shampoo softens, repairs, and conditions your pet's fur, and is free from parabens and sulfates. It also boasts optimal pH balance and can be safely used in combination with topical tick and flea products. Another great feature is that is also a tearless shampoo, which means that it won't affect your pupper's sensitive eyes. Great for puppies 8 weeks old and up, this shampoo is a luxurious solution for a luxurious fluffy coat!
Pros
Made in the USA with human-grade ingredients
Softens the coat
No parabens or sulfates
Cons
The scent can be strong for some
4. Best for Itchy Skin: EarthBath Ultra-Mild Puppy Shampoo
We all know that puppies can be super sensitive – in every aspect. Their delicate skin and fur will need some extra attention in those early days, so make sure that you are using a reliable and mild shampoo, especially if they have itchy skin. EarthBath provides a solution with their ultra-mild wild cherry formula that is based on gentle cleansers, organic aloe vera and is pH-balanced. It also contains no soap, gluten, DEA, parabens, synthetic dyes, sulfates, or phthalates. All of this makes it super gentle on your puppy's skin and fur. Not surprisingly, this shampoo can be used on puppies as young as 6 weeks. Perfect for those first baths!
Pros
Soothes irritated skin
Suited for puppies as young as 6 weeks
Gentle on the skin
Cons
The cherry scent might not be everyone's cup of tea
5. Best Tearless: Pet Head Puppy Shampoo
Who said that bath time can't also be a fun time? With this superb puppy shampoo, your pet won't come to dread cleaning time! This shampoo is all about sustainability and ecology! It is made in eco-friendly environments, it is not tested on animals, it comes in 100% recyclable bottles, and is totally made from natural ingredients. It has a "yummy orange scent" which will make your pupper wonderfully fragrant all the time. This shampoo is also very gentle on the skin and is hypoallergenic, which minimizes the threat of skin irritation. With zero harsh chemicals, it is one of the gentlest shampoos on the market. And it is totally tearless too!
Pros
pH-balanced tearless formula
Recyclable bottles
Lovely scent
6. Best Scent: Synergy Labs Veterinary Formula Shampoo for Dogs
If your vet recommends it, it has to be good! Synergy Labs offers one of the foremost puppy shampoos with their mild, pH-balanced formula. This extra gentle and tearless shampoo is specially formulated for puppies in their first year of life, starting from 6 weeks. Free from sulfates, DEA, and parabens, it leaves your pet's coat soft and fluffy – and smelling great too. And best of all, it won't irritate the eyes or the skin. This shampoo is recommended by vets for puppies 6 weeks and older and helps cleanse the skin without drying it out too much. The scent is gentle but lasting and reminiscent of baby powder.
Pros
Vet approved
Gentle on the skin
Good lather
Cons
Can be difficult to rinse out
7. Best for Fleas: Arava Flea & Tick Control Puppy Shampoo
For puppies, at a time when they are most vulnerable, fleas and ticks can be quite a major nuisance and a huge threat to their health. This puppy shampoo helps keep these critters at bay. This special formula relies on a blend of essential oils to eliminate fleas and ticks without exposing your puppy to harsh chemicals. The main ingredients here are natural essential oils of citronella, rosemary, geranium, thyme, cloves, and other insect-repelling oils. They are supplemented with soybean and castor oils, and the special dead sea minerals which are a true secret ingredient in this unique recipe. The whole mixture is great as both a shampoo and a flea repellent. This purely botanical formula has a soft and pleasing scent, and it also leaves your pet's coat shiny and soft. Being one hundred percent natural, it won't irritate your dog's skin in any way.
Pros
Plant-based formula
Essential oils eliminate fleas and ticks
Leaves coat soft
Cons
Effects are not long-lasting
8. Best Hypoallergenic: TropiClean Hypo Allergenic Shampoo
Since puppies can have such sensitive skin and are very gentle, a hypoallergenic shampoo might be the best choice in those early days. TropiClean Gentle Coconut is a shampoo that is designed for puppies with allergies and sensitive skin and is made from 70% organic ingredients. These include a blend of Aloe Vera leaves, oatmeal, Vitamin E, and mild coconut cleanser. This shampoo does a great job of keeping your pet's fur soft and shiny, leaving it smelling irresistible. The bottles of this shampoo are made from 50% recycled material, and as such, they are considered as an Earth-friendly green packaging product. A great way to keep your puppy clean and healthy, while looking after the environment.
Pros
Mild and gentle formula
Nice coconut scent
Made with natural ingredients
9. Best for Long Hair: Bio-Groom Fluffy Puppy Shampoo
Nothing is more charming in puppies than their fluffy hair. It makes them look like chubby clumsy balls of fur. But not all puppy shampoos will give their hair that effect. Bio-Groom makes it a certainty! Recommended by top breeders and professional groomers worldwide, this tearless, pH-balanced puppy shampoo is perfect for all puppies, but particularly those with longer coats. It is specially developed to soothe the puppy's delicate skin and to cause no irritation. All the while it helps leave the coat soft, shiny, and endlessly fluffy. It also won't interfere with any topical flea and tick treatments and is safe to use in combination with them. Another great feature is the fact that it rinses out very quickly – meaning less hassle for you.
Pros
Leaves the coat soft and fluffy
Tearless
Optimal pH Balance
10. Best for a Soft Coat: Crazy Dog Baby Dog Shampoo
Crazy Dog's unique puppy shampoo formula leaves a pleasing scent that lasts a long while, but that's not the only great thing about it. Ideal for puppies, but also good for adult dogs, this shampoo is just perfect if you want your pet's coat to be soft and shiny. It also moisturizes and protects the skin, and can repair damaged hairs too. It helps with those pesky tangles too, which is great if you have a dog with silky, sensitive hair. Nothing better than snuggling with a soft, fresh-smelling puppy!
Pros
Lasting scent
Repairs damaged hairs
Soapy formula
Cons
Not everyone likes the scent
Do You Need a Special Puppy Shampoo?
A puppy shampoo isn't simply used to clean your pet and keep them shiny and smelling nice. There is a lot more involved "behind the curtains" – a lot more that is vital for great hygiene and good health. This is why your puppy needs a special shampoo, rather than a generic one for adult dogs.
Puppy shampoo is great for moisturizing your pet's skin. At a very young age, dogs can be quite sensitive. Their skin can become dry and flaky and vulnerable – if not cared for properly. A good shampoo can leave the skin moisturized after a bath, and for a long time too. This is a great way to prevent skin issues that stem from dried skin, such as dandruff and itchiness.
If you spot dried and irritated skin on your puppy early on, it can be remedied with a gentle warm bath and a good puppy shampoo. That way you can soothe irritations, alleviate symptoms of skin-related issues, and make your pet feel more comfortable and happier.
Keeps fleas and ticks at bay
For puppies, ticks and fleas can be a major threat. You should pay special attention to keeping these critters at bay at that tender young age. Certain puppy shampoos that are based on natural ingredients and plant-based essential oils can help eliminate the threat of fleas and ticks. Other shampoos usually work in combination with topical flea treatments, and won't wash away their effects. With proper and regular use of these shampoos, you can make sure that your pet stays protected from fleas and ticks from the very beginning of their life.
Keeps the coat soft and shiny
One of the important advantages of puppy shampoo is its ability to condition, repair, and maintain the delicate coat of the puppies. Dog hair is constantly damaged from outside sources and can get dry and stiff. Regular baths will help keep it soft and fluffy, and the shampoo will repair the hair and condition it. With evenly spaced baths, you can ensure that your pet's hair remains in prime condition virtually always!
We are committed to finding, researching, and recommending the best products. We earn commissions from purchases you make using the retail links in our product reviews. Learn more about how this works.

Angela Vuckovic
A proud mama to seven dogs and ten cats, Angela spends her days writing for her fellow pet parents and pampering her furballs, all of whom are rescues. When she's not gushing over her adorable cats or playing with her dogs, she can be found curled up with a good fantasy book.
More by Angela Vuckovic
Published February 6th, 2022 12:00 AM