228 Views
January 24th, 2023 10:41 AM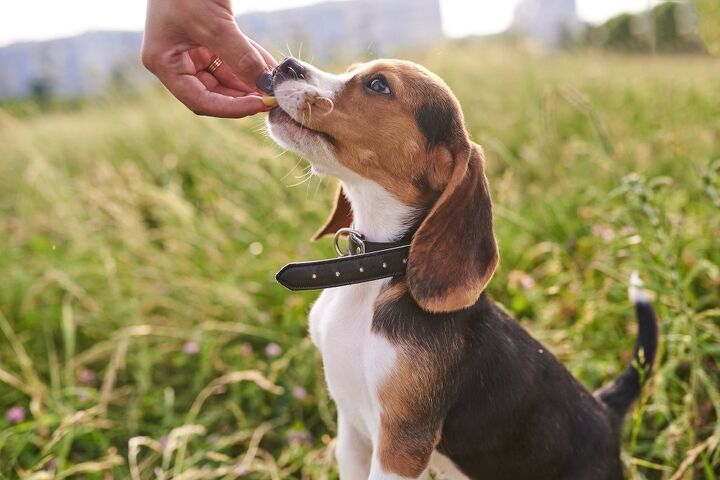 If you have recently brought a puppy into your home, it's an exciting time! Especially if this is your first dog. One mistake that new pet owners make is to buy everything and anything that catches their attention, spending far more than needed to meet their new dog's needs. This often results in piles of dog supplies sitting unused and going to waste. With treats specifically, you may purchase 5 different kinds only to find out later that 4 aren't recommended for your dog due to the ingredients used, the brand's recall history, or other factors.
If you relate to this, don't worry. We've got you covered!
In this guide to the best puppy treats, we have put together a list of our top recommended treats for a variety of different situations and considerations. This includes dental treats, single-ingredient treats for dogs with allergies, and treats to help motivate your dog positively during the training process. We've also shared some tips and tricks for your puppy training journey. Let's get started…
Editor's Choice: Zuke's Puppy Naturals Salmon & Chickpea Recipe
These small, bite-sized treats are the perfect training treat for puppies of all sizes and breeds. They are a tender, meaty treat that holds up well when tossed in a pocket or training treat bag, allowing you to carry them with you throughout the day. Not only are these treats packed with quality nutrition, but they are also formulated to maximize absorption, ensuring your puppy fully enjoys the health benefits.
Pros
Contain DHA and EPA to support brain development
Packed with vitamins and minerals for a healthy reward
Only 3.5 calories per treat
Cons
Tender treats get very hard if left in an unsealed bag too long
Treats have a strong, fishy smell that can be unpleasant for some dog owners
Runner Up: Wellness CORE Brainiac Puppy Soft Training Dog Treats
These treats from Wellness CORE allow you to offer positive reinforcement for training while also prioritizing their health and development. They contain DHA to support the key brain development that puppies experience at this young age. The treats themselves are a little larger than most puppy or training-focused treats. The treats are made in the USA, free from corn, wheat, soy, artificial colors, and preservatives.
Pros
DHA to support brain development
Omega-3 fatty acids for healthy skin & coat
Only 6 calories per treat
Cons
Larger treats may need to be broken up for some dogs
Customers report treats crumble when being broken and in the bag
Best Training Treats for Puppies: Buddy Biscuits Training Bites for Dogs
At only 1.5 calories per treat, these training treats are the perfect option for extended training. You can reward your pup as often as needed without feeling guilty about "spoiling their diet." These treats are made with a pork liver base to create a treat that smells and tastes enticing – motivating your puppy during each training session.
Pros
Each pouch contains 500 training treats
Include salmon oil and coconut oil for healthy skin and coat
Only 1.5 calories per treat
Cons
Tender treats get very hard if left in an unsealed bag too long
Small treats may be too small for some larger breeds
Best High-Value Treats for Puppies: Crumps' Naturals Mini Trainers Freeze Dried Beef Liver
If you're looking for a tempting treat to encourage even the most stubborn puppies during training, you may need a high-value treat like these freeze-dried beef liver treats from Crumps' Naturals. Made with only 1 ingredient, 100% beef, they are a great choice for dogs with allergies or sensitive stomachs. Highly nutritious, these treats boost the immune system, improve digestion, decrease allergy issues, and promote skin and coat health.
Pros
Single-ingredient treat, 100% Canadian Beef
Handcrafted with all North American Ingredients
Only 0.17 calories per treat
Cons
Size is too large for many smaller dogs, requiring they be broken
Treats crumble, creating dust when breaking into smaller pieces
Best Dental Treats for Puppies: Get Naked Grain Free Puppy Dental Chew Sticks
Do you have a puppy that enjoys chewing? These treats are a great option to satisfy their need to chew while simultaneously cleaning their teeth and gums. The shape of the chew sticks feature ridges that scrape away plaque and tartar. They are designed to support healthy joints, boost skin and coat health, and improve digestion. But keep in mind that the treats are high in calories and should only be offered as an occasional treat.
Pros
Includes DHA, Omega-3 and 6 fatty acids, and calcium
Reduce plaque and tartar while chewing
Available in both small and large sizes
Cons
Treats are very high in calories
Some customers warn that the treats are too hard for some puppies
Best Treats for Teething Puppies: N-Bone Puppy Teething Sticks
Puppies can be heavy chewers, a problem that has cost many dog owners their favorite sneakers and furniture legs. If this is a struggle that you are currently faced with, N-Bone Puppy Teething Sticks could be the perfect solution. These 100% rawhide-free teething sticks are made to last, allowing your puppy to focus their urge to chew on something safe and positive. Each stick includes added DHA to the treats to help support healthy brain development.
Pros
100% rawhide-free chew
Including DHA and Omega-3 fatty acids
Relieve pain and discomfort from teething
Cons
Could pose a choking risk if puppies bite pieces off
Some customers report sticks are too small for larger breeds
Best Calming Treat for Puppies: Zesty Paws Puppy Calming Soft Chews
Dog owners that share their lives with a nervous or hyperactive puppy may find themselves searching for a solution. Luckily, there are treats formulated with natural ingredients that encourage calm and relaxation. This includes valerian route, L-tryptophan, organic chamomile, organic passionflower, magnesium citrate, and organic ginger root. In addition to everyday stress, this is a great natural solution for puppies afraid of car rides, firework displays, storms, and more.
Pros
Includes a clinically studied form of Ashwagandha
Tail-wagging turkey flavor that puppies enjoy
Veterinarian formulated
Cons
High price point
Not effective on a small percentage of dogs
Best Budget-Friendly Treat for Puppies: Fruitables Dog Treats Pumpkin & Banana Flavor
Made with delicious natural ingredients and only 8 calories per treat, these pumpkin and banana flavor treats are sure to make your dog drool. The recipe includes pumpkin, banana, and cinnamon, all ingredients known to offer great nutritional benefits. They are packed with vitamin C, fiber, antioxidants, and potassium. The treats are small crunchy, baked bites that are suitable for puppies of all sizes.
Pros
Source of potassium, fiber, antioxidants, and vitamin C
Produced in the United States
Only 8 calories per treat
Cons
Hard treats are very difficult to break into smaller pieces
Some customers report quality issues with treats varying considerably in size
Should You Give Puppies Treats?
When caring for a puppy, there are many health and safety points to consider. Worrying about your puppy's treats is a very valid concern! The short answer is yes; treats are a great way to reward your puppy, encourage good behavior, and keep them focused on basic obedience training.
But not all treats are safe for your puppy in these early months of their development. Stick to softer treats that are easier to chew and won't risk damaging their baby teeth.
You also need to pay attention to the size of the treats you are giving them, especially if you're doing a lot of training. Smaller, bite-sized treats will allow you to keep rewarding your puppy throughout the day without overfeeding them. If your puppy's favorite treats are larger treats made for adult dogs, you may be able to cut or break the treat into smaller pieces suitable for training.
Can I Give My Puppy Treats Every Day?
There is no rule saying you must limit how many days you give your puppy treats. But you should be mindful of the number of treats they are getting each day in terms of their recommended calorie intake. Too many treats may put your puppy at risk of obesity, which can introduce many serious health problems.
The rule of thumb is that your puppy's treats should only make up 10% of their total daily calorie intake, with the rest coming from a high-quality, balanced diet. Of course, to determine this, you will need to know how many calories your puppy should eat each day. You can ask your veterinarian if you're unsure what this number is. They will be happy to help you assess your puppy's dietary needs and determine the right amount of food and treats with their best health in mind.
Can I Use Kibble as Treats for Training?
Yes! If you are concerned about the additional calories from a lot of training and the treats involved, using kibble can be a great solution. This is especially effective if your puppy is food-driven and goes crazy over each meal. Rather than just putting their food dish down, consider turning mealtime into a training opportunity. You can work on enforcing basic obedience skills, offer your puppy some much-needed mental enrichment, and stick to a healthy diet.
High-Value Treats Versus Low-Value Treats
Dog treats are often labelled as either "high-value" or "low-value," but what exactly does this mean for your puppy? These labels refer to how valuable your puppy views the treats, and which will encourage them to go above and beyond during training.
Low-value treats are lower-calorie, bite-sized treats or pieces of kibble used to reward your puppy consistently throughout the day. They are treats your puppy likes and sees as a reward, but they aren't the most exciting treats you have at your disposal. They are also the treats that are often used in treat toys and food puzzles to provide mental enrichment. Your puppy can have many of these without maxing out their daily calorie intake.
High-value treats are the treats your puppy views as the most valuable and exciting. For many puppies, these are freeze-dried treats or pieces of human food like small bites of cheese or chicken breast. Your puppy will do just about anything for these treats, making them the perfect choice for introducing brand-new cues and behaviors or working on behavior modification.

Britt
Britt Kascjak is a proud pet mom, sharing her heart (and her home) with her "pack" which includes her husband John, their 3 dogs – Daviana, Indiana, and Lucifer – and their 2 cats – Pippen and Jinx. She has been active in the animal rescue community for over 15 years, volunteering, fostering and advocating for organizations across Canada and the US. In her free time, she enjoys traveling around the country camping, hiking, and canoeing with her pets.
More by Britt
Published January 19th, 2023 3:37 PM