125 Views
10 Pet Industry Trends at SuperZoo 2023
September 26th, 2023 1:37 PM
We're committed to finding, researching, and recommending the best products. We earn commissions from purchases you make using links in our articles. Learn more here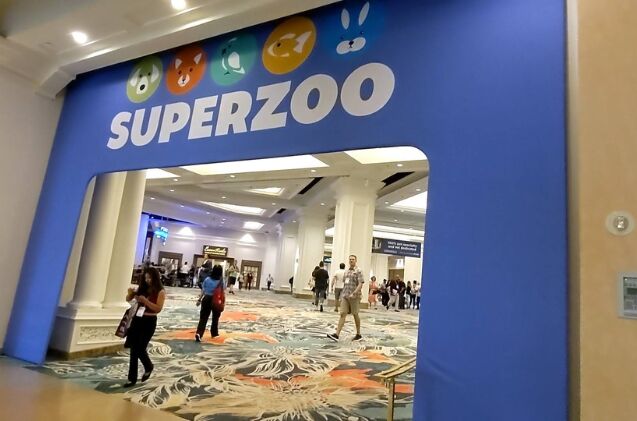 Last month, nearly 18,000 pet professionals gathered in Las Vegas for North America's largest pet retail event – SuperZoo! Here, brands showcased their newest and most innovative product lines, new products were launched, and connections were made that would help shape the pet industry as we know it.
As a member of the media, we have a unique opportunity to discover the latest trends (as well as those starting to fall from the limelight).
Are you interested in learning about what you can expect to see in the coming weeks and months from your local pet stores and favourite pet brands? I'm going to break down some of the biggest pet industry trends I identified while walking the show floor at this year's show!
Let's get started…
Opening the Door to Travel for a Wide Range of Pets
We are all familiar with the many carriers, crash-tested harnesses, and other products available for travelling with our cats and dogs. This isn't changing! Brands continue to bring new travel gear to the forefront for our furry friends, making travel safer, more convenient, and more comfortable than ever before.
But this wasn't the most exciting shift that I noticed…
A growing number of brands are focused on making travel accessible for ALL pets. It was great to see backpacks and harnesses for birds, carriers designed specifically for travelling and road trips with rabbits and other smaller animals, and more.
Pets are such a special part of our lives. I love that so many more opportunities are being created to embrace this and make more memories together.
Of course, disclaimer: this comes with training, conditioning, time, and understanding of your pet's personality. Not every pet, including dog and cat travellers, will be interested in heading out on a car ride or jet-setting across the country. But they make the best travel companions if they are comfortable with it.
Enrichment for Pets of All Shapes and Sizes
Another trend that isn't entirely new is the push for enrichment for our pets. But I noticed two key differences in the products this year.
First, there were more products for birds, small animals, and reptiles than in previous years (although I first saw this trend emerging at the show in 2022). For example, foraging toys for rabbits were once difficult to find, and when you did, they all looked the same. Now, there are a variety of different shapes, sizes, styles, and puzzle types to keep your bunny interested and engaged.
This reflects our growing understanding of the importance of mental enrichment for the health and well-being of our pets.
Another trend that was clear in the enrichment space was the need for new types of enrichment for our pets. Dog puzzle feeders have been around for quite a while, but this show introduced puzzle feeders with additions, interchangeable parts, or multiple challenges in a single feeder. This lets you change the puzzle from use to use, keeping mealtime interesting.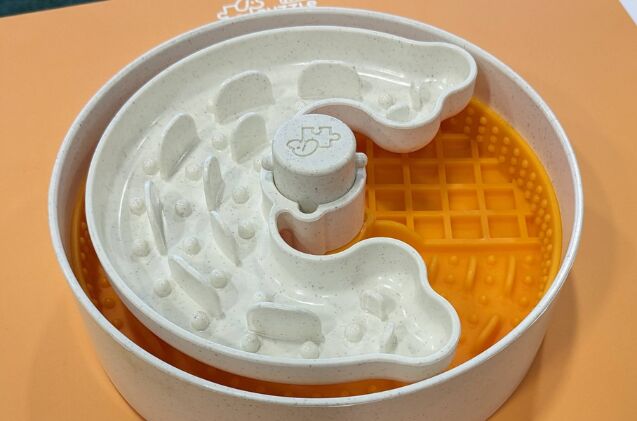 Creating a Working Partnership with Pet Parents and Veterinarians
Choosing a skilled veterinarian you trust is essential in prioritizing your pet's health. But your vet shouldn't be the only one focused on your pet's care. One growing area that was apparent at this year's show was the number of products that allow you, as a pet parent, to be part of your pet's healthcare team.
I saw several home test products available that allow pet parents to track and monitor their pets, as well as identify a potential problem.
One company that passionately shared a product in this category with us was AnimalBiome. They showed us their DoggyBiome and KittyBiome Gut Microbiome Health Test kits. These allow pet parents to better understand the health of their pet's digestive system. Not only does this allow for the use of supplements to improve the health of our pets, but it also provides valuable information that you can bring to your veterinary appointments. This, along with a log of any symptoms or changes you have witnessed, will give your vet a bigger picture of the problem than they can experience within the time limit of your appointment.
Other products that fall into this category include home urine testing kits and allergy testing that can be conducted by collecting samples at home and mailing them to a lab for assessment.
A Focus on the Health Benefits of Mushrooms
A complement to home testing and the focus on your pet's health is the use of supplements to improve your pet's overall health or address potential health concerns. This is another category that isn't new, like enrichment, but there are changes and developments within the space from year to year.
This year, many products were formulated to leverage the benefits of mushrooms.
The use of medicinal mushrooms by humans has been studied for many years, so it doesn't come entirely as a surprise that it is now being explored in the pet space. While there are few pet-specific studies, many experts point to evidence that mushrooms can be used in managing conditions like anxiety or seasonal allergies. They can also be used as part of a larger treatment plan for significant health conditions like some forms of cancer.
Like the growing interest in CBD, mushroom supplements are still relatively new and, therefore, met with some skepticism. But this will likely inspire the dedication of more time and funding into researching these potential benefits.
Natural Solutions to Your Pet's Needs
In many situations, chemical products were once considered the norm and the safest option available for everyone involved. However, as we learn more about these chemicals and their potential impact on our lives, we begin to seek natural alternatives.
The first place we saw this was with the use of natural cleaning products, both house cleaning products and grooming products. Brands continue to improve upon these products, introducing new benefits from fresher smells to the ability to cut through the toughest messes.
One new trend that emerged at the show was the focus on natural options for addressing fleas, ticks, and other bugs.
Pet parents have been making their own essential oil-based flea and tick repellents for quite a while, with a few select brands tackling the problem. However, there was a noticeable increase in the number of companies dedicated to providing an all-natural solution.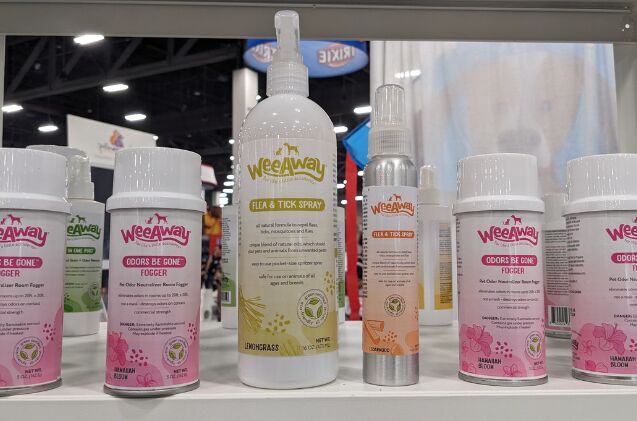 New Twists on the Traditional Dog Chew
There have been a lot of changes and developments over the years regarding the available options for safe dog chews. Gone are the days when rawhide was seen as the only option. In fact, many dog parents are now avoiding rawhide chews after learning of the risks these treats carry, including the potential digestive issues, the possibility of a blockage or obstruction, and the risk of choking.
But if not rawhide, what should your dog be chewing?
Many different options were being shared at the show, several of which I brought home to try with my own "pack" of three chew-loving dogs. Each of the options came with their own unique benefits.
The use of collagen in dog chews was clearly a popular choice, but it definitely wasn't the only option! There was a plethora of yak cheese chews, cod chews, bully sticks, and more. One company was even introducing a line of smoked dog treats that helped reduce the smell we often associate with bully sticks (for good reason, when you consider what they are made from) while still offering a tasty and tempting treat for your pup.
Get Outdoors with Your Pet
We already touched on the growing trend of travel for all types of pets, but there was also a major focus on embracing the world of outdoor travel with your pet, from taking a walk through your local park to camping in the backcountry completely off-grid with you travel buddy by your side. I would be lying if I said I wasn't excited about seeing this as someone who regularly tent camps with our three dogs and two cats.
Many products were focused on keeping your pet safe while adventuring. This includes focusing on secure harnesses, backpacks and strollers, improved visibility on leashes and collars, and other more specific safety concerns like pests or rugged surfaces.
The most exciting development I saw was the focus on making this accessible for ALL pets. For example, strollers have long been an option for those looking to walk smaller dogs or cats, but the maximum weight for most stroller options was relatively low. At the show, there was a growing interest in providing strollers capable of carrying larger dogs. This is so important for those trying to get outdoors with senior dogs or those recovering from an injury or illness. I was incredibly excited about this development with a 15-year-old German Shepherd Dog mix in our family.
Get Bougie and Embrace Luxury with Your Pet
Like many of the trends on this list, luxury pet products aren't new, but they are certainly gaining a lot of attention from brands, retailers, and pet professionals. I noticed several brands sharing the message that functional pet gear can also be stylish and aesthetically pleasing.
There were harnesses of all designs, colours, and styles and even a luxury cooling bandana that would effectively prevent heat stroke while showcasing your personality. Many of these products also included interchangeable accessories and other fun elements, allowing you to mix and match for further customization.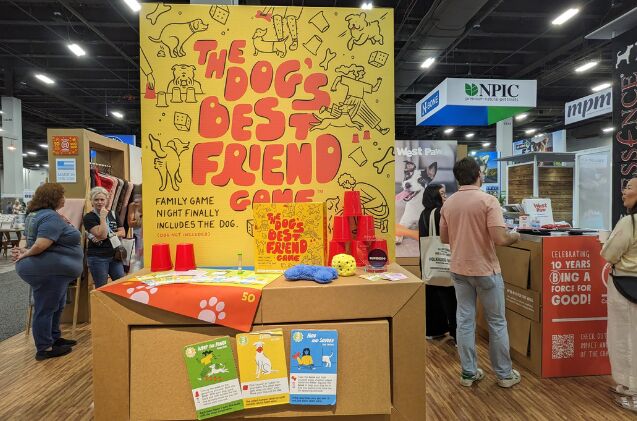 Bring the Whole Family Together with Your Pet
A trend I loved seeing last year and this year is the opportunity to enjoy spending time with your pet as a family. Last year, I was introduced to training games designed to be child-friendly from Brightkins, like their Magic Trick Training Set. This encouraged children to put on a magic show with their dog as their loyal assistant, all while creating training opportunities and strengthening the bond between child and dog.
This year, West Paw launched their new family game, " The Dog's Best Friend Game." The focus of this game is to bring the whole family together to play fun and engaging games that everyone will enjoy while also building upon that all-too-important human-animal bond.
While this trend is still very much in the early days, with most pet brands still focusing on the adult members of the family, there is so much potential. I am excited to see how it continues to grow and expand with even more ways to help teach children to love, respect, and appreciate their pets starting at an earlier age.
Reduce Your Impact on the Environment
Of course, the shift to making sustainable and environmentally friendly choices in our lives continues to grow and evolve. This is true across many industries, including fashion, beauty, home, children's products, and, of course, pet care. Many companies are now shifting to using "green" materials to create their products, including squeak toys made from recycled water bottles, biodegradable dog poop bags, and more. One company was even fun, brightly colored poop bag holders made from old festival banners.
This focus on eco-friendly products was also seen in pet treats and foods. Companies were exploring protein sources like crickets that are more sustainable and minimize their environmental footprint. Attention is also paid to where and how ingredients are grown or acquired. Being a pet parent no longer means accepting that you must compromise your green lifestyle.
Final Thoughts: Pet Trends at SuperZoo 2023
With so many fascinating changes, developments, innovations, and trends in the pet space, you may be wondering – what is the most important lesson to take from a big show like SuperZoo? Our dedication to providing the best life for our pets is unmatched. As we continue to learn and evolve in the world of pet care, so too do the products available. In the end, our pets are the ultimate winners!

Britt
Britt Kascjak is a proud pet mom, sharing her heart (and her home) with her "pack" which includes her husband John, their 3 dogs – Daviana, Indiana, and Lucifer – and their 2 cats – Pippen and Jinx. She has been active in the animal rescue community for over 15 years, volunteering, fostering and advocating for organizations across Canada and the US. In her free time, she enjoys traveling around the country camping, hiking, and canoeing with her pets.
More by Britt
Published September 26th, 2023 1:37 PM