278 Views
Best Pet-Friendly Cleaning Supplies
April 25th, 2022 12:03 PM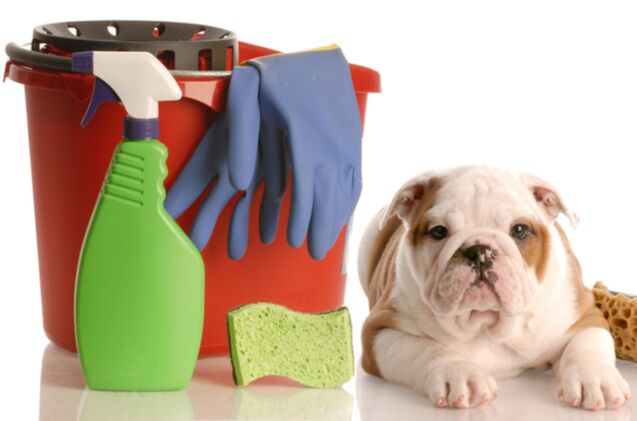 It is not easy to find a cleaning solution that is safe for your pets and actually does the job efficiently. Fighting that grime, dirt, bacteria, bad odors, and everything in between requires some potent chemicals and formulas, and these are often loaded with ingredients that are harmful to pets. Luckily, you won't have to compromise on your pet's wellbeing or the cleanliness of your home, as there are specially formulated pet-friendly cleaning supplies that actually deliver on the promises. Free of any harmful toxins and unsafe ingredients, these cleaning supplies won't lack in performance, either. In fact, some of them might actually do a better job than the standard product! Read on to browse our selection of the 10 best pet-friendly cleaning supplies on the market – we've rounded up the most efficient cleaning products for homes with pets.
Editor's Choice: ECOS® All-Purpose Cleaner
Arm yourself with this all-purpose ECOS cleaner and your home will be spic and span at all times. Fully pet-friendly and economical to boot, this 2-pack offer brings you two bottles of 22 fluid ounces of incredible cleaning potential. This all-around cleaner is especially tough on grease and grime, which most regular multi-purpose cleaners can often struggle with. A fresh orange scent will keep your home smelling invigorating. But, the best of all, it can be used on virtually any surface in your home – it's that versatile! Use it for any type of dirt, grime, or stain on any surface and you're all set to keep everything spotless with a single product. ECOS also stands out for its climate-friendly practices as they restore 100% of its carbon, energy, and water back to the earth. That makes their cleaner both pet-friendly and eco-friendly!
Pros
Efficient against grime, grease, gum, stains, and more
Cleans any surface
Pleasant smell
Eco-friendly production
Runner Up: BLUELAND Bathroom Cleaning Spray Bottle
Cleaning should be all about functionality and ease, right? Blueland is the brand that really incorporates this into their new unique formula. Because this eco-friendly, pet-friendly bathroom cleaning spray will save your money and keep your bathroom as clean as ever! It comes with 4 special tablets, which are dissolved in water to create a cleaning solution – and that's it. Four of these tablets will make 96 fluid ounces in total, which adds up to a lot of heavy-duty cleaning. You also get an efficient spray bottle with a simple, minimalistic design that won't mar the clean look of your bathroom, and, what's better, you only need to get the tablets for a refill, no need for a new plastic bottle with each purchase. Efficient, economic, eco-friendly, and fully safe to use around pets. What more to ask for!?
Pros
Versatile
Safe to use around pets
Tried and tested against bathroom grime such as soap scum
Economic and eco-friendly solution
Cons
Some people don't like the scent
Customer's Choice: CleanSmart Disinfectant Spray
All pet owners know that disinfectant sprays are a must-have in the house. Pets can bring all sorts of grime and dirt into your home, and you need to be ready to combat that. This pet-friendly formula from CleanSmart is exactly the thing you need. This special formula is so efficient, as it kills 99.9% of bacteria on any surface. It leaves no chemical residue as some other formulas do, and it also helps kill dangerous viruses. Made with 100% natural ingredients, it is safe to spray around food and is fume, allergen, and bleach free. It also contains no artificial fragrances, colors, or perfumes.
Pros
Safe
Natural ingredients
Powerful
Comes in a pack of two
Cons
Bottle design could be improved
Best Pet-Friendly Floor Cleaner: DU-MOST Bio-Enzymatic Floor Cleaner Concentrate
In homes with a lot of pets, floors can be the dirtiest surfaces of all. Your own footsteps, and the muddy paws of dogs and cats, will all leave plenty of dirt and bacteria. And a powerful cleaner is a must here, but you have to be mindful that it doesn't contain ingredients that can harm your four-legged bestie. DU-MOST is a potent cleaner concentrate that is dissolved in water (a single ounce of this concentrate will make 1 gallon of cleaner) to remove any dirt and grime with powerful plant enzymes. It can be used on all floor surfaces from hardwood to tiles, and there is no need for rinsing. Safe and non-toxic, it can be used without worries in pet-friendly homes. To boot, it has a pleasing citrus smell that at once leaves the home smelling fresh.
Pros
Easy to use
Great amount for the price
Safe for most surfaces
Leaves no streaks
Best Pet-Friendly Cleaning Supplies Kit: DAZZ Whole House Starter Kit
With this incredible starter kit, you can make sure that every corner of your house is clean as it should be. These pet-friendly and reliable cleaners will keep you covered on all bases. This cleaner incorporates special tablets that are dissolved in water – a quick and simple solution that saves your space, money, and is eco-friendly to boot. It is pH neutral and based on plants and minerals, and it won't leave any nasty streaks during cleaning. The set includes one multipurpose cleaner, one bathroom cleaner, and one window and glass cleaner. It comes in several refreshing scents, such as Fresh Mint, Lemon Guava, or Mandarin Orange.
Pros
One kit for all surfaces in the home
Natural ingredients
Reusable bottles
Environmentally friendly
Best Concentrated Pet-Friendly Cleaner: Biokleen Natural All-Purpose Cleaner
This package of concentrated all-purpose cleaner can make you no less than 64 gallons of powerful cleaning fluid that can be used on multiple surfaces in the home! BioKleen's special formula is quite tough on dirt, grime, and grease – just spray and wipe the nastiness away, no rinsing needed. It is safe for almost all household surfaces and leaves no visible streaks or other marks. It meets all the EPA safer products standards and is pet and human-friendly. Without any toxic components or artificial fragrances, this cleaner is a natural choice that is designed to save you a lot of money in the long run.
Pros
Multi-purpose cleaner
Can be used on laundry, upholstery, carpets, stainless steel, tiles, and more
Makes an amazing 64 gallons of cleaning solution
Safer Choice Certified
Cons
Can leave residue on flooring
Best Pet-Friendly Stain and Odor Eliminator: Sunny & Honey Pet Stain & Odor Miracle
All pet owners can agree on one thing: cats and dogs don't always smell like roses. It's just a natural fact we need to face. And fighting those musky pet odors around the house can be a challenge. Not with this special cleaning agent, however. Sunny & Honey offers a remarkable pet stain and odor formula, kept in a nifty spray bottle. Thanks to its powerful bio-enzymatic formula, it can efficiently remove almost all stains and odors related to pets. That includes drool, vomit, urine, feces, and anything else. Of course, it is safe around children and pets and is efficient on most household surfaces.
Pros
Efficient against urine, feces, vomit, and more
Bio-enzymatic formula
Removes stains and odors
Best Multi-Surface Pet-Friendly Cleaner: Mr. Clean All Purpose Multi-Surface Pet Liquid Cleaner
Mr. Clean is a recognizable name in the cleaning supplies industry. And did you know that they have pet-friendly cleaning supplies as well? This all-purpose cleaner works on virtually any surface in the home, and with extreme efficiency. And not only does it clean grime, grease, and any pet-made mess, but it also efficiently removes odors, and all that without being harmful to our four-legged friends. For all pet owners, this cleaning combo is a lifesaver. It comes in a package of 128 oz which should last you for a good while. While this Mr. Muscle formula is pet-safe, you should allow it to dry before letting your pets snoop about again.
Pros
Removes dirt and odors from various surfaces
Great amount for the price
Efficient and potent cleaner
Cons
Safe for pets, but not natural or "clean" ingredients
Best Pet-Friendly Cleaner for Carpets: Nature's Miracle Advanced Stain and Odor Eliminator Foam
One of the secrets of Nature's Miracle's success is their special patented formula of microbes that are designed to target pet-related odors specifically, and this carpet cleaner stands up well to their high standards. This aerosol can contains a powerful bio-enzymatic foam formula that is designed to combat the nastiest messes that your kitty leaves for you right there on the carpet. An all-purpose stain and odor eliminator in the form of foam, it penetrates deep into the carpet fibers and breaks down those pesky bacterias that cause smells and stains. The best part is that it's super easy to use and doesn't have to be rinsed – just spray, wait, and blot away the excess, and you're all done!
Pros
Efficiently removes smells and stains
Leaves no residue
Super quick and easy to use
Best Natural Pet-Friendly Cleaning Supplies: Better Life Natural All-Purpose Cleaner
Better Life is one of the clean, pet-friendly formulas that are safe around kids and pets, and are super-efficient to boot! With this purchase, you get two bottles of a powerful cleaning formula in practical spray bottles that make cleaning super easy. These are plant-based formulas with no harsh chemicals, instead relying on natural cleaning agents like soap bark, corn, and coconut. As this is an all-purpose cleaner, you can use it for anything and anywhere in the house! Furthermore, you can choose from the unscented version, pomegranate scent, or clary sage and citrus scent, which is great for people that are picky about how their cleaning supplies smell.
Pros
Very efficient
All-natural
Multi-purpose cleaner for the whole home
2 in pack
Cons
Can leave a bit of a soapy residue
Cleaning Product Ingredients That Are Dangerous to Use Around Pets
It isn't always easy to find cleaning solutions that are safe for you, let alone for your sensitive little pet. To successfully battle the persistent grime and dirt, these formulas are often loaded with toxins and harsh chemicals, some of them highly toxic to cats, dogs, and other animals. Even if some of these ingredients seem perfectly harmless to you, they can be a major issue for your pet, causing everything from skin irritation to even death. This is why it's crucial to know which ingredients to avoid at all costs – before your pet is exposed to something that could seriously harm them. These are just some of the most commonly used cleaning agents that are dangerous for pets:
Ammonia
Chlorine (bleach)
Rubbing alcohol
Formaldehyde
Perchloroethylene (PERC)
Triclosan
Butoxyethanol
Sodium Hydroxide
Benzalkonium Chloride (BAC)
Phthalates
When ingested, some of these chemicals can poison your dog and lead to a fatal outcome, whereas others can be dangerous if your pet inhales them or comes in contact with them, causing respiratory issues, chemical burns, and so on. Needless to say, you don't want any of them anywhere near your pets. Luckily, there are many pet-friendly alternatives to potentially toxic household cleaners – and they are quite efficient at what they do, despite being free of potent chemicals. In fact, they can do the job better than some of the harsh bottom-shelf products! Opt for natural, plant-based cleaning products or clean formulas that exclude harmful chemicals from their ingredient list, and always double-check the label for the list of ingredients to see if some potentially hazardous substance sneaked its way into the formula.
We are committed to finding, researching, and recommending the best products. We earn commissions from purchases you make using the retail links in our product reviews. Learn more about how this works.

Angela Vuckovic
A proud mama to seven dogs and ten cats, Angela spends her days writing for her fellow pet parents and pampering her furballs, all of whom are rescues. When she's not gushing over her adorable cats or playing with her dogs, she can be found curled up with a good fantasy book.
More by Angela Vuckovic
Published October 3rd, 2023 4:10 AM