77 Views
How Can You Keep Your Camping Dog Safe at Night?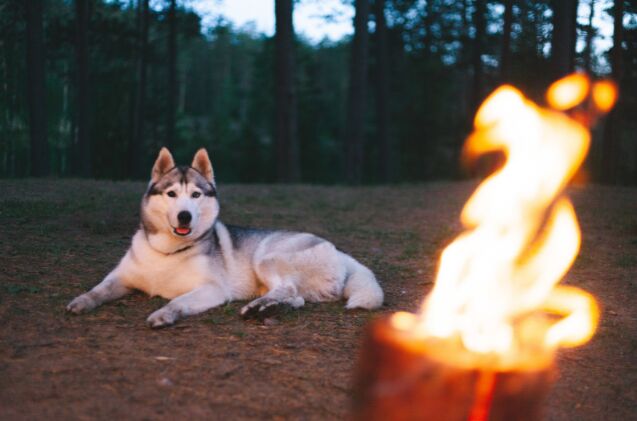 As the weather warms up, outdoor lovers everywhere are planning camping trips and outdoor adventures. Of course, the best trips are spent with your best friend by your side – enjoying exciting hikes, stunning landscapes, endless playtime, and cuddles by the campfire.
Safety must be a top priority to ensure that everyone enjoys a happy and enjoyable trip. This includes planning for an emergency, packing the right gear, and familiarizing yourself with the risks you may encounter during the day and after the sun goes down.
So, how do we keep our dogs safe while camping at night? Here are some outdoor travel safety basics…
How Do I Protect My Dog While Camping?
Keeping your dog safe during a trip starts with preparation at home. This includes packing the right gear, training your dog with proper campsite etiquette, gathering everything necessary for an emergency, and, of course, accounting for the weather.
Before you head out on your next big adventure, here are a few key safety tips to consider:
Vaccinations
First, ensure that your dog is up to date on all vaccinations before your trip. While you are at the campsite, they are at risk of contracting transmissible diseases from local wildlife. Sticking to the recommended vaccination schedule is the best way to protect them. Contact your veterinarian if you're unsure about your dog's current vaccination status.
Flea, Tick & Heartworm Preventatives
Spending time outdoors means your dog is more likely to encounter these pests and parasites. Fleas and ticks can carry serious diseases and illnesses. Heartworm is carried by mosquitoes, another common pest when camping or hiking. These conditions can be fatal, so preventatives are key!
Make a List of Local Vets & Emergency Clinics
If you are traveling away from your local veterinarian, you need to make sure you're aware of where to seek veterinary help in an emergency. Research the nearest vet offices and 24-hour emergency animal hospitals to the place where you will be sleeping. Write a list of these locations, addresses, and phone numbers, and keep it on hand throughout your trip.
Update Your First Aid Kit
Pull out your first aid kit and take an inventory. Replenish anything missing and update items that may be getting old or outdated. Make sure to include pet-specific first aid items like styptic powder to slow bleeding on a broken nail. You should also include a copy of your dog's veterinary records.
Check Your Dog's Identification
Your dog's identification can make all the difference if they get loose at the campsite – and accidents happen! Check that your dog has ID and that the information on it is up to date. If your dog is microchipped, ensure that information is also updated.
Keep An Eye on the Weather
Watch the weather leading up to your trip and pack accordingly. If the temperatures are low, consider packing a coat, sweater, blanket, or self-heating pad for your dog to keep them warm and cozy. On the other hand, a cooling vest or bandana is a great way to help prevent heat stroke and heat exhaustion if the temperatures rise.
Be Prepared for Wildlife
When you spend time in nature, there's always a risk of encountering wildlife. Take time to learn what animals you can expect in your destination and prepare accordingly. For example, if you are camping in bear territory, pack bear spray to protect you and your dog during a potential encounter.
Added Nighttime Risks to Your Dog
When the sun goes down, there are added risks to consider. We often joke about the "things that go bump in the night," but this could represent a very real problem. Many animals will stay hidden by day and come out at night when they deem it to be safer. Keeping your dog close by at night, where you can keep an eye on them, is the first line of defense.
One great way to make supervising your dog at night easier is by outfitting them with an LED collar.
Light-up collars not only make it easy to see your dog in the dark, but they also improve visibility for others. This is essential if your dog happens to get loose, ensuring that other campers or drivers (if your dog wanders onto the road) can see your pup regardless of what time of night it may be.
Several different styles are available, including a simple, flexible polymer band, a nylon collar with LED lighting elements, or a clip light that can be attached to your dog's existing collar.
Our Chosen Solution: NiteHowl LED Rechargeable Safety Necklace
Over the years of camping with our dogs, we have tested several light-up collars and clip-on lights. Each offers unique benefits and challenges to consider. But after weighing the options, our current go-to solution is the NiteHowl LED Rechargeable Safety Necklace from Nite Ize.
The collar is a flexible polymer tube fixed to a water-resistant battery housing. It can be fully charged by USB in just 1.5 hours, making it an easy and reliable solution when you're on the go. Unlike other collars of the same style, this one allows you to change between colors depending on your preferences. You can set it to red, blue, green, or "Disc-O mode," which blends all three colors.
One benefit of this collar is that you don't have to worry about detailed sizing when ordering, as with many dog collars. Simply choose between the NiteHowl (12" to 27") or NiteHowl Mini (9.5" to 14.8"). Cut the tube down when it arrives until it's the correct length to fit.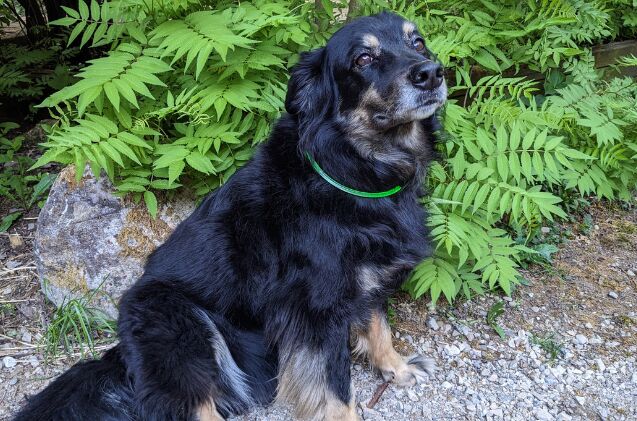 Pros
Adjustable one-size-fits-all design
USB rechargeable means no carrying extra batteries
Water-resistant design can survive exposure to the elements
Cons
May not be able to be seen on dogs with longer coats
A single charge only lasts 5.5 hours
Easily falls off high-energy or playful dogs
Final Thoughts
There are several risks your dog may encounter while adventuring outdoors. Your pup's safety is a top priority, from pests and parasites to potential wildlife encounters.
While getting ready for your trip, make an appointment with your veterinarian for an overall check-up. During this time, you can verify their vaccinations are current and discuss the options available for flea, tick, and heartworm preventatives.
Verify that your dog has identification and that all information contained on it is up to date.
Make a list of local vets or emergency clinics near your travel destination so you can get to them quickly in an emergency. Another essential step for emergency preparedness is to verify that your first aid kit is fully stocked and ready.
Finally, pack any gear that can help you to keep your dog safe and happy throughout the trip, including coats and sweaters in the colder months, cooling vests in the summer, and a light-up collar like the NiteHowl LED Rechargeable Safety Necklace for an added nighttime safety measure.
By taking these preventative steps to keep your dog safe, you can set yourself up to focus on relaxing, enjoying your time together, and making priceless memories.

Britt
Britt Kascjak is a proud pet mom, sharing her heart (and her home) with her "pack" which includes her husband John, their 3 dogs – Daviana, Indiana, and Lucifer – and their 2 cats – Pippen and Jinx. She has been active in the animal rescue community for over 15 years, volunteering, fostering and advocating for organizations across Canada and the US. In her free time, she enjoys traveling around the country camping, hiking, and canoeing with her pets.
More by Britt
Published June 1st, 2023 11:14 PM