483 Views
Best Urinary Tract Supplements for Dogs
February 28th, 2023 2:43 PM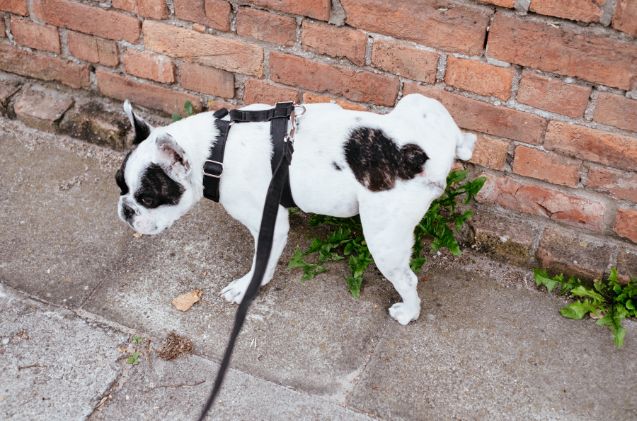 Whether you have a senior dog struggling with incontinence issues or a younger pup prone to urinary tract infections, your dog's bladder and urinary tract health is a top priority. There are many different supplements on the market. This can make it challenging to weed through the noise and find the best option for your dog. Should you use a soft chew or a liquid supplement? What are the best active ingredients to search for? Is there a product with a tempting flavor for picky eaters?
If you're currently unsure where to start, we have you covered! In this guide, we offer tips and tricks for prioritizing your dog's urinary tract health. Plus, we have compiled a list of the best urinary tract supplements for dogs of all ages.
Editor's Choice: NaturVet Cranberry Relief Healthy Urinary Tract Plus Echinacea
These vet-formulated and recommended soft chews from NaturVet are a great solution for dog guardians searching for a product to support their dog's urinary tract health. Not only do they help to improve bladder function and prevent urinary tract infection, but these chews also contain echinacea for immune support and better overall health. They are cost-effective, but the cranberry odor may cause some dogs to turn their nose up.
Pros
Includes echinacea to support immune health
FDA and NASC audited manufacturing facility
Suitable for dogs of all sizes and ages (over 12 weeks)
Cons
Flavor appears to be hit or miss, which could make getting your dog to take them challenging
Has a noticeable cranberry odor
Runner-Up: Zesty Paws Cranberry Bladder Bites
Made with cranberry, D-mannose, astragalus root, and nettle root, these easy-to-feed soft chews are formulated to do more than just support your dog's urinary tract health. They help to detox the kidneys and improve digestive health for better overall health and well-being. Zesty Paws Cranberry Bladder Bites are a great choice for dogs of all ages, sizes, and breeds.
Pros
Supports urinary tract, kidney, immune system, and gut health with a single chew
FDA-registered facilities, NSF and GMP-certified
Made with Cran-Max cranberry concentrate with patented Bio-shield technology
Cons
Dog owners warn that the cranberry taste is hit or miss for their dogs
Higher price point
Best Supplement for Senior Dogs: NaturVet Senior Advanced Incontinence Dog Supplement
Formulated with senior dogs in mind, the NaturVet Senior Advanced Incontinence Dog Supplement helps to improve bladder and urinary tract health by strengthening and supporting their optimal functions. This is key in addressing incontinence issues which are often seen in aging pups. While many dogs dislike the taste, the chews can easily be broken or crumbled to disguise in their food or a pill pocket.
Pros
Works to maintain muscle tone of the bladder and urinary sphincter muscles
Veterinarian-approved formula, National Animal Supplement Council (NASC) compliant
Formulated specifically for seniors but suitable for all dogs over 1 year of age
Cons
Many dog owners report their pups strongly dislike the taste
Some customers report gastrointestinal problems with use
Best Powdered Supplement: Doggy Naturals Urinary Health Support
If you have a picky eater that refuses to take a supplement in the form of a soft chew, this may be the winning solution. Doggy Naturals Urinary Health Support is a powdered product with a natural chicken flavor that you add to your dog's food. In addition to the benefits of cranberry extract for urinary tract health, it also contains natural ingredients to prevent bladder stones, maintain healthy urine pH, and improve skin and coat health.
Pros
Powdered design hides in food for picky dogs
High levels of potassium citrate to prevent the formation of bladder stones
Made in an FDA and USDA-inspected facility
Cons
Dosage size is quite large, meaning larger dogs will go through a single container quickly
No flavor option for dogs with chicken allergy (common allergen)
Best Chewable Supplements: Active Chews Bladder Dog Chews for All Ages
These cranberry-based chews offer support for your dog's bladder, urinary tract, and kidney health. In addition to cranberry, they include organic marshmallow root, apple cider vinegar, and uva ursi leaf. Recognizing that the baking process removes a significant amount of the benefits provided by supplements, Active Chews uses a no-heat process that maintains the full potency of all ingredients.
Pros
No heat, no-cook process preserves 100% potency
Soft, heart-shaped chews are easy to cut smaller, if needed
Inspected annually by APHIS and certified by a third-party independent lab
Cons
Dog owners warn that the flavor is hit or miss
Contains palm fruit oil which can cause gastrointestinal issues in some dogs
Best Liquid Supplement: UroMAXX Urinary Tract, Kidney & Bladder Formula for Cats and Dogs
Formulated with 100% natural ingredients, this supplement offers several great benefits for your dog, including treating or preventing urinary tract infections, lowering urine pH levels, strengthening the bladder and urinary tract, preventing the development of crystals, and more. In addition to cranberry extract, it contains vitamin C and glucosamine for better overall health. The liquid supplement is easy to conceal in your dog's food for picky eaters.
Pros
Liquid formula can be easier to give to picky eaters
Made under regulatory requirements of FDA, GMP, ISO9001, and NSF
Suitable for all ages and breeds of dog, as well as for cats
Cons
Higher price point
Contains caramel color, which many consumers point out is unnecessary
Best Premium Supplement: Mighty Petz MAX Urinary Tract Health for Dogs
Dog parents searching for a high-quality, vet-formulated supplement will appreciate the care that went into creating this product. In addition to bladder, kidney, and urinary tract health, it boosts the immune system and supports optimal digestion. By naturally detoxifying your dog's system, balancing the urinary pH levels and addressing the inflammatory response, it can relieve and protect against urinary problems.
Pros
Vet-formulated and complete urinary tract, kidney & bladder supplement
Made with a probiotic blend for improved digestive health
Supplements contain cranberry seed oil, d-mannose, and grapefruit seed extract
Cons
Higher price point
Most reviewers report that their dogs dislike the taste of the supplement
Best Budget Supplement: Coco and Luna Urinary Tract Cranberry for Dogs
If you are searching for a lower-cost urinary tract supplement, this product from Coco and Luna is a great option. They are small chewable tablets that can be tucked into a pill pocket if needed to convince your dog to take them. The two active ingredients in this supplement are cranberry and apple cider vinegar. They work to support bladder, kidney, and urinary tract health, addressing problems like crystals and incontinence.
Pros
Budget-friendly price point
Manufactured in FDA-registered facilities, NSF and GMP-certified
Naturally improves kidney function, balances urinary pH levels and supports proper urinary tract function
Cons
Some buyers report an unpleasant smell
Tablets may be challenging to administer for some dogs
What is the Most Common Cause of Urinary Tract Infections in Dogs?
Like any infection, urinary tract infections (UTI) are caused by bacteria. In this case, the bacteria enter your dog's body when feces or debris are exposed to the urethral opening. This can cause infections in the urinary tract, bladder, or kidney.
Dogs are exposed to these bacteria frequently. However, the immune system can usually prevent an infection from forming. For this reason, UTIs are more commonly experienced by dogs with poor immune systems or those with excessive bacteria caused by built-up feces or scratches and debris around the urinary opening.
Can Dog Food Cause Urinary Problems?
Another common urinary problem many dogs face is the development of crystals in the urine. This happens when the ratio of minerals to liquid in the urine is off balance, and the excess minerals come together to form small masses. These crystals, or stones, can become stuck in your dog's urinary tract causing serious blockages.
This is where your dog's diet can directly impact their urinary health. First, pay attention to your dog's water intake. Dogs that don't drink enough water are at a higher risk of developing crystals. This is more common among dogs that eat dry kibble. The best way to prevent this is by hydrating your dog's kibble and ensuring that your dog always has access to fresh water throughout the day.
While wet foods contribute to your dog's daily water intake, they do not contain enough water to be a complete source on their own. A source of fresh water is still essential.
If your dog is prone to urinary crystals, you may need to place them on a special diet. Some dog foods are high in minerals that contribute to the formation of crystals like magnesium and phosphate. Diet can also impact urine pH.
What Are the Signs of a Urinary Tract Infection in Dogs?
Urinary infections are relatively common in dogs. In the early stages, they are uncomfortable but easy to treat. However, they can develop into serious health complications if not addressed. This is why being familiar with the warning signs is so important.
The most common signs of a urinary tract infection include:
Frequent accidents in the house or sudden accidents in a previously trained dog
Urinating in places that are unusual to your dog's normal behavior
Painful urination
Blood in the urine
Frequent urination
Increased urgency to urinate
If you notice any of these signs, contact your veterinarian. They will be able to run a urinalysis to test for the presence of harmful bacteria and prescribe the necessary treatment. For dogs that experience frequent UTIs, your veterinarian may recommend a specialized diet to support their urinary tract health better moving forward.
Do Urinary Tract Infections Go Away on Their Own?
Yes, in some cases, UTIs will resolve on their own over time. But there is also a significant chance that your dog's UTI will only worsen during this time, making treatment more complicated. Home remedies and natural treatments should only be pursued under the guidance of a veterinary professional.

Britt
Britt Kascjak is a proud pet mom, sharing her heart (and her home) with her "pack" which includes her husband John, their 3 dogs – Daviana, Indiana, and Lucifer – and their 2 cats – Pippen and Jinx. She has been active in the animal rescue community for over 15 years, volunteering, fostering and advocating for organizations across Canada and the US. In her free time, she enjoys traveling around the country camping, hiking, and canoeing with her pets.
More by Britt
Published February 28th, 2023 2:43 PM