198 Views
Best Natural Supplements For Dogs
October 5th, 2022 1:44 PM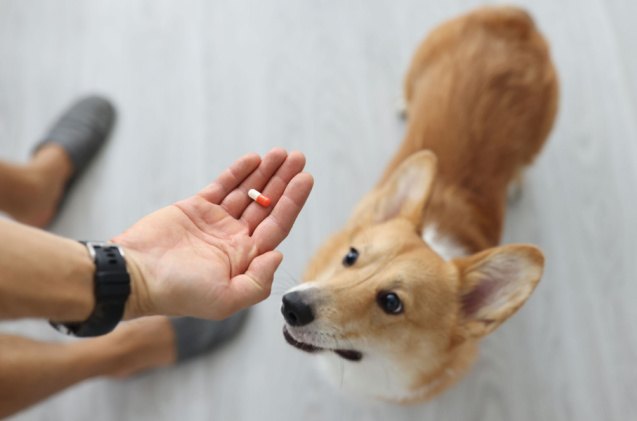 'An ounce of prevention is worth a pound of cure' – if it stands true for us, why wouldn't it be the same for our pets? If you want what's best for your four-legged friend, you have to take a proactive approach to their health, which means working on preventing issues before they happen in the first place. Even if your pet already has certain health problems, such as joint pain or allergies, it doesn't mean you need to allow it to progress to a more severe form – with some help from natural supplements for dogs.
Available in a range of formulas to target different issues, natural supplements for dogs are made without artificial ingredients or toxic chemicals and instead rely on the power of tried-and-true ingredients found in nature that have proven beneficial properties for our canine friends. They are completely safe to use and can be a great preventative measure or complementary addition to your pet's existing treatment.
If you're unsure which natural supplements for dogs are made from the best ingredients and are considered the most efficient, read on – we've selected the best natural supplements for dogs of all shapes and sizes!
Editor's Choice: Dandy Dog Supplements
Nothing beats personalized care – and these supplements are fine-tuned to cater to your dog's unique needs. All natural and vet-formulated, Dandy dog supplements help combat everything from anxiety and allergies, promote better digestion and improve immune function – there are 15 different treats that provide 15 different benefits to choose from. As for the formulations, you can opt to get one of the pre-made packs chosen by veterinarians according to certain issues (e.g. allergy care or joint care), you can build your own pack by mixing and matching supplements tailored to your pet's needs, or you can take a quiz that will get you a vet-backed recommendation based on your dog's unique requirements. All of their treats are completely natural, non-GMO, formulated by veterinarians, and made in the USA – so you can rest assured that you are getting only the best for your four-legged bestie!
Pros
Customized care for your dog
All natural, non-GMO ingredients
15 different benefits you can mix and match
Veterinarian formulated
Made in the USA
Runner Up: Huggibles Complete Multivitamin for Dogs
This all-in-one mineral and multivitamin supplement for dogs is meant to support your pet's overall health, day in and day out. It is formulated with only natural substances and contains multiple active ingredients, including 21 nutrients, free-radical-fighting antioxidants, and a blend of select probiotics. As a result, this daily natural supplement for dogs supports your pet's overall longevity, provides skin and coat benefits, hip and joint support, nourishes gut health, strengthens immunity, supplies allergy relief, and cognitive support. To boot, this natural dog supplement comes in the form of yummy soft chews your pet will view as a treat rather than medicine!
Pros
All-in-one formula
Supports overall health
Soft chews great for picky eaters
Natural ingredients
Blend of probiotics and 21 specific nutrients
Cons
Some dogs dislike the flavor
Customer's Choice: GoldenPaw Herbal Pet Supplement
We get it – sometimes getting your pooch to swallow pills or munch on a chewable whose flavor they don't like is a huge hassle. Especially if you have a picky eater on your hands! That's where a liquid natural supplement for dogs comes in as the perfect solution: it's easy to sneak in a few drops of a supplement into their food without your dog being any the wiser. This particular liquid supplement for dogs is formulated to support dogs with health issues such as allergies, respiratory issues, UTIs, and more, thanks to the natural alternatives to antibiotics it contains, such as oregano, cranberry, garlic, or clove. Of course, it is not a replacement for a vet-prescribed antibiotic but it may help boost their immune system in a time of need!
Pros
Liquid form easy to administer
Natural antibiotic alternatives
Immune-supportive effect
Manufactured in the USA from start to finish
Best Natural Supplement for Dogs with Skin and Coat Issues: The Missing Link Pet Kelp Formula
Whether your pet has itchy skin, a dull coat, sheds a lot, or drops dandruff all around the house – a quality supplement for skin and coat health can help them balance everything once again. This limited ingredient, natural, and organic powder supplement for dogs relies on the benefits of organic kelp for your pet – this potent plant doesn't just provide essential vitamins, minerals, and micronutrients dogs need to thrive, but it also soothes itchy skin, reduces shedding, and promotes a shiny coat.
Pros
Cold processed organic ingredients for the highest quality
The powder form is convenient to dose and administer
A balanced blend of omegas and antioxidants
Sustainably harvested and manufactured in the USA
Best Natural Supplement for Dogs With Joint Pain: Genuine Naturals™ Hip and Joint Supplement
Chronic pain in joints and limited mobility that comes with it can really impact a dog's quality of life – but luckily, the right type of natural supplements for dogs can help remedy this issue, and significantly at that. Packed with premium natural ingredients, this formula contains glucosamine, chondroitin, MSMorganic turmeric, and yucca, all proven to have beneficial effects on hip and joint health. Thanks to this, these soft chews can reduce inflammation, ease pain, and even restore flexibility.
Pros
Soft chews with a yummy flavor
Potent natural ingredients
Helps soothe painful joints
Improves mobility
Reduces swelling and inflammation
Sourced and manufactured in the USA in a USDA facility
Best Natural Supplement for Digestive Health in Dogs: The Honest Kitchen Perfect Form
If your dog has a sensitive tummy or any type of gastrointestinal troubles, a natural digestive supplement can immensely help restore their gut flora balance and ease their symptoms. NASC certified and made with human-grade natural ingredients, this powdered supplement for dogs relies on slippery elm, fennel, and plantain to protect the GI tract and help normalize stools from loose to normal consistency. The powder is mixed with water to get a gel-like consistency for easier serving – either given on its own or mixed with your pet's food.
Pros
Human-grade natural ingredients prepared in human-grade facilities
NASC certified
Helps improve digestion and soothes upset tummies
Can be given on its own or mixed with food
Made in the USA
Best Natural Supplement for Dogs with Anxiety: Richard's Organics Pet Calm
Loud sounds, such as thunderstorms or fireworks, new people or places, visits to a groomer's or the vet's office – all of these situations can trigger a serious panic attack in a dog that's anxious, stressed, or timid. To minimize their stress and help them go through potentially triggering events without being scared, you can opt for natural ways to manage stress and anxiety – such as this natural supplement that is proven to calm your pet's nerves and reduce hyperactivity. It uses valerian root extract, chamomile, skullcap extract, and passionflower extract as they are known to induce calmness without causing sleepiness as a side effect.
Pros
Easy to use straight from the dropper or mixed with food
A potent blend of calming natural ingredients
Soothes nerves and reduces hyperactivity
Can be used for chronic or situational anxiety (in advance)
Made in the USA
Best Natural Supplement for Kidney Support in Dogs: Pet Wellbeing Kidney Support Gold
Formulated to provide natural support for stable and healthy kidney function, this liquid supplement helps maintain normal levels of blood urea and creatinine, maintain fluid balance, and normal appetite and weight. This formula was clinically shown to help renal function and it's all thanks to scientifically researched herbs tested by holistic veterinarians, such as Rehmannia root, cordyceps mushroom, astragalus root, and Dong Quai root. To boot, it is super easy to administer, even if you have a picky dog – it has a natural bacon flavor and can be sneaked in with food or given on its own. While this natural supplement is made to help both dogs battling chronic and acute kidney disease, it is best to consult with your pet's veterinarian before using it to make sure their specific condition could be helped by this formula.
Pros
Helps dogs with renal issues – chronic or acute kidney disease
Potent herbal ingredients
Supports healthy renal function
Formulated by holistic veterinarians and herbalists
Bacon-flavored for easy administering
Made in the USA
Best Natural Multivitamin Supplement for Dogs: Dr. Harvey's Herbal Multivitamin and Mineral Suppleme
For those of you that are looking into preventative care and want natural supplements for dogs to support your pet's wellbeing before they have any serious health issues to speak of, a multivitamin is always a good choice. This particular supplement provides optimal mineral and vitamin support and is made only from natural ingredients, such as kelp, ginger, alfalfa, flaxseed, and many others. Its holistic formula is effective yet gentle and it is meant for daily use for the best results – and since it's in powdered form, it is best served mixed in with wet food. When combined with a healthy diet, this natural supplement can really make sure your pet thrives!
Pros
Only natural ingredients
Blend of essential vitamins and minerals
Easy to dose and serve
Clean formula without sugar, salt, artificial ingredients, preservatives, or fillers
Made in the USA
Cons
Picky eaters don't really like it
Best Natural Supplement for Senior Dogs: Veterinary Naturals Daily Senior Overall Wellness
Once your pet reaches golden years, their health will need your help and support more than ever. Introducing a quality supplement formulated to target common issues that come with old age is an excellent way to ensure your pet's quality of life doesn't change when they become seniors! This particular formula supports overall wellness and is fine-tuned to the needs of senior dogs – it provides comfort for their aching hips and joints, proper skin and coat nourishment, improves digestion, and offers much-needed immune support. In addition to being made from the finest natural ingredients, these soft chews are also very tasty – the rotisserie chicken flavor makes them an instant hit even with those picky pooches.
Pros
Tailored support for the needs of senior dogs
Formulated by veterinarians
Daily use
Delicious flavor and great texture
Made in the USA
Cons
Can crumble in the package
Are Natural Supplements For Dogs Safe?
The first question that comes to mind of most pet parents whenever introducing a new supplement to their pet's regime is – is it really safe? Most, if not all natural supplements have all the ingredients in the formula listed, so you can make sure that there are no sneaky ingredients or potentially dangerous allergens that could irritate your pet before you give them to your pet. Quality natural supplements for dogs have been tested and formulated by veterinarians, which gives you additional assurances that the ingredients have been carefully selected with your pet's wellbeing in mind.
However, it goes without saying that you should always consult with your pet's veterinarian before introducing any type of supplement to your dog's regime, even if it's made with natural ingredients. This is especially true if your pet has a specific health problem! Only your veterinarian knows what your pet's medical history and current condition are and how they would react to certain ingredients and formula, so if you're unsure in any way if a natural supplement would be safe for your pet to consume, be sure to schedule a consultation with their veterinarian.
We are committed to finding, researching, and recommending the best products. We earn commissions from purchases you make using the retail links in our product reviews. Learn more about how this works.

Angela Vuckovic
A proud mama to seven dogs and ten cats, Angela spends her days writing for her fellow pet parents and pampering her furballs, all of whom are rescues. When she's not gushing over her adorable cats or playing with her dogs, she can be found curled up with a good fantasy book.
More by Angela Vuckovic
Published October 3rd, 2022 9:30 AM