105 Views
Best Dog Food for Huskies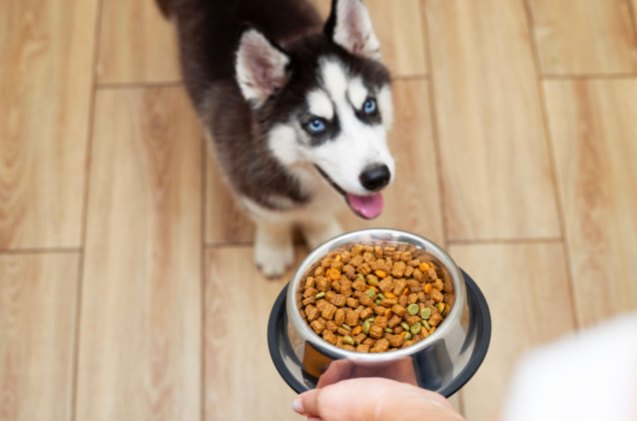 Huskies can be such wonderful pets. They are fun, protective, talkative, affectionate, and endlessly goofy. But they are also full of energy and strength that they will love to spend throughout the day. To make sure your husky is hale and healthy, however, you will need to replenish that energy with quality food. It's no secret that a large breed such as the Siberian Husky will require quality food that is rich in protein and other essential nutrients to keep them fueled. Balanced nutrition ensures that they are healthy and strong, and have enough energy for their daily activities. These special dog foods are ideal for huskies and can be a great foundation for a quality diet for your pet. Read on – we've rounded up the 10 best dog foods for huskies to make your choice easier.
Editor's Choice: CRAVE High Protein Grain Free Dog Food
Huskies are large and full of energy, and that requires some high-quality and nutritious food. And, of course, you'll want just the very best for them. This Crave dog food is very rich in protein and that way it can satisfy all the energy demands of your husky's body. Free from grains, corn, soy, and gluten – with quality real beef as the main ingredient – this dog food will give your pet only the finest vitamins, proteins, and other nutrients. The protein from lean beef is the finest in nature and will guarantee that your pet remains healthy and muscular. Another option is chicken, with the same amount of protein, and you can choose from three different packages, ranging from 4 to 22 lbs.
Pros
Rich in protein
Two different meat options
Great for large dogs
Cons
Could be a bit bland for some dogs
Runner Up: Blue Buffalo Wilderness High Protein Food
Every husky loves a tasty bite! However, it is up to you to provide them with high-quality, highly nutritious food in order to maintain their prime shape. This Wilderness high-protein food from Blue Buffalo is just the thing. Based on quality chicken meat and real fruits and veggies, this dog food contains a balanced layout of nutrients: from those healthy complex carbs to vitamins and minerals, and down to high protein content – it's all there. There are no artificial flavors or colors, no gluten, wheat, or soy, and no chicken by-products, only the best for your pet. This type of Blue Buffalo food is great for large dog breeds, and huskies too. The rich nutritional value is great for keeping them in shape.
Pros
Quality ingredients
Rich in protein
Great for the immune system
Cons
Not for dogs with a sensitive tummy
Customer's Choice: Taste of the Wild Dry Dog Food
What better choice of food for a husky than some ancestral-inspired and natural salmon-based bites? With the wolves depicted on this packaging, you are bound to see your husky in a different life – and they are bound to love this food. With real smoked salmon as the number one ingredient, this dog food takes only the finest ingredients from nature and gives them to your pet. No grains, no corn, soy, or gluten, only nature's finest for your four-legged bestie. The formula also includes dried chicory root, a natural source of prebiotic fiber that helps with digestion and provides those beneficial bacteria that live in the stomach. This mix of nutrients and prebiotics is ideal for huskies, providing them with tons of energy and keeping digestion as good as can be!
Pros
Contains natural prebiotics
Good source of fiber
Great for the digestive system
Cons
Picky eaters might not like the salmon taste
Best Dog Food for Husky Puppies: Hill's Science Diet Dry Dog Food
Husky puppies will require all your attention and care during their all-important formative years. Training them is not the only imperative – when young they will require quality nutritious food that contributes to a healthy growing up. This food is made especially for large breed puppies, such as huskies. Formulated with quality chicken meat, this food is full of protein and minerals that are essential for puppies. On top of that, the formula boasts DHA from fish oil, a special ingredient that helps to support healthy brain and eye development. Together with the minerals and proteins, these ingredients will ensure that your puppy grows up into a healthy and strong adult dog.
Pros
Rich in DHA, essential for puppies
Perfect for formative years
Promotes healthy bone development
Best Dog Food for Active Huskies: VICTOR Grain Free Dog Food
Active dogs often require more food and higher-quality nutrition to keep them fueled. Huskies are naturally active dogs that will have tons of energy to spend – but still, that energy needs to be replenished. This food is formulated especially for these types of dogs: it has a unique combination of meat and vegetables, for the ultimate and balanced set of nutrients. Made with beef as the first ingredient, it takes a lot of its protein source from meat. However, a part of it comes from healthy fruits and veggies. They also add minerals and vitamins, which are an essential part of every diet. Also great for dogs with allergies and poor digestion, this dog food, and its multi-protein formula will be ideal for your husky.
Pros
Multiple sources of protein
Great for digestion
Quality ingredients
Best Natural Dog Food for Huskies: ZIWI Peak Air-Dried Dog Food
If you want the very best food for your husky, but you also want to support sustainable and quality farming, this might be a perfect choice! Ziwi's dog food is made from 96% meat, organs, and seafood – all sourced from New Zealand. The meat is from grass-fed, free-range lamb and beef, raised without any harmful hormones or growth enhancers. This dog food likewise contains no added grains, sugars, soy, or glycerin. It is a gently air-dried dog food, ensuring preservation over time without the use of preservatives or chemical processes. As such, this unique and all-natural dog food is ideal for any husky at any life stage. It promotes healthy development and is packed with essential nutrients that can be found only in quality meat.
Pros
Gently air-dried
Ethically sourced meat
96% content is meat products
Cons
Not for everyone's budget
Best Grain-Free Dog Food for Huskies: Wellness Complete Heat Grain-free Pet Food
If you want to eliminate grains from your pet's diet, this formula is a great place to start. Packed with protein and formulated without meat by-products, fillers, or artificial preservatives, it has everything your husky needs to thrive. The main protein source is deboned chicken and chicken meal, as an important source of glucosamine and chondroitin to support your large breed dog's joints. Also included in this food is flaxseed, which comes in as a great boost of omega fatty acids which will ensure that your husky's coat is shiny and healthy and that their cognitive abilities are top-notch. And, of course, the protein-rich meat that is the number one ingredient will guarantee that they grow up strong and muscular.
Pros
Supports your pet's overall health
Rich in nutrients
Natural sources of glucosamine and chondroitin
Best High Protein Dog Food for Huskies: Solid Gold - Barking at The Moon
There is no doubt that protein plays an important role in every dog's diet. It ensures that everything functions properly and that your pet has plenty of energy and strength throughout the day. And for large breeds such as huskies, it ensures that their muscles are as big and strong as they should be. That is why high protein dog foods are always important – and Solid Gold makes sure that your pet's need for protein is met to the fullest. With beef, eggs, and peas as a protein source, this dog food contains a whopping 41% protein. The formula also includes a blend of nutrient-packed superfoods for better gut and immune health. Of course, this food is free from any artificial flavors, sweeteners, colors, and so on. All in all, this dog food has everything your husky might need - and then some!
Pros
Protein content 41%
Blend of superfoods to support digestion and overall health
Promotes lean muscle development and a healthy active metabolism
Best Dog Food for Huskies with Sensitive Stomach: Canidae PURE Premium Dog Food
If your pet has food allergies or sensitivities, you have to be very careful when picking out a formula. Usually, it's the protein source that's causing all the ruckus (mainly chicken or beef), but sometimes other allergens are an issue, too. Luckily, with this limited ingredient food, you can be sure that your pet's belly won't be triggered. With real salmon as the protein source and sweet potatoes for fiber and nutrients, even sensitive dogs will get all the protein they need without experiencing digestive issues. In addition, this food is enriched with antioxidants, minerals, vitamins, and other key nutrients. All these ingredients combined will ensure that your pet's immune system runs smoothly and without a hitch.
Pros
No fillers or artificial ingredients
Real salmon meat and sweet potato as the primary ingredients
Limited ingredients for dogs with sensitivities
Cons
Some dogs might dislike the flavor
Honorable Mention: Orijen High Protein Dog Food
Large, energetic, muscular, and full of strength, huskies are very powerful dogs. And the best fuel for such dogs is, of course, meat – which is why most quality dog food manufacturers use real meat as the primary ingredient. Orijen is no exception, and offers this protein-rich dog food that is based on chicken, turkey, flounder, and mackerel meats! Combined, they ensure an amazing balance of nutrients - from protein content down to essential fatty acids and vitamins. For huskies, this combo is very important, as it supports all the cognitive functions and gives them ample energy throughout the day. And that is why Orijen's special dog food is a staple of a balanced and healthy husky diet.
Pros
The first five ingredients are real meats
Rich in animal protein
Combination of poultry and fish
What Are the Important Aspects of Dog Food For Huskies?
Responsible dog owners will have to pay extra attention to the diet that they are feeding their pets. Any old, bottom shelf low quality kibble simply won't do – it might even do more harm than good. If you want to ensure that your husky is growing up strong and healthy, you will have to ensure that their dog food is following some rules of quality. Here are just some of the most important aspects that all dog food for huskies should have.
For huskies, protein is a high priority. It ensures that their strength is replenished, that their muscles and bones are strong, and that they are healthy. Naturally, protein is found in animal meat. That is why your choice of dog food for huskies needs to have real beef, chicken, lamb, or any other animal meat as the number one ingredient.
Of course, protein is not the only important aspect. Make sure that the food of your choice has antioxidants, minerals, vitamins, fatty acids, omega oils, and other essential nutrients included. These can come from fish meat, veggies, and fruits – of course, many brands will include these in all their recipes, just make sure to read the fine print!
It is essential to start your husky on a proper diet right from the get-go. A good diet in their puppy years is a number one priority. And just imagine what all that protein and vitamins will do! They will ensure that their development is top-notch, and that they grow up into healthy, strong, and smart dogs!
We are committed to finding, researching, and recommending the best products. We earn commissions from purchases you make using the retail links in our product reviews. Learn more about how this works.

Angela Vuckovic
A proud mama to seven dogs and ten cats, Angela spends her days writing for her fellow pet parents and pampering her furballs, all of whom are rescues. When she's not gushing over her adorable cats or playing with her dogs, she can be found curled up with a good fantasy book.
More by Angela Vuckovic
Published September 24th, 2023 1:44 AM