85 Views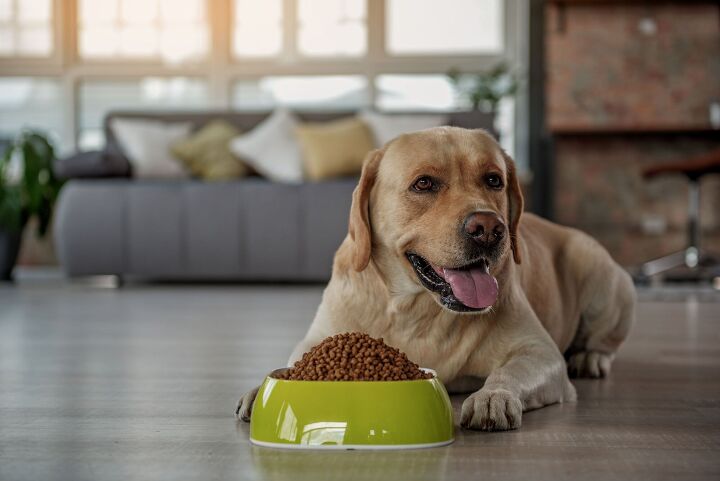 Labs are amongst the most popular pet dog breeds in the world. This is thanks to their lovely traits and friendly nature – they are the true example of a man's best friend. However, for your Labrador Retriever to reach their full potential, you'll need to feed them a complete, balanced diet tailored to their needs. Their diet should be rich in protein, balanced with fiber, complex carbohydrates, and healthy fats, and enriched with vitamins and minerals. This ensures that they are energetic, healthy, and looking as good as ever.
If you're unsure where to start when planning your pet's diet, you're in the right place. We've laid out all the important aspects of the diet for Labrador Retrievers and selected the 10 best dog foods for Labs – read on to find a perfect match!
Editor's Choice: Purina Pro Plan High Protein Dog Food
This Purina Pro Plan dog food is ideal for Labs and similar medium-sized breeds, as it is full of protein and other essential nutrients. Protein is key to keeping your dog strong and happy, and their health in their prime. This shredded chicken and rice recipe is packed with all the crucial bits: from proteins and vitamins to minerals and the all-important prebiotics. These will ensure that your pet's digestive system is running smoothly. Of course, real quality chicken meat is the number one ingredient here, so rest assured that your doggo won't resist it.
Pros
Rich in protein
Good price for the size
Great for Labradors
Cons
Could require some adapting to
Runner Up: Royal Canin Labrador Retriever Food
Every dog deserves to be fed with quality, healthy food. It is a guarantee that they remain healthy and happy - and lean! Labrador retrievers, as much as any dog, depend so much on the food you give them. This Royal Canin dog food is specifically made for this breed – it is packed to the brim with only the best nutrients tailored to their unique needs. The protein ensures that the pet's muscles and bones are strong, while all the minerals and vitamins keep everything else functioning at its prime. What is more, this brand ensures precise calorie and fat content for each portion, allowing you to know just how much is needed to maintain your pet's healthy weight. Of course, this food contains no harmful ingredients or artificial colors, or preservatives.
Pros
Quality ingredients
Rich in protein
Great for a shiny coat
Customer's Choice: Hill's Science Diet Dry Dog Food
This special diet dog food is designed for adult dogs that are in their prime and full of energy. And with all the essential nutrients packed inside, it is ideal for Labs as well. Based on chicken and barley as the main ingredients, this dog food perfectly balances a ratio of protein and carbs. For dogs, this is crucial for maintaining energy levels and strong, lean muscle. Of course, that is not all: joints, digestion, shiny coat, and an immune system are all supported through nutrients in this formula. Made in the United States with only the highest quality chicken meat, this special dog food is vet recommended and does not contain any artificial ingredients, such as colorings, preservatives, or flavors.
Pros
Contains a balanced set of nutrients
Good source of protein
Supports healthy skin and coat
Cons
Might be bland for some dogs
Best Complete Dog Food for Labs: Wellness Complete Health Dry Dog Food
For a dog food to be considered complete, it is important for it to have a balanced set of nutrients. In this dog food formula, everything is represented in perfect measure: vitamins, proteins, omega oils, antioxidants, and fatty acids. For Labradors, this is crucial, as it keeps their nutritional needs met and their body fueled. The first ingredient is quality lean chicken meat – which is full of protein – as well as fruit, veggies (such as spinach), and flaxseed. The latter gives it some much-needed omega fatty acids, while the fruits and veggies are essential for a balanced intake of vitamins and fiber. All this ensures that your pet will be as happy and energetic as always, with their nutritional needs met to the fullest!
Pros
Contains essential fatty acids
Perfectly balanced nutrients
Promotes healthy bone development
Cons
Can irritate a sensitive tummy
Best High Protein Dog Food for Labs: Blue Buffalo Wilderness High Protein Food
All dogs have that inner wolf within them - Labs too! They might seem goofy on the outside, but there's a wolf quivering deep inside, for sure. This special Blue Buffalo dog food is sure to nurture those ancestral needs of every dog. It is a grain-free, meat-based food that is very rich in protein and all the essential vitamins. You can choose from several options: chicken, salmon, or duck meat. Each one is bound to be irresistible for your lab. Of course, this brand prides itself on a recipe that does not contain any artificial ingredients or colors. If you want quality protein-rich food for your Labrador Retriever, this could be it.
Pros
Cold-formed for preserving quality
Contains all essential vitamins
Rich in antioxidants
Packed with protein
Best Dog Food for Labs with Sensitive Stomachs: Nature's Recipe Grain Free Dog Food
If your pet dog has issues with digestion, this might be a clear indication that their diet needs a change. Inadequate food can cause many issues, from bloating, vomiting, indigestion, and obesity. This Nature's Recipe dog food boasts a new formula that is quite easy to digest and can be a good match for dogs with food sensitivities. Besides, it is loaded with all the healthy and vital nutrients, which can benefit your lab on many other levels. Choose from lamb, chicken, or salmon as the number one meat source, all of them boosted with added sweet potato and pumpkin for better digestion. These tasty veggies balance the protein with healthy carbs and fiber and add that unmistakable sweet taste. Without corn, soy, gluten, or artificial ingredients, this food is easy on the tummy and quite light on the calories!
Pros
Promotes better digestion
Three choices of meat source
Contains sweet potato and pumpkin for better digestion
Cons
Might need some getting used to
Best Premium Dog Food for Labs: Canidae PURE Limited Ingredient Dog Food
With only the best ingredients selected for your pet, this unique Canidae dog food ensures that their diet remains of top-notch quality. One of the great advantages of this dog food is the great selection of different recipes: you can choose from lamb and peas, salmon and sweet potato, bison and veggies, wild boar and garbanzo, or lamb, goat, and venison meal. All these options are highly nutritious and quite rare in other dog foods. So, if you want something a bit premium for your Lab – this could be a perfect choice. The food is grain-free and contains no harmful additions, and is perfect for supporting a healthy immune system. With a good amount of protein, healthy fats, probiotics, and antioxidants, it is a healthy option that doggos will adore.
Pros
Great choice of flavors
Rich in nutrients
Supports the immune system
Best Dog Food for Active Labs: Eukanuba Adult Medium Breed Dog Food
It is no secret that labs are muscular and energetic dogs. Contrary to popular belief, these doggos can have quite a lot of strength and power - and a nearly unlimited source of energy. All of this will have to be supplemented with quality food. This Eukanuba recipe is ideal for active dogs of medium breeds, which is a category most Labradors fit in. This unique Active Advantage formula is aimed at promoting healthy and agile joints, healthy brain function, and optimal energy levels. Of course, this is done with a set of balanced nutrients - proteins, DHA, glucosamine, antioxidants, minerals, and vitamins, and chicken meat as the number one ingredient. The recipe promotes healthy and natural digestion, while the crunchy texture of this kibble helps clean gums and stimulate good dental health. Great for labs from 1 year and onwards, this Eukanuba Active food is ideal for starting things right.
Pros
DHA for healthy brain development
Ideal for active labs
Supports lean muscles and agile joints
Cons
Just chicken meat as a choice
Best Multi-Protein Dog Food for Labs: NUTRO ULTRA High Protein Dog Food
This superfood formula is packed with protein and essential nutrients, making it ideal for adult, high-energy labs. This recipe boasts a trio of proteins from quality chicken, lamb, and salmon meat. This meat is supplemented with a variety of fruits and veggies that are highly beneficial for your pet. With all this combined, your dog will get plenty of protein, vitamins, minerals, and everything in between. The high fiber content will regulate digestion, while the antioxidants will help with their joints and coat. In short, this dog food is specifically formulated to benefit your pet in every aspect – both outward and inward. A great choice through and through!
Pros
Great variety of veggies and fruits
Unique meat sources
Rich in essential nutrients
Best Skin and Coat Dog Food for Labs: Diamond Skin & Coat Real Meat Recipe
For your Labrador retriever to have that shiny, smooth coat, you'll need to work on their diet. Food directly influences the state of their skin and coat, and if something is lacking, you'll see their coat looking dull and their skin becoming dry and itchy. This special formula was created to support their overall health, but also improve their skin and coat quality. Made with real salmon and potato, it is full of Omega 6 and 3 acids that are ideal for keeping coat and skin in top shape. This food is also full of probiotics, which are essential for quality digestion. With no corn, wheat, fillers, artificial flavors, colors, or preservatives added, this dog food relies only on the best quality for your pet. It contains ample amounts of zinc, selenium, Vitamins E and A, and many other goodies. And best of all - it's low on calories!
Pros
A balanced set of nutrients
Great for coat and skin quality
Real salmon is the number one ingredient
Cons
Could be too bland for some dogs
Do Labrador Retrievers Need Special Food?
There is a great variety of dog foods on the market, but not all of them will meet the required nutritional values for Labrador Retrievers. Complete and balanced dog food for Labs needs to have plenty of protein, healthy fats, and complex carbs, and also be enriched with vitamins, and minerals. Choose the formula based on your pet's age and activity levels to make sure all of their needs are met. Overall, a quality dog food formula should provide the following:
Labs are super energetic, and most of them are quite active throughout the day. To keep them fueled, their food should be based on real meat and vegetables, and contain optimal amounts of proteins and carbs. This will keep them going through all the daily adventures, and make those muscles lean and strong.
Great for the Skin and Coat
Labradors have a smooth, sleek coat, but if you happen to neglect their diet, that shine and beauty can quickly disappear. Their food should contain omega fatty acids, vitamins, minerals, and antioxidants that are directly reflected in the healthy skin and a shiny coat.
Supports Brain Development
It is vital that dogs are given quality dog food from an early age. This way you ensure that they develop properly in every aspect and that they grow up into healthy and strong dogs. If you have a Lab puppy, feed them food that, in addition to essential nutrients, contains ample amounts of DHA – an essential nutrient that is responsible for healthy and natural brain development.
We are committed to finding, researching, and recommending the best products. We earn commissions from purchases you make using the retail links in our product reviews. Learn more about how this works.

Angela Vuckovic
A proud mama to seven dogs and ten cats, Angela spends her days writing for her fellow pet parents and pampering her furballs, all of whom are rescues. When she's not gushing over her adorable cats or playing with her dogs, she can be found curled up with a good fantasy book.
More by Angela Vuckovic
Published September 27th, 2023 9:07 AM