123 Views
Best Limited Ingredient Dog Food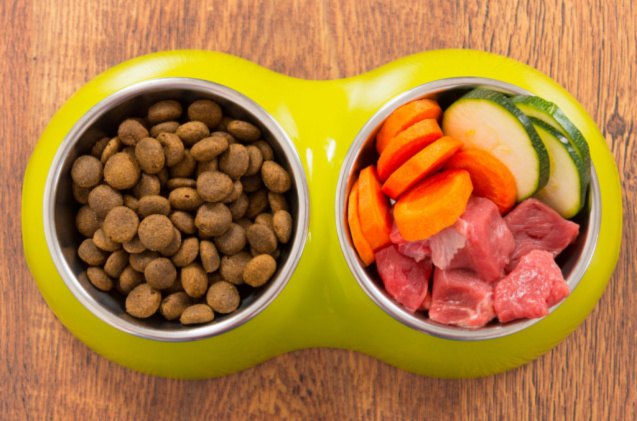 There is a lot that can be said about improper canine nutrition, bad digestion, and sensitive stomachs. Even though most dogs have a healthy appetite, they can also suffer from food sensitivities or allergies that upset their tummy and cause a range of symptoms, from itchy skin to diarrhea. Luckily, if you opt for a quality limited ingredient dog food formula, you can solve most, if not all, of their stomach and food allergy issues. Limited ingredient dog food is formulated to have fewer ingredients without compromising on the nutritional value – mostly, they just exclude harmful fillers and artificial ingredients, and focus on the good stuff, often opting for novel protein to minimize allergen potential.
If you're unsure which limited ingredient dog food is the best for your pet, we're here to help. We've put together a list of the 10 best limited ingredient dog foods that are specifically designed to help dogs with food sensitivities, allergies, bad digestion, and other, similar health issues.
Editor's Choice: Blue Buffalo Basics Skin & Stomach Care
Designed as food for skin and stomach care, it contains only one animal protein source and is made with wholesome grains. As chicken or beef are often allergens for some dogs with food sensitivities, you can choose between a turkey or salmon recipe, to ensure your pet doesn't have an adverse reaction to their diet. To boot, this formula also contains healthy ingredients, such as pumpkin and oatmeal, that promote and support gentler, more natural digestion. Of course, the food provides ample amounts of protein, vitamins, fiber, and minerals, all of which are necessary for a healthy dog's diet.
Pros
Single source of protein
Contains no beef, chicken, dairy, eggs, wheat, soy, artificial flavors, preservatives, or corn
Supports healthy digestion and itch-free skin
Runner Up: Canidae Pure Limited Ingredient Dog Food
Grain-free and with no fillers, preservatives, or artificial ingredients, this dog food is amongst the cleanest options out there. It contains a lot of protein, vitamins, healthy fats, and minerals and works to support a healthy immune system. Thanks to antioxidants it also improves joint health, and the included probiotics mix will be so beneficial for digestion. There are also a few different recipes available, including salmon and sweet potato, lamb and pea, chicken, pea and lentils, wild boar and garbanzo bean, or lamb, goat, and venison. Even picky eaters will have no problem finding a flavor that suits their finicky palate!
Pros
Quality source of protein
Various unique recipes
Made using 10 or fewer key ingredients
Cons
Could affect poop quality
Customer's Choice: Instinct Limited Ingredient Dog Food
Limited ingredient dog food is great for pets that have sensitivities or are prescribed a healthier diet. From Instinct comes a fantastic choice full of those healthy nutrients that your doggo needs without any of that nasty stuff. Firstly, this food contains no artificial fillers, preservatives, no dairy or eggs, no corn, wheat, or soy – and nothing else that can be bad for your pet. It is made with real meat and contains one, single-source animal protein – turkey, salmon, or lamb. This makes it easy to digest and super healthy. The formula is supplemented with healthy veggies like peas, and this brings some much-needed balance into the nutrient chart: this food contains ample amounts of minerals, vitamins, and proteins. Low on calories but still very nutritious, this dog food can really introduce a much-needed change into your pet's daily diet.
Pros
Single animal protein source
Balanced nutritional value
Great for digestion
Cons
Some dogs might experience gassiness
Best Limited Ingredient Dog Food For Seniors: Solid Gold - Holistique Blendz
Senior dogs are amongst those pets that require a lot of our attention - 24/7. And a huge part of that special attention is a healthy diet that supports their body through their golden years. Solid Gold created this dog food formula with seniors in mind – but more specifically, seniors that struggle with sensitive stomach issues. This food is made from oatmeal, pearl barley, and ocean whitefish meal (for that all-important glucosamine!) and enriched with 20 core superfoods to boost their overall health. Not only that this formula is made with highly digestible single-source protein and high fiber content which is great for sensitive tummies, but it also contains patented, protected probiotics to support their digestion.
Pros
Great for senior dogs with tummy issues
Natural source of glucosamine and chondroitin for joint support
Made with whole superfoods
Best Grain-free Limited Ingredient Dog Food: Wellness Simple Natural Limited Ingredient Dog Food
Some dogs with food allergies really need a grain-free, limited ingredient diet – whether temporarily, or all the time. The recipe is specifically formulated for dogs with food sensitivities, and not just those that concern grains. As such, it is super easy to digest, it contains a lot of good nutrients, and it promotes healthier skin and coat. With minimum ingredients and maximum nutrition, this dog food is so light – yet so filling. It is based on turkey and potato and contains no artificial ingredients that might be bad for your pet. With healthy protein, fatty acids, and prebiotics in the formula, your pet will thrive.
Pros
Great for dogs of all life stages
Contains all essential nutrients
Easy on the stomach
Best Dry Limited Ingredient Dog Food for Better Digestion: Merrick Limited Ingredient Diet Dog Food
For your pet's digestion to be optimal, they need enough fiber in their meals, in addition to other nutrients such as protein. This Merrick limited ingredient dog food is an excellent source of fiber and will definitely support healthy digestion. Besides this, it also has a ton of essential nutrients such as protein, vitamins, and minerals. It has a single source of animal protein, and absolutely no artificial ingredients, soy, corn, wheat, dairy, or eggs. Choose between chicken or salmon, and find the taste your pet can't resist!
Pros
Supports healthy digestion
Great source of fiber
Contains all the essential nutrients
Best Limited Ingredient Dog Food for Skin & Coat: Diamond Naturals Limited Ingredient Dog Food
A lot can be influenced by a proper diet. And most of all, your pet's skin and coat can receive a new, healthier shine once a quality diet is established. This Diamond Naturals dog food is just the thing for this. With its unique salmon and potato recipe, this food contains a perfectly balanced amount of both protein and carbs, supplemented with added goodies such as vitamins, minerals, fatty acids, antioxidants, and probiotics. This potent combo ensures that your pet is always in their prime. All this can influence every part of your dog's body: lean and strong muscles, strong joints, healthy skin and shiny coat, balanced digestion, and a great and happy mood. What's not to love?
Pros
High in protein for lean and strong muscles
Supports healthy skin and coat
Easy to digest
Cons
Might need some getting used to
Best Adult Limited Ingredient Dog Food: NUTRO Limited Ingredient Diet
Whenever you want the best for your pet, you go for the high-quality, premium limited ingredient dog foods. This recipe from Nutro is just the one you need: with its carefully selected premium ingredients, sourced from a trusted network of farmers and suppliers, and a balanced set of essential nutrients, this food is bound to do your pet good. Interestingly, this is a "no chicken" recipe: the number one ingredient here is lamb, salmon, duck, or venison. The recipe does not contain any beef, dairy products, no corn, no wheat, or soy. What's more, Nutro's recipe contains ample amounts of vitamins and minerals, with plenty of protein as well. Of course, all the needed fiber is also there, improving your pet's digestion.
Pros
Responsibly sourced ingredients
Great and balanced set of nutrients
Ten key ingredients
Improves skin and coat
Best Balanced Limited Ingredient Dog Food: Natural Balance Limited Ingredient Diet
When it comes to quality limited ingredient dog food, it is essential that the nutritional value is carefully balanced. Great for adult dogs with sensitivities such as a gentle stomach or fragile coat, Natural Balance dog food contains all the important nutrients with only natural ingredients. This recipe is made with real meat and brown rice, which balances carbs and protein, but also contains ample minerals and vitamins. For the single protein source, you can choose between lamb, duck, chicken, beef, or lamb meal. Good fiber content improves digestion and is gentle on those sensitive tummies. Added Vitamin E and Omegas from flaxseed are both ideal for healthy skin and shiny coat, while fiber from brown rice will further improve digestion.
Pros
Easy to digest
Great for sensitive stomachs
Improves skin and coat
Cons
Might taste bland to some dogs
Honorable Mention: Rachael Ray Nutrish Just 6 Limited Ingredient Dog Food
You really can't go wrong with meat and veggies! Rachael Ray Nutrish is a brand that follows this principle, and their limited ingredient, "Just 6" recipe is just as good as the classic. This recipe is based on lamb meal and brown rice and contains only 6 ingredients - with added taurine, vitamins, minerals, and all the other essentials. Of course, it contains no fillers, no wheat, no corn, or soy. All the ingredients are listed in detail, and it becomes clear that this is a perfectly balanced recipe designed to benefit your pet in the long run. This is just natural food - for a happy doggo!
Pros
A balanced set of nutrients
Just 6 ingredients
Contains essential vitamins
Cons
Might require some getting used to
What to Look for in Limited Ingredient Dog Food?
Limited ingredient dog food contains fewer ingredients than regular pet food, to put it simply. Usually, it's under 15 key ingredients, but some go even further, offering less than 10. However, to be nourishing and healthy while minimizing the list of ingredients, limited ingredient dog food has to meet certain standards. The nutritional value should still offer everything your pet needs, and that can be a tricky thing to accomplish. Before you select a limited ingredient dog food for your pet, make sure it follows these key principles.
Balanced and Quality Nutrients
No dog food can be beneficial without a set of balanced and quality nutrients. It should have proper amounts of protein, vitamins, minerals, fatty acids, antioxidants, and fiber. Only when these are balanced as they should be, you can rest assured that your pet's body is getting the nutrients they need to thrive. So busy yourself with reading the fine print – double-check the nutritional value and the ingredient list before buying.
No Artificial Ingredients
It is vital that the limited ingredient dog food of your choice contains absolutely zero artificial ingredients. Fillers, preservatives, colorings, flavors, and any other non-natural ingredients can do great harm to your pet. Gluten, corn, wheat, or soy will also be bad for a dog's health, so make sure they are all non-existent in the formula you choose. Similarly, if you're looking into limited ingredient dog food because your pet has certain food sensitivities or allergies, it's important to identify the culprit so you can choose a formula that doesn't contain it.
When it comes to food sensitivities in dogs, bad digestion and loose stool can be the number one complaints. A lot of these will stem from a poor quality diet or allergens in the food. Luckily, this can be fixed. Make sure that the food you choose has a lot of fiber and even probiotics as they can greatly contribute to normal digestion. There are limited ingredient formulas that have been tailored to treat digestive issues, as well as to cater to dogs with sensitive stomachs, by using ingredients that are easy to digest and promote a happier, calm tummy.

We are committed to finding, researching, and recommending the best products. We earn commissions from purchases you make using the retail links in our product reviews. Learn more about how this works.

Angela Vuckovic
A proud mama to seven dogs and ten cats, Angela spends her days writing for her fellow pet parents and pampering her furballs, all of whom are rescues. When she's not gushing over her adorable cats or playing with her dogs, she can be found curled up with a good fantasy book.
More by Angela Vuckovic
Published September 28th, 2023 11:20 AM