123 Views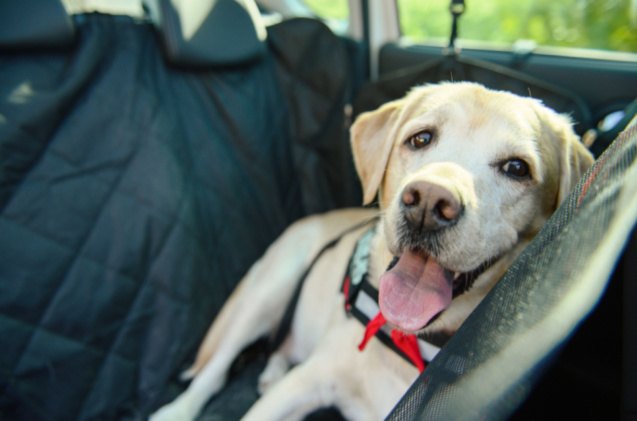 We all know that dogs love nothing more than being by our side, all day every day. They love being included in daily activities, including car rides! If you want to bring your dog along, keep in mind that they can really muck up your car. Pawprints everywhere, mud on the back seats, scratches, and loose hairs – these are all but guaranteed. Thankfully, there are various car seat cover designs that will ensure that your car's seats remain in pristine condition when your pooch is in the backseat (or riding shotgun). Drive with your pet in tow without any fear or worry, and wash these removable covers as needed, while the seats underneath remain pristine. A great accessory if you have a brand new car or want to keep it looking its best for as long as possible. Read on to find a perfect match, both for your dog and your car, in our list of the 10 best seat covers!
Editor's Choice: VIEWPETS Bench Car Seat Cover Protector
Nothing beats traveling with your doggos! But, while it is fun, it's also quite messy. Muddy paws, loose hairs, scratched upholstery – they can really ruin your car. Thankfully, this fantastic seat cover from Viewpets will keep everything well protected. It is designed to cover the entire back seat, leaving nothing exposed. Waterproof and non-slip, it is made from durable quilted fabric that can take anything that's thrown at it. It is easy to attach and can be easily vacuumed and wiped with a damp cloth. This is the easiest way to keep your rear seat as pristine as can be!
Pros
Covers the entire seat
Perfect for several dogs
Waterproof
Runner Up: URPOWER Upgraded Dog Seat Covers with Mesh
When your pet needs more space in the trunk of your SUV, this handy hammock design can come in handy to keep everything secure and clean. Easy to attach, this unique design can cover the entire rear part of your car: including the back seats. A multilayered design based on durable 600D Oxford fabric, it can stand up to wear and tear, and also take the brunt of the mud and filth. Its non-slip rubber backing will keep it in place, while the fabric is waterproof and won't dampen your seats. Added anti-skid zippers will also protect your pet from falling in case of sudden braking.
Pros
A multifunctional design
Heavy-duty fabric
100% Waterproof
Customer's Choice: 5 STARS UNITED Front Seat Dog Cover for Car
Some dogs just prefer riding shotgun – and honestly, who can blame them? If your pet prefers riding in the front of the car, this is the design to look for. This special front seat cover is made from durable padded and quilted fabric that adds protection to the entire seat. No claw marks, no dirt, no mud. It fits almost all cars and universally covers the entire seat. Best of all, it corresponds to all seatbelt systems, so you can buckle in your doggo to ensure added protection. And in the case that the cover gets dirty, you can clean it in a number of ways, including machine washing! Nifty!
Pros
Universal fit
Allows seatbelt use
Easy to attach
Cons
Sides might be exposed in some car models
Best Cargo Seat Cover: MIXJOY Cargo Liner for Dogs
SUVs are spacious, practical, and great for families, especially ones with pets! You can fit large breed dogs in the cargo space of your SUV with ease and they'll enjoy the spaciousness and comfort. This special cargo liner is specially designed for these vehicles and will protect your SUV's cargo space from messes and damage. Large and durable, it covers almost all of the cargo area – and then some! It is made from durable quilted material, which is waterproof and lightweight. It also boasts adjustable belt buckles, so you can find that perfect fit for your car model. It is compatible with fold-down seats, so you get an extra bit of length to cover them as well. A superb design!
Pros
Great for large vehicles
Padded and durable
Great for owners of several dogs
Cons
Might be too large for certain SUVs
Best Seat Cover with Side Flap: Honest Dog Car Seat Cover
A side flap is important in the design of a car seat cover for pets. When dogs want to enter the car, they'll use their paws for easy entry. This can scratch your car seats, leave mud all over the place, and stain the sides of the seats. This Honest Dog design makes sure that this will not happen. It is a classic back seat cover, just with side flaps included for extra protection. Made from durable quilted material, it will protect the entire back seat, making sure that no mud or dirt will get on the fabric. It is easy to attach and fits almost all modern vehicles. A quick and easy setup ensures that everything fits where it should.
Pros
Full coverage and efficient design
Durable fabric
Easy to attach
Best Extra Large Seat Cover: Tapiona XXL Dog Seat Cover
No matter if you travel short or long distances with your big dog accompanying you, you will want to protect the back seats. This XXL car seat cover ensures that even the biggest of dogs can ride in a car without leaving a mess behind. Made from special quilted heavy-duty material, this cover protects the back seat and the rear end of the front seats too. This way you ensure that every adventure, no matter how muddy, will not stain the interior of your car. Thanks to a non-slip bottom and seat anchors, the cover fits tightly and won't fall off or lay loose. One of the added advantages is a number of pockets that allow you to store your pet's essentials, close at hand!
Pros
Extra-large design
The entire rear of the car is protected
Added pockets for storage
Best Front Seat Cover: Active Pets Front Seat Dog Cover
Some dogs – those very good boys and girls – can have the privilege of riding shotgun. That's where the best views are, after all. However, you will need to protect the front seat from their claws, hair, and dirty paws. This durable and detailed design ensures that the seat won't get any dirt or debris on it. It fits snuggly and covers the back and the bottom too. Made from durable quilted fabric, it is waterproof and non-slipping. It fits all cars and is secured with anchors and safety buckles. Of course, this cover is easy to clean – just wipe away any dirt with a damp cloth.
Pros
Easy fit
Secured with seat anchors
Won't obstruct safety belts
Cons
Does not extend over the headrest
Best Rear Seat Cover: Taiker Dog Seat Cover
Here is one unique design that takes some basic features and upgrades them even further! Taiker's rear seat cover is designed to protect the back seat but also the rear ends of the front seats. However, the design incorporates one unique feature: a see-through mesh that allows you to interact with your pet, and for them to have ample visibility and fresh air coming through. It allows them to be part of the action and to be calmer. Otherwise, they might jump around and affect your driving. The cover is made from very durable quilted fabric and can be easily washed and vacuumed. Thanks to its adjustable buckles, it can be easily fitted to most modern cars.
Pros
Intuitive mesh design
Ensures more airflow
Durable and protective
Cons
Could be more water-resistant
Best Waterproof Seat Cover: BRONZEMAN Waterproof Bench Car Seat
Having a waterproof car seat cover is very important when you have dogs. Sometimes, they might have a little "accident" during a long drive, and sometimes they enter soaking wet or muddy. Either way, a waterproof seat cover, such as this one from BRONZEMAN, will ensure that nothing leaks through to the actual car seat. This cover is made from highly durable and non-absorbing nylon material. Water simply won't penetrate, and you can rest easy throughout your drive. The cover fits snuggly on the rear bench, covering both the bottom and the top, with special holes left for seat belt buckles. There are also adjustable buckles for a good fit.
Pros
Waterproof
Tight fit
Comfortable
Cons
The top portion is slightly shorter
Best Deluxe Seat Cover: Bark Lover Deluxe Car Seat Cover
Sometimes it is best to fit your luxury car with an equally luxurious seat cover. This design from Bark Lover is bound to fit the interior of your new car, thanks to its elegant off-white color. Like many other designs, it too boasts a heavy-duty design with waterproof and durable material. Thanks to special buckles it can be fitted with ease, and special slits allow you to use belt buckles with no obstructions. Another thing that is included in this pack is a special mesh barrier that is fitted between the front seats. It prevents your dog from limiting your driving ability. The only thing to keep in mind is the light color of the seat cover: mud and dirt might be too visible.
Pros
Easy to use
Durable
Mesh included
What Are the Most Important Aspects of Car Seat Covers?
When choosing your car seat covers, there are a number of aspects that you need to consider. Of course, all cars are different and unique, and that is a good place to start. The last thing you want is to purchase a cover that doesn't fit or protect the seats. Once you get a match for your car's make and model, the rest are details that depend on your needs and preferences. Here are a few things you shouldn't overlook when buying seat covers.
For starters, consider your car's make and design. In today's day and age, almost all cars are unique and different. If you own an SUV, you should focus on cargo liners and extra large covers. An SUV has all the extra space – and needs that extra protection. On the other hand, if you have a sports coupe, just a front seat cover might be enough. But if you have a classic family or estate car, your best bet will be the basic rear seat cover. Look for extra side flaps that will enhance the protection, and make sure that the seatbelts won't be obstructed.
Of course, it is important to consider your dog's breed. If it is a Chihuahua in question, you are hardly going to need an SUV cargo liner to keep your car clean. In such cases, look for small single-seat covers. But if you own a Great Dane or a pair of Golden Retrievers, you might need larger and more protective designs. Look for offers with extra flaps, protective meshes, or hammock features. Extra protection for the backs of the front seats can also come in handy.
Undoubtedly, durability plays an important role. Dogs can have sharp claws, and the cover needs to withstand that. It also needs to be durable enough to stay good after all those successive waves of mud and dirt that fall on it – as well as cleaning. Look for seats that have a double stitched or quilted design, with extra paddings or multi-layered construction.
Last but not least is the waterproof aspect. Mud, water, pee – the back seat can go through a lot. And your cover will need to soak it up or prevent it from reaching the car seats. Look for fabrics that are made from nylon or multi-layered oxford. A waterproof guarantee is a must. Pee on the actual car seats can be a nightmare to clean and will leave odors and stains.
We are committed to finding, researching, and recommending the best products. We earn commissions from purchases you make using the retail links in our product reviews. Learn more about how this works.

Angela Vuckovic
A proud mama to seven dogs and ten cats, Angela spends her days writing for her fellow pet parents and pampering her furballs, all of whom are rescues. When she's not gushing over her adorable cats or playing with her dogs, she can be found curled up with a good fantasy book.
More by Angela Vuckovic
Published September 23rd, 2023 7:43 AM