147 Views
January 3rd, 2023 12:31 PM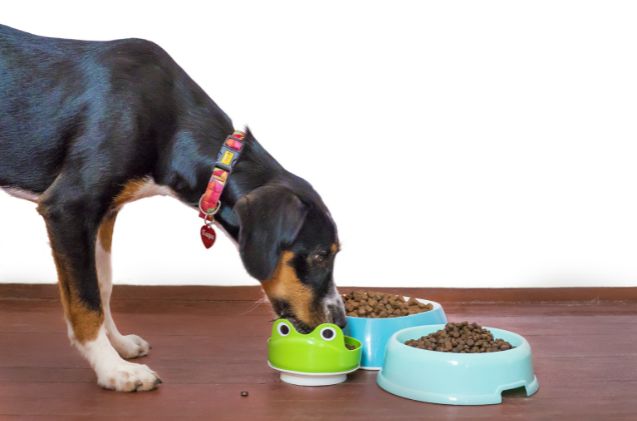 Do you have a dog or cat that eats so quickly that they sometimes make themselves sick? If so, you're not alone! This is a problem faced by many pet owners, including both dogs and cats. For some, it happens because your pet loves their food so much that they gobble down their meal out of excitement. For others, it's a response to challenges in their past, eating their food as quickly as they can out of fear of it being taken away or stolen by another animal. Regardless of the reason, slowing your pet down is important. Not only can eating too fast make your pet feel ill, but it can lead to some severe health complications. One effective solution is to introduce a slow-feeder bowl, a dish designed with obstacles your pet must work around to get to their food. This introduces mental enrichment, slows them down, and makes their meal fun. Here's our list of the 10 best slow-feeder bowls to keep your pet safe during mealtime.
Editors Choice: Outward Hound Fun Feeder Slo Bowl
Material:
Plastic
Style:
Standalone Bowl
Size:
¾ Cup, 2 Cups, 4 Cups
Available Colors:
Orange, Blue, Turquoise, Mint, Purple, Grey, Pink, Green
These simple plastic slow-feeder bowls from Outward Hound are a low-cost solution to slowing your dog down during mealtime. The bowls are available in 2 sizes. They are suitable for most pets; however, the deeper dish design may be complicated for those with shorter snouts. Outward Hound also offers multiple ridge patterns allowing you to keep their meals fun and engaging. A non-slip base prevents the bowl from sliding on the floor, while its dishwasher-safe design makes it easy to clean.
Pros
Available in both small and large sizes
Multiple designs to change up mealtime
Dishwasher and freezer safe
Cons
Deeper dish is difficult for pets with shorter snouts
Plastic material can be damaged with use
Runner-Up: Mighty Paw Slow Feeder Dog Bowl
Material:
Silicone
Style:
Standalone Bowl or Insert
Size:
3 Cups
Available Colors:
Green, Orange
For aggressive eaters, slow-feeder dishes pose a unique risk – damage to their nose from trying to shove past the ridges to eat. This silicone dish is a great option to eliminate this problem. The bowl features 6 silicone waves to slow down eating. The bowl can be used on its own, or you can slide it into a standard stainless-steel bowl to use as a slow-feeder insert. A quick pull paw tab in the center of the dish makes it easy to remove from your dog's bowl for cleaning.
Pros
Bowl designed to work independently or as a bowl insert
Silicone waves are easy on your dog's nose
Dishwasher safe
Cons
Only available in one size, not suitable for smaller dogs
Lightweight design makes it easy for dogs to pick up, slide, or knock over
Best Stainless Steel Slow-Feeder Bowl: Neater Pet Brands Stainless Steel Slow-Feed Bowl
Material:
Stainless-steel
Style:
Standalone Bowl
Size:
1.5 Cups, 3 Cups
Available Colors:
Silver
Many slow-feeder dishes are made from lightweight plastic. For pet owners with a heavy chewer or destructive dog, this can make finding a solution that will last difficult. This stainless-steel bowl is durable and easy to clean. It can hold up to 3 cups of kibble, making it a great option for larger dogs. A single obstacle in the center forces dogs to slow down as they eat around it without being too complicated for dogs new to using slow-feeder dishes.
Pros
Stainless steel is ideal for heavy chewers
Non-tip and non-skid design
Easy to clean/sanitize
Cons
Deeper dish is difficult for pets with shorter snouts
Single obstacle isn't enough to slow down the most determined pets
Best Slow Feeder Insert: Fikz Craving Creativity Dog Bowl Insert Slow Feeder
Material:
Silicone
Style:
Insert
Size:
Fits Dishes 5.5" to 7" Diameter
Available Colors:
Blue
If you are already using a dog dish or raised dog feeder you love, you may not want to switch your dog's dish out entirely. However, if you already have a dog bowl that you've invested in, this is a budget-friendly alternative to replacing that bowl. The insert features 23 powerful suction cups to hold the insert in place and 5 larger silicone blades marked with lines making it easy to trim them to fit your dog's dish, regardless of the size.
Pros
Trim to fit any standard-sized dog bowl
Silicone blades are easy on your dog's nose
Dishwasher safe
Cons
Dog bowl must be purchased separately
Isn't as durable for heavy chewers
Best Ceramic Slow Feeder Bowl: Le Tauci Ceramic Slow Feeder Dog Bowl
Material:
Ceramic
Style:
Standalone Bowl
Size:
1.5 Cups, 3 Cups
Available Colors:
Purple, Blue, Green, Orange, Pink
Most veterinarians recommend using a ceramic dish for dogs or cats that suffer from acne. This can complicate things if you also want to incorporate a slow feeder into your mealtime. This dish's weight and the non-slip bottom will prevent the dish from sliding. The ceramic material is easy to clean, and it's both dishwasher and microwave safe. This makes the Le Tauci dishes suitable for kibble and wet food.
Pros
Ceramic material to prevent canine/feline acne
Durable, chew-resistant design for heavy chewers
Heavy material prevents dogs from picking it up or dumping it
Cons
Ceramic is more likely to break if the dish is dropped
Heavier for those looking for a dish that also accommodates travel plans
Best Slow Feeder Bowl for Short-Snouted Pets: Leashboss Flat Face Feeder
Material:
Plastic
Style:
Standalone Bowl
Size:
1.5 Cups
Available Colors:
Blue, Gray
Brachycephalic pets have flatter faces and shorter snouts than other breeds. Some examples of pets that fall into this category include Persian cats, French bulldogs, Boston terriers, and Pugs. As a result of their short snout, they may find it difficult to reach food in deeper food dishes. Recognizing this, Leashboss created a slow-feeder dish that accommodated their short snouts with a shallow design that has a slight incline to allow for easy access to all corners of the dish.
Pros
Shallow food compartments and a slight incline
Dishwasher safe
100% BPA, PVC, and Phthalate-free
Cons
Only holds 1.5 cups for smaller short-snouted pets
Lightweight design moves too easily during use
Best Lick Mat Slow Feeder: LickiMat Slomo Combo Slow Feeder/Treat Maker
Material:
Rubber
Style:
Lick Mat
Size:
One Size Suitable for All Pets
Available Colors:
Turquoise and Gray, Red and Gray
A lick mat is a fun alternative to a traditional slow feeder bowl. These flat mats with groves and textures hold your pet's wet food or other soft, spreadable treats. Lick mats are a favorite of veterinarians and groomers because licking has a calming effect. It helps to eliminate boredom and reduce anxiety. The food compartments on a lick mat are shallower than a standard bowl, making it easier for smaller pets and those with short snouts.
Pros
Vet-developed and animal behaviorist approved
Freezer, microwave, and dishwasher safe
BPA, PVA, and silicone-free
Cons
Shallow design isn't suitable for larger amounts of kibble
Easily slides on slippery surfaces like tile floors
Best Slow Feeder Dish for Cats: Fatcatjoy Ceramic Plate Cat Slow Feeder Bowl with Wood Stand
Material:
Ceramic and Wood
Style:
Standalone Bowl
Size:
8.5" Diameter, 2.5" High
Available Colors:
White and Natural Wood
Like dogs with shorter snouts, cats often have a harder time with deep food dishes. This ceramic dish from Fatcatjoy is an excellent choice for smaller pets. The ceramic dish is both dishwasher and microwave safe. It rests upon a wooden stand, making it more comfortable for senior pets and those that struggle to reach down to food on the ground. However, the elaborate design of the dish can make it more challenging to clean.
Pros
Flat ceramic dish helps to prevent feline acne and whisker fatigue
Dish can be used with or without ceramic dish depending on your cat's needs
Suitable for both wet food and kibble
Cons
Small size suitable only for cats or small dogs
Elaborate design is harder for cleaning purposes
What is a Slow-Feeder Bowl?
Slow-feeder dishes are pet food bowls that incorporate obstacles that slow your pet down when eating. This is because they can't take large mouthfuls all at once. Instead, they can only take small amounts at a time. Most slow-feeder dishes accomplish this by incorporating raised walls or sections within the dish. They are available in a wide variety of different sizes and materials, including plastic, stainless steel, and ceramic.
Do Slow-Feeder Dishes Prevent Bloat?
Before looking at slow-feeder dishes for pets and their ability to prevent bloat, we need to discuss the basics of bloat in pets. Gastric Dilation-Volvulus, or bloat, refers to the build-up of gas, food, or fluid in a dog's stomach. As a result of this accumulation, the stomach twists, creating an emergency that can quickly turn fatal.
There are several risk factors to consider when trying to reduce bloat in your pet. This includes the speed at which our pet eats, their physical activity immediately after eating, how much they drink just after eating, and the biological risk factor associated with certain dog breeds.
Introducing a slow-feeder dish to your dog won't guarantee they aren't at risk for bloat. By slowing your dog down, it helps to limit the amount of air that they are inhaling while ingesting their food. This helps to reduce the chances of the stomach becoming filled with air during mealtimes.
Can Dog Bloat Resolve on Its Own?
If you believe that your pet may be experiencing bloat, this is a medical emergency. The most common warning signs of bloat include:
Retching or attempts to vomit unsuccessfully
Excessive drooling
Pacing
Rapid breathing
Restlessness
Swollen abdomen
Collapse
Bloat can quickly turn fatal when not addressed. The sooner you get them to a veterinarian, the better their chances of survival. In true cases of bloat, this often requires surgery known as "gastropexy." If treatment isn't provided quickly enough, euthanasia may be the only option.
How to Choose the Best Slow-Feeder Dish for Your Pet
Style
Several types of slow-feeder dishes are available depending on your pet's size and the kind of food they eat. Standalone bowls are the most common option. These are traditional bowls with an obstacle of some form inside. Obstacles could include ridges, bumps, or a larger raised center. Slow-feeder inserts are just the obstacle portion of the feeder and need to be used with your pet's existing bowl. This is a great option if you have a fancy dog feeding dish that you want to keep. Finally, lick mats are designed for wet food and spreadable treats. They are a very shallow feeder with different textures that your pet must lick around to get their food.
Size
When selecting the correct dish size, several important factors must be considered. First, look at how much food the dish is designed to hold. If you have a larger dog, a 1-cup dish will not provide enough space for their meal. Second, look at the height of the dish and whether your pet can reach into the dish to eat comfortably. If your pet suffers from arthritis or other joint-related struggles, consider a raised dish. This makes it easier for them to eat by limiting how far they need to reach down.
Material
The most common slow-feeder materials are plastic, silicone, ceramic, and stainless steel. Each of these materials offers its own benefits and challenges. Plastic and silicone dishes are lighter, making them more convenient for travel. But they are easily lifted or moved around. Plastic dishes also show wear and tear much earlier from regular use. The scratches in a plastic dish are a breeding ground for bacteria, meaning that these dishes must be replaced more frequently. Silicone is an excellent option for overly excited eaters that may risk hitting their snout on the dish while eating. Ceramic dishes offer the heaviest weight and high durability. They last longer than plastic dishes, but they also cost significantly more. Stainless-steel dog dishes are the easiest to disinfect.

Britt
Britt Kascjak is a proud pet mom, sharing her heart (and her home) with her "pack" which includes her husband John, their 3 dogs – Daviana, Indiana, and Lucifer – and their 2 cats – Pippen and Jinx. She has been active in the animal rescue community for over 15 years, volunteering, fostering and advocating for organizations across Canada and the US. In her free time, she enjoys traveling around the country camping, hiking, and canoeing with her pets.
More by Britt
Published January 3rd, 2023 8:00 AM