79 Views
10 Best Teething Toys for Puppies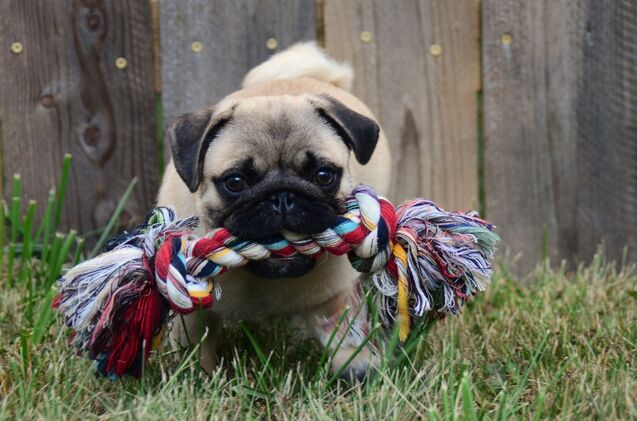 The teething stage can be a nightmare – both for the puppy and their owners. Driven by the soreness of their gums, puppies seek out stuff to chew on in an effort to soothe inflammation and relieve pain, and more often than not, they "stumble across" your furniture, baseboards, or shoes as their first choice. The best way to redirect their attention from your valuables but still allow them to express their natural instincts and get pain relief is to get them a few teething toys.
Teething toys for puppies are designed to be durable and help your pet through this vulnerable stage, either by cooling their gums, massaging them, or simply by stimulating the circulation through chewing. There are all kinds of teething toys for puppies out there, from freezable to plushies all the way to natural solutions, and we've rounded up the 10 best to help you make your choice quick and easy!
Editor's Choice: KONG Puppy Toy Natural Teething Rubber
Customized for a growing puppy's baby teeth and sore, sensitive gums, this versatile chew toy is made from soft rubber which is durable and strong but still pliable enough so it won't hurt your pooch's gentle gums and teeth. It will withstand all of your puppy's curious gnawing and therapeutic chewing, but most importantly, it can be used in multiple ways to satiate your puppy's needs during the teething stage. On its own, it's a fun chew toy, but the hollow center allows you to transform it into a treat-dispensing toy or freezable toy. Fill it with snacks, treats, or chew sticks to treat your pet, or fill with yogurt, PB, or pumpkin puree and freeze it – your puppy will enjoy the taste of the frozen treat and the coolness will greatly soothe their inflamed gums.
Pros
Versatile and fun to play with
Can be frozen or stuffed with treats
Soft but durable natural rubber ideal for teething puppies
Dishwasher-safe
Cons
Might be too big for tiny puppies
Runner Up: Arm & Hammer Ora-Play T-Bone
Designed with attention to every little detail, this teething toy for puppies will provide both fun and relief. Ergonomically shaped like the letter T, it will keep your puppy entertained for hours on end, while the multiple nubs across its surface will gently massage their gums, helping relieve pain in their sore gums. Made from tough and long-lasting nylon, it'll hold up well to your puppy's attempts to destroy it, and the fact that the material is infused with yummy peanut butter flavor will only entice your pet more. What's more, this toy is also infused with baking soda, which promotes fresh-smelling breath and helps remove plaque and tartar buildup.
Pros
Flavored – great for picky puppies!
Infused with baking soda
Ergonomic shape
Massaging nubs
Cons
Can be a bit too hard for some puppies
Customer's Choice: Benebone Puppy 2-Pack Maplestick/Zaggler Dog Chew Toys
The only thing better than one toy for a teething puppy is two toys! This two-pack offers variety in play and textures, so it's a great choice if your dog tends to quickly get bored with their toys. It includes one Maplestick, which is perfect both for chewing and a game of fetch, and one Zaggler, specifically designed to roll on the floor and entice your puppy into play mode. Maplestick is made with nylon and real maple wood for a special aroma, whereas the Ziggler is nylon infused with bacon flavor – no puppy can resist that. Naturally, both work great during the teething stage as they are fun to chew and durable, too!
Pros
2 toys in the pack
Real and varied flavors
Durable and fun
Cons
Can be too big for some smaller puppies
Best Freezable Teething Toy for Puppies: Nylabone Puppy Chew Freezer Dog Toy
When their adult teeth are erupting to replace the baby teeth, puppies have very sore and inflamed gums that can be painful. The best way to relieve some of that pain and discomfort is with coolness – and a freezable teething toy is the easiest and most efficient way to do that! This flavored nylon puppy bone changes colors when frozen, so you'll know exactly when it's ready to be used. Designed with nubs and ridges that gently massage your pet gums, it will provide cool relief and irresistible flavor while your puppy is chewing them – you can choose between lamb and apple, peanut butter, and chicken flavor.
Pros
Changes colors when frozen
Massages and cools inflamed gums
Available in 3 flavors
Made from durable nylon
Best for Large Breed Puppies: MewaJump Dog Chew Toy
Just because your pet is a puppy, it doesn't necessarily have to mean they are tiny! Giant or large breed dogs start out as fairly big, already towering over their small breed friends. This is why regular puppy toys can be destroyed quickly by a big puppy or even pose a choking hazard if they happen to be too small. This chew toy is an excellent choice for those chunkier pups – it's big enough but not too big, it's durable, and has a milk flavor that puppies will adore. The "thorns" texture is subtle but does a good job of massaging gums and removing buildup from teeth.
Pros
Made from safe natural rubber
Unusual shape and texture
Milk flavor
Keeps the puppy occupied
Cons
Not for puppies that prefer flavor, squeakers, or more interactive designs
Best Treat-Dispensing Teething Toy for Puppies: JW Hol-ee Roller
OK, no puppy could say no to a fun toy that can dispense treats as well! This interesting design is completely multifunctional – your puppy can play fetch with it, it is made from soft rubber so they can chew and gnaw it freely, and you can hide treats in it and watch your pet go bananas trying to dig them out. One toy to provide mental exercise, physical stimulation, teething relief, and serve as a reward! Can't beat that. It also comes in various sizes that will suit puppies of all breeds, from toy breeds to large breed dogs.
Pros
Multifunctional design
Very durable
Stimulates body and mind
Multiple sizes available
Cons
Play needs to be supervised (puppies mouth could get stuck if the size is too big)
Best Squeaky Teething Toy for Puppies: Hartz Dura Play Bacon Scented Bone Dog Toy
While most pet owners prefer for their dog's toys to be silent, the same cannot be said for pets. If your puppy loves loud toys, they'll love this one! This bacon-scented bone toy is tantalizing enough on its own, but for squeaker lovers, the hidden prize is inside, as this bone will squeak loudly when they apply the right amount of pressure. Made from firm, natural latex on the outside and filled with foam technology, this bone will be both durable and bouncy, and easy to carry around and play with.
Pros
Loud squeaker
Bouncy and lightweight
Bacon-scented
Cons
Not for very aggressive chewers
Best Natural: Natural Dakota Premium Deer Antler Chew Toy
For those owners that prefer their pet to live au naturel from an early stage in life, most teething toys for puppies aren't a viable option. However, there are a few exemptions to the rule that could be a good choice if you want your dog to play only with natural toys – such as deer antlers. This long-lasting chew is full of beneficial nutrients, completely natural, free of preservatives, and made in the USA. The antlers are collected only from wild deers, so they don't contain any antibiotics, hormones, or any of that nasty stuff. All of the antlers are handpicked and then cut, sanded, smoothed, and washed. They are dulled so they won't hurt your puppy!
Pros
Durable and appealing to dogs
Great outlet for teething puppies
Made in the USA and completely natural
No deers harmed
Cons
Might splinter if your puppy is an extreme chewer
Best Plush: goDog Dragon Plushie with Chew Guard Technology
Some puppies simply prefer plushies over other toys – they make them feel safe and cozy. But when they go through the teething stage, most of their plushies won't stand up to their gnawing, which can be dangerous if they get to the stuffing and eat it. This is why this toy is perfect for teething puppies – the Chew Guard technology makes it insanely durable and it has no stuffing inside! The reinforced steams and chew-resistant lining can handle being chewed at for hours on end, and the squeaker is nestled in bubble plush so the toy isn't flat despite the lack of stuffing.
Pros
Chew Guard technology
Plush and soft
Squeaker inside
Very long-lasting
Cons
Avoid if you have an overly aggressive chewer
How to Help Your Puppy Through the Teething Stage
When your puppy is teething, they are in pain and discomfort – as their new teeth are erupting, their gums become red and swollen, as well as painful to the touch. At the same time, they get a strange kind of relief by chewing on things, as it helps massage the gums, which in turn promotes better blood circulation and takes away some of that soreness.
The best way to help your puppy through the teething stage is by offering something that they can safely chew on to alleviate the pain – such as chewable treats or teething toys for puppies. That way, they won't think of gnawing on your sofa legs or shoes to get relief, and they'll enjoy themselves too, as the majority of toys are flavored or contain a squeaker or another element of fun.
Another great idea is offering freezable treats or toys as the cold helps soothe the pain, and can be a marvelous way to minimize the inflammation without making a fuss. If you don't have a freezable toy on hand, try freezing a larger piece of a banana or a carrot and offer it as a natural pain reliever for teething puppies. Or, try our pupsicle recipe – it'll definitely get your puppy's tail wagging!
Alternatively, if you see your puppy struggling despite the toys you offer, you can go for soothing teething gels for dogs, which are formulated to provide relief from pain and soothe the inflammation, usually with a combination of herbs and plants that are known for their beneficial properties.
In the end, it's important to highlight that the teething stage usually ends when your puppy is around 6 months of age. It might seem like an eternity when you're dealing with it, but in reality, it's just a short period of time that you can go through if you have the right supplies by your side. Arm yourself with teething toys for puppies, natural teething remedies, and plenty of chew treats, and your furniture and shoes will go through the teething stage unscathed!
We are committed to finding, researching, and recommending the best products. We earn commissions from purchases you make using the retail links in our product reviews. Learn more about how this works.

Angela Vuckovic
A proud mama to seven dogs and ten cats, Angela spends her days writing for her fellow pet parents and pampering her furballs, all of whom are rescues. When she's not gushing over her adorable cats or playing with her dogs, she can be found curled up with a good fantasy book.
More by Angela Vuckovic
Published September 28th, 2023 4:22 AM