48 Views
Is Your Favorite Pet App Leaking Your Personal Information?
We're committed to finding, researching, and recommending the best products. We earn commissions from purchases you make using links in our articles. Learn more here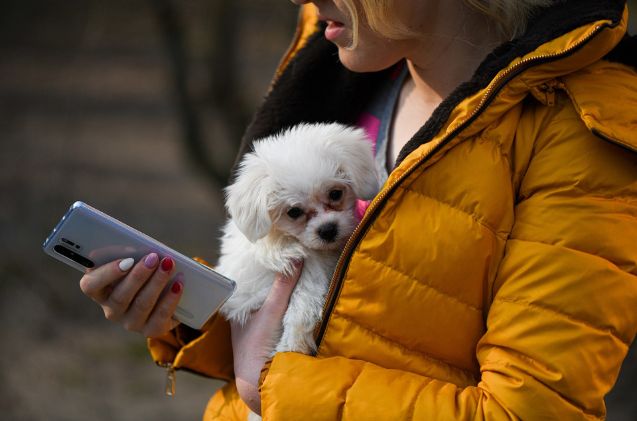 As technology grows and evolves, we find ourselves relying on it in nearly every area of our lives, from smart home innovation to the testing of autonomous vehicles. It comes as no surprise that tech has also found its place in the pet industry! Pet cameras, automatic feeders, and GPS tracking devices can all help us to give our pets the best possible lifestyle. But at what cost? What are the potential risks?
These questions are being raised in light of new findings from computer scientists at Newcastle University and Royal Holloway, University of London. Their study revealed that several popular pet tech apps and devices might be putting your privacy and safety at risk.
The study involved a detailed analysis of 40 popular Android apps in the pet space. This includes not only apps associated with products like wearable pet monitoring devices and smart feeders but also apps designed to track and record pet health information and veterinary records. They investigated many safety-related aspects of these apps, including what information they tracked and stored, how this information is protected, and how vulnerable the apps are to hackers and other cyber threats. The findings were surprising.
"Pet tech such as smart collars and GPS trackers for your cat or dog is a rapidly growing industry, and it brings with it new security, privacy, and safety risks to the pet owners. While owners might use these apps for peace of mind about the health of their dog or where their cat is, they may not be happy to find out about the risks the apps hold for their own cybersecurity," explained Scott Harper, Newcastle Ph.D. student and lead author of the study.
"We would urge anyone using these apps to take the time to ensure they are using a unique password, check the settings and ensure that they consider how much data they are sharing or willing to share."
Of the 40 apps studied, only four didn't incorporate some tracking software. This included tracking and storing information about the pet owner using the app, how they used it, or information about the smartphone on which it was being used. Even more concerning, 21 of the apps were found to be tracking to some level before the user was even asked to consent to the practice, violating data protection and privacy legislation worldwide.
Three of the apps failed to use any form of a secure connection to address password vulnerability. The user's login details were visible in plain text when accessing the app, allowing anyone accessing their internet traffic to view their complete login information. This opens the door to a list of other potential risks for pet parents that use the same password in multiple locations. Two of the apps also showed important user details, including their location.
While the study isn't designed to discourage the use of technology in pet care entirely, researchers do hope to shed light on the need for better safety and security measures.
"We are using modern technologies to improve several aspects of our lives. However, some of these (often) cheap technologies come at a price of our privacy, security, and safety," stated Dr. Maryan Mehrnezhad, co-author of the study. "Animal technologies can create complex risks and harms that are not easy to recognize and address. In this interdisciplinary project, we are working on solutions to mitigate such risks and allow the animal owners to use such technologies without risk or fear."
If you use smart devices or other pet-focused technology, I encourage you to take some time to evaluate the potential concerns and how you can lessen the risk to your online security.

Britt
Britt Kascjak is a proud pet mom, sharing her heart (and her home) with her "pack" which includes her husband John, their 3 dogs – Daviana, Indiana, and Lucifer – and their 2 cats – Pippen and Jinx. She has been active in the animal rescue community for over 15 years, volunteering, fostering and advocating for organizations across Canada and the US. In her free time, she enjoys traveling around the country camping, hiking, and canoeing with her pets.
More by Britt
Published May 17th, 2023 12:20 PM