73 Views
Best GPS Cat Trackers and Collars
November 19th, 2020 12:00 AM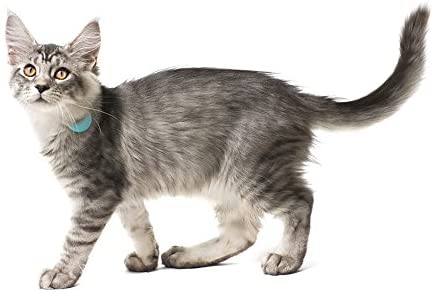 It's a great idea to keep your kitties indoors, for several good reasons. But if you live in an area where it's safe to let your cat spend some time outside, one way you can make sure she'll stay safe and be easy to locate is by adding a GPS tracker to her collar. This type of product can also be useful if you let your feline friend explore your backyard while you supervise, in case she gets scared by something and runs off. And it's also helpful if your pet has a tendency to run out the door even though she's an indoor cat.
The Benefits of a GPS Tracker for Cats
Basically, a high-quality GPS tracker will be comfortable for your cat to wear, and it will connect to your mobile device so you can see where your pet is. In the event that your companion starts wandering off or doesn't return home as expected, you can use the GPS to find her more quickly and easily.
Note: if you can fit a tracker and ID tag on your cat's collar, you can rest assured that, in the event your pet gets lost, even if you aren't able to track her down, someone might read the tag and contact you to bring her home.
Shopping for a GPS Tracker for Your Cat? Here Are Some Suggestions
There are quite a few pet GPS trackers on the market. Some are designed only for dogs, others are made with cats in mind, and still others are appropriate for both dogs and cats.
We took a look at some of the trackers and collars that are available for felines, and we've listed them below, in no particular order, to give you an idea of what's available if you're ready to shop for one.
1. Whistle 3 Dog & Cat GPS Tracker & Activity Monitor
The Whistle 3 Dog & Cat GPS Tracker & Activity Monitor is an all-in-one location and activity tracker. It is also one of the more popular trackers for pets.
This product, which is waterproof and shock resistant, will easily attach to your kitty's collar using the attachment that is included, so you don't have to buy a special collar to use it. Then, it will connect with your smartphone via an app that provides GPS tracking so you can keep track of where your cat is. Plus, you can even use the app to track your pet's activity every day.
Another feature is the Whistle Safe Places. Basically, you can customize a zone, such as the immediate area around your home, so you can get an alert by text, email, or through the app if your kitty goes beyond that zone. You can set up more than one of these, and if you get the alert that your pet is starting to wander too far, you can begin tracking her with the GPS and Google Maps by using the app.
All you need is Wi-Fi, along with the subscription to a Whistle service plan, which is an affordable monthly rate. This product works on a rechargeable Li-Ion battery that will last up to seven days, depending on the amount of use it gets, and it will recharge fully in two hours. Also, Whistle boasts nationwide coverage on the AT&T cellular network, and it utilizes advanced GPS, cellular technology, and Wi-Fi to pinpoint the location of your cat anywhere in the United States 24/7. This allows you to find your cat quickly when you need to.
This GPS tracker is designed to provide you with accurate and comprehensive tracking when your cat is exploring the great outdoors or ends up getting outside. It is recommended for pets that weigh more than 8 pounds. And it comes with a 90-day limited warranty.
2. Findster Duo+ Dog & Cat GPS Tracker & Activity Monitor + 1 Year Subscription
With the Findster Duo+ Dog & Cat GPS Tracker & Activity Monitor + 1 Year Subscription, you can have everything that you need to keep a closer eye on your cat at all times. It works by tracking both activity and location in real time, even when you are off the grid, giving you the information that you need right on your smartphone.
This product, which is waterproof up to 3 feet, uses the brand's MAZE technology, and you can wirelessly communicate with the tracker without a SIM card and without cell coverage. Plus, the radius is up to 3 miles.
You can define what you consider a safe area, and if your pet makes her way outside of that area, you will receive an alert right away. The battery can last up to 12 hours with the GPS on continuously, but it can last several days if you're using the GPS intermittently instead.
With a 1-year subscription, you will not incur monthly fees. Plus, with a Findster Care Membership, you can gain access to a veterinarian 24/7, which can be really helpful if you have any questions about your cat's well-being. And, because this device monitors your pet's behavior over time, you and the vet might be able to pick up on changes that may alert you to potential health problems.
3. Jiobit Dog & Cat Location Monitor
The Jiobit Dog & Cat Location Monitor is durable, lightweight, shock resistant, water resistant, and tiny, so it's great for felines. And it is yet another tracker that can be attached to your pet's collar easily so you can use it to know where she is at all times.
This tracker has progressive beaconing technology, so it utilizes a combination of Bluetooth, Wi-Fi, cellular, and GPS to help you keep an eye on your pet, and it does so accurately and reliably. Plus, in addition to that, it has a battery that is long-lasting, along with an unlimited range.
Like other trackers on this list, you can download the mobile app for the Jiobit so you can keep an eye on your pet's movements. It has geofenced areas, live tracking, location updates, and real-time alerts, so you can always be informed of what your furry friend is up to. And with the timeline history, you can review anything you didn't see happening in real time over the previous two days.
This product, which is compatible with Android and Apple products, is designed to fit on pets of all sizes, and you can use it on any collar, thanks to the multiple attachment options. It measures 1.46" x 1.97" x 0.47", and it weighs a mere 0.64 ounces. The battery can last longer than a week on a single charge, but that will depend on factors like the strength of the Wi-Fi (you'll receive notifications if the battery should be charged).
4. Tractive 3G GPS Dog and Cat Tracker
Next up is the Tractive 3G GPS Dog and Cat Tracker, which is shock resistant, 100% waterproof, and recommended for pets that weigh more than 9 pounds. It is a GPS tracking device that's lightweight (1.2 ounces), and it measures 2" x 1.6" x 0.6". You can simply attach it to your pet's harness or collar to start keeping an eye on where she goes, without any range limitation. Plus, with worldwide location tracking, you can use this product in more than 150 countries.
To start, just download the free Tractive GPS app to your mobile device (alternatively, you can use your browser on your computer). This will allow you to manage the product's features, as well as see where your pet is located on a digital map 24/7.
What's great about this product is that you can perform live tracking and pinpoint the location of your cat in real time, with the position updated every two to three seconds. You can even share that location with your family and friends, and you can also access the location history to see where your cat has been. Plus, you can establish a safe area with a virtual fence so you will get notifications instantly when your kitty moves out of that particular area.
To use this pet tracker, you need to select an affordable subscription plan because it uses GPS and cell phone towers. This subscription will ensure you are able to get the highest quality cellular service with an integrated SIM card. Also, this tracker runs on a rechargeable battery that charges up in about two hours and has a life of around two to five days.
5. Cube Pro Bluetooth Tracker
The Cube Pro Bluetooth Tracker is a little bit different in terms of how it works (we explain it below). This tracker can be attached easily to your pet's collar. Then, after downloading the Cube Tracker app, you will be able to connect the tracker to it so you can view a map and see where your cat has been. However, it does not track your pet's movements in real time.
How does this product work? Well, it starts by using Bluetooth to connect with your mobile device. Then, it relies on your device's GPS Location Services to give you information regarding where the tracker is, and you can get that information in the app. This means that the product itself doesn't use GPS, and it also means that the Cube Pro tracker has to be within the standard Bluetooth range, which is up to 200 feet. From this distance, your tracker will be able to communicate with your app to tell you where your cat is.
This battery-powered tracker is compatible with Android and Apple products. It is waterproof, it boasts a 200-foot range, and it features a separation alarm. It measures 1.65" x 1.65" x 0.255", and it can be used on cats of all ages and breeds who weigh more than 3 pounds.
The estimated battery life is 1 year, and the tracker is made of plastic and coated metal. Plus, it comes with a 1-year limited warranty.
A Couple of Options That Do Not Use GPS
6. Girafus Pro-TRACK-tor Cat Tracker
For something that is a little different, check out the Girafus Pro-TRACK-tor pet tracker. It can work both indoors and outside, making it easier to find your cat if you lose her. The manufacturer of this product understands that cats are different from dogs, and they may end up hiding in areas where other GPS trackers fail to work. So if your kitty escapes out the door and ends up in your neighbor's garage, for example, this tracker is designed to help you locate her quickly and easily.
This tracker, which can be attached to your pet's collar, uses 2.4GHz RF technology, and it will not interfere with your other wireless devices. It is appropriate for small cats or dogs, and the tag is designed to be small and light, weighing 4.2 grams. It has a range of up to 1,600 feet (500 meters), and the direction indicator can help you find the right path to your pet.
To take advantage of this product's features, you don't have to worry about paying a monthly fee, which can't be said of all GPS trackers for pets. Plus, you can use the tracker to keep an eye on up to four pets, as long as you buy additional tags (you only need one base unit). And it runs on rechargeable batteries that are included.
7. TabCat Pet Tracking Cat Collar Tracker System
Another product that's a little different is the TabCat Pet Tracking Cat Collar Tracker System, which claims to be the #1 pet tracker in America. It allows you to find your pet easily within just 1 inch of her location, thanks to its accurate, award-winning tracking technology.
This product boasts state-of-the-art, proprietary RF-based directional technology, making it more accurate than GPS trackers. In fact, the manufacturer claims that its product is significantly more accurate when compared to products that rely on GPS. And, when compared to keyring finders, the technology that this tracker uses has a better range as well because it can find your cat up to 400 feet away.
With this robust, splash-proof, and lightweight tracker, which you can attach to your feline friend's collar with ease, you can locate your kitty whether she's indoors or outside. It weighs only 0.2 ounces, and it is appropriate for adult cats and kittens.
What's also nice is that there aren't any subscription fees to worry about to use this product after you purchase it. Just use the handset, which is the size of a credit card, to locate your pet. The handset uses sounds and color-coded lights to help you find your kitty. The red light means your pet is far from you, the amber light means she's closer, and the green light means she is really close to you. Also, there is a locate button that causes a beep to sound on the tag, and the manufacturer claims you can train your pet to come home upon hearing that beep—but, of course, that would take quite a bit of work and a lot of patience.
The battery has a long life, and you can replace it whenever necessary. And it's also worth mentioning that this product comes with a convenient 100% money back guarantee, so if you don't like it for any reason, you can get a refund.
Worried About Your Cat Wandering Off or Getting Lost?
If you want to give your kitty access to fresh air and sunshine, but you're worried about her wandering off and getting lost, you have a few options that don't involve letting your cat explore freely and unsupervised:
An outdoor catio can be large enough to give your pet room to jump, lounge, watch wildlife, and even interact with you while in your backyard. If you're the DIY type, you can build your own catio so you can customize it for your kitty, or you can purchase one that's easy to set up instead.
No matter how big or small your backyard is, you can find the ideal outdoor enclosure for cats that will let your furry friend spend time outside safely.
You might be able to teach your cat to walk on a leash, and that will give you the chance to take your pet outside for a bit to look at wildlife, bask in the sunshine, and go on a little adventure with you. Check out our recommendations for leashes and harnesses.
A GPS Cat Tracker Can Give You Greater Peace of Mind
Whether your kitty likes to go exploring on her own, you like to go on outdoor adventures with your pet, or your cat has a habit of rushing to the door when you open it, a GPS tracker can give you loads of peace of mind. It can be there to help you reunite with your companion more quickly and easily than you would if she were wearing a regular collar and ID tag or no collar and tag at all, so it may be a wise investment into your pet's well-being.

Lisa Selvaggio
Lisa Selvaggio is a freelance writer and editor, and our resident cats-pert, with certifications in pet nutrition and pet first aid. She enjoys producing content that helps people understand animals better so they can give their pets a safe and happy home.
More by Lisa Selvaggio
Published November 19th, 2020 12:00 AM