109 Views
October 17th, 2021 12:00 AM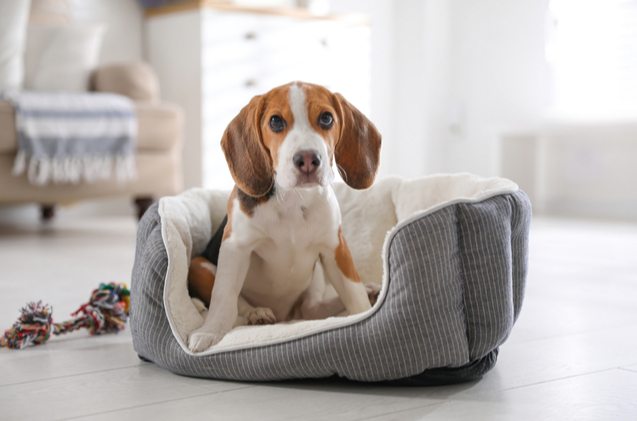 Dog beds give your pet a place of their own where they can nap and snooze to their heart's content. Available in a range of designs, dog beds can be of help to arthritic and anxious pets or help prevent joint pain in the long run.
As a dog owner, you have a responsibility to make your furry four-legged friend as comfy as possible. Of course, no dog deserves to sleep on the cold hard ground, and sleeping with you in your bed might just feel a little too crowded. A dog bed is a great way to offer a spine-supportive and relaxing space for your dog to sleep on. It's not just a good way for your pet to rest, but it can also help alleviate anxiety, stress, joint aches, and reduce symptoms of arthritis. Depending on what your doggo might need, you can opt for one of the several diverse dog bed designs that are offered.
From donut-shaped comfort beds, all the way to memory foam platforms and raised edge supportive beds – the choices are plenty. However, it might be hard to make a decision and to find a bed that is perfectly suited for your pet. To help make this choice easier, we are bringing you this list of the top 10 best dog beds on the market- just make your pick!
1. Editor's Choice: PetFusion Ultimate Dog Bed
It's due time to spoil your pupper and offer them some much-needed comfort and support! With a cozy and reliable dog bed such as PetFusion Ultimate Dog Bed, your dog can enjoy the benefits of lounging in style. This great design relies on a solid, 4" thick memory foam base that is crucial for relieving pressure and alleviating joint pain. The outside covering is made from 65% polyester and 35% cotton twill, which is both smooth and doesn't attract pet hair. Hidden underneath is a waterproof inner liner that guards the orthopedic memory foam against any potty accident or spills. Another fantastic addition is the raised edges, as these supportive bolsters give your pet a place to rest their head-on. PetFusion Ultimate Dog Bed comes in small, large, extra-large, and XXL jumbo.
2. Runner Up: Western Home Large Dog Bed
Some dogs are prone to arthritis and joint pain, either because of their genetic predispositions or as an effect of old age. One great way to remedy this issue is providing an adequate place to sleep and a surface that reduces pressure on joints and hips. Western Home is a brand that does this perfectly, nailing a design that provides superb orthopedic support. The secret of this dog bed is in the supportive egg crate foam, a special material that conforms to your dog's spine and reduces pressure. To make everything even cozier, the surface is covered with a plush faux fur material, which is removable and fully machine washable, allowing you to keep the pristine hygiene of the dog bed. Western Home Large Dog Bed comes in medium, large, and extra-large.
3. Customer's Choice: HACHIKITTY Donut Cuddler Bed
Comfort is crucial in a dog's life. When you are not around to cuddle and hug them, their cozy bed should be the next best thing, and this smart donut cuddler design is perfect for just that! The secret is in the rounded "donut" shape that boasts a 9" thick brim that envelops their body and provides some much-needed support for the neck and head. The bed is filled with 4.4 lbs of super soft and supportive filler and boasts a special non-sliding flat bottom. The outer cover is made from long and thick shag vegan faux fur, which is designed to imitate natural dog fur. HACHIKITTY Donut Cuddler Bed comes in three different size options and is great for dogs of most breeds and sizes.
4. Best Extra Large: KOPEKS Jumbo XL Orthopedic Dog Bed
It is totally understandable if you want your doggo to sleep like a king! Extra-large dog beds are great for that ultimate lounging experience but are also an ideal solution for the largest dog breeds. Kopeks' XL design will be a great choice in any case. It boasts extra thickness, thanks to its double-layered design: on the bottom, there is a 7" thick supportive memory foam base, which is topped with a 3" thick soft pillow surface. That's a guaranteed comfy snooze! One great feature is the raised pillow edge, which allows your dog to lay their head and remove the pressure from their neck. The outer cover is waterproof for some extra protection against accidents, and is made from ultra-soft plush suede- and it is also easily removable for some routine cleaning.
5. Best Memory Foam: Bedsure Orthopedic Memory Foam Bed
As your four-legged companion gets older, the telltale signs of seniority will slowly become apparent. If joint pains appear, you will notice that lying on the floor or on the sofa just won't be comfortable or enjoyable for your dog. A memory foam dog bed is a great choice to help with these issues. Bedsure Orthopedic Memory Foam Bed features a 2.5" thick memory foam base with moderate firmness and exceptional support. It perfectly supports your dog's body, totally removing the pressure from stress points on the body. To make things even comfier, this design utilizes a soft micro-sherpa sleeping surface that is simply impossible to resist. And, for added safety, there are the raised bolster edges – no need to worry about accidental rolling-off. And, to top things off, both the bolsters and the outer cover are easily removed and fully machine washable! Bedsure Orthopedic Memory Foam Bed comes in medium, large, and extra-large.
6. Best Machine-Washable: BarksBar Dog Bed
Your dog will spend a lot of their time snoozing, which means that the bed will have to be cleaned regularly. BarksBar Large Dog Bed makes that task effortless as the cover is fully removable and machine washable. The base of this bed is made from a 3.5" thick memory foam layer, which is topped off with an extra-thick cotton-padded rim. It's this rim that guarantees that ultimate snuggle but also serves as a protective bolster edge to keep your dog safe and secure. The outer surface is made from soft polyester with a deluxe quilted design and a soft faux suede top. This design also implements a built-in rubber non-slip bottom, which prevents the bed from sliding on flat and smooth surfaces. BarksBar Dog Bed supports dogs of most sizes and breeds, as it comes in small, medium, and large.
7. Best for Anxious Dogs: MFOX Calming Dog Bed
Sometimes a comfy snooze is just what a restless or anxious doggo needs to calm down. This donut-shaped dog bed is designed to offer a calming effect and snuggle a dog with its circular raised edge. It boasts a super-soft filling that offers that feeling of sleeping on a cloud, all the while being enveloped in sweet, furry goodness. This donut design doesn't have ultra-raised edges like some other options – instead, the edge is raised just enough to provide safety and comfort. The outer surface is covered with super soft faux fur, and it also boasts a rubber non-slip pad on the bottom. One great feature of this bed is the fact that it is fully machine washable. You can toss it whole into the machine and tumble dry it on low heat! MFOX Calming Dog Bed comes in five different sizes, so any pooch can find a fit.
8. Best Lounge: Friends Forever Orthopedic Lounge Dog Bed
When those long rainy days come rolling in, sometimes all you and your faithful doggo want to do is lounge and be lazy. But it would be best if everyone had a special little place to lounge in peace. Friends Forever Orthopedic Lounge Dog Bed gives your pet a special nook where they can snooze on their own. One great advantage of this design is the great combination of materials. The base of the bed is made with a solid layer of supportive orthopedic memory foam, while the raised bolster edges are filled with a comfy and extra soft filler. This allows your dog to lounge and snooze for hours on end while staying supported and comfortable. The outer cover is made from special water and hair-resistant material and is fully removable. When it gets dirty, you can easily toss it in the machine for a quick wash. Solid YKK zippers make everything inside protected and pristine! Friends Forever Orthopedic Lounge Dog Bed is available in medium, large, extra-large, and XXL jumbo.
9. Best Donut- Shaped: PUPPBUDD Cushion Dog Bed
Donut-shaped dog beds in the shape of a cushion are a great way for your dog to enjoy a quick and comfy snooze. This design is one of the comfiest you can find, all thanks to its unique shape and softness. The secret lies in the high-quality soft fiber filling which is eco-friendly and breathable too! The outer surface is covered with comfy and self-warming faux fur material, which dogs simply adore. A slightly raised edge enhances the feeling and also offers some protection for your dog, preventing accidental roll-offs and a nifty rubber non-slip bottom prevents the bed from sliding around on slippery surfaces. Another great thing about this bed is the fact it's fully machine washable. PUPPBUDD Cushion Dog Bed in 4 sizes to accommodate dogs of all breeds.
10. Best with Raised Edges: BarkBox Memory Foam Bed
Some doggos can be quite restless, especially when they are sleeping. A super-exciting dream is a sure way for a doggo to roll off the bed! But, thanks to the extra raised edges of this design, your dog can lounge and sleep without disturbances. BarkBox's concept utilizes high bolster edges that surround your dog. They have a soft fiber filling, while the supportive base utilizes a solid layer of high-density pressure-relieving foam. That foam also has a thin layer of temperature-regulating gel, which helps maintain a constant temperature in any season. The foam layer is completely removable, which allows you to experiment and dispense with the raised edges if you don't need them. A great and versatile design, BarkBox Memory Foam Bed comes in small, medium, large, and extra-large.
What are the Benefits of Dog Beds?
Dog beds offer a range of great features that can really improve the quality of your dog's life. Plenty of sleep and rest throughout the day is important for maintaining a functioning and healthy body of your dog and reduces a range of potential issues. Of course, you too can reap the rewards: while your dog snoozes, you can receive some time for yourself and peace of mind, knowing that they are comfortable and enjoying themselves.
Orthopedic Support
A comfy dog bed is a great way to help your senior doggo with joint pain and the onset of arthritis. Many dog bed designs rely on bases made from orthopedic memory foam, and that can really make a difference. Memory foam offers great support and adapts to the shape of your dog's spine. This means that the pressure on the joints is relieved, and your dog can enjoy some pain-free snoozing! It shouldn't come as a surprise that certain orthopedic dog beds are recommended by vets all over the world. Sometimes, it's the little things that matter, and a simple thing such as a dog bed can have a lasting and fundamental impact on your dog's health.
Anxiety Relief
Plenty of dogs suffer from separation anxiety, especially if they are used to cuddling and sleeping together with you. When you are out of the house for work or travel, all hell breaks loose. Separation anxiety can result in some harmful dog stress and destroyed furniture. Some smart dog bed designs come with special features that can imitate cuddling and offer a cozy environment for sleep. Look for donut-shaped beds and raised edges. Together with faux fur surfaces, these designs create a super comfy feel and that unmistakable "den" environment that dogs find comfort in.
Comfort
Comfort is king. Contrary to popular belief, no dog would prefer to sleep on the cold, hard ground instead of a super fluffy bed. A cozy bed can make a big change for the better in your pet's life- you will quickly notice how your dog's general demeanor and mood are improved throughout the day. And, if they like their bed so much, they might prefer to snooze in it often, which is great if you are trying to get them to not sleep on the sofa or have more room in your own bed.
We are committed to finding, researching, and recommending the best products. We earn commissions from purchases you make using the retail links in our product reviews. Learn more about how this works.

Angela Vuckovic
A proud mama to seven dogs and ten cats, Angela spends her days writing for her fellow pet parents and pampering her furballs, all of whom are rescues. When she's not gushing over her adorable cats or playing with her dogs, she can be found curled up with a good fantasy book.
More by Angela Vuckovic
Published October 17th, 2021 12:00 AM