137 Views
October 10th, 2021 12:00 AM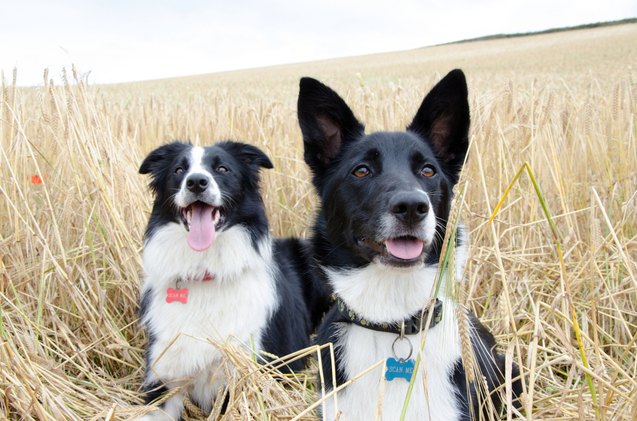 Dog ID tags make sure that, in the case your dog gets lost, they can be quickly returned to you. Visibly displaying your contact information, dog ID tags make sure that anyone who finds your pet will know how to reach you – even if they don't check their microchip.
No matter how loyal and obedient your four-legged friend is, accidents happen. Nobody wants their pet to get lost, but things can happen out of the blue even if your pet is trained. Sometimes, you get separated because of an accident or some natural disaster. Sometimes, your pet wanders off accidentally when you are out hiking. And sometimes, their curiosity gets the best of them and they run off after a critter through a hole on the fence. Either way, you need to plan for the worst-case scenario even if you are meticulous about your pet's safety, and dog ID tags are a great backup plan to microchipping your dog.
They display all the crucial information about your dog, such as their name, their owner's address, and phone number. With this info, anyone who comes across your lost doggo can quickly reunite them with you. Without an ID tag, no one will know that your pooch is not a stray unless they take them to check their microchip, and that's not always an option.
So, it's clear that ID tags are an absolute must for most pets. But which one to choose? There are tons of designs out there, and each one offers something unique and different. To help you with your selection, we gathered these 10 best dog ID tags to choose from!
1. Editor's Choice: PetANTastic Engraved Dog ID Tags
Stylish and practical, these personalized dog ID tags will keep your pet easily identifiable- and they're cute to boot! Proudly USA-made, these tags are manufactured with sturdy and lasting 304 stainless steel that does not bend or rust. PetANTastic Engraved Dog ID Tags come in a variety of shapes, such as bones, hearts, and flowers, and are polished to a high jewelry standard. These tags are engraved with bold and easy-to-read text that does not fade or wear out. The engravings can be done on both sides, with up to 8 lines of information included. That way you can list only the most important info about your doggo. Thanks to the high-power laser engraving process, this info lasts virtually forever, and also ensures a high sheen and a stylish end result.
2. Runner Up: LaReine Slide On ID Tags
Easy to put on and perfect for adventurous and active dogs, these ID tags won't dangle around on your pet's collar. Thanks to their unique design, the slide-on tags are super easy to use and can be fitted on virtually any collar, harness, or leash. They also make no jingly or distracting noises that some pets can find irritating. The sliding part is made from durable and non-toxic silicone material, while the ID tag itself is made with highly durable stainless steel. The tag is resistant to rust and sports a detailed, laser engraving in easy-to-read capital characters. You can include at least four lines of text onto the tag, which is enough for the basic and important info. LaReine Slide On ID Tags come in different sizes and color choices, allowing you to customize the look and combine it with your dog's character. Some of the best features of this design are the lightweight design and the secure fit: this tag is difficult to slip off!
3. Customer's Choice: Dog Collar Silent Slide On ID Tags
Where most other tags are made from stainless steel, these ones utilize strong, durable, non-toxic industrial-grade silicone. This ensures maximum durability, no color fading, and a bit of stretch as well. Dog Collar Silent Slide On ID Tags boast an efficient slot design and can stretch in order to fit on any collar or harness. Thanks to this design, the tag will always sit flat, won't turn around, and will never snag and twist! And as the silicone is plenty soft, the tag will conform to your dog's neck and won't cause discomfort or chafing. The text on the tag is engraved with a special extra deep process, and covered with a durable color coat that won't fade out. And to prove that's true, this brand offers a lifetime guarantee on the quality of their ID tags!
4. Best Stainless Steel: GoTags Stainless Steel Pet ID
It's no surprise that stainless steel is by far the most popular choice for dog ID tags- it's durable and reliable. It can take the beating your dog puts it through, and won't fade or rust. And GoTags Stainless Steel Pet ID perfectly illustrates the quality and the elegance of the material! Polished to a shiny, mirror-like surface, these tags display a detailed, laser engraved text that utilizes colors that won't wear off. You can include up to 8 lines of text on both sides, and choose from plenty of sizes. Of course, there are many unique shapes to choose from: stars, bones, hearts, shields, homes, and bow ties!
5. Best for Small Dogs: Dr. Fremont's Stainless Steel Dog ID Tag
Just because you want your pet's ID to be compact and lightweight doesn't mean you have to compromise on quality. These high-quality tags are sturdy and durable thanks to the thickness of the steel tag but still won't feel heavy on your pet's collar. They are resistant to rust and fully waterproof, and can take quite a beating! Of course, Dr. Fremont's Stainless Steel Dog ID Tags are fully customizable, with the option of both back and front print. The letters are bold, well-spaced, and easy to read. Also, you can choose from three classic shapes for some extra customization: there is the classic round tag, a heart shape, and a bone shape! These tags come with nifty key rings included: these can be super tricky to take off, which means that the dog tag will stay exactly where it should – on your dog's collar!
6. Best for Skittish Dogs: Love Your Pets Soundless Dog Tag
Classic steel and aluminum dog ID tags can have one negative aspect: they can be noisy. With every move your doggo makes, there comes that jingle and an intrusive clink that is super distractive, especially to dogs that are anxious or skittish. Love Your Pets Soundless Dog Tags make that issue a thing of the past. Totally customizable, these nifty tags are made with non-toxic, waterproof, flexible, and highly durable silicone. Not only do they make no sound, but they also won't chafe your dog's neck. Another unique feature here is the full customization. Choose from diverse colors, patterns, and symbols, while also including your dog's name and all the necessary info on the back. The rich colors and an abundance of details won't wear off no matter what, and the engraving method helps make everything visible and easy to read!
7. Best Engraved: Leash Boss Deep Engraved Dog ID Tag
Engraving is the surest way to make the info on a dog tag easy to read, visible, and long-lasting. A deep engraving won't wear off over time, and also gives that classic dog tag look that many pet owners prefer. Leash Boss Deep Engraved Dog ID Tags utilize the reliable boomerang slip-on design, which allows you to fit the tag onto virtually any leash, collar, or harness. This brand also made sure to make their tags curved, making them sit snugly on your dog's neck. Another great benefit is the durability of these little tags. With 1.5 millimeters of thickness, these stainless steel tags can withstand all the wear and tear that comes with the job and still look good as new. And thanks to a special design process, the lettering on the tag is engraved deep, enhancing the visibility of the text.
8. Best Silicone: QALO Custom Silicone ID Tag
QALO dog tags bring some much-needed flair to the classic design. These customizable, modern tags are vibrant and striking so it won't take much for your pooch to be noticed. Made from durable and flexible multi-layered silicone, they can withstand any wear and tear, while still being fully waterproof – and totally soundless. QALO Custom Silicone ID Tags boast a unique look: these six-sided rounded tags are charming and sport a variety of little scenes and symbols that bring out your dog's character. With both sides printed, you can customize the info displayed, and also choose from many bright and easily seen colors. Choose from prints such as mountain bloom, wild one dusk and sunrise, ocean sunrise, and colors such as frost and neon.
9. Best Printed: Fibernails Custom Steel Dog ID Tag
What's the best way to make your dog look dazzling while ensuring their safety? Fibernails Custom Steel Dog ID Tag presents the perfect compromise with their quirky and sparkly look and clear, readable information about the pet. With elegant crystals embedded on the edge of the circular tag, and with the cute paw print in the center that is filled with a colorful and sparkly fill, you can really make your doggo stand out from the crowd. Of course, choosing from attractive colors such as pink, purple, blue, green, and red, can make the ID tag stand out and your pooch more noticeable to strangers. The tag is made from durable stainless steel and also sports a split ring and lobster clasp for quick and easy attachment. A print of bold and thickset letters helps for quick and easy identification and displays all the essential information in one place.
10. Best Chew-Proof: Lucky Pet Slide On Tags
The slide-on dog tag design proved to be efficient and reliable and is one of the most common designs out there with good reason. Lucky Pet Slide On Tags follow this concept to the letter. They are made from highly durable and rugged stainless steel with a thickness of 1/16". This means that no matter what, the tag stays on and the lettering remains visible. The inscription is laser engraved for maximum readability, and also utilizes a high contrast coloring that makes the letters really pop out! Super easy to place on, these tags have a slight curvature that makes them sit naturally against your dog's neck. And even though they are made from steel, these tags are soundless! The slide-on concept makes no noise and makes for an ideal balanced design! You can choose from "open-end" or "close end" tags, depending on the type of collar your pet usually wears.
What to Look for in Dog ID Tags?
The concept behind the dog ID tags is simple: display the necessary information that a dog is to wear around their neck. The rest are little details. But it's the details that are important in the long run. Make them the priority on your checklist and you will find an ideal dog ID tag in no time.
Easy-to-Read Lettering
This is a must! Muddled, washed off, or hard to read letters have no place on a dog ID tag. Always go for bold, capital letters that are easy to spot, and find ID tags that utilize engraving, laser printing, and similar methods. Without these letters, the tag becomes useless. Also, avoid cursive letters: not everyone can read it!
Durability
Dog ID tags have to endure plenty of wear and tear and exposure to the elements. For that reason, it is crucial to find materials that can withstand this "mistreatment". Stainless steel and silicone tags are best suited to endure the daily abuses. Also, they are waterproof, which helps preserve the lettering.
Reliability
It is important to find a dog ID tag that securely attaches to the collar. Unreliable and flimsy clasps simply won't do: with these, the dog tag is quickly lost. Go for those reliable and classic split rings, lobster clips, carabiners, and any similar attachments. Also, the slip-on design is super reliable, dispensing from all the attachments above!
Noise
Many classic dog ID tag designs have one little flaw: they can be noisy. With all the rings, clasps, links, and clinky stainless steel, the noise can be virtually constant. Your dog can get distracted and scared, and you will quickly get fed up with the constant jingling sounds. Try to find the noiseless slip-on tags, or go for the soundless silicone designs.
We are committed to finding, researching, and recommending the best products. We earn commissions from purchases you make using the retail links in our product reviews. Learn more about how this works.

Angela Vuckovic
A proud mama to seven dogs and ten cats, Angela spends her days writing for her fellow pet parents and pampering her furballs, all of whom are rescues. When she's not gushing over her adorable cats or playing with her dogs, she can be found curled up with a good fantasy book.
More by Angela Vuckovic
Published October 10th, 2021 12:00 AM