19 Views
Top 10 Products To Keep Your Dog's Paws Safe This Winter
January 1st, 2019 12:00 AM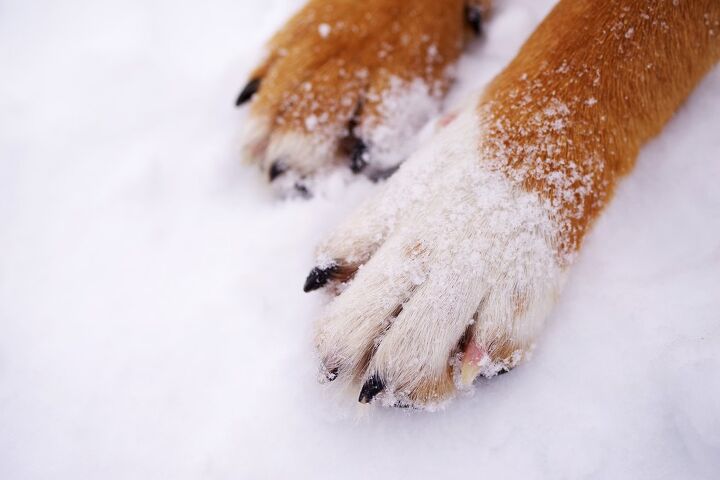 Your dog is on all-fours a good chunk of his life, and you want to take care of your pupster's paws. Here are our top 10 products to keep your dog's paws safe this winter.
1. 4-Legger Organic Nose and Paw Balm
We first started using this nose and paw balm when our veterinarian suggested it for our Golden's 'chestnuts' on her legs. It gave her relief and in a clean way, and though I didn't notice anything 'wrong' with her paws, I started using it on them to protect her feet from hot sidewalk where we lived. She loved it and so do we!
2. Low-Noise Dog Clippers
One of the best and easiest things you can do for your pup's paws is keep the hair on their feet at a minimum. Extra hair picks up extra mud, dirt, allergens and an assortment of other things that will lead them to possibly overgroom and that can lead to yeasty paws and hot spots. Low-noise clippers aren't intimidating and can help keep them PAWdicured whatever the weather!
3. Mudbuster Dog Paw Cleaner
This is an absolute for every entrance to our house! During the slushy snowy months or the rains of spring and summer, a dog's paws can get dog-dirty and this is key to keeping their paws clean and free of debris (as well as your house!) in an easy way. The silicone mat inside cleans easily and is like a warm water little doggy massage every time they come in. Win-win!
Speaking of doggy massage…though these are amazing whole-body grooming gloves, we love using these on our dogs' feet and paws to gently help get the gunk out after they've had a play session. Particularly useful in snow when snowballs get in their paw pads, as well as in summer when mud and leaves can need to be gently pried out, you'll love using them on their whole body for shedding and grooming.
5. Lanboer Waterproof Dog Socks with Adjustable Straps
These Lanboer Waterproof Dog Socks come in 5 different sizes and are best suited for small to medium sized dogs. Be sure to check out their handy sizing chart to ensure you are getting the proper size for your pooch. The rubber soles of the Lanboer Waterproof Dog Socks provide great traction control so no worries that your dog will slip on wet and slick surfaces. They are constructed out of high quality material, from the knitted body of soft breathable material to the eco-friendly waterproof rubber. Each booty has an adjustable strap, heightened knitted elastic cuffs for additional coverage and to make sure they don't fall off your dog no matter how hard he has the zoomies! These socks are great for both inside and outside wear. They are perfect for those early morning walks when everything is covered in dew and your fur baby wants to get into everything!
But just in case you can't get your dog to buy into boots, there are other options! Enter Walkee Paws 'leggings' for dogs. They keep Fido's feet clean, dry and protected and you help your dog slip into them like leggings. Adorably fashioned too, for the fluffster who likes to go out in style!
7. ResQ Organics Skin Treatment
If your pupster's paws are in desperate need of some sPAW treatment, this is the one. ResQ Organics has great ingredients, including hemp and manuka honey–two powerful natural healing products that humans love just as much. And, it's an easy apply to help out with dry/chapped/cracked/cut/itchy puppy paws. A great treatment to have on hand for whatever comes their way.
8. Musher's Secret Pet Paw Protection Wax
If you do plan to take your pup out in snow with salt or chemical de-icers, this is a must. A lot of those chemical de-icers applied to sidewalks and streets are bad for your dog when they melt and/or lick their paws, and this effective paw guard creates a protective barrier on your pup's paw pads. Easy to use, very affordable and even great for those hot days at the sandy beach, too!
While it may sound a bit weird, trimming your dog's nails with a Dremel tool is so much easier than clipping with clippers. It's important their nails stay nice and neat to avoid infection and keep their paw pads healthy too, but let's face it–it's not super easy to take sharp clippers to a squirmy pup, is it? Enter the Dremel tool. It gently and with low noise grinds their nails down and honestly, after your dogs get used to it, they really seem to appreciate the paw massage. Not all are created equally, though, so make sure you get one with enough power that you're not just spinning the wheel, literally!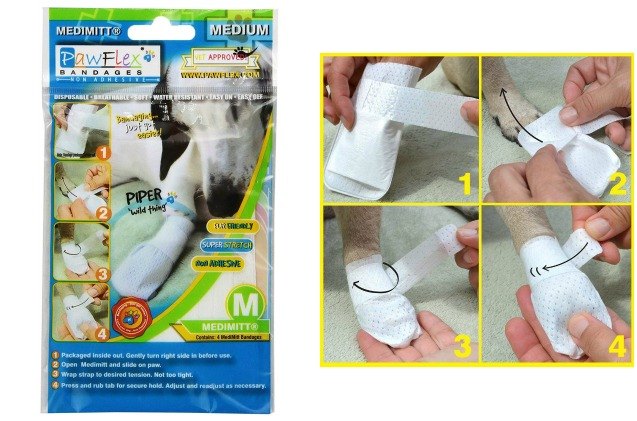 Sometimes, the situation just calls for a bandage. And dogs aren't much more fans of band-aids than their humans, so make sure the bandage you use is the right one. We love PawFlex MediMitt bandages. They're so easy to use; no cutting, pulling or peeling! You can use the wound pad on front or back and the velcro-like fastening makes it easy to readjust as needed without compromising the work of the battery. They're super easy on and off and your dog will thank you, trust us!

Published January 1st, 2019 12:00 AM