34 Views
Pet-Themed Coloring Books for Adults
December 14th, 2021 12:00 AM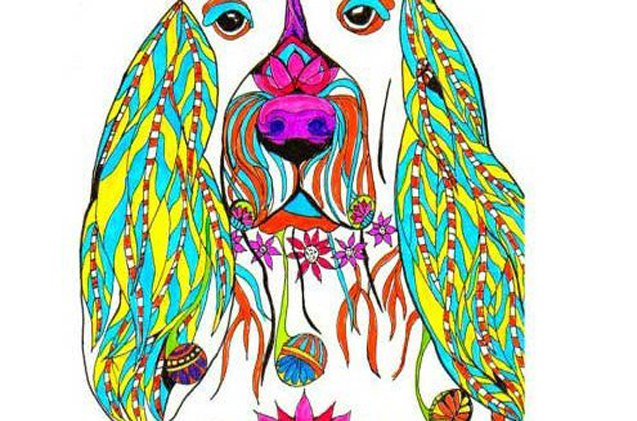 Do you like to think – and color – outside of the lines? Turn to adult coloring for stress relief and check out these five pet-themed coloring books for adults.
The latest trend in stress relief, coloring has made a comeback… with adults! In fact, near me, a few local bars offering coloring nights, where people can come in and color while they enjoy a glass of wine or a pint of beer.
Think of it as therapeutic. As you actively disengage with the plugged-in world, you're able to express yourself, slip into mindfulness and achieve an anxiety-free nirvana. There are no conclusive studies, although research shows it has tangible results. However, if you were to ask an adult coloring enthusiast how they feel after finishing a vibrant design, they'd tell you that they found the activity helps comfort and relax them. As well, some professionals use it as a way to calm those dealing with a cancer diagnosis, depression, dementia, anxiety, and PTSD.
I thought I'd give adult coloring a go, and I have to tell you – I got sucked in! Time seems to disappear and I felt that I was totally focused on the task at hand… instead of what still needed to be done that day or what I had to work on tomorrow. Still, the next time I'm going to try it with a glass of wine and see if that increases the enjoyment level (Spoiler Alert: I'm positive it will).
With my new found hobby in hand, I took a look at all the pet-themed adult coloring books on the market. I was pleased to find a plethora of choices – some cutesy, some complex, some educational. Below, you'll find five pet-themed adult coloring books I'd like to try out. And to ensure that you'll be able to find the selections if you're interested, I sourced Amazon.com and included the links within each description (I used Amazon because it delivers pretty much everywhere, but you can get them from other sites/stores). Sharpen your pencil crayons and get creative!
1. Editor's Pick: Creative Haven's Creative Cats Coloring Book
There are many reasons why Creative Haven's Creative Cats Coloring Book is a best seller. It may have to do with its 30 full-page portraits of pretty kitties. These designs form a rich tapestry of motifs that includes hearts, flowers, and paisleys in various patterns. When you're finished, the pages are perforated and printed on one side only for easy removal and display.
2. Runner Up: Where Is My Dog?
Hip, hand-drawn doggy designs abound within the covers of Where is my Dog? You'll find 31 unique designs mastered digitally for your coloring pleasure. It's perfect for inspiring creativity, busting stress or the perfect way to pass the time on your commute.
3. Best Classic: Favorite Dogs Coloring Book
An oldie but a goodie, the Favorite Dogs Coloring Book has been in circulation for more than 30 years. And it's no wonder – it contains 42 beautifully rendered pages to color in, and also offers captions, glossary, and brief history about each of the breeds featured in the book.
4. Also Consider: Doodle Dogs 2: Stress Relieving Dog Designs
These 30 creative dogs designs are more than just doodles. Doodle Dogs 2 features full-page portraits of adorable dogs on a dazzling background that includes hearts, butterflies, flowers, and paisleys in various patterns.
5. Honourary Mention: Love Dogs Coloring Book for Adults (Volume 1)
If you love coloring and dogs, this is the book for you. Let yourself go when you're filling in the 25 dog designs, which include both mixed breeds and purebred dogs.
We are committed to finding, researching, and recommending the best products. We earn commissions from purchases you make using the retail links in our product reviews. Learn more about how this works.

Amy Tokic
Amy Tokic, Editor of PetGuide.com, is a passionate animal lover and proud pet parent of Oscar, a Shih Tzu/Chihuahua cross, and Zed, a Japanese Chin. Her love of animals began in kindergarten, when she brought her stuffed dog Snoopy into class with her every day. Now, she writes about her adventures in pet ownership and tirelessly researches products, news and health related issues she can share with other animal enthusiasts. In her free time, Amy loves perusing used book and record stores, obsessing over the latest pet products available and chasing squirrels with wild abandon (a habit attributed to spending too much time with her pooches).
More by Amy Tokic
Published December 14th, 2021 12:00 AM