43 Views
Best Robot Vacuums for Pet Hair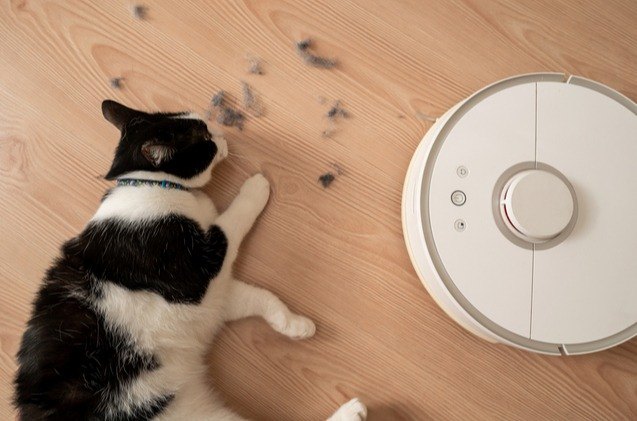 Robot vacuums for pet hair will make your life easier and your home tidier than ever- no need to break a sweat to make sure no pet hair is lying around the house. Read on to find out more about the best robot vacuums for pet hair on the market.
Every pet owner knows that with pets comes pet hair- on your sofa, in every nook and cranny in your house, on your clothes. Whether you have dogs, cats or you're lucky enough to have both, you surely know that hair tends to get everywhere. Even when you are meticulous about cleaning, some are bound to be left behind. But hey – it's the nature of things. It's just one of those things we need to live with if we love our pets – or do we? A robot vacuum for pet hair can help with this issue and make it a thing of the past. No more backaches from all the constant dusting and vacuuming, and no nerves lost over loose hair everywhere. A robot vacuum does all the work for you – and does it perfectly!
Both cats and dogs can shed a lot, and depending on the breed, some might have much more loose hair than others. Cats tend to groom several times a day, and leave their hairs wherever they sit or lounge. Doggos too tend to leave a bunch whenever they scratch or roll about. And they can't help it. But it is not a reason to lose all hope of having a tidy home. These robot vacuums are specifically designed to mop up all that loose hair and do it independently – leaving you to tend to other tasks or simply lounge and relax. Thanks to their innovative design, robot vacuums for pet hair are simple to use and fully automatic – most if not all designs rely on smartphone apps to move freely around your home, and some of them can also empty themselves and recharge independently.
Of course, for anyone busy or working a 9 to 5, this comes as a true lifesaver. No need to come home after work and get busy vacuuming or dusting – the job is already done for you! You can even access the vacuum remotely with your smartphone while you're at work or out and about. Simply choose the tasks, routes, or schedules you want and you will come to a hair-free, spotless home. But not all robot vacuums are the same, and many boast diverse features. To help you make the best choice, we narrowed it down to the top 10 robot vacuums for pet hair on the market today! Want something more powerful? Or something fully independent? Read on to make your pick.
Editor's choice: Yeedi k650 Robot Vacuum
When it comes to getting rid of that pesky loose pet hair around the house, nothing beats a high-quality robot vacuum. This modern design from Yeedi boasts a set of high-end features that give it a true edge over its competitors. It has three levels of adjustable suction power: 600, 1200, and 2000 Pa. This helps it suck up even the most persistent hairs embedded in the carpet. It has also a very low noise output at just 56dB – making it a true silent runner that won't disrupt your well-earned nap. Its spacious dustbin can hold 800 ml of debris, and the option for remote control through a special smart app can really make cleaning your home an easy, hands-free experience.
Runner up: Shark IQ Robot Vacuum
Robot vacuum cleaners are all about simplifying cleaning and giving you a hands-free solution to your tidying woes. Shark's modern design takes these features to a whole new level with its self-empty concept to make sure you really don't have to do anything at all to have a pet hair-free home. The spacious bin holds up to 30 days' worth of debris, and when it's emptying time, the vacuum will simply connect to its included base and do its thing! With its powerful suction and a self-cleaning brush roll, the vacuum has no trouble with loose pet hair and will work without a hitch. Thanks to a special app that connects to your smartphone, you can have the ultimate control over the vacuum and its routes from the comfort of your sofa or when away from home.
Customer's choice: iRobot Roomba Vacuum
iRobot's Roomba is a true overachiever. Its secret is in a refined, power-lifting suction that has 5x the air power and improved pickup performance. With its high-efficiency filter, it can trap and contain 99% of common allergens and bacteria that are present around pets. Of course, it won't have a single issue dealing with pet hairs. It operates in neat and functional rows, making sure all corners of your home are clean. Of course, a handy smartphone app is also included, allowing you to have total control of its features remotely.
Best compact: eufy BoostIQ RoboVac
RoboVac is the latest from eufy by Anker – it is a super-thin, slim robot vacuum with a great set of smart features. Ideal for hard floors and medium-pile carpets – and a beast when it comes to sucking up pet hair – this vacuum has a good suction power at 1300 Pa. With a low noise output and an infra-red sensor for avoiding obstacles, this vacuum will be your silent helping hand around the house. It has special drop-sensing tech that helps it avoid big falls, so no worries there. Its included charging base helps with swift recharge, and you are ready for action in a jiffy!
Best for hardwood floors: iHome AutoVac
Suction power is one of the most important features of a robot vacuum. iHome's special design made an emphasis on this, and this design boasts an impressive power of 2000 Pa – pet hair stands no chance. But it's not the only thing you need if you have hardwood floors: this robot pet hair vacuum comes with a mop option as well: replace the dustbin with a water tank that can be purchased separately and enjoy squeaky clean floors without any effort. This vacuum can run on its own for roughly 120 minutes, before returning to its charging base and refilling. AutoVac features smart programming with a sophisticated set of routes that will navigate your home without issue. A unique smartphone app allows you to have a live view of your vacuum as it cleans the house, and also to remotely access all of its features. This is as modern as can be!
Best self-charging: iMartine Robot Vacuum Cleaner
Robot vacuum cleaners are great when you are not at home but want to keep tidy. But what about charging? iMartine's self-charging design makes this a true breeze. Super thin and with 1600 Pa of suction power, it makes short work from loose pet hair. It features 2600 mAH lithium batteries, and when it is low on power, it automatically returns to its dock to charge up. You need not worry! A 550 ml washable dustbin holds plenty of debris and features special HEPA filters, and is super easy to take off. All in all, this balanced, rounded design is one of the best in its price class.
Best for multi-pet households: GOOVI Robot Vacuum Cleaner
It is important that a robot vacuum cleaner be as thorough as possible when cleaning, especially in homes with several pets. This smart design from GOOVI features a 360° sensor protection, making sure that all corners and nooks are cleaned and free of hair. It has a special low profile design, and 1600 Pa of suction power, ensuring fast daily cleaning. It also has unique large diameter wheels – these help the vacuum to roll over thicker carpets and similar obstacles. When low on power, this vacuum glides over to its base and quickly recharges. Affordable, reliable, and powerful, this robot vacuum cleaner really has it all.
Best for long-haired pets: ILIFE V3s Robot Vacuum
If you have a long-haired cat or a dog that shed a lot of hair, your old vacuum might have choked and stuttered on tangled up hair and bunched up debris and pet hair combined- but that won't be the case with this little guy. ILIFE's special robot vacuum design aims to make these issues a thing of the past. Its special tangle-free technology focuses on dirt, hairs, and individual debris with particular care, minimizing the possibility of tangles. It has a runtime of 100 minutes, after which it returns to the dock to recharge, and also has smart sensors against falls and bumps. Super simple to use and with a special remote control app, this reliable vacuum is a major help in the home.
Best with voice controls: Lefant T800 Robot Vacuum
This is a truly modern and practical vacuum design. The ultimate hands-free concept, Lefant's T800 is a beast in every sense. It has great 2000 Pa suction power which leaves no stray hair behind. Thanks to its upgraded free move technology, it will have no trouble crossing smaller bumps and thicker carpets- it also has zigzag path and mapping so it will easily adapt to any space. Another great feature here is the addition of a unique remote control for easy programming, but also the option of a smartphone app for remote access. Since it is compatible with Alexa and Google Assistant, you can operate it via voice commands as well.
Best laser-guided: Neato Robotics D4 Laser Guided Robot Vacuum
Neato Robotics' unique design is really not like the other robot vacuums. While most other designs are circular – this one is not! It features one flat side that helps it smoothly glide around the home and rely on its CornerClean technology to get the dirt from every corner of the house. It also cleans along the walls, which ensures that the entire house is covered. With a 70% bigger brush than the other designs, it makes sure that all hairs are taken up and deposited in its spacious 0.7-liter dustbin. Thanks to its laser-guided design, navigation around the house is an absolute breeze. Combined with a unique smartphone app, this robot vacuum really gives you everything you need for a clean house and a rested back.
Can Robot Vacuums Work on All Surfaces?
Before you make your new purchase, you might be wondering: will my new robot vacuum for pet hair work all around the house? Or will it be limited to just certain surfaces? To make sure your new purchase will work to the best of its abilities, you want to take a closer look at its listed features.
Most robot vacuums simply lack the power or size to tackle any considerable obstacles. Granted, not many such obstacles exist around a standard home and its floor plan. Usually, the big issues may be lofty, thick pile carpets, door sills, and thresholds, or any similar obstacles. To tackle this a robot vacuum needs to have special sensors that ensure these obstacles are avoided. Also, some vacuum sport bigger wheels or slightly bigger ground clearance. This allows them to tackle thicker carpets and get the job done to the fullest!
Usually, robot vacuums work best on flat, smooth surfaces – that's just the way it has to be. Hardwood floors, linoleum, thin carpets, tiles, laminate – this will provide your new accessory with the best results. Also, loose pet hair tends to be most visible on these flat and shiny surfaces, especially when natural light is reflected on them. Luckily, your new robot helper will make them spotless.
There is one weak spot for robot vacuums – and it's no secret. The issue is simple: the robots are round. This means that due to their circular shape, robot vacuums can't always effectively clean corners. There are, however, unique designs on the market that try to tackle this issue in an innovative and smart way. Their secret is in a half-circle shape! One side of the robot is left flat and angular, while the rest is traditionally rounded for good mobility. Thanks to the square side, these robots can tuck into every square corner and move along walls as well. This greatly increases cleanliness and ensures no hair is left behind.
As it is, robot vacuums for pet hair usually have tons of smart and futuristic features. They can recharge themselves, empty themselves of dirt, work completely autonomously, and work on schedule. This can really bring a huge change into your daily routine, and save you from some hard work around the home. Think ahead and use your smartphone app to your advantage. You can map a particular and detailed route your vacuum should follow, and schedule the cleaning session to a time that works best for you. You might even use the time to take your pooch on a walk or play with your kitten- your pet will be happy to get more time with their owner.
We are committed to finding, researching, and recommending the best products. We earn commissions from purchases you make using the retail links in our product reviews. Learn more about how this works.

Angela Vuckovic
A proud mama to seven dogs and ten cats, Angela spends her days writing for her fellow pet parents and pampering her furballs, all of whom are rescues. When she's not gushing over her adorable cats or playing with her dogs, she can be found curled up with a good fantasy book.
More by Angela Vuckovic
Published July 27th, 2021 12:00 AM