20 Views
12 Hanukkah Pet Essentials For Eight Crazy Nights
December 2nd, 2017 12:00 AM
We're committed to finding, researching, and recommending the best products. We earn commissions from purchases you make using links in our articles. Learn more here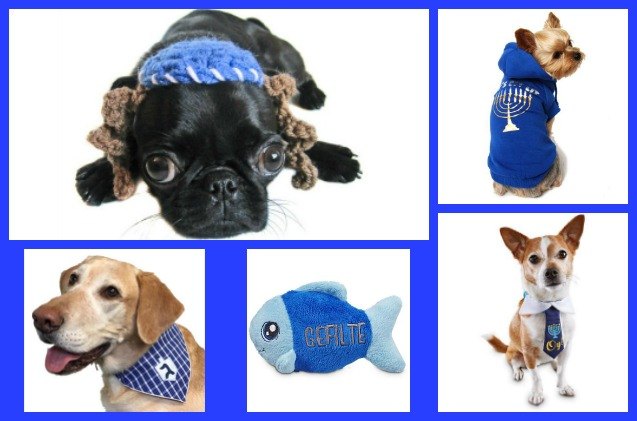 There are pet goodies for all the special holidays! Check out our top 12 favorite finds for Hanukkah that'll have you celebrating for eight crazy nights.
Our furry family members want to be part of the Festival of Lights, and we have found some fabulous items to ensure that their eight special nights of celebration. Check out our top picks!
Hanukkah is eight nights of prayer, and your furry friend cannot do that respectfully without his very own Yarmulke, can he? Problem solved with these handmade Hanukkah hats from Etsy. They also make other hats for bar(k) mitzvah and we love that these even have their own cute little payot!
2. Festival of Lights Neck Tie.
It's the time of year Fido gets to pull out his Festival of Lights holiday wear, and this necktie from Petco tops any outfit off. This tie comes from their Time for Joy collection and ensures that your pup is the best-dressed pooch at any Hanukkah party!
3. Hannukah Gefilte Fish Toy
Also from Petco's Time for Joy collection is this adorable little plush fishy. But not any fishy, of course…A Gefilte Fish! It has a squeaker for engagement, and will make play time even more appropriate for the season!
4. Let's Get Lit Sweater.
C'mon. That menorah is just waiting to get lit, and this sweater from Muttropolis will be just the one for your pooch to wear as you do it. I mean, if this doesn't scream, "Happy Hanukkah!" we're not sure what does!
Muttropolis knows that every mutt wants to make sure he's hanging around the menorah in the best duds, so this Hanukkah dog collar will allow him to be fashionable and safe at the same time. Because honestly, if you're celebrating the season, do it in style!
6. Muttropolis Dreidel Bandana.
Dreidel, Dreidel, Dreidel, it hangs around their necks! Yep, this Dreidel Bandana will bring some festive zing to your pup, and have him ready for an instant game wherever he goes!
If you feel like you want to go bigger, bring the flames with this Menorah Dog Costume! Perfect for parties or parades, and assuredly the best picture you'll take this holiday season, your dog will lead the pack!
8. Yarmulke and Tallis Dog Costume
If the Menorah Dog costume is not your thing, then this Yarmulke and Tallis Dog costume may be just your style. Traditional in style, yet trendy in look, this is a must-have for Happy Hanukkah nights.
9. Copa Judaica Dreidel Plush Toy
This 'Chewish' Treat is going to be your pup's favorite holiday game toy! The squeaker will keep him interested in the Dreidel game, and keep the celebration going even when the lights go out!
10. Copa Judaica Menorah Plush Toy.
If your doggo wants his own Menorah for celebration, that'll be easy to do with this plush Menorah from Copa Judaica. The multi-color stuffy with squeaker will make each night of Hanukkah full of squeaks and fun!
We'd love to tell you this Dreidel dog sweater would be perfect for whatever ugly sweater party you have to attend, but we just can't because it looks so darned cute on dogs! Keeping him nice and warm while ringing in the holiday spirit, you can bet you'll win any holiday dress contest that's out there!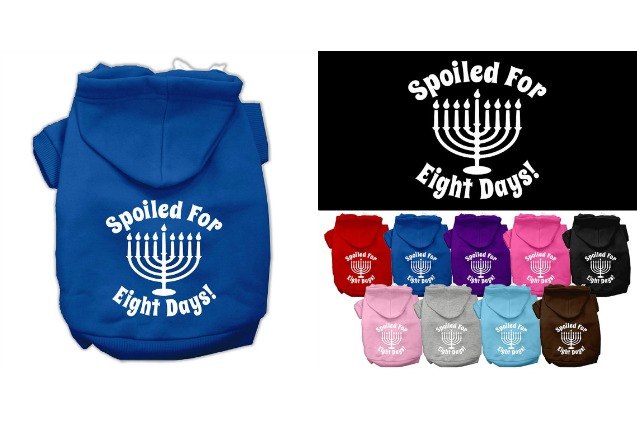 Published December 2nd, 2017 12:00 AM