24 Views
Best Bowls For Miniature Huskies
August 25th, 2021 12:00 AM
We're committed to finding, researching, and recommending the best products. We earn commissions from purchases you make using links in our articles. Learn more here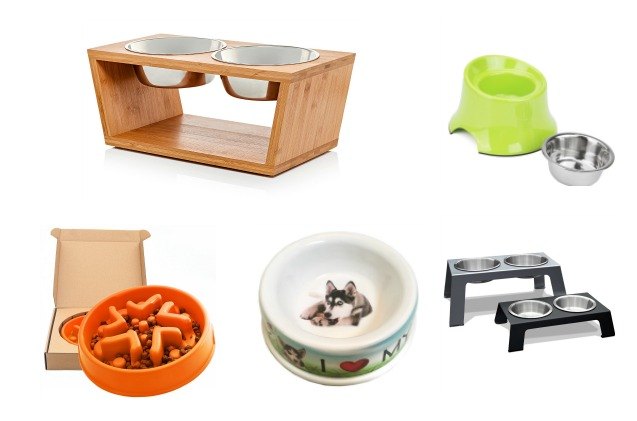 Make sure you have the perfect feeding accessories for your pooch by checking out our best bowls for Miniature Huskies list.
If you're lucky enough to have a miniature Husky, you're indeed lucky, alright! These smaller versions of the smart and lovable Siberian Husky still have a working dog in their DNA, so you'll want to make sure you have the right bowls for them.
1. Editor's Pick: DotPet Crate Bowl Set
Your miniature Husky is smart. DNA just makes that so, and smart dogs often end up being bored dogs. Most miniature Husky parents crate their pets when gone to avoid boredom/frustration damage so we love this bowl set for making sure their 'den' is as comfy and cozy as it can be. These don't snap, the twist with sturdy silicone holders and are easy to keep clean.
2. Runner Up: ProSelect Dog Stainless Steel Brake-Fast Slow Feed Bowl
Durable, made in the USA, and dishwasher-safe, this slow feed bowl is an ideal choice for greedy eaters or dogs that have issues with bloating. The three stanchions inside the bowl act as an obstruction, forcing your dog to slow down when they eat instead of gobbling down all their kibble in one breath. As a result, they'll feel more full for longer and they won't experience digestive issues after mealtime. The bowl is made from long-lasting, pet-safe stainless steel that's easy to clean and won't harbor bacteria or mold and can be used for wet food or dry dog food. This dog bowl comes in 3 sizes: small that can hold 1.5 cups of food, medium with a capacity of up to 5 cups, and the large that holds up to 8 cups of foods.
3. Best Slow Feeder: All For Paws Interchangeable Maze Feeder
Your Miniature Husky is a smarty-pants and that's why you love her. So, to keep her brain busy, you have to be creative sometimes. This feeder from All For Paws has two maze inserts you can put in the bowl to slow feeding for digestion while encouraging brain stimulation with play. Having two mazes to switch out shake things up for them and they love the challenge!
4. Best for Travel: Mighty Paw Collapsible Travel Dog Bowl Set
Miniature Huskies are big adventurers, and they'll love hikes, exploring nature, and camping- and when you're out and about with your pooch, you'll need to be prepared to meet all their needs on the go. A collapsible travel dog bowl set will make sure that your dog doesn't go hungry or thirsty on your trip, and these lightweight and portable food-grade silicone bowls do just that. Equipped with a nifty carabiner that can easily clip onto your dog's harness, a belt loop, or backpack, they are easy to carry and expand to three different collapsible levels- the maximum capacity of the bowls is 800 ml (27 fluid ounces). Leak-proof and dishwasher safe, these collapsible silicone dog bowls come in two colors: orange and green.
5. Best for Messy Eaters: Neater Feeder Deluxe
This Neater Feeder was designed for dogs weighing 15-40 pounds, so perfect for the Miniature Husky. It keeps food and water mess to a minimum in the resin basin, and the bowl inserts snugly keep the stainless bowls nice and secure. It has extension legs to allow it to go from puppy to 'big' dog.
6. Best Elevated: PetFusion Anodized Aluminum Bowls
This elevated station is in two sizes to ensure the best fit for your Miniature Husky and the anodized aluminum means that it always looks brand new–no chipping of paint or rusting. The stainless steel bowls look nice and clean when in, and are easy to wash in dishwasher or by hand. It retails for $69.95.
7. Best Wood: Pawfect Pets Premium Feed Station
This elevated station gives a unique, modern and clean look to your Miniature Husky's feeding area and it has silicone on the bottom so it won't tip or allow messes. It's sturdy and striking, almost like an extra piece of furniture. It retails for $39.95.
8. Best Design: Super Design Single Elevated Feeder
If you want an elevated feeder for your Miniature Husky but you don't want to have a feeding station, this fits the bill nicely! It's elevated to help prevent bloat, but in a single bowl so it's not obtrusive. It also has a slight tilt to ensure better digestion for your pup and comes in several neat colors. It retails for $54.94.
9. Best Pattern: Jonathan Adler: Now House Mint "Terrazzo" Bowl
Who said that dog bowls can be stylish? If you're not too crazy about colorful silicone and plastic and stainless steel seems too plain for your interior, then a modern ceramic design will be just the thing. This high-quality, pet-safe ceramic food and water bowl features a popular terrazzo print contrasted with trendy mint palette on the bottom part- which is actually a sleeve made from silicon. When left on the bottom of the bowl, it prevents skidding, or you can take it off and use it as a lid for the bowl. Clever and so practical! The bowl comes in small (1 cup capacity), standard (4 cup capacity), or medium (3 cup capacity) sizes.
10. Honorable Mention: Outward Hound Fun Feeder Slo Bowl
The Outward Hound Fun Feeder Slow Blow holds up to four cups of your miniature huskies favorite food while the maze slows down their intake and helps to improve their digestion. The bowls are made from Made from BPA, PVC, and are free from phthalate so you know they are safe for your pet to eat from. After meals you can just pop these bowls onto the top-rack of your dishwasher. This product works with both dry and wet food and comes in multiple sizes and patters. If the puzzle is tough for your fur ball to solve, don't worry, they have a non-slip base so they can work on it all morning long!
What should I consider when choosing bowls for my Miniature Husky?
When you're picking out a set of bowls for your pet, consider their size: Miniature Huskies usually weigh between 20 to 35 pounds, so they won't need an extra large bowl, and usually do well with medium size. Next, consider the material of the bowls and opt only for pet-safe, durable materials that are made to last, such as stainless steel, ceramic, food-grade silicone, or BPA-free plastic. If your pet has any issues with their diet or specific habits when eating, consider special designs- elevated dog food bowls, slow feeders, automatic food dispensers, and so on.
We are committed to finding, researching, and recommending the best products. We earn commissions from purchases you make using the retail links in our product reviews. Learn more about how this works.

Published August 25th, 2021 12:00 AM