761 Views
Best Collars For Bernedoodles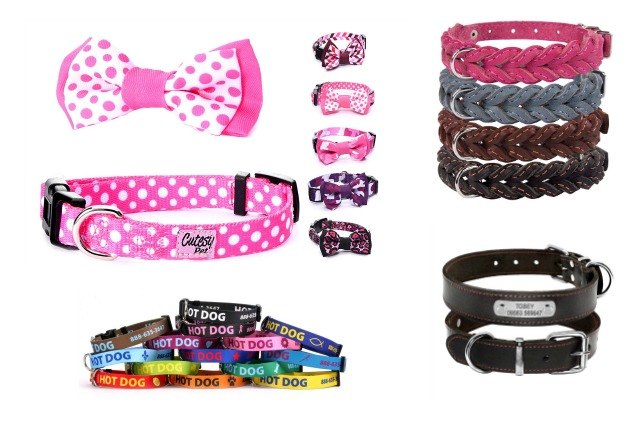 So you have a smart, fluffy and fun Bernedoodle and you want to make sure it has the best of everything, starting with collars, don't you? Here are the best collars for your Bernedoodle, in varying sizes and design!
Bernedoodles (also called a Mountain Poo) are just about the sweetest looking pups. Shaggy like their Bernese Mountain side, but less/no shedding thanks to their Poodle lineage, they make great companions and friends. They're smart and exploratory, so collars keep the important information at bay and allow for easier training. They range in size, though, as Poodles do, from 10 pounds to 90 pounds, so collar types and needs will vary.
1. Editor's Pick: Pawsitive Co Nylon Collar
We love that Pawsitive Co donates to dogs in need for every collar that's purchased, and the reality is that often you just need a basic collar for walks and training. What better one to buy than one that helps other dogs out as well? This collar comes in red and blue.
2. Runner Up: Mile High Reflective Nylon Collars
These collars are easy to care for and come in several colors with reflective properties. Great for that energetic dog who wants to explore, and particularly for night walks, these collars will help you be seen and be safe. They are best for medium-sized Bernedoodles..
3. Honorable Mention: Yellow Dog No-Embroidery Collars
Get rid of tags that get lost (and make noise) with these collars that have your important information printed right on with hi-definition art printing. Printing makes sense as an option to embroidery to prevent loose threads and fraying, and you can customize with font and information. They come in several color combos.
4. Best Classic: CHEDE Basic Classic Luxury Padded Leather Dog Collarr
Classy, stylish, and durable, this luxurious padded leather dog collar will complement your Bernedoodle's beautiful coat and their stature, as well. CHEDE Basic Classic Luxury Padded Leather Dog Collar features a brass-colored seat belt buckle which is a welcome change from standard plastic clasp buckles- it's both secure and elegant. The brushed leather finish is not just expensive-looking but makes the collar pliable and comfortable to wear. You can choose between brown, dark brown, khaki, and red and medium, large, and extra large size- so all size Bernedoodles can find a match!
5. Best Custom: Shorven Soft Genuine Leather Custom Dog Collar
Leather collars are a popular favourite in the dog loving community due to their classic look and durability. However, you don't have to settle for just a standard 'run of the mill' dog collar for your Bernedoodle. Instead, consider a fun custom option like this personalized leather collar from Shorven.
Available in a wide variety of sizes, you are sure to find the perfect fit for your dog. It can be purchased in either brown or black leather, both with golden metal accents. The soft genuine leather is comfortable on your dog's neck while the solid double D ring design ensure that you have options for leashes and ID tags.
Each collar includes a golden metal plate upon which you can have important information laser engraved. Unlike hang tags, this ID tag will not get caught on things and easily rip off if your dog is loose, improving the chances of your dog being easily identified and returned safely.
6. Best Pattern: Blueberry Floral Collection.
Bernedoodles love the outdoors–think of them as dogs who love to dance among the flowers (or trample, whatever…). These floral-inspired collars from Blueberry are some of our faves as they are easy to care for, look great all the time and can even be embroidered with your pet's information if you don't want tags.
7. Best Bow: Cutesy Pet Collar With Adjustable Bow
Your Bernedoodle may be on the more dainty and petite side, and may want to flaunt herself around looking all cute. Enter the Cutesy Pet Collar with an adjustable bow. Several different adorable patterns and easy to clean if the mountain dog in her comes out and she goes trouncing through the woods. At least she'll look adorbs!
8. Best Design: ROAM Premium Dog Collar
Tough, durable, and beautiful, this heavy-duty dog collar will be just the thing for your adventurous Bernedoodle! ROAM Premium Dog Collar is made with double-layered nylon webbing with multiple lines of stitching for superior toughness and features rust-proof metal hardware, and a non-staining minimal rubber logo only makes it more elegant. Designed with attention to detail, this premium-quality dog collar has a high-quality quick release metal buckle with a smooth locking mechanism instead of the usual plastics and two D-rings- a bigger one for attaching the leash and a smaller one for your pet's ID tags. ROAM Premium Dog Collar comes in 4 sizes and is available in 8 modern styles: Alaska Daybreak, Arizona Heartbeat, California Horizon, Colorado Nightsky, Michigan Autumn, Nevada Evening, Oregon Haze, and Volcanic Obsidian.
9. Best Martingale: Petsafe Martingale Collar.
Bernedoodles need training and they need it early on. They are smart, and can be tough to get through their stubborn exterior. This very basic but fully functional martingale collar from Petsafe can help make sure your stubborn little (or big) one learns how to be safe and not escape you. It comes in a handful of colors.
10. Best Leather: Collar Direct Leather Dog Collar with Brass Buckle
Your dog will be the envy of all when they parade into the dog park in this brass buckled leather collar by Collar Direct. While it comes in multiple sizes its large collar will surely fit your needs as it expands to 21". Inside the collar there is a soft inner side made from specially treated soft leather that comes in variety of colors – light blue, red, orange, lime green, pink, yellow, purple, dark blue and mint green. No matter what color you choose your "good boy" will stand out for his "good taste".
How tight should a dog collar be?
The collar shouldn't be so loose as to slide over your dog's head but you shouldn't tighten it too much, either. A good rule of thumb is the so-called "two-finger rule": you should be able to slide two fingers in between your dog's collar and their neck, no more, no less than that. This means that the collar is tight enough to stay firmly in place but not so tight that it could choke your pet.
How should you place a prong collar on a dog?
A prong collar should sit right behind the ears and up under the jaw line- it shouldn't be low on the neck as a regular collar or loose-fitting. To place it on your dog's head, don't slide it over the head as that can cause injury. The proper way to put it on is to unhook some of the links by applying pressure with your thumbs on both sides of the link, place the collar in the right position and connect the links back again.
Can I make a dog collar by myself?
If you're crafty, there's almost no limits to what you can make on your own. For those that are experienced in sewing, there are plenty of options for making DIY dog collars, as long as you have the appropriate fabric and the right accessories, such as D-links and clasps, and of course, a reliable sewing machine to make it all happen. However, be aware this is an advanced level sewing project and that you have to be meticulous and careful to make sure the stitching is strong and everything sewn firmly in place.

Published July 3rd, 2021 12:00 AM