157 Views
Best Collars For Shorkies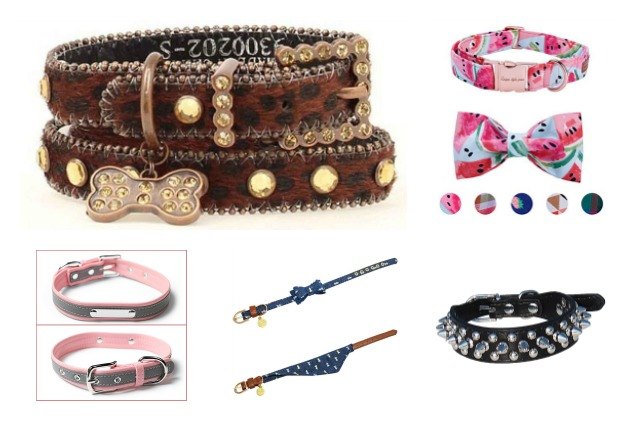 A cross between a Shih Tzu and a Yorkshire Terrier, Shorkies are full of character and spunk in a compact size! It can be tough to find that just-right collar for a mixed breed, so here are best collars perfect for Shorkies.
Shorkies are cute, alright, and they know it. And, because they are small, you have to be careful with collars because you can damage their windpipes as they exuberantly (and sometimes stubbornly) play. Most collars are more for form, than function, but many choose to use collars and harnesses combined to carry information.
1. Editor's Pick: Didog Personalized Smooth PU Leather Collar
This fun personalized collar allows you to add a bit of bling, making your dog's collar a one-of-a-kind creation that they can proudly show off. The collar itself is made from soft PU leather, making it comfortable for your dog to wear while you're out and about. While the collar is durable, the rhinestone letters are not designed for day-to-day wear. Like your favorite jewellery, this collar is for special occasions!
The collar comes in a variety of colors and sizes, ranging from 8" to 18", guaranteeing that they will have the right fit for your Shorkie. It can be personalized with up to 7 rhinestone charms, including letters as well as fun accent charms such as a heart, bone, or crown. Are you looking for the perfect combination of glitz and punk? You can also add a bling skull to your dog's collar! Show off their personality in style.
2. Runner Up: Personalized Reflective Collar with Nameplate
This nylon reflective collar has a customizable nameplate that you can engrave pertinent information on should your Shorkie get out and about on his own. They're waterproof and come in seven different colors with a 100% replacement guarantee for any reason!
3. Best ID: Leather Nameplate Collar
This leather reflective collar also has a nameplate attached for engraved information right on the collar. Say goodbye to noisy tags!
4. Best Accessorized: PetFavorites Bowtie/Bandana Collar
These adorable collars will have your little guy looking the Dapper Dan wherever he goes. Lightweight and easy to adjust, they're designed specifically for teacup breeds. There are several patterns.
5. Best Patterns: Adjustable Watermelon Bowtie
Your Shorkie is sure to be the star of whatever show it's in wearing this too-cute watermelon bowtie collar. It's adjustable to ensure just the right and safe size, and it's 100% cotton for easy-care. The bowties are handstitched for quality.
6. Best Padded: Shires Padded Leather Collar
If traditional collar and tag in a classic leather is your Shorkie style, this is the collar for you (and your pup). It's padded lining keeps it comfy for your little guy or gal and the stylish and clean look of leather lets them strut their stuff.
7. Best Flower: Beirui Custom Flower Girl Dog Collar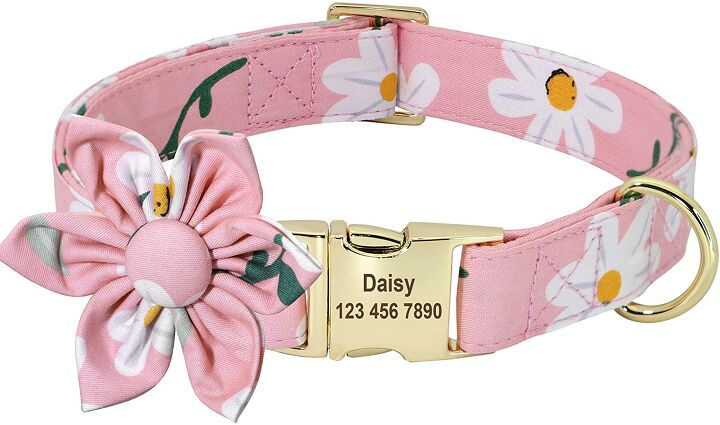 Your tiny Shorkie princess will look like a little angel with this girly floral coral! But Beirui Custom Flower Girl Dog Collar is not just a pretty accessory, but a practical one as well. Made from premium quality durable cotton fabric with breathable webbing, it is comfy to wear and easy to clean. The hardware is also up to standards, with a thick welded D-ring to attach a least to,adjustable buckle and gold engraved clasp to add a touch of elegance and functionality both. Another fantastic feature of this collar is the fact that it can be personalized: there is a custom nameplate on the quick-release buckle where you can write your pet's name and your phone number- no need for dangling ID tags when everything is already made visible on the collar itself.
The prettiest part of this toy dog collar has to be the cute detachable flower, but if you think it's over the top or it bothers your pet, you can easily slide it off the collar and enjoy the pretty floral print on its own. There are 12 color combos and patterns to pick from, so you'll be able to easily find a match for your pet's style!
8. Best Leather: BronzeDog Leather Collar
Want a nice leather in some pretty pup colors? These leather collars from BronzeDog will accessorize any Shorkie with some unique pastels and make them feel like they're living on the beach! They're lightweight so they won't bog your Shorkie's neck down with heaviness.
9. Best Bling: PetsHome Rhinestone Leather Collar with Pendant
If your Shorkie has a bit of a Diva streak, this blinged out collar is the perfect option. This collar is durable, made with premium PU leather. At the same time, a comfortable fur lining protects your dog's neck while providing a soft, comfortable touch for prolonged wear. Sparkling rhinestones are attached securely while avoiding any sharp edges that could cause injuries during use. The collar is available in 3 different sizes, accommodating neck sizes ranging from approximately 8" to 15", and each collar has 5 adjustment holes. This makes it easier to find the perfect fit for your dog both for comfort and security.
The full collar is lined in beautiful rhinestones and accented with a crystal pendant, making this a statement piece for weddings, holidays, parties, family gatherings, or 'just because'. A smaller D-ring on the collar makes it easy to attach identification tags or other accessories while a larger D-ring is located back closer to the buckle to securely attach a leash.
10. Best Sassy: Blazin Roxx Leopard Print Dog Collar
Meow! Talk about the shoe on the other foot–how about the coat on the other collar? This leopard print collar from Blazin Roxx shows the world your Shorkie has some spunk and she's/he's not afraid to use it! All blinged up, you'll have plenty of places you'll want to go.
How tight should a dog collar be?
A dog's collar shouldn't be too tight as it can chafe and can hurt your pet, but if it's too loose, it beats the purpose- it will easily slide over their head and your pet can get lost in an instant. A good rule of thumb is that you should be able to place two fingers between your dog's neck and the collar when it is already snug. This way, you know that your pooch is comfy and that the collar will stay firmly in place!
How to clean a dog collar?
Dog collars need to be cleaned regularly, but they are made from a variety of materials so there isn't a universal rule to follow, except for using pet-safe products for cleaning. Collars made from natural materials such as cotton can be brushed with some dish soap and water, whereas nylon dog collars can be washed on gentle cycle in the washing machine in a protective bag (but only if the hardware is not prone to rusting). For leather, you can use a mixture of 50:50 of water and white vinegar for disinfection and removal of any tough grime or bodily oils- just be sure to condition it when it's dry if it's genuine leather.
We are committed to finding, researching, and recommending the best products. We earn commissions from purchases you make using the retail links in our product reviews. Learn more about how this works.

Published May 17th, 2021 12:00 AM