425 Views
Best Harnesses For Your Pomsky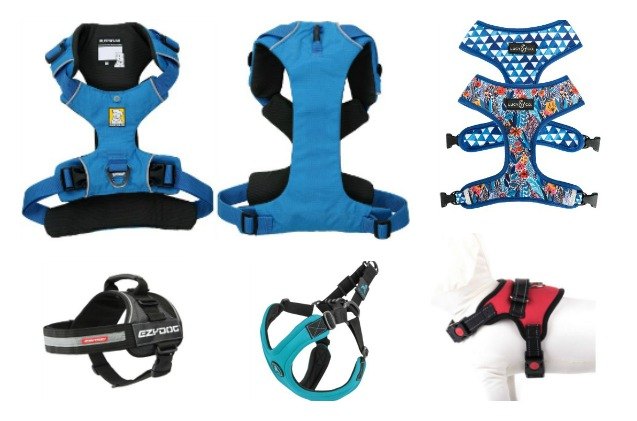 Harnesses can help pet parents keep their Pomskies safe (and stylish!). Here are our picks for the best harnesses for your Pomsky.
1. Editor's Pick: 2 Hounds Design Freedom No Pull Dog Harness
The no-pull design of this harness is recommended by veterinarians, trainers, and dog behaviorists around the world, making it a great option to help train your Pomsky to walk on a leash properly. It is made from strong nylon webbing to stand up to ongoing wear and tear (and light chewing, should your dog have a mischievous streak). On the inside of the webbing, a Swiss Velvet lining ensures that your dog is comfortable while wearing the harness, even for longer periods of time.
The harness includes four separate adjustment points making it easier to custom fit the harness to your dog's body properly preventing rubbing or interruptions of proper movement. On the back, a leash can be attached to a martingale loop while another connection point on the front is referred to as the 'power steering', allowing you to redirect your dog when walking. Use the included double connection leash, hooking on to both points, to enjoy all that this harness has to offer.
2. Runner Up: BarkLover Deluxe Tuxedo Harness
We can't help it. We are head over heels for this adorable harness by BarkLover. Your Pomsky will be the talk of the town on his daily walks (they like their exercise!) and its breathable polyester material will make sure your dog stays a comfy temperature as he struts around town!
3. Best Cushioning: Easy-on Harness With Extra Cushioning
This easy-to-put-on harness does a great job of keeping your Pomsky nice and close, and has extra padding inside that makes it super cozy for your pup. It has two reinforced D rings that will make sure your little escape artist can't get too far, and comes in several pretty colors.
4. Best for Active Dogs: Gooby Escape-Free Sport Harness
You might not think your lap dog Pomsky is a sport dog, and you'd probably be right. But, the Husky in her is born to be a wanderer and Pomskies are highly intelligent. Prevent the escape with this escape-free sport harness by Gooby. Made with lightweight neoprene and machine washable.
5. Best Quality: RUFFWEAR Front Range Dog Harness
What big dogs can, small dogs can too- but that's not always to your advantage. Those cute little lap dogs can be serious leash pullers too, especially if your Pomsky is on the higher end of the weight range (at almost 40 pounds, you'll really feel the tug of the leash). Of course, with some patience and the right choice of gear, you can get your overly enthusiastic Pomsky to be more laid-back in walks and behave better on a leash. This front-range harness by Ruffwear is a great option if you have a puller–it's so comfy your dog might feel inclined to even wear it all day.
Additionally, it is perfect for those initial leash training stages when your new furball is just getting used to the idea of walking on a leash and you need to guide and steer them more. Lightweight but durable, it is made from colorfast shell fabric with reflective trimming for nighttime safety and padded with foam across the chest and belly to prevent chafing and end ensure optimal comfort for your pet. RUFFWEAR Front Range Dog Harness is available in a range of sizes (so no matter your Pomsky's chunky or slim, there's a fit for them) and comes in 16 vibrant colors to choose from.
6. Best No-Pull: BARKBAY No Pull Dog Harness
A dog harness places less pressure on the neck and is a much comfier option for dogs that tend to pull on the leash. BARKBAY No Pull Dog Harness is designed to prevent the pulling altogether, so it can be used to train your pet to slow down and adjust their pace on walks. It is made from durable no-rip nylon with a breathable mesh padding. This combination ensures that your pet won't get chaffing – even in hot weather. On the top there is a rear D-ring for leash attaching, and also a nifty carry handle for added control over your dog. Another D-ring is located in the front, which is ideal for dog training and more control as it will turn the dog back to you as soon as they start pulling. The design also incorporates reflective stripes, making night walks possible and safe. The brand offers a lot of color and size choices, so you can easily find a perfect match for any little Pomsky.
7. Best Dress Harness: Blueberry No-Pull Mesh Dress
If you have a really girly-girl Pomsky, she's gonna flip over the Blueberry No-Pull Mesh Dress Harness. Oh-la-la fashion in a light weight polyester. Available in a variety of patterns for any pooch.
8. Best Handle Harness: EzyDog Convert Trail Harness
Your Pomsky may be more -sky than pom- and may really enjoy trail walking. This is the harness for him/her. It's a super comfy harness that's great for walking down the street or walking the trails. It has a side plate for customization with your dog's name or cool saying, and is rugged with reflective properties to keep you and your pup safe.
9. Best Basic: PET&CUDDLE Dog Harness
The PET&CUDDLE Dog Harness is a great option for when you need to keep a close eye on your pomsky. Not only is it super durable as it's made from extra tough nylon, it is also comfortable. The inner straps are made with double padding so it won't hurt your pup's skin or tug at their fur. It also has a no-pull design so it will make training your dog a little easier. Simply snap it on with the snap buckles on the side, adjust it with the belt slide buckles so it's snug (no more than a fingertip should be able to fit through), and snap their leash onto one of the two D-rings for your next adventure.
Safety is key with the PET&CUDDLE Dog Harness. There are two bright and reflective straps that make it easy to see your pup when you're out and about. The PET&CUDDLE Dog Harness comes in black and pink and is sized small, medium, or large to fit pets up to 80lbs.
10. Best Accessorized: Dogs Kingdom Leather Harness with Bling Hear
Are you looking for the perfect mix between a classic, stylish leather harness and a little extra flair? This harness is made from high-quality, eco-friendly leather and decked out with beautiful rhinestone accents including a rhinestone heart in the middle of the back.
Being made of leather means that this harness is durable, able to withstand the wear and tear of even the most energetic Pomsky. The chrome D ring makes it quick and easy to attach any leash. The harness comes in black, red, and pink. The low price point means that you can pick the harness that best fits your dog's personality or grab one in every color for a little variety.
How to put on a dog harness?
Putting on a harness might seem complicated if you've never done it but in actuality it is quite simple. The overhead harness is put on by sliding your pet's head through the smallest hole and then sliding in the legs, one by one, through leg openings on the side. After that, just adjust the straps for a snug fit and check if everything is clasped well and you're good to go! In case you have a step-in dog harness, she process is even easier: place the open harness on the floor in front of your dog, put their front legs through the two openings and slide the harness up their legs and buckle it on the back.
How to measure a dog for a harness?
The best way to measure a dog for a harness is to use a measuring tape. You need to get the dimension of their chest and neck and compare with the measurements given by the manufacturer to ensure a perfect fit. Measure the chest girth (the circumference of the widest part of your dog's chest) and the circumference of their neck, above their shoulders and just below where a dog collar would normally sit on the neck.
Additional resources:

Published July 9th, 2021 12:00 AM