920 Views
Best Leashes For Bernedoodles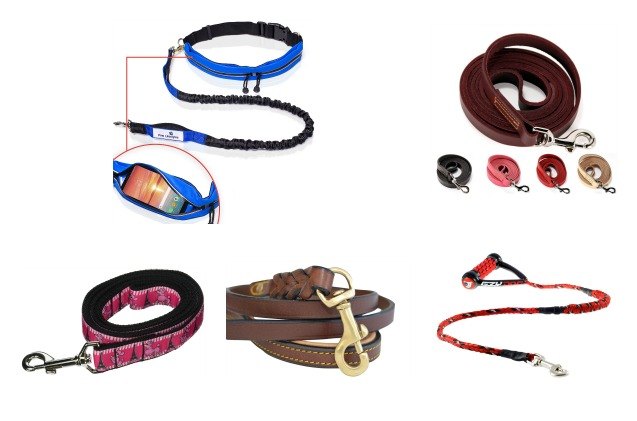 It's important to make sure the leash you choose for your Bernedoodle is the right one, so we've compiled a list of the best leashes for Bernedoodles.
Bernedoodles are cuddle bugs who love their people! A mix of a Poodle and Bernese Mountain Dog, they also have a bit of explorer in them, but they're sometimes cautious about it. They can range in size from five pounds to 90 (depending on the mixes of varying poodle size and Bernedoodle) so you need to make sure whatever leash you have is the best for your dog. Check out the best 10 leashes for Bernedoodles we've found.
1. Editor's Pick: Kurgo 6-in-1 Hands-Free Leash
We love this hands-free leash for your medium-larger (trained) Bernedoodle. It adjusts six different ways to let it be the leash you use to walk around the block or to take on adventures at the beach or in the mountains, and it comes with a lifetime warranty.
2. Runner Up: PawLifestyles Retractable
Another hands-free leash we like is this one by Paw Lifestyles. It's retractable so it gives your Bernedoodle a bit of freedom when you're jogging/running and it has a convenient pocket for you to keep phone/key/etc. It has two handles for better control, so it's great for a larger Bernedoodle. It also has a reflective lining for safety and is easy to wash in the washer.
3. Best Training: Ezy Dog Bungee Training Leash
Your Bernedoodle will need you to work and ensure he's properly trained, and this basic bungee rope with a padded handle will help in that endeavor. The bungee helps with shock absorption and prevents issues with pull if your Bernedoodle's will gets a little strong (they're smart; it might). It comes in several different colors and two lengths, and has a money-back guarantee. It's best for medium-larger Bernedoodles.
4. Best for Small Dogs: Pawtitas Small Nylon Leash
Sometimes you'll just want a basic leash to keep your Bernedoodle safe in environments and if you have a tiny or a mini Bernedoodle (10-24 pounds or 24-49 pounds), this is a great leash option. It's basic but perfectly suited for the job and it's easy to care for. It comes in lots of different colors.
5. Best Basic: Ruffwear Leash With Carabiner
This basic rope leash is also a great option for smaller Bernedoodles, though they make them for larger ones as well. A larger might benefit from the carabiner lock/hook that attaches to your Bernedoodle's collar/harness. Pet parents of smaller Bernedoodles often prefer harnesses, and this will work for either.
6. Best Leather: Logical Leather Water-Resistant Leather Leash
This genuine leather leash comes in several different colors and is a classic, stylish option for a basic leather leash for walking and training. It's water-resistant and comes with a lifetime guarantee.
7. Best Braided: SoftTouch Leather Braided Leash
If you'd like to get a leather leash for your smaller Bernedoodle, this braided is a nice option as well. It has a padded handle and the leather is naturally tanned over 40 days so there is no exposure to any chemical should a zealous chewer get a hold of it.
8. Best Pattern: Mirage Pet Poodle Leash
If you'd like your Bernedoodle to adorably pay homage to her poodle heritage, we love this cotton leash from Mirage Pets. It's made in the USA; a nylon leash with the pretty-in-pink ribbon overlay. It's best for medium-larger Bernedoodles.
9. Best No-Slip Handle: Petmegoo Dog Leash
Your dog isn't the only one going on the walk and that is why we love the Petmagoo Dog leash with its ultimate comfort no-slip handle. This is especially good if your Bernedoodle is a puller. You can pick from seven bright fun colors each of which are constructed with reflective threads so that you and your dog are kept safe when walking at night. The Petmegoo Dog leash uses a 360-degree tangle free swivel metal clasp that makes it easy to connect to your dog's collar. The clasp is rust free and the entire leash is well constructed and durable.
10. Best Paracord: Bobcats Handmade Paracord Leash
If you have a big dog, you know that finding the right leash that can handle your dog's strength can be difficult. You will never question the strength of your leash again with Bobcat's Handmade Paracord Leash. Each leash is handmade with 220 feet of Paracord that features 7 inner strand and has a break strength of 550 POUNDS! The also come in nine pleasing colors to choose from. At 7.5 feet long it is perfect for Retrievers, Alaskan Huskies, Samoyed, and Working Dog. Plus, with Bobcat's 1 year warranty, you have nothing to lose.
How to leash train a puppy?
Start by introducing the puppy to the gear they'll be using- collar or harness- and get them to wear it during the day so they get used to it even before you go out on a walk. Once you're outside, with the leash safely attached, don't let the puppy tug or pull on it and try to keep the leash loose to make sure your pet feels independent (even though you are still in control) and doesn't tug. The key to leash training a puppy is using treats and praise, as positive reinforcement will encourage your pet to work harder and follow your commands when you're out walking. Cheer your puppy on every few steps and don't forget to dole out some tasty treats, too, so they know there's a reward coming for the job well done!
Additional resources:

Published July 9th, 2021 12:00 AM