51 Views
November 23rd, 2021 12:00 AM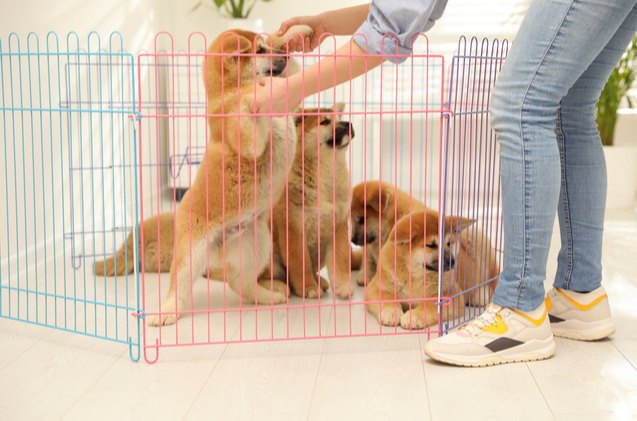 Dog pens help keep your pooch safely and comfortably contained when you have unexpected guests or need to prevent them from making a mess out of your home. There are a variety of sizes and designs out there, so we've handpicked the best of them to make your choice easier.
It's absolutely no secret that dogs – puppies in particular – can be extremely inquisitive, energetic, and naughty. Scratched and chewed up furniture, overturned potted plants, and snatched food off the plate are to be expected in those rambunctious puppy years. A good remedy for that naughty behavior is a solid timeout. It's good for training, cooling down the hot tempers, and for some well-deserved rest. Not to mention their own safety!
A reliable dog pen is the best solution for containing your pet in a safe and comfortable manner. Easy to assemble and adjustable to any shape, dog pens will keep your dog safe and secure while preventing them from persisting in their naughty misadventures. However, depending on the size and the age of your dog – as well as the amount of free space in your home- you'll want to be careful when choosing the right dog pen. Size, material, and height are all very important factors to consider. To help make that choice easier, we've rounded up the 10 best dog pens on the market for all dog ages and sizes.
1. Editor's Choice: Hongfengdz Fence Dog Pen
What better way to keep your energetic doggo in line than a sturdy protective dog pen? This spacious and durable pen from Hongfengdz is made from quality metal and comes in 8 separate panels. This design allows you to connect the panels in whatever shape you see fit! From a classic circular "corral", all the way to a unique L-shaped enclosure. The assembly is simple and straightforward, taking no time whatsoever to put together. Thanks to a reasonable height of 24 inches (60 cm), your curious doggos will have a difficult time jumping over, unless it is a large breed. And the overall size of the pen makes it ideal for several dogs. Just don't put your big breed pupper in there – they might tip it over!
Pros
Large diameter
Plenty of room for the dog
Durable
Adaptable shape
Cons
Could benefit from more stability
2. Runner Up: MidWest Foldable Metal Dog Pen
Dogs really need their free space to move and exercise, so when you want to keep your pet safe and in an enclosure without them feeling restricted, this dog pen comes as an ideal solution. Thanks to the large panels and a large diameter, this enclosure offers plenty of space for your pet to move about, without feeling claustrophobic. Thanks to the 8 ground anchors that come supplied, this pen can be used in the yard as well, keeping your dog protected but still offering room to move. With a black e-coat finish and a durable metal build, the pen can take plenty of beating and won't collapse easily. When not in use, it conveniently folds flat and is super easy to store anywhere.
Pros
Large and tall panels
Very roomy and unconstraining
Easy to store when not in use
Cons
The frame could be thicker
3. Customer's Choice: IRIS USA 4-Panel Pet Pen
Small dog breeds and puppies are often full of energy which is not always productively spent. This handy little dog pen is a great way to provide a comfy time out without your pooch feeling cramped. With just four panels, it is a simple but efficient design. It is made from durable, heavy-duty molded plastic with thick frames and spaced-out mesh fill. Thanks to the special hinge design and supplied rods, it can be assembled and ready to use in just a minute. The plastic is durable enough to withstand the chews and scratches from all inquisitive puppies and provides plenty of stability. It is great for the outdoors too! Still, with its simple square design, it is only good for puppies and small breeds. However, if you would like to house a bigger dog within it, you can purchase add-on panels and create a larger pen of any shape you want.
Pros
Stylish design
Easy to assemble
Folds flat for easy storage
Cons
Somewhat lightweight
Not for large breeds
4. Best for Small Breeds: Peekaboo Dog Playpen
This efficient 8-panel dog pen design is great for puppies and dogs of small to medium size. Thanks to a straightforward design and easy assembly, the pen can be arranged in whatever shape you want. This makes it easy to fit in any room and corner, while also making it ideal for the yard. When assembled, it offers 16 square feet of space, which is plenty of room for a petite pooch to feel comfortable. Another great feature is the double latches that reinforce the door and make it almost impossible for your pets to open it from the inside. The pen also comes supplied with special stakes that secure the pen to the ground when you use it outside. With this setup, the pen stays securely in place no matter where you put it.
Pros
Easy setup
Roomy and tall
Great for the yard
Double latches
5. Best Foldable: Artmeer Pet Playpen
This Artmeer playpen follows an established concept with its eight 24-inch separate panels that can be quickly assembled into any form you desire. Made from heavy-duty metal, it is coated with a black, rust-preventing e-coat that ensures longevity even if left in the yard. Thanks to the added stakes, you can fix the pen to the ground and use it in the yard without worries of it falling over or moving. The pen is roomy enough for more than one dog to use it comfortably, and it also folds flat for quick and convenient storage. This also makes it easy to transport, making it an ideal addition to your next camping trip!
Pros
Folds flat for easy storage
Plenty of room
Adjustable shape
Durable
Cons
Somewhat weak connecting clips
6. Best Heavy-Duty: VIVOHOME Heavy Duty Foldable Dog Pen
Vivohome is a brand that offers a refined concept of a traditional dog pen, putting the usual features to a new and high standard. One of the first things you can notice with this pen is the high sides, with around 16" more height than the usual pens have. This brand made sure that your pets can't jump out, and this makes the pen good for medium size dogs as well. It is made from durable, high-quality powder-coated metal tubes, which adds to the weight and thus stability. As with the other designs, this pen also comes with 8 separate panels, allowing you to arrange it into any shape you want. A great and reliable purchase!
Pros
Quite tall and stable
Double safety bolt
Thick and durable frame
Cons
Pets can stick their paws in the connecting gaps
7. Best for Puppies: Susupet Plastic Dog Pen
This unique dog panel design is a great way to give your dog a calming time-out with zero distractions. This is thanks to the frosted, semi-translucent panels that offer privacy and help calm your dog. They also easily fit into any interior design, blending in stylishly. Thanks to the separate panels and quick and simple connection, you can arrange them in any shape you want. They come with added rubberized grips that minimize sliding across the floor and add to the stability. Sadly, the pen is simply too lightweight for large breeds but is great for puppies and small dogs. If you are looking to train your little puppy early on and keep that energy contained, this pen can be the ideal solution.
Pros
Clouded panels for a more calming environment
Strengthened connecting points
Good height
Cons
Very light – small breeds only
8. Best without Bars: Tespo Large Portable Dog Pen
Tespo's stylish design succeeds at delivering a refined and simplified design that puts adjustability to a whole new level. Featuring 12 panels, it can be arranged in any shape and around any obstacle in your home. This makes it great for homes with limited free space, as you can adapt to every corner or nook. The panels are attached on 8 points with zip ties, ensuring enough stability, in spite of the design's lightweight. The screens are frosted and semi-transparent – a feature that can help calm your pet down and obscure their vision of the outside. Since there are no bars, there's no danger of your pooch chewing off some of them or sticking a paw in between- perfect if you have a little Houdini on your hands. And thanks to the anti-slip connectors on the bottom, the pen will not slide on slippery surfaces, either.
Pros
Great for puppies and small dogs
Elegant white design
12 panels for ultimate adjustment
Cons
Lightweight and easy to move by larger dogs
9. Best Plastic: AmazonBasics 8-panel Plastic Dog Pen
With its 8 panels and solid, durable construction, this dog pen from AmazonBasics does everything by the book. The panels are easy to connect together thanks to the pre-designed rods and hinges and can be adjusted to certain shapes – such as rectangular or circular ones. Either way, your pet will have plenty of free space to move around, and won't find it easy to move the robust plastic pen. That being said, the design is a bit robust and will stand out in the home. However, it is ideal for the outdoors and can be quickly folded and tucked away when it's not in use. The frame of this pen is particularly well-built and thick, ensuring that those curious scratches from impatient puppies will have no lasting effects.
Pros
Durable design
Thick plastic frame
Great lockable gate
10. Best for Travel: ESK Collection Pet Playpen
Traveling with your dog can be a challenge. When you are outdoors, you can find it difficult to keep your curious pet by your side. Thanks to this unique outdoor dog pen, you can rest easy. Made with waterproof and durable 600D Oxford cloth material, this pen can endure the wear and tear, provide shade to your dog, and keep them dry! All around are windows covered with breathable mesh screens, which protect your pet from mosquitoes and other insects. Likewise, the bottom is also protected, preventing any critters from reaching your dog. The pen is 100% washable and easy to maintain and relies on quality zippers and velcro to keep everything tightened and stable. And when it is time to go home, this dog pen quickly folds down and fits virtually anywhere!
Pros
Durable and waterproof
Provides ample shade
Easy to assemble and take down
What to Look For in Dog Pens
Your dog needs to feel safe, comfortable, and cozy when in a pen- nothing too constraining or restrictive will do the job. A dog pen needs to fit certain parameters in order to satisfy certain standards and ensure proper safety- here are the most important features to look out for.
Dimensions
Dimensions are crucial. You simply cannot place your dog in a constrained, cramped environment in which they cannot move freely. That's why you want a dog pen that offers plenty of room for movement and exercise. Usually, these are panel pens that can be arranged in any shape and have a large diameter. Height is also very important when dimensions are considered. A pen that is too low won't stop an athletic pooch from simply jumping over and escaping to freedom.
Stability
Stability is perhaps the most important feature of a dog pen. Without it, even a puppy can move the pen around and tip it over in order to escape. Look for pens that are made from durable materials and that have a robust, thick frame. This adds to the weight and thus stability. You can also make sure that your pen comes with anti-slip rubber pads that add to stability even with lightweight pens.
Comfort
Even if the timeout is due to your dog being naughty, there is no need to make them feel uncomfortable or claustrophobic. A dog pen – used for whatever reason – must allow your dog certain comforts. The best way to do this is to include food and water bowls, an adjacent nook, an indoor dog house, or a dog bed, and to allow a lot of room. You can also opt for an outdoor playpen, which keeps your dog secure within the confines of the enclosure but still allowing them to experience the fresh air and the sunlight!
We are committed to finding, researching, and recommending the best products. We earn commissions from purchases you make using the retail links in our product reviews. Learn more about how this works.

Angela Vuckovic
A proud mama to seven dogs and ten cats, Angela spends her days writing for her fellow pet parents and pampering her furballs, all of whom are rescues. When she's not gushing over her adorable cats or playing with her dogs, she can be found curled up with a good fantasy book.
More by Angela Vuckovic
Published November 23rd, 2021 12:00 AM