53 Views
Best Father's Day Gifts For Dog Dads
September 15th, 2021 12:00 AM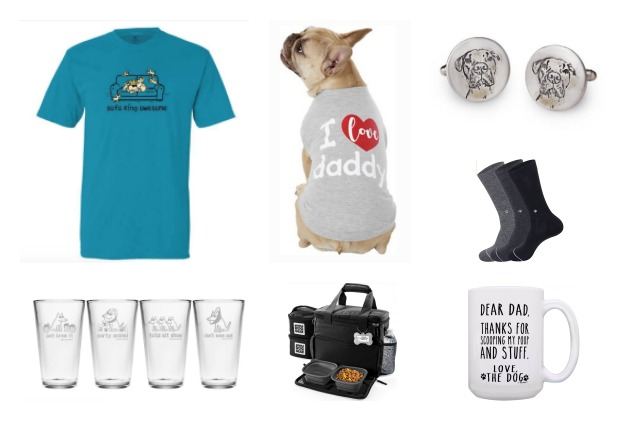 We want to make sure Dog Dads feel the love. It's easy to do when you check out the best Father's Day gifts for Dog Dads.
Dogs and their dads. They go together like peanut butter and treats. So you want to make sure your favorite dog dad gets his due share of love this Father's Day. You may be wondering just what to get your favorite dog dad, but wonder no more. We've rounded up our favorites and we know that the dog dad in your life will wag his tail in delight. Well, maybe he'll just give a hearty, "Thanks!" but you get the drift!
1. Editor's Pick: The Dogfather T-Shirt
Nothing makes a better gift for that special dog dad in your life than a T-shirt he can wear every day, especially one sporting a pun (or dad joke, if you wish). Made in the USA from soft and durable ringspun, 30/1 fine jersey knit cotton, this T-shirt boasts a slightly tapered fit instead of the boxy classic one – perfect to show off that dad bod. The design is drawn and screen printed (silk screened) with QCM screen printing inks, so it is cracking-resistant, vibrant, and won't fade even with time. The shirt comes in medium, large, extra large, 2X-large, and 3X-large to suit all body types.
2. Runner Up: I Love To Lick Your Face And My Butt Notebook
Let's just be real. Cards are funny, but once you've read them, they're done. That's why instead of a card, we suggest you try giving the special dog dad in your life one of these oh-so-handy notebooks. The sentiment couldn't be more true (and a little gross, but whatevs, it is what it is) and it'll bring a laugh to dad's face. Which we guess he may need as he realizes where that dog tongue is on the regular.
3. Best Dog Shirt: Parisian Pet I Love Daddy T-Shirt
What better way to show some love for the dog dad in your life than to have their pup walk into the room rocking this 'I love daddy' t-shirt? Made from soft, breathable 100% cotton material with an embroidered message, this shirt will stand up to daily wear and tear. It's comfortable enough to be worn for a short photoshoot, a fun Father's Day celebration or even all day. The message itself applies regardless of the time of year, making it an option that you can reuse over and over in the future.
The shirt is available in a wide variety of sizes ranging from XXS for dogs 3lbs and under up to 5XL for dogs up to 140lbs. However, the company does warn that their sizing runs small, so you should take the time to do proper measurements and consult the sizing chart before purchase.
4. Best Personalized: Personalized Puzzle

You're probably doing tons of puzzles anyway, so why not make it a puzzle the dog dad in your life really wants to do? This personalized puzzle is one that you'll want to put together again and again, particularly because you'll be seeing your favorite furbaby picture every time you do.
5. Best Hat: Hatphile Pre-Washed Soft Embroidery Dad Hat
When you're walking your pet in the sun, you'll need something to keep your head cool, so what better than a baseball hat that shows off your papa pride? A great gift for an outdoorsy dog dad, this adjustable strapback cotton hat feels comfortable and looks stylish – the embroidered "dog dad" logo is not flashy but rather discreet and elegant. There are several neutral colors to choose from to make sure you really nail the style of the gift recipient to the every last detail. A practical and thoughtful gift any dog dad would appreciate!
6. Best for Campers: Week Away Travel Tote Bag
What's a dog dad and his best girl or boy like to do together? Why get away, of course. That's why the dog dad in your life needs to have Mobile Dog Gear's Week Away Travel Tote Gag. It's exactly what dog dads need when they're taking time on the open road with their pups. It'll keep a week's worth of everything at your fingertips, and make it possible for you to have some epic memories with your dog. The set includes two bags, two lined food carriers, two collapsible silicone bowls, a placemat, and a luggage ID tag. To boot, there are four colors to choose from and two sizes – medium and large.
7. Best Pajamas: Custom Photo Pajamas
Nothing is more revealing about a dog dad than with whom he sleeps. So, how about help a dog dad out and make sure he's got his dog with him as he heads into dreamland every night. These customized photo pajamas are sure to be a hit, and they're soft and machine washable for easy care too. The perfect way to end every dog dad's day.
Is it really even Father's Day if you're a dad who doesn't get a mug? Nope, it's not. That's why every dog dad needs to have this one. It thanks dog dads everywhere for dealing with (and picking up) all the crap in the world, and that's a thanks worth noting every time dad takes a sip. Its capacity is 15 oz, and it is dishwasher safe – but heck, your dog could probably even lick it clean (enough) for you too.
9. Best Cufflinks: Custom Pet Portrait Cufflinks
Want to really go gaga for that special dog dad? This is the way to do it. Designer Erin Harris will take the gorgeous dog photo you submit and create the image to a customized rubber stamp. That stamp is used to emboss the image on the silver cufflinks, meaning your best pal is with you everywhere you go, and even better? The stamp comes with, so you can personalize cards and notes as well. They're handmade in Vermont, and definitely for the dog dad with a finer taste.
10. Honorable Mention: Me and My Pet Drinking Set
Why not end the day with a special celebratory drink (or two) for dog dads and their good boys (or girls)? This adorable Me and My Pet Drinking Set is the perfect way to do it. It includes a canvas dog toy for Fido and a beer glass for the special dog dad in your life. It'll bring new meaning to staying in and throwing one back this Father's Day. The capacity of the glass is 16 oz, and it's dishwasher safe, as well.
We know dog dads love their pups (and vice versa) every day of the year, but this Father's Day, check out some of these fun gifts to let them be just a bit extra. After all, you know these are all things dogs would buy themselves if they just had opposable thumbs!
We are committed to finding, researching, and recommending the best products. We earn commissions from purchases you make using the retail links in our product reviews. Learn more about how this works.

Published September 15th, 2021 12:00 AM