640 Views
November 20th, 2021 12:00 AM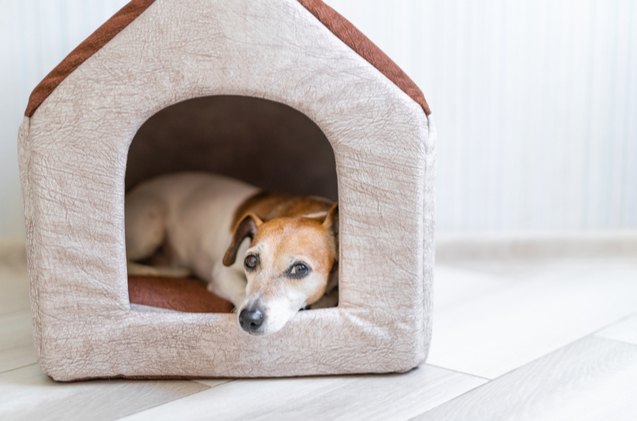 An indoor dog house will give your pet a safe, cozy nook to retreat to when they want some peace and quiet. From plastic and wooden houses to soft-sided and portable indoor houses, you'll find a perfect match for your pooch in no time.
No matter how much they love us, our dogs sometimes need to have a moment for themselves. And when they want to retreat and relax, there's nothing better than having their own indoor dog house to curl up in. Unlike outdoor dog houses, which are designed to give shelter from the elements, indoor dog houses are imagined as cozy nap spots for pets that crave privacy. If your dog finds respite underneath the table or in a crate or seeks solitary spaces when there's a lot of people around, an indoor house will certainly be something that they'll immensely enjoy.
Indoor dog houses come in many different designs so they suit the various unique needs of dogs and their owners. There are quaint little wooden houses that are both decorative and practical, or beds made to resemble a house, and even portable dog houses you can zip up and take with you when you travel, so your pooch has a safe haven in an unknown environment. Whatever the case may be, you will easily find a match for your preferences and requirements- to make your job even easier, we've carefully selected the best indoor dog houses based on their quality, design, and practicality. Read on and make your pick!
1. Editor's Choice: PawHut Wooden Decorative Lockable Dog House
Well-made, beautifully designed, and practical to use, this indoor dog house has everything you need and more. Made from solid fir wood with a water-resistant paint finish, it rests on 4 solid legs with protective pads, so your floors won't be scratched and your pooch will not be lying directly on the cold ground. Both the top and the bottom are removable for easier access when cleaning, and since the top is solid enough, you can keep your pet's supplies such as toys or food, on top of it. To boot, this dog house is also lockable, so you can close the wire door if you need to shortly contain your pet for whatever reason. PawHut Wooden Decorative Lockable Dog House comes in size large and suits medium dogs up to 66 lbs.
Pros
Handle on both sides for easy carrying
Modern and durable
Lockable door
Openable top and removable bottom for easier cleaning
Cons
The paint job could be neater
2. Runner Up: SONGWAY Pet Bed House
Multifunctional and comfy, this pet house will be useful to your pet and you both: it doubles as a stool for sitting and a cozy little house for your four-legged bestie. Made from thick and durable solid wood particle boards, it features cute little cutouts in the shape of trees, windows, and paws- these are not just for aesthetics purposes, as they also allow air to freely circulate inside the house. It includes a reversible cushion with a removable, machine-washable cover and a seat cover for the top of the house if you want it to double as a sitting place for you. SONGWAY Pet Bed House measures 23.6" by 16.5" by 15.4" and is suited for toy and small breed dogs.
Pros
Doubles as a stool
Cushion included
Raised bottom to regulate temperature
3. Customer's Choice: Best Supplies Portable Indoor Pet House
A simple but tried-and-true design, this soft-sided plush indoor dog house will provide a warm, comfy, plush place for your doggo to snooze in. Made with high-quality poly fabric and soft poly-foam lining, this cozy little house offers privacy and a supportive cushion your pet can sleep on- and what's even better, the whole house is fully machine washable so you won't have any trouble keeping it clean and fresh-smelling for your pet. This plush indoor dog house also comes in 3 designs you can match to your interior decor- brown with stripes, silver with bone print, and beige with bone print. Best Supplies Portable Indoor Pet House measures 16" by 16" by 14" and will suit toy and small breeds.
Pros
Machine washable
Soft and comfy
3 color options
4. Best with a Balcony: Giantex Pet Dog House
If your dog spends afternoons staring through the window, placing an indoor dog house with a balcony underneath one will be a perfect solution! Not only do they get shelter from the household commotion and a safe spot to nap in, but they also get their very own lookout point from where they could comfortably observe their little kingdom. Made of fir wood and treated with natural color stains, this dog house features a side ladder, raised roof, and a balcony bed, and a cozy interior of the house for privacy. Giantex Pet Dog House comes in the size extra large which suits small breed dogs.
Pros
2-story house with a balcony bed
Solid and sturdy
Removable bottom floor
5. Best for Small Dogs: Alpha Dog Series Indoor Plastic Dog House
Designed for petite pooches, this cute little indoor dog house will give your tiny doggo a comfy place to snooze away the day. Made from high-quality, durable plastic, it is both lightweight and sturdy at the same time- and easy to clean, too. You can put any cushion or dog bed your pet already uses inside it to make it cozier and more familiar, which is great if your pet already has a favorite snooze pot they would not be willing to part with. The cute dog-themed cutout will allow free airflow inside the house and help regulate temperature year-round. There are three colors to choose from- pink, blue, or brown, so you can match the house to your preferences. Alpha Dog Series Indoor Plastic Dog House measures 23" by 18" by 22" and is a good match for small breed dogs.
Pros
Durable and easy to clean
Spacious and well-ventilated
Cute design
Cons
Assembly can be a bit challenging
6. Best for Large Dogs: BestPet Big Dog House
It can be difficult finding an indoor dog house for large breed dogs as most of them are designed for smaller pooches- but sometimes, outdoor houses can do just fine as an indoor option if you have a big doggo. Strong and durable, this big plastic dog house is easy to assemble and will be more than spacious enough for your dog to cozily curl up in, as long as they are under 100 pounds. And as an added benefit, if you want to switch between outdoor and indoor use, you can, because this dog house is fully waterproof and resistant to the elements. BestPet Big Dog House comes in 3 sizes, with the largest being a match for large dogs.
Pros
Sturdy and durable
Waterproof- can be used indoors and outdoors both
Suits dogs up to 100 lbs
7. Best Tent House: Livebest Canvas Teepee Tent for Dogs
An indoor dog house doesn't have to have a conventional design: a dog tent or a teepee can be a perfect alternative to a standard classic dog house design. Made from durable cotton canvas and natural wood, this dog tent house is made from pet-safe and eco-friendly materials that won't look out of place in any interior. The tent also comes with a soft, plush cushion inside it, so you'll get the coziest sleeping nook ready from the get-go: all your pet needs to do is curl up and nap. Easy to assemble, Livebest Canvas Teepee Tent for Dogs measures 17" by 21.7" by 20" and will fit toy breeds and small dogs.
Pros
Unique design
Pet-safe and eco-friendly
Natural materials
8. Best Soft House: Ushang Pet Indoor Dog House
Perfect for those dogs that just want to be snug as a bug when they sleep, this plush soft-sided indoor dog house will give them privacy, comfort, and a sense of safety. The bottom of the house is made from Tempurpedic memory foam that will feel like a cloud to sleep on and also provide proper support to your dog's body. This is particularly great for senior dogs and those that experience joint pain as the foam will relieve pressure from key stress points. Fully foldable and machine washable, this indoor dog house is easy to store away and keep clean. Ushang Pet Indoor Dog House measures 21.5" by 18" by 17.5" and fits small and medium-size dog breeds up to 45 lbs.
Pros
Foldable
Machine-washable
Tempurpedic foam for superior comfort
9. Best Portable: Petsfit Travel Pet Home
Just because you're on the go, it doesn't mean your pooch won't crave a safe little nook to retreat to- if anything, they will want it even more. This travel pet home is perfect for hotel rooms, Airbnbs, or weekends at the in-laws: it's easy to pack, easy to unfold, and gives your pet privacy and peace wherever you happen to be. The construction is made from a solid steel frame and the fabric is breathable, easy to clean, and waterproof so you can count on this indoor dog house to be durable. It has two zipper doors and one top entrance, so you can easily customize access points to your preferences. Petsfit Travel Pet Home comes in grey or black color and small, medium, and large size.
Pros
Portable and convenient to use when traveling
Easy to clean and store
Durable and well-made
Cons
Not for aggressive chewers
Does My Pet Need an Indoor Dog House?
You might be wondering if an indoor dog house is really something you need to spend money on- if your pet lives with you in your house, why would they need a miniature version of their own? Well, some dogs find comfort and safety in small, enclosed spaces they can curl up in and be on their own while still not isolated from the rest of the household. This is due to the fact that wild dogs were once denning animals, who brought their young to the world in small hidden dens, and for many dogs, the feeling of safety is closely related to that instinct. Nothing feels safer and more soothing than those first days of puppyhood, snugly curled up with their mom and siblings. This is why crating is often recommended for dogs with separation anxiety, not just because it prevents them from hurting themselves or destroying your valuables, but because a cozily furnished crate can induce a sense of calmness to a degree.
An indoor dog house is a great alternative to big, obtrusive crates that you or your dog might not be so fond of. If you don't have a need for a crate (e.g. your dog is not destructive in your wake or aggressive towards people or other animals), you can reap the benefits of small indoor dog houses: your dog will get a small, cozy nook where they will get to unwind and relax when they need a time out from their environment, and you'll get to choose a design that actually complements your interior and doesn't stick out like a sore thumb. Sometimes, these designs also allow you to use the same house when you go traveling, or outside, as a shelter for your dog when they spend the day exploring the backyard. Indoor dog houses are versatile and practical- and most pooches will love napping in a cozy nook of their own!
We are committed to finding, researching, and recommending the best products. We earn commissions from purchases you make using the retail links in our product reviews. Learn more about how this works.

Angela Vuckovic
A proud mama to seven dogs and ten cats, Angela spends her days writing for her fellow pet parents and pampering her furballs, all of whom are rescues. When she's not gushing over her adorable cats or playing with her dogs, she can be found curled up with a good fantasy book.
More by Angela Vuckovic
Published November 20th, 2021 12:00 AM