58 Views
December 7th, 2021 12:00 AM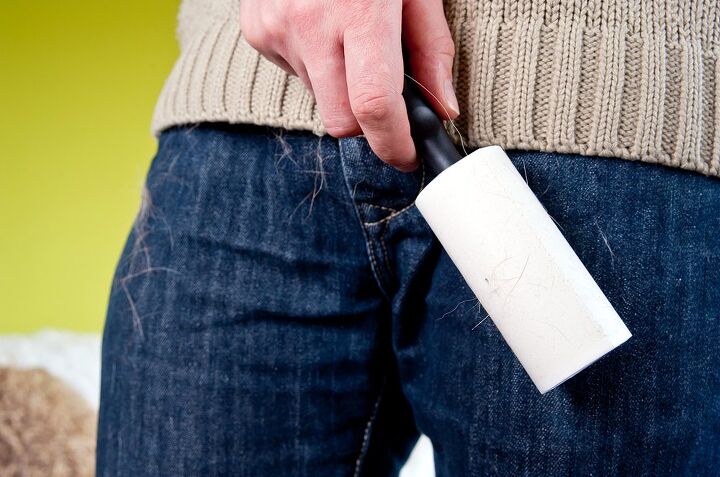 Pet hair removers are designed to make the lives of pet parents easier – as their name suggests, they efficiently get rid of hair from clothes, furniture, or carpets.
Nothing annoys pet owners around the world as much as loose pet hair! Cats, dogs, and rabbits – among other pets – can leave tons of their loose, shed hair all over your house. That hair ends up on your best clothes, your pricey carpet, and your bed too. No one likes that! In order to make this issue a thing of the past, you'll need an efficient pet hair remover.
These gadgets come in a variety of shapes and sizes, but their role is always the same. Whether you opt for lint rollers or rubber gloves, you can easily scoop up all that loose hair and dispose of it with zero mess involved. Here is a list of the best pet hair removers that are making the lives of pet owners around the world so much easier!
1. Editor's Choice: ANALAN Mini Pet Hair Remover
This nifty and unique design is a superb handheld tool for quick and easy pet hair removal. Thanks to its smart concept and small size, it is great to have in your bag, your pocket, or in the car. Featuring a roughly triangular design, it is held via the large hole in the middle. Each one of its three sides features a different-sized rubber "comb". The one with the tiniest teeth is ideal for a thorough cleaning, while the two other ones are great for large surfaces and moderate cleaning respectively. Of course, the best results occur when you use each of the three gears, one after another. That way, you will remove every single pet hair and ensure a clean surface. Another great feature is the fact that sharp angles of this triangle can easily fit into hard-to-reach nooks and crannies, ensuring a thorough clean.
Pros
Three different brush densities
Simple to use and easy to carry
Sharp angles for easier cleaning
2. Runner Up: Mospan Uproot Lint Roller
You really can't go wrong with a classic, proven design. This simple but efficient lint cleaner will easily scoop up that loose pet hair from any surface – your clothes, the sofa, the carpet, or the pet bed. The design features a sturdy and ergonomic wooden grip, a durable metal frame, and a pair of 13 centimeters wear-resistant teeth that will clean the hair quickly and efficiently. For the best results, the hair remover is to be used at an angle. One great aspect of this design is the fact that it does not leave a sticky residue, and it's super simple to clean. What is more, it can be quite thorough, even on the first clean-through! This makes for a welcome change in comparison to some other designs.
Pros
Classic design
Long-lasting metal teeth
Efficient hair remover
Cons
Could damage delicate materials
3. Customer's Choice: PetLover Extra Sticky Lint Roller Pet Hair Remover
These classic lint rollers have been around forever. And that's all thanks to their proven and reliable design. This multi-pack includes two separate lint rollers and three replacement refills. Each roller head features 90 sticky sheets with super adhesive properties. These extra sticky rollers will scoop up loose hair from your clothes in just a single swipe. The nifty handles are designed in such a way as to provide simple use and effortless 360-degree rotation. Once the sticky sheet is filled with hair, simply remove it and you're ready to roll again. These rollers are great to have in your home and will work great on almost all surfaces, including your clothes, the bed, carpet, and sofa. Great to get you out of a sticky situation.
Pros
Reliable design
A total of 450 sticky sheets
Simple to use
4. Best for Carpets: Conliwell Rubber Broom Pet Hair Remover
Conliwell offers you this ultimate pet hygiene and hair removal tool! With a number of features and nifty additions, it is the ultimate household tool. Each of the included gadgets is designed in such a way as to provide several uses. The handheld pet hair remover is a great combination of rubber bristles and a flat rubber hair remover. You can use it for effective cleaning of your clothes, but also to brush off some of those excess hairs on your pet. The added broom head has an adjustable handle and can be used as an excellent accessory to clean all those shed hairs around the house, particularly those embedded in carpets. Additionally, you can use the included squeegee to quickly mop up those accidental spills. A true multi-tool, this pet hair remover is a must-have around the house. It is especially handy in households with several pets. With this tool at your side, loose hair will be a thing of the past.
Pros
Several tools in one product
The rubber brush is great for gathering pet hair from carpets
Adjustable handle
Cons
Difficult to use on pile carpets
5. Best Reusable: Brellavi Double Sided Pet Hair Remover
Brellavi's super smart concept is the latest and greatest in the world of pet hair removers. A smart, easy-to-use design, it features a handheld double-sided cleaning surface that makes tidying up a breeze. This simple paddle design features two sides of a plush, patterned adhesive surface that quickly scoops up all loose hair. For the surface to actually work, you need to follow the direction of the arrow that is on the handle. When the cleaning is done, you can use the included cleaning base for quick and easy disposal of the loose hair. The base has a container, which allows you to easily dispose of all the gathered pet hair. Simple, smart, and efficient, this unique pet hair remover is a nifty thing to have close at hand.
Pros
Double-sided cleaning surface
Self-cleaning base
Strong adhesive surface
Cons
The flat handle makes 90-degree cleaning impossible
6. Best for Furniture: Youdiwadi Pet Hair Removing Brush
There's no need for bulky and complex designs to get the job done! This simple, straightforward design is as ordinary as can be, but it's surprisingly and extremely efficient at removing pet hair. Reminiscent of a comb, this easy-to-use handheld design will scoop up hair in moments. An ergonomic and durable plastic grip contains two toothed rubber flaps that work in unison to grab any loose hair you encounter. Just a few swipes and you are left with a spotlessly clean surface. The sticky rubber is great for a number of surfaces but works best on textiles, such as upholstered furniture or clothes. The two rubber flaps are toothed differently: the tiny "comb" thoroughly cleans any surface, while the bigger "comb" holds all that hair in place. When you are finished, you can easily remove the hair by hand, and simply wash your hair remover. Simple and reliable!
Pros
Super easy to use
Efficient
Easy to clean
Cons
Covers a small surface due to its size
7. Best Hair-Removal Gloves: DELOMO Hair Remover Glove
What better way to get rid of loose pet hair than to remove it directly from your pet?! This nifty cleaning glove is the ideal way designed exactly for that purpose. The glove itself is made from elastic spandex cloth and features sides made from breathable mesh cloth. The size is universal and features a velcro strap for a tight fit. On the palm is your secret weapon: a rubber surface covered with 255 silicone tips that grab loose hairs. Using this glove can't be simpler – just stroke your dog as you ordinarily do. The silicone tips will massage and soothe your doggo, and relieve them from all that loose pet hair that they carry. This glove is a great preventive measure, scooping up the hair before they have a chance to land on your clothes or your carpets, but it's not the only thing it does- it is surprisingly effective for cleaning hair from carpets and furniture, too. A 2-for-1 design!
Pros
Super easy to use
Multifunctional- pet brushing and hair removal from various surfaces
Thorough hair removal
9. Best Self-Cleaning: Nado Care Lint Roller
This unique design aims to bring the classic lint roller to a whole new level. At a first glance, it looks like a standard handheld lint roller with a handle. But it's so much more! Its secret lies in a special container that holds all the loose hair and allows you to clean everything easily and with zero mess. This roller utilizes a special brush that has no adhesives, sticky tapes, or a power source. Once you are done cleaning, you can simply remove the protective covering and dispose of all the gathered hair. This hair remover is easy to use and utilizes a set of specially designed brushes. All this makes it a reliable, super simple, and self-cleaning roller that every household needs to have.
Pros
Zero mess pet hair removal
Easy to clean
Great handheld design
Cons
The brush surface could be larger
10. Best for Clothes: Scotch-Brite Value Pack Lint Roller
Scotch-Brite is definitely a name that holds a lot of importance in the world of sticky lint rollers. This efficient design comes in a nifty value pack and brings you 5 rollers and 475 sticky sheets in total! It boasts a great and ergonomic handle that sits superbly in your hand, and a smooth 360 degree rolling for quick removal of hair. The super sticky adhesive layers are ideal for thorough cleaning of your clothes as they won't rip or damage sensitive fabrics as some other designs would. Once a layer is filled, you can simply tear it away and continue cleaning. Contrary to some other designs, the Scotch-Brite tape tears away down to the very last layer. And that makes it a true value pack. Simple, efficient, and small, this pet hair remover is a must-have to have around your house, in your purse, car- anywhere.
Pros
Great value for money
Easy roller replacement
Won't damage sensitive fabrics
Super sticky
Cons
Not great for carpets or beds
What Are the Best Pet Hair Remover Designs?
When you consider purchasing a pet hair remover, you are quickly faced with an issue: there are so many unique and different designs out there- which one to choose? The truth is that each one has its pros and cons, and some might work better for you than others. These are some of the best and most reliable designs you can opt for- yours is just to pick one!
Rubber Hair Removal Glove
Pet hair remover gloves are perhaps the most popular and simplest designs out there. They are so simple to use! Just put the glove on and stroke your pet like you always do. It soothes you, soothes your dog, and removes all that loose hair straight from the source! But what not many people know is that rubber gloves can also be used on clothes and furniture with great efficiency- a truly multifunctional design!
Lint Roller
The tried and tested lint roller design is arguably the best and most popular choice for pet owners around the world. A simple design, the lint roller utilizes a series of super sticky paper layers that scoop up loose hairs at the first contact. These rollers are especially great for your clothes and the sofa, but might not be as efficient on the carpet.
Reusable Lint Brushes
If you want something that functions similarly to a lint roller but don't want to use a disposable pet hair remover, reusable lint brushes are the way to go. Usually lined with velvety, hair-attracting materials, these lint brushes gather the hair from your clothes and furniture with ease, only to be removed with one movement of the hand before being disposed of. You can reuse these time and time again, making them both eco-friendly and budget-friendly.
We are committed to finding, researching, and recommending the best products. We earn commissions from purchases you make using the retail links in our product reviews. Learn more about how this works.

Angela Vuckovic
A proud mama to seven dogs and ten cats, Angela spends her days writing for her fellow pet parents and pampering her furballs, all of whom are rescues. When she's not gushing over her adorable cats or playing with her dogs, she can be found curled up with a good fantasy book.
More by Angela Vuckovic
Published December 7th, 2021 12:00 AM