69 Views
November 25th, 2021 12:00 AM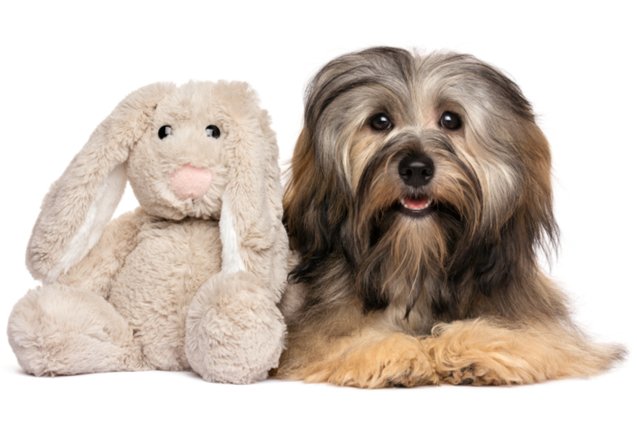 Plush dog toys are a favorite of many pooches- they can be fetched, cuddled with, or used to engage your pet's innate hunting drive. Take a look at some of the best, most durable plush dog toys on the market!
Our fluffy friends deserve a lot of our love and attention – and this should include plenty of fun and games. It does not take a whole lot to get your pupper into play mode – but it might take some crafty solutions to keep their attention occupied! And if you have a busy schedule or are simply preoccupied, this might seem like a big challenge. So how do you keep your pup comforted and entertained when you are not around? Well, we're here to help out. In our latest buying guide, we will help you find the best plush dog toys on the market! With these cute, snuggly, and entertaining toys, your pupper will quickly find a new source of entertainment. But the choice is never simple! A proper plush dog toy needs to be durable, safe, and unique – all of which are not easy to spot. Not to worry though, we are going in detail about the important aspects you need to consider, and all the crucial benefits these toys can bring to your pet and you!
Keeping your dog occupied, stimulated, and entertained is a very important part of a healthy daily routine. Unspent energy can have a negative impact on your pet and their mood and can cause some serious issues such as anxiety, destructive behavior, and apathy. And these are never a good thing to happen- and it can take a lot of work to eliminate them. But with a nifty little toy, you can easily keep these things at bay in the first place. Depending on your pet's mood and character, a plush toy can act as a tossing toy, or simply as a cuddly thing to give them some comfort when you're away! For dogs, anything goes. You can also stimulate their natural drive for hunting and playing fetch with a special sturdy plush toy and achieve hours of entertaining play that will mentally engage your pooch. And when he's efficiently spending all that pent up energy is a great way to make your own life easier as well! No more torn up furniture and mess around the house when you come back from work. Instead, you can spot your pooch happily immersed in some play with their toy, or simply snoozing with the plushie in their embrace. Getting them used to plush toys can be a big part of an overall training method that reduces separation anxiety and benefits your pup on a long term basis. So join us as we go step by step over the best plush dog toys on the market and their key benefits!
1. Editor's Pick – ZippyPaws Skinny Peltz
Just as the name suggests, these plush toys really resemble natural pelts. One thing that sets them apart is the fact that they have no filling. This makes them more durable and great for rough playing. Skinny Peltz come in a set of three– fox, raccoon, and squirrel – and each one will get a great natural response from your dog. And even though they have no stuffing, they still contain funny squeakers that will make a pupper go wild for 'em. These toys are also great for games such as tug of war since their elongated shape can withstand that pressure.
2. Runner Up – Sedioso Plush Dog Toy
This cute little fox toy from Sedioso is really a unique choice on the market. And this innovative design combines many elements to deliver a one of a kind toy! The toy is made from natural, safe woven cotton, with four sturdy rope knot legs, which adds a lot to the overall durability of this toy. There is also an added waterproof layer inside, which keeps drool and moisture out of the filling and thus contributes to cleanliness and safety- no nasty bacteria or mold that can develop deep inside the fill. Furthermore, the built-in squeaker is a great stimulant. This toy is perfect for games of fetch or tug of war with the added rope legs. A really smart design.
3. Best Interactive – ZippyPaws Woodland Friends Burrow
Interactive plush toys are not often found, but there are some great designs- they are a fantastic way to engage your pet in some creative thinking and fun. They are also good for several dogs to engage in play together. This ZippyPaws Woodland Burrow toy is one of the best interactive plush toys out there. The soft plush log has special holes in which you can hide 3 squeaky chipmunks. Your dog(s) will have fun finding them and taking them out of the hole – something they have natural instincts to do. You can also choose from three different versions – Chipmunk and Log, Hedgehog Den, and Chipmunk and Acorn.
4. Best Durable– goDog Dragon with Chew Guard Technology
OK, so your pooch can get a bit ruff with his plushies. As long as they are not completely destructive and left without supervision, that doesn't mean that they don't get to enjoy a soft cute toy as well! The goDog Dragon toy is more durable and rugged than your regular plushie: it boasts chew-resistant lining and double-stitched and reinforced seams to prevent your pupper from ripping it with ease.
Even though the toy is quite tough, it still offers the same plush feel like any other soft toy, thanks to the textured bubble material. The dangly limbs will entice the pooch to play and make it easy to carry around in the mouth, even if your dog is small. And, pssst, there's a squeaker inside it, so you already know your pet will go bananas for it! This dragon-shaped plushie comes in coral pink and lime green, so you can choose the style your pet prefers more (or, if we're being honest, the one you prefer seeing around the living room).
5. Best Squeaker – Multipet Look Who's Talking Toy
It's no secret that unique natural sounds will even greatly entice your pet into playing. A perfect way to pique your pet's interest, this Multipet Piggy plush toy is cute, fluffy, and tough. It includes a built-in squeaker that emits a realistic pig grunt. Washable material and smart stitching add to the longevity of this toy. A basic and affordable choice that still boasts good quality.
6. Best Crinkle – SHARLOVY Dog Squeaky Toys
Sounds get pooches going – a squeak here and a squeak there and they go wild with enthusiasm! But what if you could improve upon the squeaker toy design? SHARLOVY Dog Squeaky Toys don't just squeak when pressed, but they also crunch and crinkle as the toy is filled with crinkle paper rather than fluffy cotton. This is also a great solution if you are worried your pet will get to stuffing and swallow it.
Each pack includes 3 cute and colorful crinkly toys: a lepoard, a cow, and a pig. Cute and fun without the risk of spilled stuffing- who says you can't have it all?
7. Best Classic – KONG Teddy Bear
You can't have a list of plush dog toys without the good old Teddy Bear. The KONG Teddy is a fantastic and cuddly plush with a unique aspect to it – no filling! And even despite the lack of fill, this brand managed to deliver a perfectly cuddly plush teddy, with a clear emphasis on durability. It is made from quality, non-toxic materials, with minimal use of stitching in order to make it stronger and more resistant to tears. The teddy is covered with soft fuzzy fur. It also has a built-in, easy to replace squeaker which became so popular with all plush toys. An affordable and great toy for your pupper.
8. Best Pull Toy – Multipet Swingin' Plush Toy
Multipet found the perfect design in which to combine a fluffy plush toy with the fun elements of rope toys. This 22-inch large dog toy has the shape of a giraffe – but with very long and swinging arms and legs. This gives it a lot more appeal-with the swinging appendages just making things more fun for your doggo. They are also great for games of tug of war. The Multipet Swingin' also squeaks- just in case you were worried that this gangly design wouldn't be fun enough for your pooch.
9. Best Realistic – Walter The Wabbit Tuff Dog Toy
Dogs have a strong, natural hunting instinct, and that makes them love all sorts of toys and faux fluffy animals. Walter the Wabbit is a somewhat realistic toy shaped like a rabbit. Measuring 12 inches in length, it is made from a unique ultra plush outer fabric with an added durability with the Tuffweb mesh lining inside. It is filled with polyfill for great shape and softness. Dogs will easily go crazy about this toy, especially because of its realistic look that wakes up those natural instincts to play and fetch. Or, you know, the fluffiness might make them crazy for this wabbit's cuddliness. It can go either way, really.
10. Best Burrowing – ZippyPaws Food Buddies Burrow
ZippyPaws once more wow us with a great interactive plush toy that is certain to keep your pet occupied for hours on end. The Food Buddies Burrow comes in several distinct versions: Coffee and Donutz, Milk and Cookies, Popcorn Bucket, Blueberry Pancakes, Bucket of Chicken, and Strawberry Waffles. Hide the plush toys into the holes and watch as your pet searches skillfully for the right location. Great for new games and new ways to have fun.
Features to look for in plush dog toys
At first glance, purchasing a plush toy can seem like a simple and straightforward task. But if you fail to consider some important features, you risk wasting your money and failing to entertain your pooch- which was the objective in the first place. A plushie needs to check some important boxes in order to be fun, durable, and safe- all in one design. Needless to say, a pupper will quickly subject the toy to all kinds of doggy love – from carrying it in his mouth to chewing, all the way to tossing and throwing, possibly in the backyard. That's why durability is right there at the top. Also, you shouldn't hesitate to splurge a bit and treat your pup to a high-quality plush dog toy! These will not only last longer but can also come in some unique, puzzling designs that can keep attention for much, much longer. At the end of the day, you know your pet the best so you'll know what they'll like- and with our help, you'll also know what features to look for in plush dog toys.
Durability
One of the most important aspects of most dog accessories is – durability. A quality plush toy needs to be made with tough materials and cleverly designed in order to maintain its form for a long time and to withstand the rough love of a pupper. The cheapest toys are often the first to go – the dogs either get through it and destroy it, or it loses its shape and form all too quickly. Always look for tough fabrics, double layers, double stitches, and dense filling. This way you can ensure your money's worth and long and satisfying use.
Size
As most pet toys, plush ones also come in a variety of shapes and sizes. But with that being said, you would want to make an appropriate choice – always guiding yourself by the size of your dog's breed. For larger and energetic dogs, a bigger toy will always be a more adequate choice. The opposite goes for small puppers – they simply cannot play effectively and easily with a toy that is bigger than their bite. And if you give your big dog a tiny toy – they will quickly destroy it. Luckily, most brands offer a good variety of sizes for all their toys – so be mindful of the dimensions.
Style
Designers and brands today are really using their potentials to create and offer new and unique styles and designs that can captivate your pet's attention for a much longer time and also stimulate a healthy and innovative use of their brain. Multi-part toys, puzzle designs, and goofy plush animals will without a doubt get your pet into play mode – and quick! You can also experiment and get to know your dog's character a bit better. Just like people, not all pets are the same. Some will love to utilize their natural drives, while others will love a cuddly snooze toy. If you're unsure which category your pet fits into- don't be afraid to choose randomly, as long as the quality is up to standards.
Filling
Plush dog toys might be more about what's outside- but the interior is important, too. The materials used and the density needs to be just right – in order for the toy to be fluffy and soft, but still to maintain its original shape. Polyfill, cotton and similar materials are used most often. These are non-toxic – in case your pet manages to rip through and pull it out, the only danger is from swallowing and intestinal blockage. The filling won't be leaching toxins while your pet plays, however. There exist also special plush toys that have no filling! These are usually more durable and designed for dogs who really like to play rough. They might not be as fluffy and cuddly as the proper plush toys, but they will surely last longer and bring out that primal instinct in your pet.
Material and cleaning
Plush toys can get messy real fast. Whether you bring them outside or play fetch – they are bound to get dirty at least a little. Drool also accumulates real fast, and in no time your pet is dealing with a grimy and quite stinky toy. Always look for the possibility of a washable plush toy – a quick toss into the washing machine, and the toy is back to being safe and clean. Material is also very important for this. Cheap fabric is easier to stain and harder to clean. But quality materials can not only last you longer, but also impervious to dirt to an extent.
Why is playtime so important for dogs?
Owners often overlook a simple fact related to their pets – they can be susceptible to the same issues as we are. When a dog's daily routine lacks something important – such as attention and playtime – they can easily develop some nasty behavioral issues that can become a big problem in the long run. A pet without proper mental stimulation and human attention can become unhappy real quick – and it can be hard to notice at first. A strong bond and a loving relationship is the highest priority. And playtime is a great part of this. Not only does it keep your pet happy and entertained, but it also encourages the proper brain activity, and utilizes all those natural instincts that all dogs share. With proper activities, engaging and new games, and toys, and intricate rewarding puzzles, you can keep your pet happy and healthy, and all those nasty issues like anxiety, anger, lethargy, and obesity – forever at bay.
And with a careful combination of new activities and a perfectly balanced daily routine, you can not only boost your pet's quality of life – but your own as well. Routines are important for us as well, and spending some enjoyable time out with your four-legged friend can really boost the mood and brighten the day. So don't hesitate – explore new entertaining accessories and find your pet a perfect plush toy. With our little guide, the choice should be as easy as it can be! All that is needed is after that is time for some fun!
Additional Resources
Who are plush dog toys for?
Not all dogs like the same type of toys- and even if your pet likes a certain type of toy it doesn't necessarily have to mean that they are suited for them. Plush dog toys are the best choice for dogs that are not aggressive chewers and know how to play gently- as a destructive chewer could ruin the toy in mere minutes, and not to mention endanger themselves by swallowing parts of the toy or the stuffing. Plush dog toys are also a good choice for puppies or mellow dogs as they don't provide much mental engagement: if you have an active or highly intelligent dog, a plush toy shouldn't be your only (or first) choice.
How should I wash plush dog toys?
A plush dog toy will go through a lot: whether it's gentle chewing, getting dropped in the dirt, or just collecting the dust and "regular" grime, plush toys need to be cleaned regularly. Luckily, plush dog toys can be easily washed by hand or on a delicate cycle in the washing machine, depending on the toy. To keep it clean and pet-safe both, use a dog-friendly, non-toxic laundry detergent or go the DIY route and use vinegar and water (in 1:1 ratio) to disinfect and clean your pet's plushies.
How do you disinfect plush dog toys?
If there's a need to disinfect your pet's toys for their safety and better hygiene, you can always rely on vinegar to kill the germs and the nasties without endangering your pet in the process. Toss the toys in the machine and pour vinegar in place of laundry detergent or mix half water and half vinegar in a basin and wash by hand. Afterward, air dry or tumble dry on low, and the smell of vinegar will dissipate and leave your pet's toys perfectly clean and germ-free.
We are committed to finding, researching, and recommending the best products. We earn commissions from purchases you make using the retail links in our product reviews. Learn more about how this works.

Angela Vuckovic
A proud mama to seven dogs and ten cats, Angela spends her days writing for her fellow pet parents and pampering her furballs, all of whom are rescues. When she's not gushing over her adorable cats or playing with her dogs, she can be found curled up with a good fantasy book.
More by Angela Vuckovic
Published November 25th, 2021 12:00 AM