9 Views
Best Retractable Leashes for Dogs of All Sizes
April 28th, 2021 12:00 AM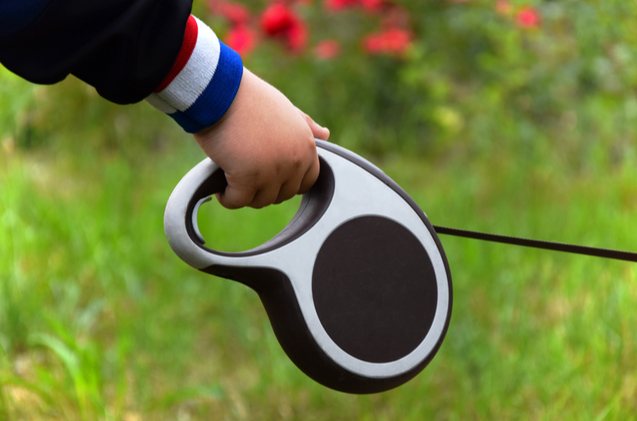 Take a look at our diverse list of retractable leashes for dogs of all sizes, with different features and styles — any pet pawrent can find what they need!
We all want only the best for our pets- and if it were possible, we'd love for our four-legged companions to have complete freedom to run around, explore, and sniff as many butts as their little hearts desire. Unfortunately, for most, letting their dogs walk off-leash is not a plausible scenario. Be it because of regulations in their are or simply because of their dog's safety, walking on a leash is an absolute must for the majority of canines. Traditional dog leashes are always a good option, but retractable leashes for dogs have their advantages and benefits. If you want to give your pet the freedom to walk without feeling restricted and yet have control over their movement and safety, retractable leashes are the way to go.
How Do Retractable Leashes Work?
The way retractable leashes work is that they have a wound ribbon inside the handle that can give your pooch the ability to walk 20 to 30 feet away from you. Almost like there's no leash between you and your pet, letting them explore the world on their own terms. With a click, though, you can control the length of the leash and keep them close to you when the need arises. In a way, retractable leashes offer the best of both worlds- safety and freedom. Of course, that freedom and leisure that pooches have also mean that you have to keep your eyes open for any lurking danger.
If not used with care, retractable leashes can be dangerous in the same way off-leash walks are. Your dog could come face to face with an aggressive dog or run off the sidewalk in front of a speeding car. That's why it's important to be careful when using a retractable leash in the city. Use the locking mechanism to keep your pooch restrained at a leash length of few feet, same as you would with a traditional plain leash. Retractable leashes are ideally suited for hiking and walks in nature, where there are no cars speeding or hundreds of people on the pavement whose legs could get tangled if you let your leash go long.
How to Choose the Right Retractable Leash?
As for the quality and design of retractable leashes, there are a few key factors to pay attention to if you want the best bang for your buck. The handle should not be too heavy and needs to be comfortable to hold- you don't want to be straining your wrists multiple times a day. If your dog is prone to tangling and pulling, you don't want a cord retractable leash that could be painful if wrapped around a leg- opt for ribbon-style instead. Different locking features, reflective fabric, lamps, poop bag dispensers- these are all additional bonuses whose appeal will vary with individual preferences.
We've put together a diverse list of retractable leashes for dogs of all sizes, with different features and styles, so any pet pawrent can find what they need in minutes. Take a look and make your pick- you can't go wrong with either of them!
1. TUG Patented 360° Tangle-Free, Heavy Duty Retractable Dog Leash
Durable, simple to use, and affordable- TUG retractable leash ticks all the boxes for the majority of dog owners. The length of the tape ribbon is 16 feet, which is more than enough for most doggos, and the patented 360 design of the opening makes sure your leash doesn't get tangled when your pooch is running amok. The handle is ergonomically designed to be anti-slip, so it feels good in the hand and gives you a firm grip. TUG locks quickly and easily with one push of a button, so you won't have to worry about your pet getting too far from you when you don't want them to. This retractable leash comes in small, medium, and large, to accommodate dogs from under 25 pounds to over 110 pounds.
2. Tao Tronics Retractable Leash with a Poop Bag Dispenser
When out on a walk with your dog there is one thing that you do not want to be – unprepared! That's why we love the Tao Tronics Retractable Leash with a Poop Bag Dispenser included. The durable ABS plastic handle with an anti slip, ergonomic grip fits perfectly in your hand. It is both lightweight and durable and its nylon leash will extend up to 16 feet. It has a one button system so that you can break, release and recoil with just the move of your finger. The Tao Tronics leash makes your dog's walks easy on you! The core spring works in all weather conditions even in freezing temperatures in case you wanted to try out dog sledding one day. The leash comes with a bone shaped poop bag dispenser already filled with bags so you are always on the ready when your pooch is prepared to do their business.
3. UPSKY Retractable Dog Leash with Flashlight
When it comes to retractable leashes for night walking, it is hard to beat the UPSKY. With its detachable flashlight, this dog leash doesn't only help your pet (and you) be more visible in the dark, but it also makes it easier for you to see your surroundings clearly. The bright light shines directly on your pooch, so you won't have to worry about your pet picking up something nasty in the dark. With its easy lock system, keeping your pet close to you also won't be an issue, as it only takes one click of a button to lock the tape. This illuminating retractable leash is 16 ft long and it's suited for small breed dogs.
4. Unico Retractable Dog Leash
You don't always need tons of tricks incorporated into your leash when you take your dog out for a walk. Sometimes all you need is a great, sturdy retractable leash. We picked the Unico Retractable Leash for its simplicity. Even though it doesn't pack itself with a million pop-up options it does not skimp on the important details. While the leash is made out of durable nylon, we find that the handle is just as important. How good can a leash be if it is uncomfortable or difficult to hold? The handle on the Unico Retractable leash handle is ergonomic, anti-slip and safe to grip. The quick lock, pause and unlock button can be easily engaged simply with your thumb. You can choose the size that is best for your pet as it comes in both a 3- and 5- meter size. The leash will swivel 360 degrees and with the easy retraction you never have to worry about your dog getting twisted up while walking. It gives him the freedom to walk around you without you having to untie and untangle the tableau.
5. URPOWER Upgraded Retractable Dog Leash
In case you don't need whistles and bells and need a reliable, affordable retractable leash for average use, you can't go wrong with URPOWER. The durable nylon tape won't tangle thanks to a 360 degrees rotational system and it will hold pups up to 55 pounds or up to 110 pounds- depending on which of the sizes you get. With this leash, your dog will get 16 feet of distance from you- or less, if you decide to brake or lock with one button press.
6. Idepet Anti-Chew Retractable Dog Leash
For dogs who tend to chew on their leash, a regular retractable leash is not an option. The tape can be chewed through much more easily than a regular leash- which is why Idepet boasts a chain end that connects to your pet's harness or collar. This way, you get the best of both worlds: the flexibility of a retractable leash and toughness of an anti-chew classic leash. And don't let the chain fool you- this leash is really lightweight and feels comfortable in the hand. With 16 feet of length, this retractable leash is suitable for dogs up to 110 pounds.
7. LEMKA Retractable Dog Leash
The innovative design of this anti-slip handle makes it comfortable and convenient, and you'll have a firm grip on your pooch throughout the walk. You can choose between pink, orange, and white for the handle- a welcome variety that meets different personal tastes. But what might be the best thing about LEMKA retractable dog leash is its built-in bright LED bulb that illuminates the path for your pooch and you on night walks. The length of the strap is 16 feet and it is suitable for medium and large dog breeds.
8. Dogness Smart Retractable Leash Kit
The Dogness Smart Retractable Leash kit is more than a retractable leash, it has all the accessories you may want or need during your walks! Bluetooth speaker? Check. LED light? Check. Convenience box? Check. The leash itself has a metal switch constructed from stainless steel that is so durable it can withstand pulling of up to five times of your companion's weight. So, fill up the convenience box with some poop bags or snacks, throw some tunes on the Bluetooth speaker and head out for a night time walk with your LED light leading the way.
9. Flexi New Classic Retractable Dog Leash
A tried-and-true classic in an upgraded version, this Flexi dog leash features a cord with a flat tape ending, instead of flat ribbons like most do. This means that it's less likely to wear out with time, and smoother release and retraction. Rugged and smooth- a winning combo for retractable leashes. However, this also means that dogs who tend to get tangled in their leash are not going to love this one- the cord can be harsh when tightened around a dog's body. Flexi New Classic has 16 feet of cord and suits dogs up to 44 pounds.
10. ThunderLeash Dial-A-Distance Safe Retractable Dog Leash
We're only human- and sometimes it can be difficult to keep your eyes on your pet at all times. Not to mention that it can be near impossible to gauge the distance of the leash! That's why ThunderLeash Dial-a-Distance makes your walks more carefree. You can simply use the dial to set up the automatic point of locking- anywhere between 0 to 15 feet. When your pet gets too far, the leash stops to a halt, forcing them to be right where you want them. This innovative dog leash is designed to support dogs that weigh up to 50 pounds.
We are committed to finding, researching, and recommending the best products. We earn commissions from purchases you make using the retail links in our product reviews. Learn more about how this works.

Angela Vuckovic
A proud mama to seven dogs and ten cats, Angela spends her days writing for her fellow pet parents and pampering her furballs, all of whom are rescues. When she's not gushing over her adorable cats or playing with her dogs, she can be found curled up with a good fantasy book.
More by Angela Vuckovic
Published April 28th, 2021 12:00 AM