960 Views
Best Service Dog Vests and Harnesses for Working Dogs
We're committed to finding, researching, and recommending the best products. We earn commissions from purchases you make using links in our articles. Learn more here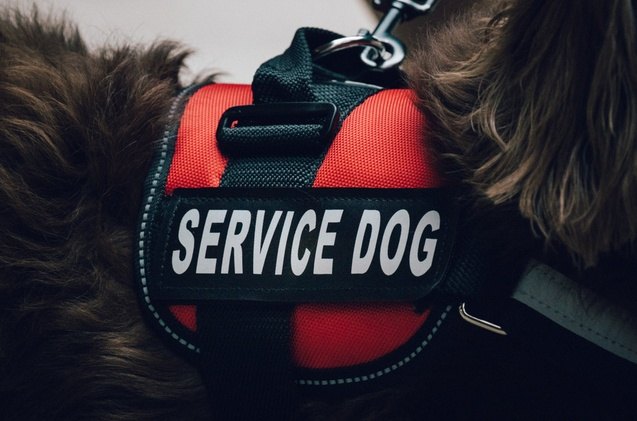 Service dog vests and harnesses send a clear message to the world: your dog is hard at work, do not disturb. If you have a working dog, this type of equipment is a must–so take a look to find out which vests and harnesses for service dogs give you the best bang for your buck.
Dogs are not just our best friends and beloved family members, but they are sometimes our invaluable helpers and assistants. Decades back, service dogs have been helping their human owners (or handlers) have a better quality of life. For people with disabilities, having a service dog can be a truly life-transforming experience, as their four-legged sidekicks help them with all kinds of tasks that would otherwise be too difficult or impossible to do. Unlike regular pets, service dogs have been trained since their puppyhood to do work for their owner, such as guiding blind people or alerting people who have seizures. The role service dogs have in the lives of their handlers is indispensable in more ways than one, which is why these hard-working canines get to enjoy some perks, like full access to places that are open to the public.
As a result, helping the public identify your service dog as such is an important task for you- you want people to know that your dog has to be by your side at all times. Similarly, the interaction strangers should or shouldn't have with service dogs is quite different than that of your regular pooch, so making it clear to people that your dog is at work and not here to get belly rubs from random strangers. Usually, a clear sign that a dog is at service is enough for people to realize what is the proper way to act around them and to make sure their own pets behave, too. That's why most owners of working dogs don't leave the house without a service dog vest or a harness that show the world their four-legged companion's qualifications. Service dog vests and harnesses are a must for any working dog, from seeing-eye dogs to diabetes alert dogs and every service dog type in between.
Of course, in addition to displaying their title, service dog vests and harnesses should tick all of the quality, safety, and comfort checkboxes that regular vests and harnesses do. And there are plenty of factors that should be considered, in addition to the service dog tag. To ensure you'll find the best option for your own dog, we've selected the best that the market has to offer- and put together a comprehensive guide to help you determine what you should look for in service dog vests and harnesses in the first place.
1. Editor's Choice: Industrial Puppy Service Dog Vest
Well-made but affordable, this service dog vest ticks all of our boxes. It is made from breathable, durable mesh with reflective straps for night-time safety and improved visibility. The removable patch clearly marks your pet as a working canine, but it is versatile as well–you might want to change it to one of the add-on patches, such as "no pet" when the situation calls for it. The belly buckle design makes suiting up fast and easy, and the D-ring and top handle give this harness a dual-layer of safety and better control if needed. This service dog vest comes in 5 different colors and 7 different sizes–a match for any doggo!
2. Runner Up: VIVOI Tactical Military Molle Dog Vest
Whether you simply prefer the military style of dog vests or appreciate the convenience of detachable pouches that come with it, this tactical service dog vest will be the perfect match for you. Made from 1050D neatly stitched nylon material with a breathable mesh interior, this vest is comfortable to wear and stands up well to heavy-duty use. The vest comes with patches 'service dog' and 'don't touch', among other useful markings for public outings with your service dog. To boot, you can use the pouches to store medicine or other useful knickknacks your dog can carry for you. Available in medium, large, and extra large.
3. Budget Choice: barkOutfitters Service Dog Vest Harness
If you want something simple, effective, and budget-friendly, this vest harness will do the trick. With no bells and whistles to offer, it still does the job perfectly–with its rubber service dog patches that are easy to clean and, more importantly, easy to spot. The durable but lightweight material makes the vest comfy to wear, and the reflective stitching on the edges ensures that you can still use this harness when it's dark outside. This red service dog harness is available in small, medium, large, and extra large, so every pooch can find a perfect fit.
4. Best Basic: Dexil Limited Service Dog Harness
These innovative service dog vests and harnesses rely on color coding and bold embroidery to send the right signals to people. The service dog title is embroidered in big white letters on several places on the harness, so there is no way anyone can miss seeing that your dog is hard at work. To boot, it comes in colors that signify other important things such as do not approach (red), friendly with everyone (green), and in training (blue). So useful! This service dog harness comes in extra small, small, medium, and large sizes.
5. Best Breathable: PLUTUS PET Service Dog Vest
Finding a service dog vest that will not be too much in the summer heat can be something of a challenge–but this breathable and lightweight vest for service dogs will make your canine companion feel like they are not wearing anything when at their jobs. The mesh lets air through and cools off your dog, while the bright red (or blue, depending on your choice) upper fabric commands the attention to the service dog patch. This easy to put on dog vest comes in 6 different sizes to accommodate for all body shapes.
6. Best Padding: Bolux Service Dog Harness
If your dog prefers harnesses with soft padding, this particular one will be ideal for them. With soft sponge lining the high-quality, tough nylon straps, he will be comfy at all times–and still show the world that he's in your service, rather than just your friendly pet. In addition to the D-ring for leash, this harness also has a handle for when you need a firm grip on your service dog. Bolux dog harness comes in 6 sizes and 7 vibrant colors.
7. Best Pattern: Dihapet Dog Harness for Service Dogs
Why would service dog vests and harnesses be limited to single color choices only? These lively and fun designs show that your service dog can do a serious job while sporting a cute print. With a chest and belly strap for easier taking on and off, this no-pull harness is made from breathable nylon and mesh materials that are suitable for all-season wear. This funky service dog harness is available in 6 sizes and comes in 5 gorgeous prints and an all-black version for those who like the design of this harness but need something a bit more simple color-wise.
8. Best Tactical: Hanshengday Tactical Dog Vest
Not sure that a service dog patch will have people take your companion seriously enough? This tactical dog vest can help remedy that first impression. The military design doesn't just appeal to many handlers, but it also implies a sturdy, robust construction and materials made to withstand heavy-duty use. The 4 quick-release buckles make the process of dressing up a breeze, and the removable patch will inform everyone that your dog is not a pet but a canine at work instead. Hanshengday Tactical Dog Vest comes in medium, large, and extra large.
9. Best No-Pull: Activedogs No Pull Service Dog Strap Harness
This no-pull strap harness is ideal for hot climates or situations where the extra bulk is not necessary. Lightweight but exceptionally durable, it will impress you with its quality. The two service dog patches that come with the harness are easy to see from each side, and if you buy the additional velcro attachable backplate, you can insert an ID in the pocket window or another informative patch for even more visibility. This fully adjustable strap harness can be modified to fit medium, large, and extra large breeds of service dogs.
10. Best Reflective: ALBCORP Service Dog Vest Harness
Whether your dog is accompanying you during daily activities or by your side at night time, they will be seen and properly identified as a service dog in this reflective harness. After all, with reflective stitching all over the tough nylon vest and two side patches, it would be hard not to. With soft mesh padding on the inside, this harness is also one of the comfiest you can get for your dog. You can choose between 4 different colors- the sizes range from extra small to extra large, so no canine is left out.
Service Dogs Vs Therapy Dogs: Types of Service Dogs
You've probably already heard the different terms–service dogs, emotional support dogs, therapy dogs, etc–and more often than not, people use these terms interchangeably even though they don't signify the same thing. There are important differences between officially trained service dogs and therapy dogs, and the need for clear identification is even greater now when there are so many categories to confuse people.
Service dogs are those dogs that are professionally trained to assist people with disabilities. This could mean that a service dog is taught how to recognize a seizure and warn and protect his handler when it occurs, to guide a deaf or blind person, to pull a wheelchair, or even help a person with PTSD calm during an anxiety attack. In a nutshell, service dogs provide service and/or assistance that makes the quality of their handler's life much better. They are categorized as assistance dogs. As a result, there are different types of service dogs, including:
Guide dogs or seeing-eye dogs
These canines are trained to guide low vision and blind people. The most common guide dog breeds are Labrador Retriever, Golden Retriever, and German Shepherd. Often very friendly and smart as companions, these dogs help millions of people around the world. Using their own heightened senses, these guide dogs can help you find a way in the dark.
Hearing dogs
As the name suggests, these working dogs are taught how to alert deaf or hard of hearing people to important sounds such as alarms or doorbells, for instance. With dedicated training, hearing dogs can notice those most important sounds that are crucial for your daily routine, and alert you in time.There are various dog breeds that are trained for these tasks, but the most popular include Poodle, Cocker Spaniel, and Cockapoo.
Diabetic alert dogs
The task of diabetic alert dogs is to notify their handler when their blood sugar is abnormally low or high. These dogs have an uncanny sense of smell that allows them to pick up on body scent that signifies a change in blood sugar levels. Labs, Golden Retrievers, Poodles, Australian Shepherds, and many others can be trained to assist people with diabetes.
Mobility assistance dogs
To help people with a wide range of mobility issues, dogs are trained to retrieve items, open and close doors, offer bracing, and perform various other tasks that provide better accessibility to their handlers. Dog breeds that are usually trained for this role are large and strong, and very friendly too. They are also the easiest to train – as fetch and retrieve are some of the first commands that every dog learns.
Allergy detection dogs
A dog's sense of scent is a million times more powerful than ours, so it doesn't surprise that they are often trained to utilize their potent sniffers to help their handlers. With their superior noses, allergy detection dogs can sniff out allergens and give you a warning that could save you from anaphylactic shock. Dogs are not chosen for their breed primarily, but for their sniffing talents and performance.
Seizure response dogs
For people with epilepsy, seizure response dogs are both protectors and assistants. These service dogs are trained to do a variety of tasks connected to the seizures itself – some will alert other family members that a person is having a seizure, others learn how to protect a person having a seizure or help break the fall. Labrador Retrievers and Golden Retrievers are the most common choices, but there are various breeds that do work as seizure response dogs.
Autism support dogs
Having a service dog can be a great help for kids with autism. These specially trained dogs can keep an eye on an autistic kid and prevent them from wandering off, help them boost confidence, and generally offer assistance in various tasks that will improve the quality of life for the handler. Usually, large dog breeds are trained to assist children and adults with autism. For any person with autism, these dogs can become trusted friends.
Psychiatric service dogs
This is a slightly wider category: psychiatric dogs can help their handlers if they are suffering from post traumatic disorder, OCD, bipolar disorder, schizophrenia, depression, or anxiety. These dogs are not to be confused with emotional support or therapy dogs that are usually not trained to perform their duties. Psychiatric service dogs can sense when their owner is anxious, they are trained to be a calming presence, and to help with environmental assessment, to name a few tasks. Best psychiatric service dog breeds are most often those with the right temperament and intelligence for the task, such as Poodles, or Labs, but many others can be trained, as well. After all, loving comfort is sometimes the most important thing and a massive helping hand, and there's no limit to breeds when it comes to love and support a pooch can offer.
What to Look for In Service Dog Vests and Harnesses
The main role of a service dog vest or harness is to identify your four legged companion as a working dog at his job. Regardless of the type of service your dog is performing, they will have to have clear identification on them to make sure people in public places are informed not to interact (or to interact, in cases where a dog is alerting to something), that you are free to access certain areas in their company, and so on. However, the identification factor is not the only thing that's important about service dog vests and harnesses. There are a few other important features to look for if you want to make sure you are making the right decision:
Fit
You have to make sure that the size of the vest or harness is right for your dog – nothing too tight or too loose will work. Luckily, there are service dog accessories for canines of all shapes and sizes so finding the perfect fit shouldn't be an issue. Also, always look out for adjustable straps and other parts that help you adapt the vest for your pupper. This is crucial in many ways – it allows for your pet to be comfortable while still secured. And it is instrumental for limiting the possibility of chafing and irritation.
Comfort
The fact that a service dog should have his identification vest on at all times only makes the comfort factor that more important. Make sure that the vest or harness is weather appropriate, made with padding if needed, from breathable or insulating materials, and have any other feature that would keep your dog comfy and cozy while he's at work. Guide dogs are often the "pulling" at their harness or vest, and without sufficient comfort and padding, chafing is quick to occur. Also, breathable mesh materials can help the skin to breathe and moisture to evaporate. Otherwise, rashes are quick to appear.
Ease of putting on and off
You'll be putting your dog's vest on and taking it off fairly frequently throughout the day, so it's important that the task is not too complicated to do. Opt for service dog vests and harnesses that are safe and secure but snap on easily, without any complicated hoops and loops you'll have to adjust before you are ready to head out with your service dog. Of course, if you are in any way impaired, this task can be much harder than usual. That is why it is crucial to find a solution that makes putting on and off simple, quick, and secure. Look for quick release straps, safety buckles and fasteners, and carabiner clips. They can reduce the task to just a few simple moves and connections.
All in all, these accessories can be vital in the lives of many imparied persons around the world. These people can depend on the help of their furry friends – their companionship goes beyond the usual routines and develops into something much greater. And that is why it needs to be done properly. With a proper vest you can ensure your guide dog's absolute comfort and security, but also display key information that passersby and other people you come in contact with need to see. And that makes them a must have.
How to register a service dog?
The Americans with Disabilities Act (ADA) doesn't require animals to be professionally trained to get the status of a service animal nor does it require any form of registration or certification for service dogs. Your dog should be fully trained for his duty as a service dog, whether by you or a professional trainer, but no documentation is needed to officialize it. There are various companies that offer and sell certificates for service dogs, but under ADA, you are not required to register a service dog in the USA.
How to make my dog a service dog?
The first step from making your pet into a service dog is making sure that they have the character and temperament that suits that role. Service dogs should be smart, adaptable, calm around strangers and in new environments, reliable, and alert- with the ability to maintain their focus on you. The next step is going through special training that will teach your pet to perform the task you require of them, as well as house training and socialization. You can either train them yourself or enroll them into a program run by professional trainers.
We are committed to finding, researching, and recommending the best products. We earn commissions from purchases you make using the retail links in our product reviews. Learn more about how this works.

Angela Vuckovic
A proud mama to seven dogs and ten cats, Angela spends her days writing for her fellow pet parents and pampering her furballs, all of whom are rescues. When she's not gushing over her adorable cats or playing with her dogs, she can be found curled up with a good fantasy book.
More by Angela Vuckovic
Published July 9th, 2021 12:00 AM