392 Views
February 25th, 2022 12:00 AM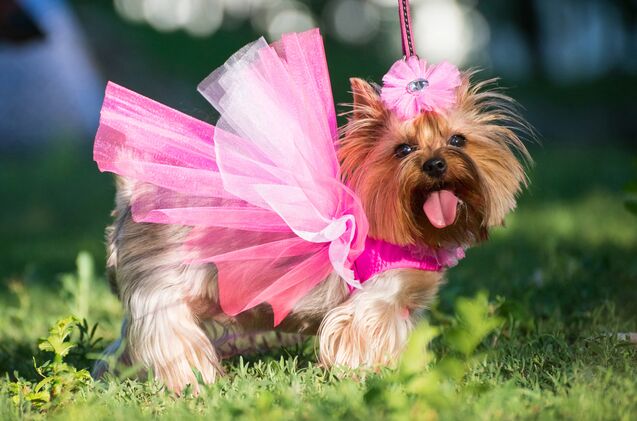 Small dog dresses make petite pooches look super cute on special occasions – whether it's a wedding or just a walk to the park if your furbaby is a lil' bit extra. Take a look at our selection of the prettiest small dog dresses around!
Dressing up your pet can be loads of fun if they don't mind wearing clothes – and most don't, especially when they know they'll get a tasty treat as a reward. Small dog dresses are designed to suit toy and small dog breeds, making sure that they are both comfy and looking their best. There are small dog dresses that are designed for cold days of the year and those that can offer protection from harsh UV rays in the summer, dresses for special occasions, and those casual enough for a walk to the park. Here is our pick of the 10 best small dog dresses – read on to find a match made in heaven!
1. Editor's Choice: CuteBone Dog Dress
Comfy and adorable, this pretty pink dress will make your pooch look even cuter than usual! Made from soft, lightweight, and stretchy material with a lace trim detail on the skirt and a pretty tulle bow on the back, the dress will fit snugly on any small breed dog – it comes in 5 different sizes catering to petite dogs, starting with a chest girth of 10″ up to 18". This design is quite versatile as it is casual enough for a walk around the block but fancy enough for a special occasion, as well. To boot, the dress is machine washable on the cold cycle – just don't put it in the dryer and your pooch will get to rewear this cute outfit many times.
Pros
Cute pink details such as lace and bow
Comfy and stretchy
Lightweight and soft material
Plenty of size choices for small and toy breeds
2. Runner Up: MSNFOASM Puppy Dog Dress
Pretty summer dresses such as this one will ensure your pooch is the belle of any ball! Made from thin, light, and soft cotton fabric with a dainty floral print, this dress comes in three color options: light pink, blue and yellow, and light purple. The whole girlish look is tied together with eye-catching bow detail on the back – the bow is made from satin, with a faux pearl in the center, and corresponds with the overall dress color. The dress fastens on with two velcro straps on the chest and the belly, so it's an excellent choice for dogs that are not used to wearing clothes. The dress is available in 3 sizes: XXS for dogs with a chest girth of 10", XS for 14" chest girth, and S for a chest girth of 16".
Pros
Velcro straps
3 color options
Lightweight and soft cotton fabric
3. Customer's Choice: Fitwarm Valentine's Day Dress
For the romantic at heart, this little number is just the thing. Made from soft, stretch velvet material, this pretty dress features plenty of luxurious designs such as embroidery and a satin bow with rhinestones and pearls. Despite the elegant design, this is a comfy dress thanks to the elasticated band on the chest that ensures a snug and unrestricted fit and a high belly cut for easier potty time. The dress comes in pink, blue, or red to match any preference, and in 6 sizes that cater to toy and small breed dogs of all body shapes. The smallest size will suit Teacup Chihuahua, Teacup Yorkie, or tiny puppies and the largest is more fitting for breeds such as Spaniel Westie, Pug, or Boston Terrier.
Pros
Elegant design
Well-made
Luxurious materials
Variety of sizes
4. Best Casual: PETPUBGNZS Cherry Dog Dress
If your pooch is not into tulle, glitz, and the glam – no problem! Casual dresses such as this one will make sure your petite princess still rocks a cute outfit without being over the top overdressed. Made from soft, breathable, and stretchy ribbed cotton, this striped summer dress is easy to put on and comfy to wear. The cute design is available in two color combos – pastel pink or vibrant red – and each features the trademark embroidered cherry on the back. The dress is available in 5 sizes, the smallest suited dogs that weigh 1 to 3 pounds and the largest for pets between 15 and 22 pounds.
Pros
Soft and breathable cotton
Machine washable
Size-inclusive
Comfy to wear
Cons
Sizes can be smaller than expected
5. Best Fancy: DIAN DIAN Pet Bling Black Dog Party Dress
Do you want your pooch to look her best for a special occasion? You can't go wrong with a little black dress. The luxurious design is made from black satin and blinged out with fancy details such as rhinestone sequins, a string of pearls on the back, and an organza-like skirt to tie the whole look. Even though the dress is elegant and fancy, it is still easy to put on and comfortable to wear: it has a velcro band on the chest so you can adjust the fit and take off the dress in mere seconds. There are 5 sizes to choose from, accommodating dogs with chest girth starting at 10.2" to 17.7".
Classic elegant design
Perfect for special occasions
Fancy but not flashy
Velcro opening
6. Best for Birthdays: Kirei Sui Birthday Girl Dress
It's your pet's special day, so why not get them a special birthday outfit in addition to gifts and pup-cakes? This gorgeous birthday dress will make your little princess feel super pampered on her birthday – it features a birthday girl print in glitter on the back, paired with a lilac satin bow, and a pale pink tutu skirt. And to complete the look, this cute dress comes with a vibrant pink, glittery bow hair clip that will be ideal for long-haired breeds. The sizing is inclusive for small breed dogs, starting at XS for Teacup Chihuahua, Teacup Yorkie, or tiny puppies, all the way to L which is suited for Pomeranian, Maltese, Bischon, Shih Tzu, or Miniature Pinscher.
Pros
Bow hair clip included
Soft, comfy materials
Cute details
Variety of sizes
7. Best for Weddings: FLAdorepet Dog Wedding Dress
It's only natural that you want your four-legged bestie to be by your side when you say "I do" – and for her to look the part, too! Perfect dog attire for weddings, this white, lacy dress will make some great memories – and look great in photos, too. The top is made from see-through tulle with hollow-out lace with silver sequins and the skirt is a beautiful white tulle, adorned with a white satin bow with rows of pearls and rhinestones. Everything a barking bride needs! For easier putting on and off, the dress has a velcro strip on the chest and a high belly cut so potty time isn't an issue. This wedding dress for dogs comes in sizes XS (chest girth of 10.2") all the way to XL (chest girth 17.7")
Pros
Perfect for weddings or other special occasions
Made with attention to detail
Inclusive sizing
Velcro fastening
8. Best for Cold Weather: KYEESE Dog Sweater Dress
Just because the temperature is dropping doesn't mean your four-legged fashionista can't strut in style! This sweater dress is warm, cozy, and fashionable to boot. Made from soft, stretchy acrylic with a polka dot print and cute pom-pom balls on the back, it comes in red, pink, orange, or gray to match your pet's style. It also has a warm turtleneck collar, a ruffle skirt for a playful touch, and a leash hole opening so your dog can wear it on walks without any tweaking needed. It comes in 7 sizes that will suit all toy and small breed dogs and puppies.
Pros
Variety of colors and sizes
Warm and cozy
Has a hole for the leash
Machine washable
Cons
The material could be better
9. Best with a Leash Ring: Kosiy Dog Harness Dress
If your pet doesn't wear a collar, putting a harness over a dress to go out for a walk can be both tedious and ruin the whole look – but this harness dress makes sure your pooch can enjoy walks in style. With a leash ring attached directly to the dress, you can just clip on the matching leash and go out – no additional gear needed. Made from soft and breathable cotton and polyester blend, this dress and leash set is available in two designs: yellow and aqua polka dot print or blue anchor print with chevron details. In each set, the leash matches the design of the dress! It comes in 5 sizes all suited to different body shapes and sizes of small breed dogs, starting from dogs that weigh 2.6 to 4.4 pounds all the way to 13.2 to 17.6 pounds.
Pros
Fun design
Comes with a matching leash
Snap button fastening
Cons
Not for dogs that pull on the leash
10. Best Dress Set: ​​Geyoga 3 Pieces Cute Pet Dress
Why not revamp your pooch's closet with a single purchase? This set of 3 summer dresses will give your dog plenty of cute outfit options at an affordable price. All of the designs are fruit-inspired, so you get a pink dress with strawberry print, a white dress with citruses, and a navy dress with cherries – each with a satin bow on the back in a matching color. They are made from soft, lightweight cotton and come in sizes small, medium, and large, all designed to suit small breed dogs such as Yorkies, Toy Poodles, Pomeranians, and similar.
Set of 3 dresses
Cute fruit prints
Lightweight soft material
Is It Cruel to Put Dogs in Dresses?
In case your dog feels anxious and uncomfortable when wearing clothes, forcing them to wear a dress is cruel. There's no need to expose your pet to stress for something as trivial as wearing a cute dress to a party or for cute social media photos! However, the majority of dogs don't mind being dressed as long as the outfit is comfortable, breathable, and doesn't restrict their movement. They can be even enthusiastic about dressing up when they know they'll get a yummy reward for their effort!
Of course, in some cases, dog dresses are not just a fashion statement, but also serve a practical purpose. Hairless breeds and short-haired breeds with sensitive skin need to have a layer on when it's hot or cold outside: a comfy cotton dress could shield them from harmful UV rays and a warm knit or flannel dress makes them feel cozier when the temperatures start dropping. Either way, there's much more to small dog dresses than being cute!
When choosing a dress for your small breed dog, make sure to measure their chest girth, neck diameter, and length of their back to get accurate measurements and get the sizing right from the first try. In addition to proper size, a dog dress should be made from soft and breathable materials, ideally with a bit of stretch to them, and easy to put on and off. Check all of these boxes and you'll make sure that wearing a dress is an enjoyable experience for your pooch – not a source of stress!
We are committed to finding, researching, and recommending the best products. We earn commissions from purchases you make using the retail links in our product reviews. Learn more about how this works.

Angela Vuckovic
A proud mama to seven dogs and ten cats, Angela spends her days writing for her fellow pet parents and pampering her furballs, all of whom are rescues. When she's not gushing over her adorable cats or playing with her dogs, she can be found curled up with a good fantasy book.
More by Angela Vuckovic
Published February 25th, 2022 12:00 AM