806 Views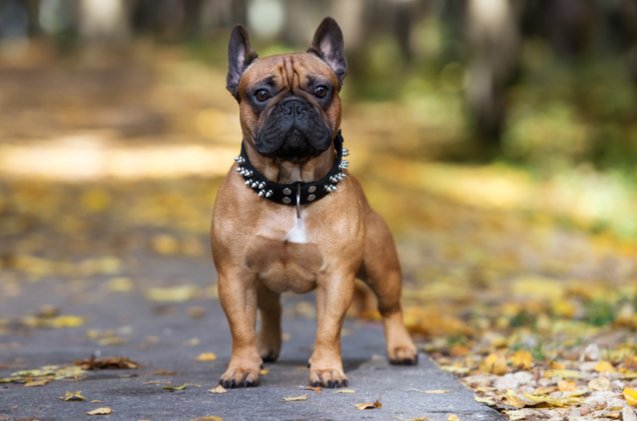 Spiked dog collars are not just a cool-looking accessory: they could save your pet's life in sticky situations. Read on to learn more about spiked dog collars and the benefits they offer.
We often mentioned dog collars as essential accessories for any dog. They are not only a stylish addition that will make your pooch look cute but also an important accessory to ensure the safety of any pet. Dog collars can come in all shapes and sizes, made from different materials and with diverse designs. They all work well to make your pet a good deal safer in all situations – they can hold a name and address tag, or simply ensure your pet remains firmly leashed and close to you. It is no secret that some spirited and rowdy puppers can bolt to chase a squirrel they spot on the walk or something of the like. They will find the perfect opportunity to sprint away and give you a merry chase. This is just one of the reasons why you should keep your pet leashed- and in case they get lost, a collar with an ID tag attached will be the first thing anyone will check and hopefully help reunite you with your pooch.
It's safe to say that all dog owners agree that collars are an accessory that every pawrent should invest in. But how do you make a great collar even better? And can you make it even safer? The answer to all these questions lies in a single accessory – spiked dog collars. Spiked collars for dogs are a great safety measure for all pets that have a tendency to play a bit rough or get in a scuffle now and then. If you previously experienced a bit of fighting or competitive games in the park between your pet and the other dogs, you might need one of these nifty collars. And even if you don't worry about your pet's behavior, the fact remains that spiked dog collars can look super cool on certain pooches- so they can serve as a canine fashion statement of sorts, too.
But don't be fooled into thinking that spiked dog collars are "just" a stylish accessory. First and foremost, these collars are a protective measure that will deter all other pets that might turn violent and go for your pet's neck. Even if your dog is calm and peaceful, you still could run into a violent dog – wherever you are. In such cases it is better to think in advance – a spiked collar will keep your dog's most vital area – the neck – protected and untouchable. Carefully combining style and safety, these collars are much more than an accessory – they could be actual lifesavers! However, it's important to choose with care because not all spiked dog collars are up to standards. To help you find exactly what you're looking for, be it for decorative or safety purposes, we've selected the best spiked dog collars for dogs of all sizes.
1. Editor's Pick: Dogs Kingdom Leather Black Spiked Studded Dog Collar
Black on black is an undeniably timeless combination, and the end result is this extra stylish spiked collar. Made from thick and durable leather, this collar is bound to survive any amount of wear and tear. It features three rows of asymmetrical black spikes that really give it a mean and fancy look. The collar is fully adjustable and features a robust steel clasp and leash hooks. One thing it lacks is added padding, but for large and powerful dog breeds it should not pose much of an issue. And if you like a different color combination – good news! The Dog's Kingdom brand offers a variety of different colors, all with black spikes – which gives it a truly unique look.
2. Runner Up: Pet Artist Luxurious Leather Collar
In some cases, you really need to prepare for worst-case scenarios when it comes to attacks, and this collar will give you peace of mind in those situations. For owners that live in rural surroundings where there might be wild animals and predators nearby, collars such as this one definitely come in handy. The first thing to notice is the huge and sharp spikes that densely cover the collar. This is an extra-wide, thick leather collar with intermixed rows of short and long spikes. The short ones are in four rows, and the long ones in three. Safety is no joke, and sometimes you need to ensure that for your pet – especially if you live on a ranch, farm, in a remote area, or coyote country. Don't hesitate to protect your friend – with these spikes, no predator can come close.
3. Best 2-Pack: Konusus Two-Pack Spiked Collar for Dogs
This two-pack of spiked collars by Konusus gives you both a pink and a black spiked collar for your pup, or pups if you have more than one. The one-inch wide collar is comfortable for almost all breeds and it is made with strong and durable PU leather that won't fade, crack, or break even in the elements. It is also lightweight and will not scratch your dog. The spikes on the Konusus spiked collars are not very sharp, so they won't hurt you or your pet's skin. However, it will protect them from being bitten around the neck by other large dogs, keeping them protected. It is a great option for an extra layer of protection if you have vicious dogs in your neighborhood or when you go to the dog park with other dogs you don't know.
The Konusus Spiked Collars can be adjusted from 12.4 inches to 14.7 inches in length, so be sure they will fit your pup before purchasing.
4. Best for Small Dogs: PETCARE Spiked Dog Collar
Thanks to an extra wide collar that boasts a double row of shiny bullet rivets and a single row of spiked studs, PETCARE Spiked Dog Collar is both stylish and effective at preventing attacks. Made from durable and soft PU leather, this collar is flexible and won't chafe your dog's neck while they are wearing it. Of course, this design is fully adjustable and boasts heavy duty metal clasps and D-rings you can attach a leash or an ID tag on. With plenty of size options to choose from, this collar is ideal for dogs of any breed and size. And since there are five bright and attractive colors to choose from, you can rest assured that this spiked collar will make your doggo stand out from the crowd!
5. Best Luxury: Beirui Sharp Spiked Studded Leather Dog Collar
Some owners really like for their pets to stand out from the crowd. If you like going over the top, this Berry Pet collar will definitely achieve the effect. Extra-wide, extra spikey, and extra flamboyant, this collar has all you need and then some. It is made from leather and features three rows of densely packed black spikes that are as protective as they are stylish. What gives this collar its flair is certainly the fake alligator skin pattern in two different colors. Give your pet some dazzle and charm, while also protecting them at all times.
6. Best Simple Design: Newtensina Studded Dog Collar
Who said small doggos can't pull off a tough pooch look? With Newtensina Studded Dog Collar, your pup will be the star of the park thanks to the adorable combo of ruffness and cuteness. The first feature to notice are the grungy punk spikes- they aren't just a fashionable solution, but also a protective element as well, since no one will get a chance to nibble your pet's neck with these spikes on. The collar itself is made from durable and high quality material which can withstand all the wear and tear that a collar endures on a daily basis. Another great feature of this collar is the added reflective strip. This ensures that your pet is clearly visible in the dark, enhancing the safety. The collar has a microfiber padding as well so as not to chafe the dog's neck. All the clasps are made with sturdy metal, and the adjustment holes are reinforced as well.
7. Best for Medium-Sized Dogs: Benala Two-Inch Spiked Collar for Medium to Large Dogs
The Benala Two-Inch Spiked Collar is great for medium to large dogs. The larger width gives more protection for bigger neck girths like that you might find in pitfalls, mastiffs, boxers, and bully breeds. It also has three layers of spikes for increased protection. However, even if you have smaller pups this might be the spiked collar for you as Benala has sizes ranging from XS with a total length of 15 to 18 inches all the way up to large for a total length of 24 inches.
The Benala Two-Inch Spiked collar is made with strong and durable PU leather which is soft and comfortable for your pup to wear but also strong enough to withstand bites, tears, and rips. It also comes in a variety of colors such as pink, black, white, red, and purple. The black spikes make it look even cooler- if that's possible.
8. Best Basic: AOLOVE Mushrooms Spiked Rivet Studded Collar
These spiked collars from AOLOVE give you a lot of versatility- they come in a variety of bright colors, and feature a nice mix of spikes and studs. As you can choose from around 13 unique colors you can surely find one to achieve your pet's fancy style. The collar itself is made from 100% faux high-quality leather, and is fully adjustable, and also comes in different sizes. It also features a D link for attaching a leash. One of the best and most affordable choices on the market.
9. Best Quality: Beirui Sharp Spiked Studded Dog Collar
This high-quality collar is made from very thick and durable leather and features a dense array of black spikes. One thing to notice is double layered and studded fastenings that really add to overall durability. It has a lot of room for adjustment, and that makes it great for large dogs or large breed pups that are still growing up. Not to mention that it comes in a variety of styles that will make your pooch look like the coolest doggo on the block!
10. Best Bandana Style: Didog Bandana Style Spiked Collar
Great for maximum protection, or for sharing your passionate biker style with your pet, this bandana style collar from Didog is really unique on the market. It features an additional triangle that covers your pet's chest – working as both a fashionable accessory and a protective element too. The bandana edges are also spiked, and the collar features three rows of densely packed spikes. Great as an intimidating, rock and roll fashion accessory, with the undeniable element of protection.
Most important features in spiked dog collars
Spiked dog collars come in a variety of shapes and sizes. From single, double, or triple rows, spikes or studs, leather or fabric – the choices are many. But for all of them, the same set of rules apply – you want to choose the very best for your pet. And it is the quality that decides the best one, as you want something durable, functional and stylish all at the same time. Luckily, we've cherry-picked the best spiked dog collars on the market and here are the features that all of them had to have to make our list:
Durability
A protective collar is nothing if not durable. In order to fulfill its protective role, it needs to be able to withstand a lot of wear and tear, and the hard bite of a potential attacker. To ensure this, you need to opt for tough and sturdy collars. These are usually from thick leather or hard nylon fabric. Either way, it needs to be durable – its role dictates this. Even if it is there "just" to hold the leash, it needs to be sturdy enough not to snap if your pet tries to claw or chew it off. And it is always better to invest a little bit more into a proper, high-quality product than risk a malfunction with a cheapie.
Style and functionality
Even if it is there for practical purposes, it doesn't mean that the design isn't important. A spiked collar can still be a fashionable and stylish accessory. If what you are going for is a tough, intimidating, and powerful look, a couple of rows of spikes is bound to do the trick. Different styles of collars work well on different breeds, and spikes will look powerful especially on large and muscular dogs. Functionality is another important aspect, and you should always opt for a collar that can be adjusted and has plenty of fittings for leashes or dog tags.
Adjustability
Even though they come in several sizes, dog collars still need to have enough adjustability to be properly fitted to all types of dogs. And you need to be able to adapt – some days you just need to loosen or tighten the collar, and an adjustable clasp will do the trick. Another important detail you need to remember is the fact that your dog might grow more – in case you are purchasing the collar for your pup or young dog, adjustability will be a huge factor. In these cases, it's best to buy a bigger collar that can be adjusted to "grow" alongside your puppy. It's cost-effective and practical!
Padding and comfort
Another thing that is crucial is your pet's comfort. A proper collar cannot be rough and chafe the skin. Opt for a properly padded collar where the studs won't get in contact with the skin. Breathability is another aspect of comfort, as it avoids sweat buildup and chafing in the neck area. One of the most common consequences of bad collars is the loss of hair beneath it – a direct result of chafing and cheap materials.
The uses and importance of spiked collars for dogs
While at first glance it might seem that spiked dog collars serve only for aesthetic purposes, the truth is a bit different than that. Sure, a spiked collar is a great stylish addition for any dog – it can look cute and goofy on toy breeds, and imposing and impressive on muscular large breed dogs. But the importance of a spiked collar lies elsewhere as well. And that is – safety.
There are a lot of dogs that turn aggressive in the presence of other pets, whether due to past trauma or lack of proper socialization. In these cases, where a stray or an off-leash dog in the park attack your pet, it can get real dangerous real fast- and protective gear could be all it takes to prevent tragic consequences.
If you worry about your small dog or your pup, and suspect that a larger dog might get rough or territorial, a spiked collar will be a great defense. Protecting the vital neck area, the spikes will deter any would-be opponent. Interestingly, spiked collars are one of the oldest dog-related accessories in the world – as they have been used for centuries before, a testament to their practicality and usefulness.
To truly maximize the efficiency of spiked dog collars, be sure to go for those that offer some or all of these features:
Space for an ID tag
To always be prepared for any situation, attach a dog tag on your pet's collar- this should contain your contact information in case your pet gets lost. It is the first thing people check when they find a lost pet!
Leash attachment
Leash attachments are the next priority. Look for added leash links that will allow you to always keep your pet close by. Remember that a leash is a great way to always have control over your pet's movements. If a conflict does occur, you will still have the ability to bring your dog closer to you and avoid conflict altogether.
Lights
LED lights can be another nifty feature to combine with spiked collars. Add an LED attachment in order to increase the visibility for your pet if the collar has no reflective stitching. It's a necessity for night walks – with an LED attachment you will always have an eye on your dog's movements. And if you don't find a spiked dog collar with added LED, you can always go the DIY route and make something in no time.
Do spiked collars hurt dogs?
Spiked dog collars do not hurt dogs- they are regular collars with spikes pointing outwards so at no point at time do the spikes make contact with their skin. However, spike collars are protective and can hurt another dog if they try biting your pet's neck, which is their intended role- to deter a potential attack and keep your pet safe. Many people confuse prong collars with spiked collars, but they are not the same: prong collars have spikes that face inward and they are painful for the wearer.
Should I take my dog's collar off at night?
Yes, you should. Collars shouldn't be worn 24h a day and it is recommended to take off your pet's collar at the end of the day before you go to bed. This will prevent irritation and chafing, as well as potential hair loss or thinning at the spot where the collar sits on the neck.
We are committed to finding, researching, and recommending the best products. We earn commissions from purchases you make using the retail links in our product reviews. Learn more about how this works.

Angela Vuckovic
A proud mama to seven dogs and ten cats, Angela spends her days writing for her fellow pet parents and pampering her furballs, all of whom are rescues. When she's not gushing over her adorable cats or playing with her dogs, she can be found curled up with a good fantasy book.
More by Angela Vuckovic
Published July 5th, 2021 12:00 AM