304 Views
Top 10 Best Raincoats for Dogs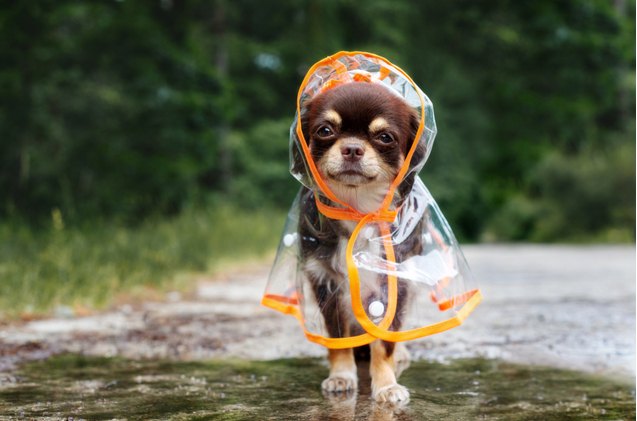 Your pooch might like puddles, but chances are they're not a fan of walks in the pouring rain. Nevertheless, with a good raincoat, they can venture out even when the weather is bad – so make sure to pick a proper outfit for those rainy days.
Many dogs simply refuse to put their paws out when they realize that the rain is falling. My own royal furballs are the same – one raindrop on those precious butts and they're gunning for the door right away. More often than not, they have to go out and do their business despite the downpour outside. The solution for those days are raincoats for dogs. Not only will your four-legged companion look adorable in their waterproof outfit, but they also won't get drenched.
Of course, there are tons of raincoats for dogs on the market – most of them under $20 – so it can be hard to choose the right one for your pet. Take a look at our selection of the cutest, most durable and best fitting doggy raincoats your money can buy and choose one for your pampered pooch.
1. Editor's Choice – Good2Go Reversible Dog Raincoat
Most suitable for small dogs
Why settle for just one style when you can get two for the same price? This budget-friendly yet exceptionally well-made raincoat for dogs is reversible, with one side being a beautiful shade of blue with a whimsical cloud design, while the other features an adorable stormcloud pattern. Each of the sides has reflective details for better low-light visibility, so the choice of style is entirely up to your mood of the day! The Good2Go Reversible Dog Raincoat has a detachable hood which can be tucked away and fastened with a snap button, in case your dog doesn't feel like wearing it with the hood down. This versatile waterproof coat is available in 5 different sizes, from XS to XL but is best suited for smaller pups.
2. Runner Up – RC Pet Products Packable Dog Rain Poncho
Most suitable for all dogs
More often than not, rain catches us off guard. You might be in the middle of your walk when the shower hits the city or camping with your dog when a drizzle turns into a downpour. Well, with this packable rain poncho for dogs from RC Pet Product, you'll always be prepared for sudden weather changes. This lightweight raincoat neatly folds into a compact pouch, which can easily be attached to your leash! The water-resistant and lightweight taffeta shell coat is great for long-haired breeds that don't need added warmth, or for when the climate is warmer and you just want your pooch to stay dry. There's also a leash access hole to make it resistant to tears if your pup suddenly pulls or tugs.
The RC Pet Products Packable Dog Rain Poncho is available in 17 different designs and colors including solid colors like Aqua, Raspberry, Sunshine, and Crimson or fun designs like Cheat Day, Nautical, and Pitter Patter Pink. It also comes in 8 different sizes, from XX-small to XXX-Large.
3. Best Windbreaker – Dog Helios Torrential Shield Windbreaker
Most suitable for small to medium sized dogs
Designed to withstand the harshest wind and rainfall, this lightweight but rugged dog coat will keep your pooch protected and dry in any conditions. Made out of exo-shell material, it's completely waterproof and will keep your pet toasty despite the lack of insulation, as the wind won't be able to break through the tough fabric. The reflective stitching and special reflective lining that are everywhere on the coat – from hood to butt – add a much needed safety precaution for night walks. The Dog Helios 'Torrential Shield' windbreaker raincoat comes in 5 sizes – extra small, small, medium, large and extra large. A match for every pooch!
4. Best Value – Nourse CHOWSING Dog Raincoat
Most suitable for large dogs
If you want something simple and sleek that won't break the bank and will keep your pet dry – even when there's a heavy rainstorm outside – the Nourse CHOWSING Dog Raincoat fits the bill. This affordable and minimalistic dog raincoat comes in two shades, blue and gray, with reflective stripes to make sure your pet stands out when visibility is low. Easy to put on with a velcro belly band that keeps the coat in place, this coat is ideally suited for pawrents who want a simple, hassle-free solution for rainy walks. The Nourse CHOWSING Dog Raincoat is suited for bigger breeds and comes in 3 sizes that fit the range between 44 and 66 pounds.
5. Best Jumpsuit – OSPet Dog Raincoat
Most suitable for medium to large sized dogs
If you want the top of the line, it doesn't get better than the OSPet Dog Raincoat. This high-quality raincoat for dogs is not only designed to offer maximum coverage, but it's also made from professional outdoor materials. Unlike most others on the market, this jumpsuit coat has two layers. The outer layer, which comes in bright orange and green, is the waterproof one, whereas the fabric that's in contact with your dog is breathable mesh. This promotes breathability and won't make your pooch overheat in warmer climates. This raincoat is also designed to look more like a jumpsuit than a coat, with coverage for front and hind legs, in addition to the hood and the standard body of the raincoat.
6. Best for Winter – Weatherbeeta Parka 1200D Deluxe Dog Coat
Most suitable for medium to large sized dogs
If the price tag isn't an issue and you want to invest in a deluxe raincoat for your pampered pooch, Weatherbeeta Parka 1200D Deluxe Dog Coat is just what you need – especially if you're looking for something that will work well for winter season. The jacket feels luxurious and is well-made, with the outer layer being made of tough 1200 denier fabric that's waterproof and rugged, with a fill of 220 grams of insulation to keep your dog warm when it's chilly outside. Since this raincoat has a raised collar rather than a hood, it's a good choice for dogs that like to keep their head out even when it's raining. Weatherbeeta Parka 1200D Deluxe Dog Coat comes in 11 different sizes – with a measurement chart provided to make sure you pick out the perfect fit for your canine.
7. Best Lightweight – Glanzzeit Dog See-Through Raincoat
Most suitable for medium to large sized dogs
It's quite simple, really – nothing will ever be prettier than your pooch, so why hide him under bright prints or colors? This transparent raincoat for dogs shows your pupper in all their furry glory, while also keeping them dry as dust. The raincoat also has a large hood to keep their cute heads away from the rain, too. The Glanzzeit see-through raincoat is suitable for medium and large dogs only, and it comes in sizes from 2 XL through to 6 XL (ranging from 20 to 77 pounds).
8. Best for Small Dogs – Topsung Dog Raincoat for Small Breeds
Most suitable for small dogs
Let your mutt strut in this waterproof nylon raincoat with full coverage. The Topsung raincoat for small dogs is designed in a jumpsuit style, with protection for their arms and legs. It's especially important to size your compact doggo properly for this one, not just because it will ensure a snug fit, but because there's no adjustable belly or chest band to allow for an inch or two mistake in measuring.
9. Best Coverage – Alfie Pet – Bella Rainy Days Waterproof Raincoat
Most suitable for all dogs
This coat is more like a waterproof armor than a typical raincoat. Your pooch will be snug as a bug when it's raining cats and dogs out there, thanks to tail-to-nose coverage. The jumpsuit-style raincoat is complete with a detachable hood with a soft brim that will keep your pet's head fully dry. The only downside is that if you have a male dog, you'll have to cut out the opening on the stomach of the raincoat (to allow them to do their business, of course).
10. Best Style – Ellie Dog Wear Yellow Zip Up Dog Raincoat with Reflective Buttons
Most suitable for all dogs
This slick raincoat for dogs must be the most fashionable one we came across. Every little detail is perfect, from the striped lining to pockets and metal buttons. The signature Rainy Day Raincoat comes with a detachable hood and its two layers will keep your pupper insulated in snow and rain both. Who said that style and comfort can't coexist?
Does your dog really need a raincoat?
Sure, your mutt will look absolutely adorable strutting around in a bright raincoat, but is it really necessary for dogs to wear them? Of course, it all depends on the situation. If your dog doesn't have a backyard where he can go pee or poop when the need strikes – and it's raining cats and dogs outside – you'll have to get them on a leash and hit the streets. A pain in the butt, yes, but required nonetheless. Just as you don't want to get all wet and cold while braving the outdoors, your pet shouldn't either. A quality raincoat will keep them dry and cozy while they're doing their business, and you won't have to worry about them catching a cold for being out in bad weather.
While keeping your pet dry is a great thing for their health and comfort, it's also fantastic for your carpets and furniture. That wet dog smell is in a league of its own, and when you add mud from puddles transferring from your dog's fur to your prized sofa… It's not a good scenario. With a raincoat on, your pet won't come back from a walk like a little piggy, and you'll have less mess to deal with than you usually do (pawrenting is hard, y'all).
To sum it all up, if you live in an apartment or don't have a backyard where your pooch can pop out to pee when it's raining, the right gear for going potty in poor weather conditions is a must. Of course, while the primary function of a dog raincoat is to protect your pet from a downpour, you should make sure that it also meets important requirements that ensure your dog's comfort, too.
How do I get my dog to wear a raincoat?
It might be a tough task to get your dog to wear the new coat you've bought him or her, but you can make this chore more seamless with the ever popular softly-softly approach. You can reward your pup once they're fully dressed in the coat with a treat, so they can associate wearing it with a happy outcome (which is also known as positive reinforcement). The more you repeat this sequence, hopefully your pup is more receptive to wearing the raincoat, and when wet weather strikes they'll be happy to rug up to brave the harsh conditions.
How do I measure my dog to purchase a raincoat?
There are three measurements that you should take when fitting your dog for a raincoat: the length of their body, so measure from the neck to the beginning of their tail. Their girth/chest, which will be the widest part around your pup's chest or bust. And finally, their neck measurement, so you'll need to get an accurate circumference here. These are the three areas that coats will differ in size, so be sure to pay attention to each of these when making your purchase.
Tips for walking your dog in the rain
Apart from decking out your pooch in the most stylish and practical raincoat, it's also important to choose a walking path that's in a high-visibility area if possible, like a well-lit suburban street for dawn or nighttime walks. You could shorten your walks if it's really pouring out, keep your pup's paws dry by putting their paw protectors on (another great investment if you want the full wet-weather outfit!) and try to avoid puddles and mud so they won't bring any mess inside.
What to look for in raincoats for dogs
Getting your dog a raincoat might sound like a task that's simple enough, but then you might go online and see all the styles available, different price tags, fits, sizes, bells and whistles – it can get overwhelming real fast. That's why it's important to know what features to look for in doggy raincoats to make sure you're getting the best value for money, and that your pooch will be comfy and adorable in his new gear.
Season
While a raincoat is meant for rainy weather (that part is plain obvious), it doesn't have to be JUST for those days when it's pouring outside. If the jacket has a lining that will keep your pet warm in the biting cold (such as sherpa, faux fur or any insulating material), it can double as their snowy weather coat. In case you live in areas with heavy snowfall and rainfall, a versatile waterproof, insulated jacket could save you money and hassle.
Hood or no hood
Yes, hoods look super cute on pooches and keep their pretty heads dry and protected from the grizzly weather, but not all dogs tolerate having something over their heads. In case your dog isn't a fan, it's safe to assume that a hooded coat is out of the question as they'll hate to be dressed in it. If you're not sure what your dog's thoughts are about hoods, go for a raincoat with a detachable hood, or follow your instincts about what their preferences will be.
Leash access
Raincoats for dogs are meant to be used for walks (or cute photoshoots – no judgment here!) so you'll want something compatible with your leash. If you walk your pet with a collar attached, you'll need a raincoat without a hood that could restrict access. Similarly, for pawrents who prefer harnesses, a dog raincoat with a small hole for attaching the leash is a must.
Ease of putting on
It's raining outside. You probably don't want to go out when it's wet and miserable in the first place, and the last thing you want is to make that process unnecessarily bothersome and complicated for both you and your pet. That's why it's smart to pick out a raincoat that's easy to put on and doesn't have a dozen different fastenings, buttons, snaps and other obstacles you have to go through before you can go for a potty break. There are plenty of designs to choose from, from those with zippers and belly straps to poncho style coats, so your best bet is picking the one that will be the least difficult to quickly put on your pet.
Reflective material
Having a dog raincoat with reflective piping or patches of material is a great idea, especially if you have to walk your dog early in the morning or in the evening when visibility is low. Even if you're walking your pet during the day when it's foggy, rainy or cloudy, visibility can be poor and drivers may need a heads up to spot your pooch easily. In case your choice of raincoat doesn't come with reflective stitching of any kind, be sure to pair it with a reflective leash or other reflective accessory that will make your pet easy to spot in low-light conditions.
Style
OK, OK, we all like to see our pets in adorable outfits, that part is easy to figure out. But it's not just about the eye candy and cute factor when it comes to raincoat design. For instance, whether your coat has sleeves or not isn't just about aesthetic appeal, but how much coverage you're getting (and importantly, the comfort level of your pooch). When picking out a design you'd like to see your pet strutting around in, make sure to take into account that it's also practical and pleasant to wear. Otherwise, you won't be getting the best bang for your buck – just an unhappy pooch and another missed purchase that collects dust in your home.
We are committed to finding, researching, and recommending the best products. We earn commissions from purchases you make using the retail links in our product reviews. Learn more about how this works.

Angela Vuckovic
A proud mama to seven dogs and ten cats, Angela spends her days writing for her fellow pet parents and pampering her furballs, all of whom are rescues. When she's not gushing over her adorable cats or playing with her dogs, she can be found curled up with a good fantasy book.
More by Angela Vuckovic
Published March 8th, 2021 12:00 AM