18 Views
Best Gear For When It's Raining Cats and Dogs
January 11th, 2022 12:00 AM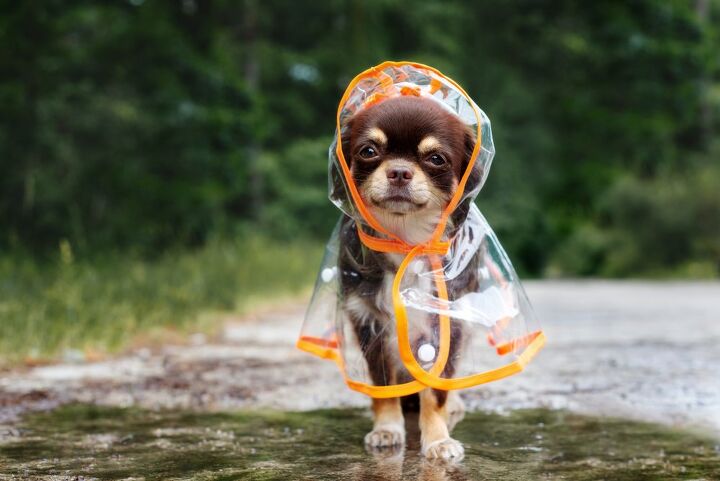 A little rain shouldn't stop you from taking a wet walk with your pooch. Have a Spring Fling with these awesome products – they're perfect for poodle puddles!
1. Editor's Pick: Pet Umbrella
This nifty water stopper is just like a normal umbrella except the handle is facing up so your pooch is covered by their own personal umbrella. The bottom has a sturdy chain that attaches to your dog's collar to help keep it in place, and the shaft of the umbrella is also adjustable so you can find the right height for both you and your pup. After a few simple steps, voila – you're ready to hit those puddles!
2. Runner Up: Cats & Dogs Folding Umbrella
With an umbrella this cute, you might not want to leave it at a restaurant's umbrella stand. That's because it'll probably be gone by the time you leave. When you walk around with this unique umbrella, it really will be raining cats and dogs! Adorned with gorgeous artwork, an automatic open and close system and fibreglass ribs, this umbrella is sure to catch people's eyes.
3. Best Booties: QUMY Dog Boots
Available in six different colors and seven sizes, you can protect your dogs paws with these durable and simplistic QUMY boots. What's great about these boots (aside from the large selection) is that it features a wide split seam opening, adjustable and reflective straps to ensure a proper fit while making the application process as painless as possible.
The soles of the boots also incorporate a rugged anti-slip design to provide your pups with extra stability as well as protect their paws from hot cement.
4. Best Harness: QQPETS Dog Harness, Collar and Leash
Your fashionista pup will feel safe, secure and well put together in this floral harness, collar and leash set from QQPETS. This trio is perfect for when the sun decides to poke its bright self out from behind the clouds, but if you're not into pink flowers, there are six other fun and bright patterns to choose from.
This set also comes in a variety of sizes ranging from extra small to large, so your big fur ball can feel pretty too!
5. Best Bag: Petmolico Dog Poop Bag Holder
Walking around with a poop bag tied to your leash or stuffed in your pocket isn't always the easiest or most attractive way to take care of your four-legged friend's business. To help simplify the process, give these small and stylish carrying bags from Petmolico a try.
Each set comes with two leash bags – one for storing small items like your keys, cash, or dog treats, and another designated as a bag dispenser to help save you time and hassle. It also comes with two rolls of bags!
6. Best Rain Coat: MIGOHI Reflective Waterproof Dog Coat
Don't let the rain put a damper on your day. Available in a wide range of sizes, this lightweight rain coat also comes in five different colors so you can find the perfect match for every breeds size and coat.
Some features that we love about this jacket are the reflective stripe, the hole for easy access to the collar, inner fleece layer and velcro straps.
7. Best Keychain: Fan-tag-stic FLOWER SHAPED TAGS
Now, this product doesn't exactly help you or your dog while on a rainy walk, but it will help to remind you that a rainy day helps flowers like these bloom! Have your dog's name and your personal information etched onto one of these delightful little flower tags – they're small, efficient and most of all, rad as hell.
8. Best Rainboots: KomForme Women Fashion Rain Boots
Finally, something for the human! These rain boots are waterproof (duh), adorable, and are a more subtle way to show off your love of dogs. Its sleek, matte design doesn't only help to hide any dirt or smudges – also makes it easy for grime to be washed off. And if you want to throw them in the wash, no problem. Simply remove the insole, and you're good to go!
9. Best Outdoor Cot: K&H Pet Products Original Pet Cot
Who said that a little rain has to put everything on pause? If your dog loves being outside or you simply want a piece of furniture for your dog to rest on without having to worry about bringing it indoors with a bit of bad weather, this K&H Pet Products Original Pet Cot is a great investment.
Available in a variety of colors, sizes and optional extra features – we're looking at you shade canopy and soft bed pad – this elevated dog bed helps keep your pets dry and cool and sports a water-resistant mesh center that repels moisture as well as odors.
10. Honorary Mention: Petroom Puppy Dog Dress
This final option won't exactly help protect your pooch from rain per se, but who says rain has to put a damper on style?
If you love spring florals and dressing up your pooch in gorgeous dresses – oh boy have we got the thing for you. The Petroom Puppy Dog Dress comes in five stunning floral patterns – another large print similar to this dress in a deep blue with a golden bow, as well as three more minimalistic prints with baby blue, peach pink and lavender themes.
The fabric itself is made from lightweight, thin and soft cotton so your small dog breed can comfortably strut their stuff on a midday stroll through your town's botanical gardens – rain or shine.
We are committed to finding, researching, and recommending the best products. We earn commissions from purchases you make using the retail links in our product reviews. Learn more about how this works.

Published January 11th, 2022 12:00 AM