211 Views
February 9th, 2022 12:00 AM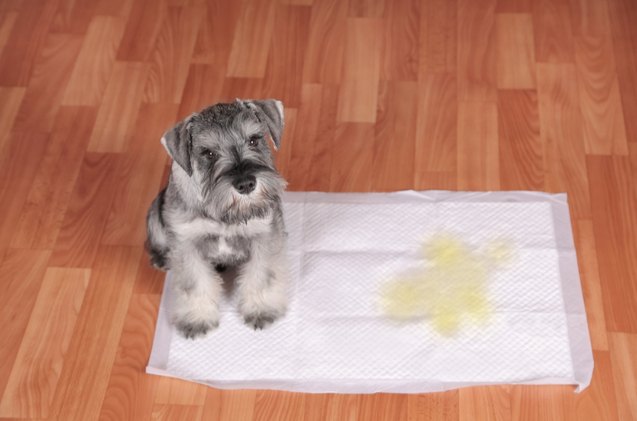 Whether you are potty training your dog, have an elderly pet with continence issues or simply want your pooch to have somewhere to go potty while you're at work, pee pads are the answer. To make sure you won't have issues with leaks, odors, tears or poor capacity, we've prepared a list of best pee pads for pets that the market has to offer.
Nobody likes to be on toilet duty- but if we're being honest, a huge part of being a pet parent means being intimately acquainted with your pet's pee or poop. If you're not in the process of potty training, then you're scooping their poop in the park, or helping your pet go through incontinence issues mess-free. Handling pet urine can be particularly messy and problematic, as liquids will dry and you might not know where the "potty crime" occurred, but you'll certainly be able to smell it weeks after the deed.
That's where pee pads come in handy. Your pooch will have a designated place when they really need to go and you're not around to take them out to do their business. Similarly, while you're potty training or crate training your puppy, pee pads are an indispensable tool. And not to mention how traveling with your pet can be a pain in the butt if you don't have quality pee pads on hand- trust me, you don't want to know the deets. The trick, though, is to find pee pads that won't leak and ruin your carpet or floors, tear easily, slide all around, retain odors, etc. The best pee pads will be sturdy, won't leak liquids, and they'll have added perks such as odor-neutralizing properties, built-in dog attractants, and more.
Of course, even the best pee pads won't be the perfect solution for your dog's unique needs in some cases- for instance, not all pee pads are designed to accommodate male dogs, or big enough for large dog breeds. To make sure you'll be getting your money's worth out of the pee pads you order for your pet, and to help prevent any potty mishaps in your home, we've put together a list of ten best pee pads. These pee pads tick all of the boxes and are backed by hundreds of pet parents who sing them praise- read on to find out which of them will be the best choice for you!
1. Editor's Pick: WizSmart All Day Dry Premium Dog and Puppy Training Pads
With first use, it's clear how much thought the pawrents behind the WizSmart All Day Dry Premium Dog Pads put into developing their product. First of all, these pee pads are super absorbent- they can hold up to 8 cups of liquid without leaking and that's way more than most pee pads can boast. What's the trick, you may ask yourself? WizSmart pee pads are actually made from unused baby diapers, which have more potent absorbency powers than most thin pet pads. To boot, their innovative use of materials makes sure that 120 million unusedbaby diapers get transformed into pet pee pads each year- instead of going to the landfill. An eco-friendly bonus to the efficiency of WizSmart pee pads! Also, as the original material was meant to be used on human baby butts- you already know that the quality is superb- these pads are softer and stay dryer and cleaner for a longer period of time.
WizSmart pee pads are quite economical, as well. One pee pad can last up to 24 hours, thanks to their absorbency and odor-controlling properties. These pads quickly absorb liquids and lock in any unpleasant odor, so you won't come home to stench or messy tracking after working long hours. Not to mention that the pad will stay where you put it, thanks to four patented stay put tabs that keep it firmly in place.
Finally, WizSmart pee pads are suitable for both male and female dogs- which is not often the case. The male dog solution allows you to stick the pad against the wall at a 90-degree angle, for boys who like to lift their legs when they pee. No need to worry about sprayed walls or other peeing mishaps- the pad will be held with strong adhesive tabs even when it's full of absorbed liquids. Overall, you can't go wrong with these pee pads- the only potential deal breaker could be if the price is out your budget's range, since this is a premium product.
2. Runner Up: Four Paws Wee-Wee XL Puppy Pee Pads for Larger or Multiple Dogs
If you're a proud owner of a gentle giant or have more than one pooch in your household, you'll need a bigger pee pad to accommodate for it. Duh! Of course, it's not always easy finding good, absorbent pee pads that come in large sizes, but Wee-Wee definitely caters to large breeds. The 5 layers of absorbent materials will hold a solid amount of pee and make these pads suitable for potty training purposes. Their XL pee pads are 28″ x 34″ and their gigantic pee pads are 27.5″ x 44″ and will do the job even for the biggest dog breeds.
3. Best Scented: All Kind Floral Scent Dog Training Pads
Sometimes, you don't want just odor control- but a bit extra on top of it. Scented pee pads are ideal for this, such as these that replace pee smell with a pleasant floral fragrance. These are not as absorbent as some of the products on our list but perform well when traveling or leaving your pet alone at home for a shorter amount of time. The leak-proof bottom will prevent any urine from seeping through to your floors or carpet.
4. Best for Travel: Simple Solution Washable Training & Travel Pad XX-Large
How about when you don't want to use disposable pet products? No worries, there are plenty of reusable pee pads for dogs out there. These washable pads for potty training are 30"x 32" so they'll fit most breeds, and you get two with each pack. The moisture-wicking top sheet will make sure that there are no tracking issues or odors. Also, these pads are versatile- you can also use them as a kennel liner, post-surgery pad, or water dish placemat.
5. Best for Potty Training: Alpha Paw Magic Pee Pads
Potty training puppies can be difficult and challenging, but with the right tools at your disposal, the process can be significantly easier. Alpha Paw Magic Pee Pads not only boast 6-layered lea proof protection that will keep your carpets or flooring safe from stains and damage, but they also have a built-in pheromone attractant that will tell your puppy where to go potty even when they are unsure. This is great when you're trying to teach them to go on the pad- the attractant combined with your praise and reward is bound to do the trick!
These super absorbent pee pads turn liquid into gel to prevent tracking and can hold up to 6 or 8 cups of pee, depending on the size you choose. And as if that wasn't enough to sway over any new puppy parent, the pads also have two layers of activated carbon to eliminate any odors and keep your home smelling fresh even when you're yet to successfully potty train your puppy.
6. Best Budget: Petphabet Puppy Dog Training Potty Pee Piddle Pads
The quilted top layer of these potty training pads allows for better absorbency, but these pads still fall into the category of lightly absorbent pads. It's best if you use these for shorter periods of time or with puppies, as they won't hold much. On the plus side, there won't be any odor- just a pleasant lavender scent.
7. Best Lavender Scent: Hartz Home Protection Gel Dog Pads
These lavender-scented pee pads come in 3 different sizes and can be used both for puppies and fully grown pooches. The unique Flash-Dry technology turns urine into gel, so the chance of spillage and leakage is minimal. Combined with 6-layer construction, this also means that the urine spots stay small, allowing for multiple pees before you have to toss the pad.
8. Best Washable: Pet Parents Washable Dog Pee Pads
These washable pee pads come in two colors- each pack has one tan and one gray pad inside. They are quite absorbent and come in 4 different sizes. As it is usually the case with reusable, washable pads, these too can be used for a number of other purposes in addition to potty training- from lining crates to protecting car seats during travel.
9. Best Super Absorbent: All-Absorb Extra Large Training Pads
With their dimensions being 28″x34″, these pee pads are a good fit for most medium and large dog breeds. They hold up to 3 cups of liquid, which turns into gel once absorbed in the pad, so they're a solid budget-friendly choice for potty training or for when you have to work long hours. To boot, these disposable pee pads have both an odor neutralizer and attractant, so not only that your pooch will want to use them, but there won't be any lingering odors after peeing.
10. Best Basic: AmazonBasics Pet Training and Puppy Pads
If you want something cheap, but still decent, these AmazonBasics pee pads will do the trick. They come in different sizes and absorbency levels, but most hold a solid amount of pee- if you're potty training a puppy or lining a crate while you take them to a vet, these will do. They don't have any adhesive, though, so you can expect them to slide around if you just put them on the floor without securing them somehow.
When to use puppy training pads
As the very name suggests, puppy training pads are mostly used for potty training puppies. Their highly-absorbent design and convenience of use make them an indispensable tool in the process of housebreaking dogs, but it's not all they are good for. There are plenty of ways you can use puppy training pads, and here some of the most common situations when a pee pad could be a heaven-sent:
Post-op recovery
Your dog might have just gone through a spay or neuter procedure or they might have a surgery scheduled- in either case, going to the toilet will be problematic during their recovery. Even if he is able to walk at all, your pet shouldn't strain himself by going out to pee or poop. For some petite breeds, picking them up is an option (if it's safe for them to be held and handled in the first place) but if your pet is at least bit heavy, lifting them and carrying them outside and back inside will be difficult- if not impossible. A pee pad will allow your dog to do his business indoors, without having to exert himself after surgery.
Incontinence in senior dogs
In their golden years, dogs can experience different health issues and incontinence is one of the many that affect senior canines. In case your pet isn't able to hold it in between walks, you could make sure that there are no wet carpets or soaked sofas by making sure that your pet always lies down on a puppy training pad that will absorb any urine- whether's just minor leaking or a full-blown puddle. You could also use the pad to line their beds in case you're worried about them peeing during the night- fast-drying puppy pee pads are great for this use.
Traveling by car
When you're road tripping with your pet, his safety should be your primary concern- with proper car harness or booster seats, you will make sure they are securely tethered- but the second thing that you should worry about is keeping your car seats clean and dry. Some people prefer using waterproof dog car seat covers to prevent their seats being ruined in case of a potty accident during the drive (and overall mess dogs can make) but a puppy training pad can be a cheaper disposable alternative if you don't plan on making car travel with your pet a regular thing.
Crating
In case your pet has separation anxiety or simply needs to be crated while you're away due to his destructive habits, lining a crate with a pee pad is a good idea. Even though you should never leave your pet inside a crate for hours on end, accidents happen and your dog might have a potty accident even if they're not crated for long. With a puppy training pad as a liner, there won't be any mess to clean up after or residual odor in the crate- and the same goes for carriers and travel crates, too.
Owners absence
If you're working long hours and there's no one home to take your pet out for a walk while you work, it would be smart to leave them a puppy training pad so they could have a spot to go potty if the need arises. Housebroken dogs will "keep it in" even if it means waiting for the better part of the day, so it would be cruel to make them go through that ordeal if you know there's a convenient and a mess-free alternative to taking them out to do their business. A pee pad could come in handy for those days when you know your pet will have to wait a bit longer for your return.
Protecting floors
It's not only pee that puppy training pads could protect your floors from – and pee is not the only type of wet mess our dogs can make. If your pet regularly spills water, place a puppy training pad to keep your floors dry. Similarly, you could keep a pee pad near your front door so you could wipe your dog's paws from snow and mud before entering. Likewise, certain breeds are proper droolers, and this can begin in earnest quite early on. Pads can help here too.
What to look for in puppy training pads
Not all puppy training pads are made alike – in fact, there are some important differences to consider before deciding. The price, the features, the effectiveness: all of these will make a training pad good or bad. Of course, a lot of it has to do with your pup, their breed, and their character traits. Sometimes even the most ordinary training pad will prove to be the ideal selection for your picky pup. Still, it is important to go over all the aspects and to make a careful and thorough choice. Here are the most important features to look in pee pads for dogs:
Absorbency
This is the most important feature – you want a pee pad to be able to hold your pet's urine without leaking right away. Opt for highly absorbent pads with large capacities – some can hold up to 3 cups of urine comfortably! And if you find an offer that also manages to add smell neutralization or attractants, you will have an irreplaceable helping hand while training your pup to go potty.
Drying time
A fast drying top layer will prevent urine tracking and minimize the possibility of unpleasant smells spreading through your home. If a low quality pad fails to absorb the urine quickly or entirely, it can really become smelly and unhygienic, and further deter your pup from using it. Drying time is thus very important – always try to look for training pads that can quickly soak up all that mess.
Attractants
Not all dogs will be too crazy about using the pee pad to go potty – they might be used to going outside only or simply find every other part of the room more interesting to pee on than the pad itself. Also, some pups can be surprisingly stubborn, making training difficult. In this case, attractants are a must: these can be pheromones, ammonia or other dog enticing scents that will make your puppy want to use the training pad. Training pads with attractants can be a true game changer if you are not too successful with other, ordinary pads.
Smell neutralization
Your floors might stay dry when your pet uses the pee pad, but what about the smell of urine? Go for puppy training pads that have odor neutralizing properties or come fragranced to mask the smell – but be warned, these fake perfumes might deter your pooch from using the pad. Still, if you introduced them carefully and early on, your pup will ease into them and the fragrance won't be an issue. But for you it will be a welcome feature – masking that pee smell with surprising ease and putting an end to the nasty and smelly surprises.
Durability
Flimsy cheap pee pads are not always leak proof and can easily rip if your pet is a bit destructive, so be sure to go for sturdier, well made pads that will do the job of holding in the urine and not disintegrate with the slightest tear. Similarly, you can opt for reusable pee pads that can be washed and used over and over. This can be immensely helpful at the early stages of training – saving you plenty of time and money. And thanks to the durability, these pads will remain sturdy even after repeated washings.
No-slip options
In case you plan on using puppy training pads on hardwood floors or tiles, you will definitely need something that won't move and slip around. It ensures safety for both you and your dog. No one wants to accidentally slip on a pad and break something. Some pee pads come with adhesive backing precisely for these situations – the glue won't leave marks on your floors but will keep the pad in place until it's time to replace it. It is a safe, reliable, and smart solution to keep everything as safe as possible.
All in all, puppy training pads are a very important accessory for all dog owners – no matter your level of experience. We all know that having a puppy can be a demanding and challenging experience. These little goofballs have plenty of energy to spare, and they won't hold back from unleashing all of it around the home. However, training them from an early age will help you to form their character for the future. With care and consideration you can shape them into great puppers with superb manners.
Of course, if you neglect to do so, you might end up with plenty of work on your hands – a pup's character is formed early and so can be their habits, too. Luckily, there are plenty of useful accessories today that will help you with this, and puppy training pads are amongst the very best!
Why do I need a pee pad for my dog?
Not only that pee pads can help you potty train your puppy more efficiently, but they also make cleanup a breeze. Creating a peeing spot for your pet will make sure they quickly realize they should go potty in one spot rather than doing the deed all over the house, so you can transition from there to encourage peeing on walks. In other cases, a pee pad can be a great way to offer your pet a way to go potty when you're away from home or used as a sleeping pad for elderly or injured dogs that have issues with incontinence. Similarly, pee pads are a great thing to have in your car, for those long road trips or when you're visiting the vet.
What to look for in a pee pad for dogs?
It will all depend on what you need the pee pad for. If you want to potty train your pet or discourage them from urinating in certain areas, choose pee pads with added attractants that will make sure they always pick the pee pad over your furniture or hardwood floors. Important factors that will be important in any scenario are absorbency, durability, and capacity of pee pads: choose them according to your pet's size and preferences. In case you want a pee pad that doesn't smell, pick one that contains odor-neutralizing carbon or is fragranced to mask the smell of urine.
How to train your dog to pee on a pad?
Positive reinforcement always works wonders, and the same is true with pee pads. Before you start with the training, though, make sure you introduce your puppy to the pee pad- let them sniff it but do not let them play with it or sleep on it. Next, you want to monitor your puppy for signs that they are going to pee or poop and transfer them to the pad, praising them and giving a reward once they do their business on the pad. Be sure to keep the pee pad in the same location and keep moving them to pee on the pad until they figure it out and go there on their own.
How often should I change the pee pad for my dog?
The frequency of replacing pee pads will depend on the pad itself- some extra large pee pads absorb up to 2 or 3 liters without leaking and others have more modest absorbency capacities. If you are potty training a puppy and use standard pee pads, a good rule of thumb is to switch out the pads after every two to three uses. It shouldn't be fully soaked to the point it's about to leak, but you don't have to throw it out after one pee, either.
What types of dog pee pads are there?
Pee pads have a pretty straightforward design, but that doesn't mean that there are no options to choose from. The first and the most obvious difference is between classic disposable pee pads and reusable- the first is thrown away when soaked, and the other type can be washed and used over and over again. Next, there are scented or odor-neutralizing pee pads, as well as different sizes and absorbencies. Choose the type of pee pads according to your pet's needs (life stage, frequency of use) and your budget and preferences- some prefer more durable and eco-friendly washable pee pads and others go for the no-hassle disposables.
We are committed to finding, researching, and recommending the best products. We earn commissions from purchases you make using the retail links in our product reviews. Learn more about how this works.

Angela Vuckovic
A proud mama to seven dogs and ten cats, Angela spends her days writing for her fellow pet parents and pampering her furballs, all of whom are rescues. When she's not gushing over her adorable cats or playing with her dogs, she can be found curled up with a good fantasy book.
More by Angela Vuckovic
Published February 9th, 2022 12:00 AM